Home

›

Recipe- Deep Fried And Crispy Pinwheel Samosa
Recipe- Deep Fried And Crispy Pinwheel Samosa
By: Kratika Fri, 27 May 2022 2:03 PM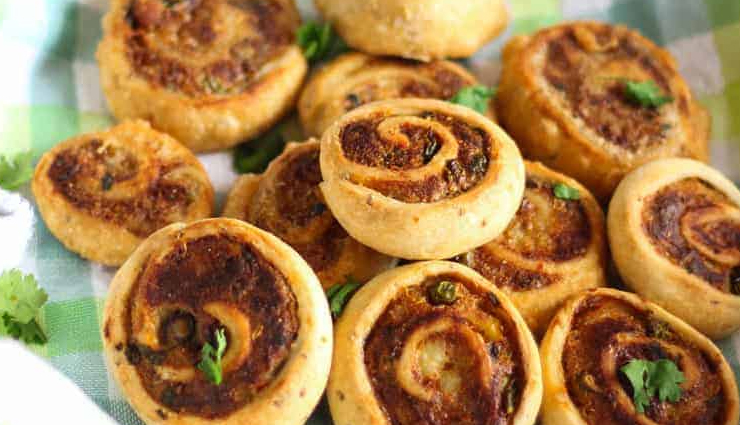 Pinwheel samosa is a unique twist to original Samosa recipe. Made by using spicy potato filling which is placed in maida (plain flour) roti then rolled out, sliced to make bite-sized pinwheels that are deep-fried to crispy and flavourful disc aka Pinwheel.

If you follow Me on my Instagram account, you know I am a samosa addict!!. Yes, I know …. I know it's not a healthy snack but there are times when I just could not control the temptation of this chatpata crispy samosa filled with flavourful spicy aloo sabji dipped into coriander – tamarind chutney!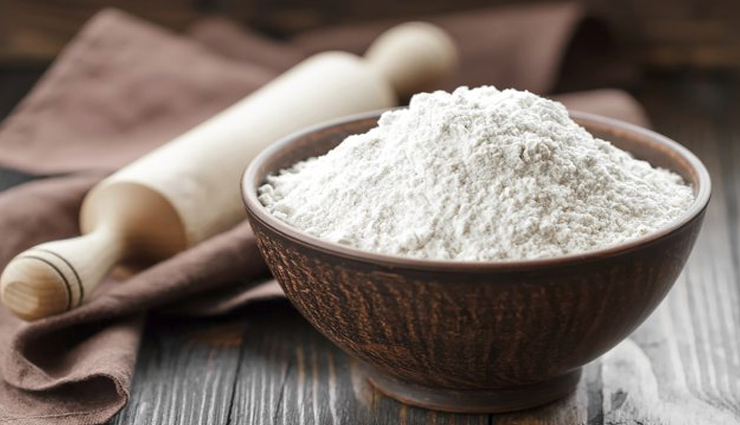 Ingredients

For Filling

4-5 nos. Potatoes (Boiled , Peeled , Mashed)
1/2 cup Green Peas (Fresh or Frozen)
2 teaspoon Ginger – Green Chilies Paste (coarsely crushed)
1 teaspoon Red Chilly Powder
1 1/2 teaspoon Garam Masala Powder
2 teaspoon Chaat Masala OR Amchur (Dry Mango) Powder
1 teaspoon Jeera (Cumin) Powder
1 teaspoon Dhaniya Coriander Powder
Salt to taste
Coriander leaves finely chopped
Juice of Half Lemon
Oil for Frying Pinwheels

For Outer Crust

1 cup Maida ( All purpose flour)
1 teaspoon salt
Water to knead the dough

For Maida Slurry

3 tablespoon Maida (all purpose flour)
1/4th cup Water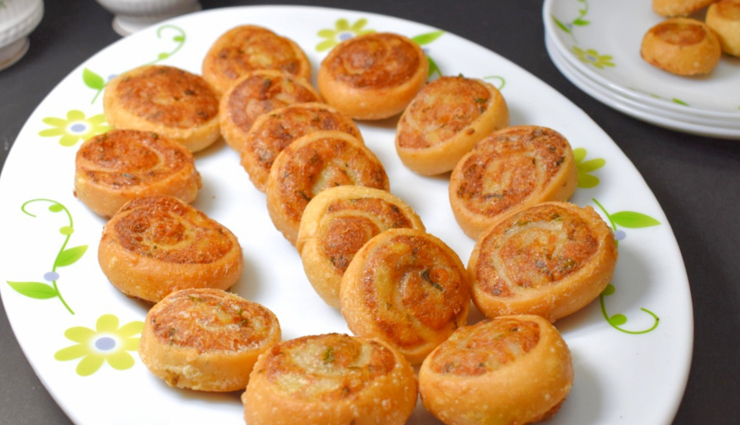 Method

For Dough

- In a mixing bowl add maida, oil and salt. Mix well. Start adding water little by little at a time and start kneading a stiff dough.

- Apply a little bit of oil on the kneaded dough to keep it from drying out. Cover the dough and keep it aside for 20 minutes.

For Filling

- In a bowl, add mashed potatoes, green peas, red chilly powder, garam masala powder, chat masala or amchur powder, jeera (cumin) powder, coriander powder, salt, and finely chopped coriander leaves and lemon juice. Mix everything well. Check for seasoning and adjust accordingly.

For Maida Slurry

- In a bowl add 3 tablespoons maida.

- Add 1/4th cup of water (at room temperature) and mix well. Make a thin slurry.

- Make sure no lumps are formed.

For Pinwheel Samosa

- In a kadhai / pan heat 2 tablespoon oil, add ginger-green chilli paste and sauté for a minute till the raw smell fades away.

- Now add the potato mixture that we made along with all the spices. Mix well and cook this mixture for about 5 minutes on high flame so that spices nicely gets incorporated with potatoes.

- Take this mixture off the heat and keep it aside to cool down to room temperature.

- On a rolling board, knead the maida dough that we prepared just to loosen it out.

- Divide this dough into equal parts. Take one part of the dough and roll into a roti like we do for chapati.

- Place the potato stuffing on this rolled maida roti and spread it evenly. Leave 1 inch space at the edges.

- Now roll the maida roti tightly.
Tags :