5 Must Try Home Remedies To Get Rid Of Baldness
By: Kratika Wed, 07 Sept 2022 1:40:11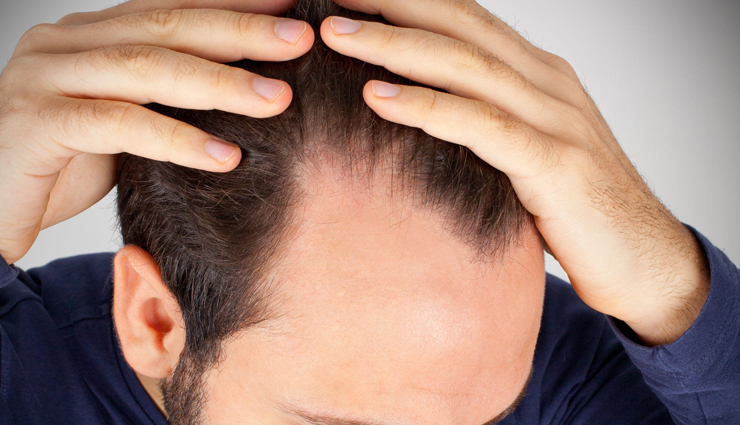 Tresses are referred to as 'crowning glory' and this goes for both the genders. Hair are a direct expression of an individual's personality and are often associated with the beauty of a woman. Loss of hair frightened us and the underlying fear is going bald. Excessive hair loss can be embarrassing and it affects the self-esteem of an individual. Now, the question that comes to mind is – Are there any home remedies that can help to get rid of baldness other than the expensive hair transplantation? So, the answer is yes. There are some effective ways that can help you out but you need to follow these regularly and religiously.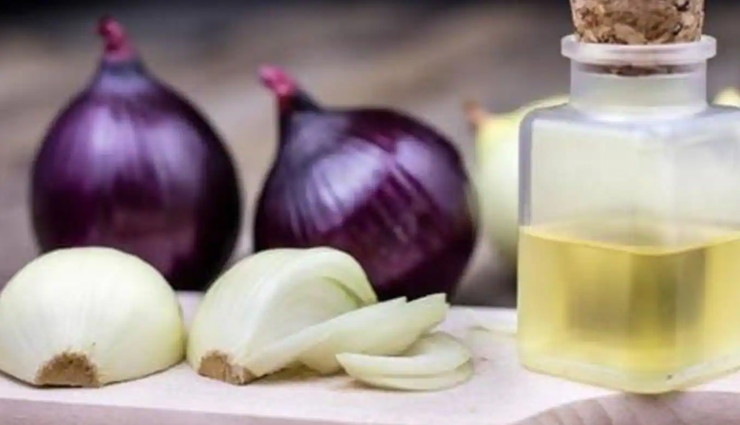 # Onion Juice

This is one of the effective home remedies to cure baldness and has really helped me in controlling my hair loss. I have gone for hair smoothening process thrice and was losing hair to such an extent that I thought I would go bald and then I tried this remedy and trust me this has really helped me in controlling the loss. I make sure to follow this remedy once a week and I have been doing that for the past 1-2 years and I am really happy with the results. However, I do feel that hair become dry after following this remedy so, make sure to moisturize or condition your hair well after the process.

- Depending on the length of your hair, take 1 to 2 onions.

- Peel them, cut in four parts and put them in a grinder.

- Add a little amount of water/rose water to grind them properly.

- Now, pass this mixture through a sieve or muslin cloth to get the juice.

- Now, dip a cotton ball in onion juice and apply to your scalp. You can transfer this juice in a spray bottle and can spray it directly to your scalp.

- Massage your scalp with your fingertips gently giving circular movements.

- After 40 minutes, shampoo your hair followed by a conditioner.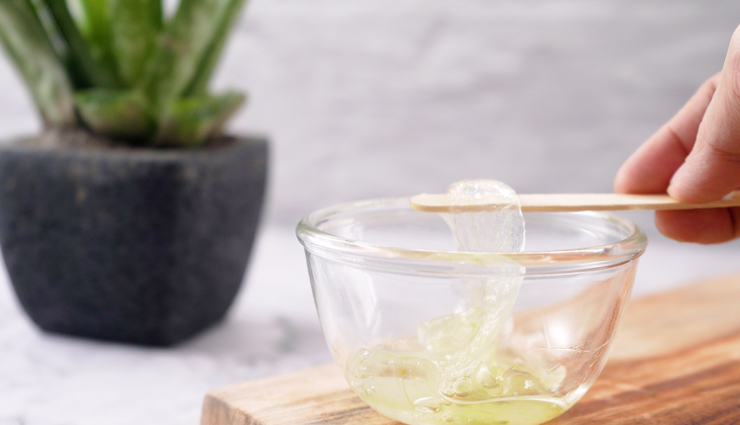 # Aloe vera & Castor oil

Aloe vera contains proteolytic enzymes which boost hair growth by repairing damaged cells in the scalp. Castor oil is an age-old remedy used for maintaining hair health and boosting hair growth. Moreover, it adds volume to hair. The combination of aloe vera and castor oil not only helps in speeding up hair growth but also prevents hair breakage and curbs hair fall.

- Mix 2-3 tablespoons of aloe vera gel with 1 tablespoon of castor oil in a clean bowl.

- Now, add 1 teaspoon of fenugreek powder and mix all the ingredients well.

- Apply this mixture to your hair focusing on roots and tips and cover it with a shower cap for 2-3 hours.

- Wash off the mixture with a mild shampoo.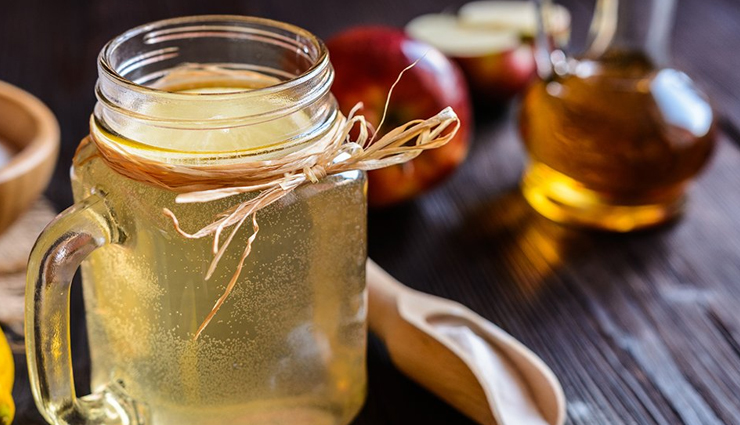 # Apple Cider Vinegar

Next, on the list of effective home remedies to cure or get rid of baldness is apple cider vinegar. It has antimicrobial properties that help to get rid of itchy scalp and reduce dandruff. Moreover, it balances the pH of the scalp and helps in reducing hair fall and strengthens hair.

Ingredients

A handful of neem, curry and mint leaves
2 tablespoons ACV
250 ml Water
Spray bottle

Method

- Take 250 ml of boiling water in a pan.

- Now, add all the leaves into it and keep it aside for half an hour so as to get the extracts of leaves that we have added.

- Let it cool down and fill this infused water in a spray bottle.

- Now, add ACV in it and give the bottle a good shake.

- Your hair tonic is ready. All you need to do is, spray it on the roots of hair and after 10-15 minutes, shampoo your hair.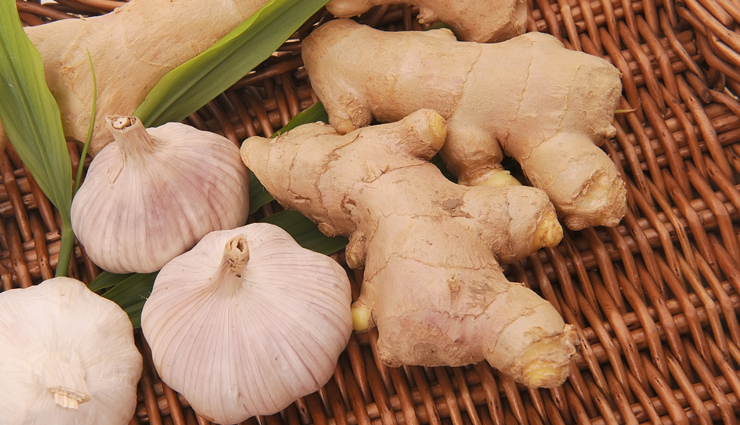 # Ginger & Garlic To Cure Baldness

Ginger has nourishing and anti-microbial properties which make it effective in tackling hair fall and stimulating hair growth. It stimulates circulation to the scalp and renews hair follicles. Rich in sulphur, garlic also helps in stimulating the growth of hair from dormant follicles. The presence of coconut milk, oil and honey in this hair pack makes it effective in nourishing hair and repairing the hair damage.

- In a blender, add 1 teaspoon of grated ginger, 2 tbsp. of coconut milk and coconut oil, 3 cloves of garlic and 2 teaspoons of honey.

- Blend these ingredients well to get a smooth paste.

- Apply it to your hair for 30 minutes and then shampoo your hair.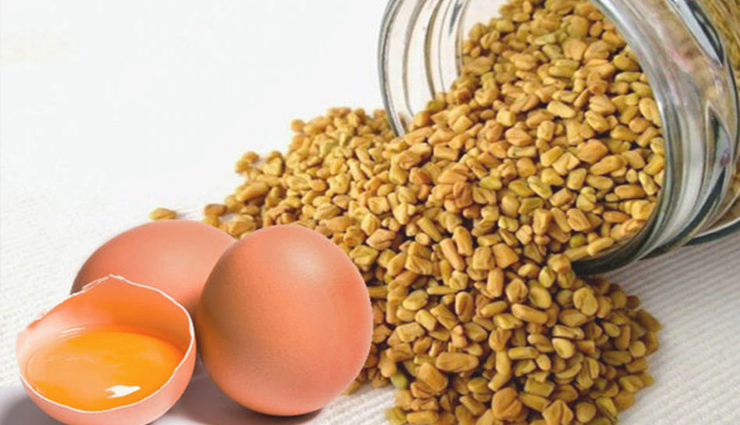 # Fenugreek & Egg

Furthermore, on the list of effective home remedies to cure or get rid of baldness is the combination of Fenugreek & Egg. Fenugreek or methi also helps in removing impurities from hair, can treat scalp infections and dandruff and also helps to promote hair growth.

Egg yolk offers moisturizing benefits to the hair as it contains natural fats and is considered more beneficial to hair. However, egg whites help in removing unwanted oil and also keeps the scalp clean and fresh. So, it is essential to use an egg as a whole to reap the benefits of both. Still, the usage depends on hair types. People with normal hair types should use whole egg whereas oily hair types can use yolk at the ends and white portion on the scalp. Dry hair types should use egg yolk as much as possible.

Ingredients

1 egg
1 tablespoon fenugreek seeds

Method

- Take a clean bowl. Soak fenugreek seeds in water overnight.

- The next morning, blend these soaked seeds to make a paste.

- Now, add the egg to this paste and mix them together.

- Apply this mixture to your hair.

- Let it sit for about 30-40 minutes.

- Then, wash your hair with a mild herbal shampoo and use cool water. Make sure not to use hot water to remove this hair mask.

- Condition your hair well and let it air dry.