8 Home Remedies To Treat Cracked Feet
By: Kratika Thu, 17 June 2021 5:40 PM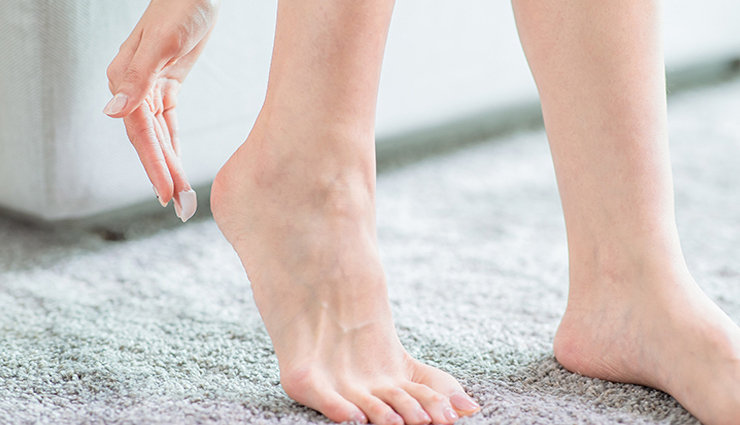 Cracked feet, medically known as heel fissures, refer to the formation of calluses and cracks in the heel of the feet, often accompanied by thickening of the skin. Cracked feet are a common problem that affects people of all ages.

Cracked feet are generally a mild problem and considered bothersome only due to their appearance. However, if left untreated, the cracks can deepen and serve as entry points for infection-causing bacteria.

In some cases, cracked feet may also be associated with symptoms such as pain, peeling skin, bleeding, and itchiness. Fortunately, this problem can easily be managed with proper self-care in the early stages.

This article discusses the various medical and at-home treatments to treat cracked feet and prevent complications.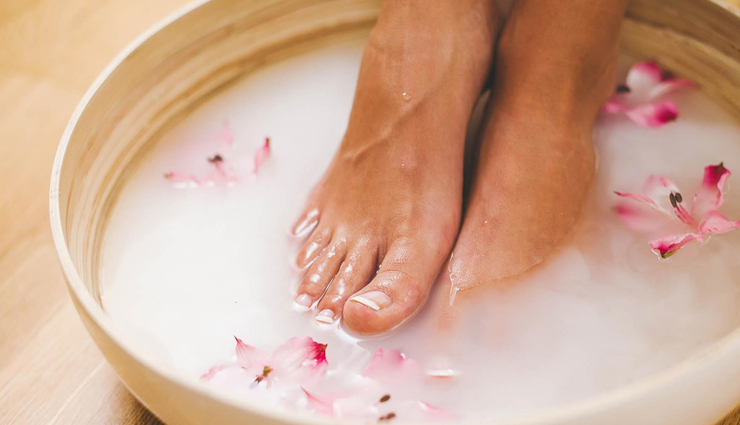 # Soak and exfoliate

Since cracked feet are largely made of dead, thickened skin, exfoliating or scrubbing the skin can remove the layers and thereby can help solve the problem. It is best to soak your feet in warm, soapy water before scrubbing to help soften and loosen the thick skin of your feet.

- Add some liquid soap such as Castile soap to a foot tub or a bucket with warm water and mix.

- Optionally, add ½ cup of Epsom salt or essential oils such as oregano, tea tree, peppermint, or calendula essential oil to the water. Alternatively, you can add 2 tbsp of baking soda to the water if the skin on your feet is hard.

- Soak your feet in the prepared foot bath for about 20 minutes.

- Take out your feet and scrub them using a pumice stone, loofah, or Ped Egg to exfoliate the dead skin cells.

- You can also use foot exfoliants that contain AHAs, hyaluronic acid, or urea if the skin is extremely hard.

- Rinse your feet with clean water and pat them dry.

- Apply a moisturizer or foot cream to your feet, and cover them with cotton socks overnight to trap the moisture. It is recommended to do this remedy before bedtime.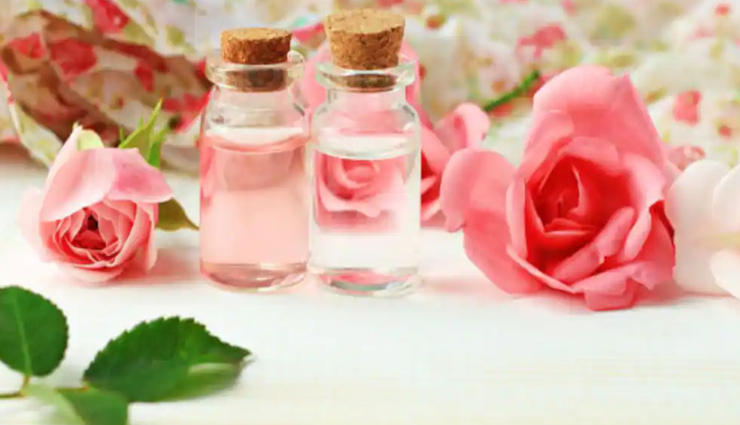 # Prepare a glycerine and rose water bath

Glycerine is an excellent hydrating and moisture-binding agent that can also stimulate the repair of the skin barrier. Since cracked feet are often caused by a lack of moisture and compromised skin barrier function, the use of glycerine may help improve the condition.

- Mix glycerine and olive oil in a 1:1 ratio.

- To this mixture, add some rose water and oats. Combine them thoroughly.

- Soak your feet in the mixture or apply it to your feet.

- Wash your feet after about 20 minutes and pat them dry.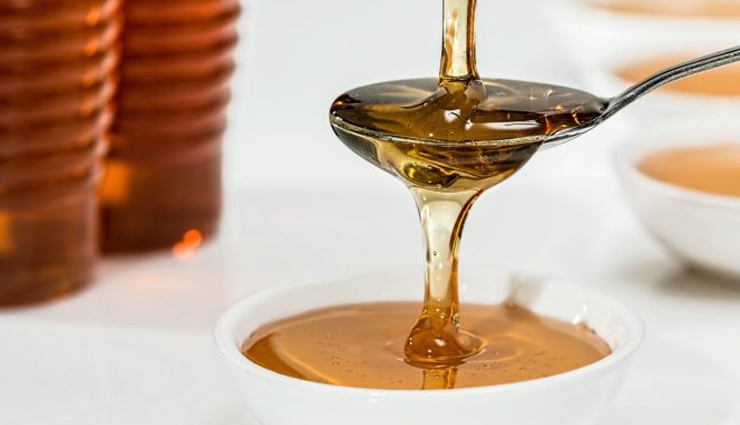 # Apply honey

Honey is a rich moisturizing and humectant agent, owing to its high fructose and sucrose content. It possesses antimicrobial and antiseptic properties that can help prevent infections. In addition, honey helps in mildly exfoliating the skin, therefore aiding in the improvement of cracked feet.

- Apply raw, medical-grade, or organic honey to the affected skin directly. You can also mix it with natural fats or plant oil and ½ tsp of rose water before application.

- Leave this mixture on your dried skin for 15–20 minutes.

- Wash it off using water.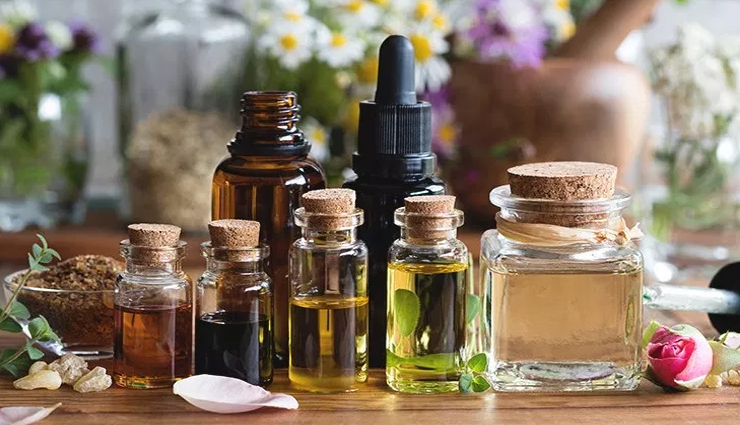 # Use natural fats and essential oils

Natural fats such as shea butter, mango butter, milk cream, avocado butter, and cocoa butter are considered excellent skin moisturizers, due to their linoleic and oleic fatty acid content. These natural fats are readily absorbed by the skin, providing deep moisturization.

- Melt cocoa butter or shea butter in a frying pan on low heat.

- Mix in a few drops of coconut or jojoba oil. You can add carrier oils such as argan or almond oil to make the mixture thinner.

- Allow the mixture to cool and transfer it into a container.

- Apply the moisturizing cream to cracked skin after taking a bath or before bedtime daily.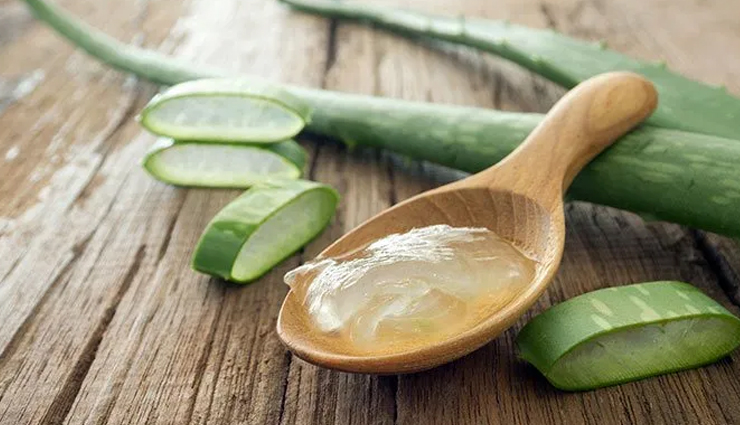 # Rub some aloe vera gel

Aloe vera gel is a highly effective moisturizing and humectant agent that helps bind moisture to the skin. The mucopolysaccharides in aloe vera gel are useful in hydrating the skin.

In addition, the aloe vera gel boosts the production of collagen and elastin fibers, aiding in skin repair. The use of aloe vera gel also helps soften hardened skin.

- Extract fresh aloe vera gel. You can add honey or natural fats to the aloe vera gel to form a paste.

- Apply it to your cracked feet.

- Massage it in for a few minutes, and rinse it off after 15 minutes.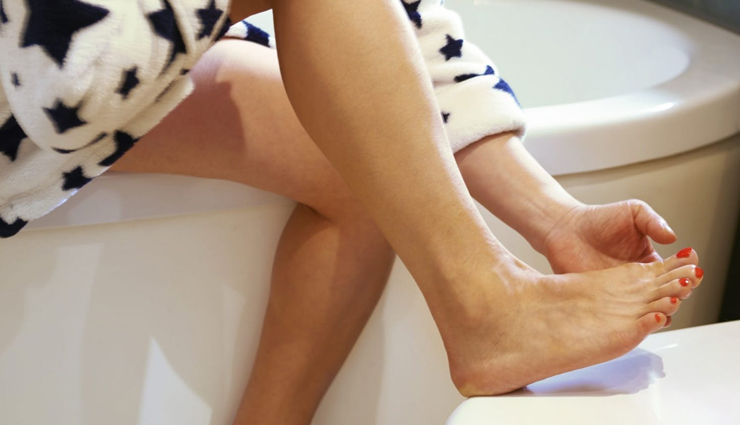 # Prepare a DIY foot scrub

A foot scrub can be highly useful in the removal of flaky, dry, rough skin from the feet. While various foot scrubs are commercially available, they may contain high amounts of chemicals that may irritate cracked skin.

You can easily make foot scrubs at home from natural ingredients that exfoliate the skin, thus preventing chemical irritation. You can use coarse grains such as masoor dal and sugar and a base such as honey to make DIY foot scrubs. Honey provides the added benefit of moisturizing your feet.

- Coarsely grind masoor dal and sugar crystals together.

- Add a few teaspoons of honey to the mixture to form a paste.

- Gently rub the scrub on your feet in circular motions.

- After 5–10 minutes, wash your feet, pat them dry, and apply an emollient.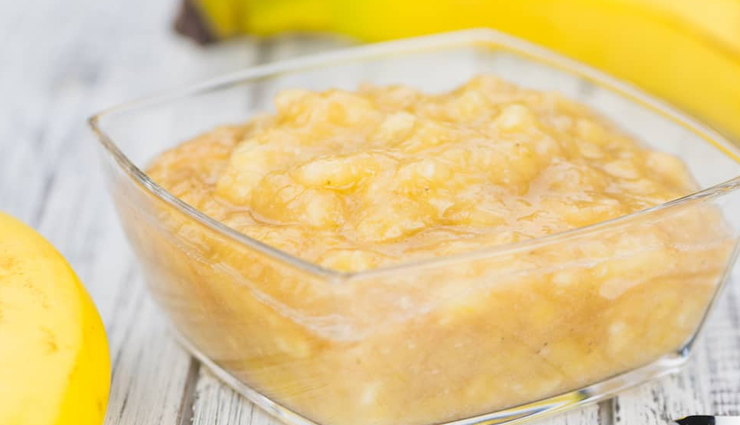 # Apply a ripened banana mask

Do not toss overripe bananas into the trash! Instead, put them to good use by making a foot mask. Applying overripe bananas to your cracked feet may moisturize and soften the hard skin.

The vitamins A, B6, and C in bananas can provide hydration and nutrition to the skin, aiding in the treatment of cracked feet.

- Mash a ripe banana and an avocado and mix them well.

- Apply the mask to your feet, properly covering the surface, including the nail beds and between your toes.

- Wash the mask after 15 minutes.

- Soak your feet in water, followed by gentle exfoliation.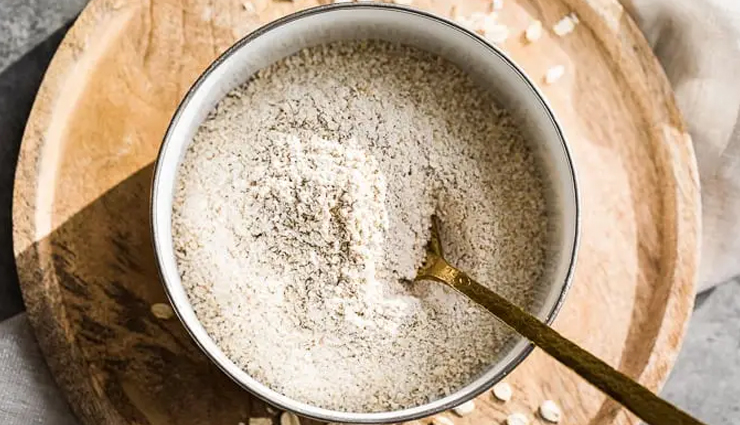 # Try oatmeal

Colloidal oatmeal is popularly used as a cleansing, moisturizing, and nourishing agent, owing to its rich composition of lipids, polysaccharides, proteins, minerals, flavonoids, and vitamins. It also possesses antioxidant and anti-inflammatory properties that are beneficial to the skin.

- Prepare a foot scrub by mixing 1 tbsp of powdered oatmeal and jojoba oil to form a thick paste. Apply the paste to your feet. Rinse your feet with cold water after half an hour and pat them dry. Do this remedy every other day until you see improvement.

- Alternatively, you can buy oatmeal-based skin care products for the treatment of cracked feet, and use them as indicated on the label. These products include moisturizers and cleansers that are often used for the treatment of pruritus and dry skin.
Tags :