Home

›

Deepika And Shahid Nailed The Royal Chemistry In Ek Dil Ek Jaan Of Padmavati
Deepika And Shahid Nailed The Royal Chemistry In Ek Dil Ek Jaan Of Padmavati
By: Pinki Sat, 11 Nov 2017 12:30:18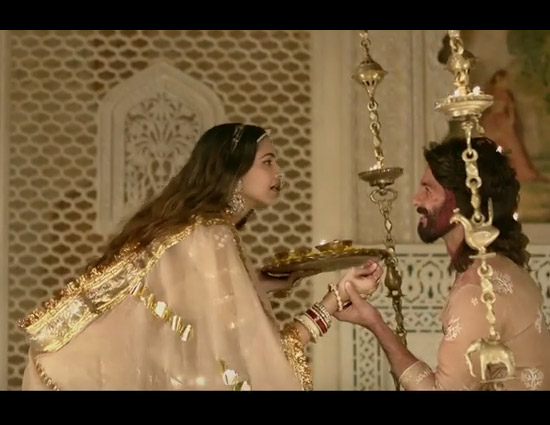 As the demand for a ban on Padmavati gets shriller, the makers have announced a new song. In fact, the teaser for the song was shared by both Deepika and Shahid.

The song named Ek Dil Ek Jaan seems like a romantic number between Deepika's Rani Padmini and Shahid's Maharawal Ratan Singh. The lyrics drip of romance and loving feels.

We are already excited for the song to release tomorrow. Aren't you?

Today, a new poster of Shahid as Maharawal Ratan Singh was also shared by the production house. It appeared to be a painting and the actor is looking glorious in his royal robes and dressed in a lavender silk antariya with detailing. He is sporting some jewellery and silk juttis.

Meanwhile, the Sanjay Leela Bhansali's film is mired in controversies as various fringe organisations and political parties have objected to his movie, claiming it 'distorts history'. Despite the director clarifying twice that his film does not have scene or sequence that 'would hurt any sentiments', several petitions have been filed across the country, seeking a ban on Padmavati's release.

The Supreme Court on today dismissed a petition asking for a ban on the film's release claiming it hurts Rajput pride. Earlier Allahabad High Court had rejected a plea to ban the film as it propagates the practice of Sati. Both the courts said the Central Board of Film Certification, which is yet to certify the film, will take a call on the film.