Home

›

JLF Day 1- Inspite Of Karni Sena Raw, Jaipur Literature Festival Begins With Spark
JLF Day 1- Inspite Of Karni Sena Raw, Jaipur Literature Festival Begins With Spark
By: Sandeep Thu, 25 Jan 2018 9:51:12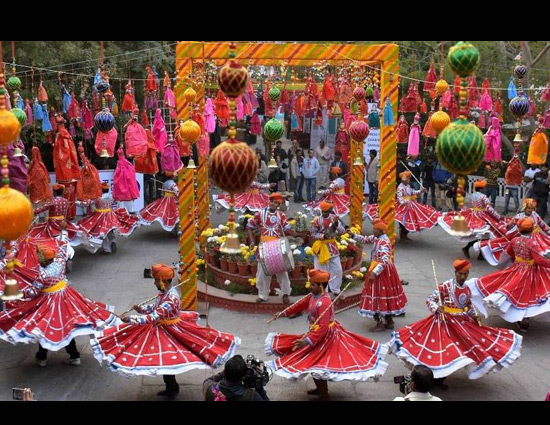 The Rajasthan police have their hands full this week, with bye-elections to an assembly and two Lok Sabha seats, Republic Day, the release of Sanjay Leela Bhansali's controversial film Padmavat on Thursday, as well as the start of the high-profile Jaipur Literature Festival (JLF). Security has also been beefed up at JLF following threats from the Rajput group Karni Sena, said Sanjoy K. Roy, managing director of Teamworks Arts, which organises JLF.

Karni Sena is protesting the festival's invitation to CBFC chief Prasoon Joshi, who they blame for clearing Padmavat. Roy, however, said that Joshi is yet to confirm his presence. "We don't have a confirmation yet. I think he may not want to vitiate the atmosphere. Though if he does come, the state government has promised to provide security, and ensure his safety as well as that of the audience," said Roy. "The festival will continue to be a platform where people will listen to different perspectives, whether they agree with it or not."

Joshi is scheduled to be in conversation with writer and filmmaker Anu Singh Choudhury on Sunday, January 28, in a session titled 'Main Aur Woh: Conversations with Myself'.

The by-polls have also robbed the festival of the presence of its regular chief guest, Chief Minister Vasundhara Raje Scindia, who will be busy campaigning this time round. Travel writer and novelist Pico Iyer will deliver the keynote address 'Charting a World Without Border', at the inaugural session of JLF, which will take place from January 25-29.

The speakers at the festival include former Afghanistan president Hamid Karzai, writers Michael Ondaatje, Amy Tan, Philip Norman, Helen Fielding, Sujatha Gidla, Shashi Tharoor, Julia Donaldson and Tom Stoppard. Former Delhi Chief Minister Shiela Dixit will officially launch her autobiography, Citizen Delhi: My Times, My Life, here on January 27. Biographies, incidentally, are the focus of several sessions at the festival, from Philip Norman speaking of the Beatles in India, Zakir Husain in conversation with Nasreen Munni Kabir, Sagarika Ghose and Sheela Reddy speaking of their books on Indira Gandhi and Jinnah respectively.

According to Roy, the festival's programming has also kept into consideration the fact that 61% of the registered visitors last year were below the age of 25. Sessions expected to be well attended include that of performance poet Rupi Kaur, and student activist Gurmehar Kaur, both of whom have new books out. Popular writers Chetan Bhagat and Ashwin Sanghi will make an appearance, as will a number of people from the film industry, such as Nawazuddin Shaikh, Anurag Kashyap, Mira Nair, Sharmila Tagore, Soha Ali Khan and Vishal Bhardwaj.