Home

›

Shruti Haasan Gets Scared, Irritated As Persistent Fan Follows Her At Mumbai Airport; VIDEO VIRAL
Shruti Haasan Gets Scared, Irritated As Persistent Fan Follows Her At Mumbai Airport; VIDEO VIRAL
By: Pinki Mon, 18 Sept 2023 2:49:30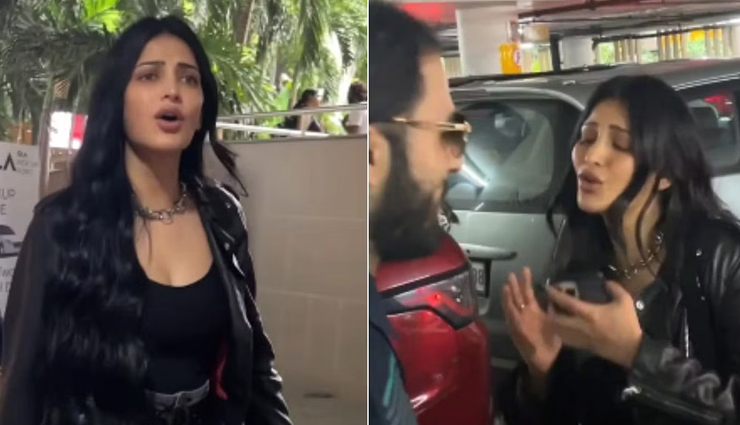 Actress Shruti Haasan recently faced a challenging situation when an persistent fan continued to follow her at the Mumbai airport. Despite her evident discomfort, the fan kept trailing her as she hurried to reach her car.

Shruti had been in Mumbai for an awards show, where she had turned heads in a striking black outfit. Her frequent visits to Mumbai are due to her professional commitments, including shooting for various projects in the city.

On a Sunday evening, as Shruti made her way to her car at the Mumbai airport, she noticed a man persistently following her. Clearly agitated by his behavior, she repeatedly inquired with the paparazzi about his identity and purpose.

Struggling to locate her car and making frantic phone calls, Shruti attempted to leave the airport as swiftly as possible. Even when she finally reached her car, the fan approached her once more, prompting the actress to politely respond, "I don't know who you are, sir."
The incident sparked controversy online, with numerous netizens criticizing the fan for his persistence despite Shruti's evident discomfort.

In terms of her work, Shruti is set to appear in the film "Salaar," alongside Prabhas. Directed by Prashanth Neel of "KGF" fame, the movie, originally scheduled for a September 28 release, has been postponed due to unforeseen circumstances. The film also features Prithviraj Sukumaran, Eshwari Rao, Jagapathi Babu, and Sriya Reddy, and the new release date is yet to be announced by the makers.