Home

›

5 Health Benefits Of Drinking Turmeric Tea
5 Health Benefits Of Drinking Turmeric Tea
By: Pinki Wed, 29 Jan 2020 12:44:46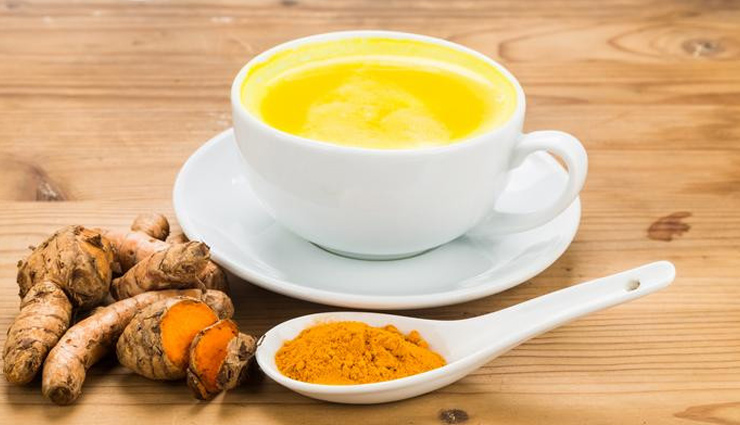 One of my nieces shared her experience with me after drinking turmeric tea. A few weeks back she had severe knee pain and since she was having her exams, she didn't have the time to visit a doctor. She tried turmeric tea as she had heard about it a lot. When she spoke to me about her experience she was all praises for turmeric tea because she said it was like magic to see her pain reduce considerably.

This magic effect of turmeric is due to it's wonderful anti inflammatory properties. I have been using turmeric extensively for many years now but I am still in awe with this wonderful spice. I am so in love with turmeric that I have never been without turmeric in my house. This turmeric tea is one of the best ways to consume turmeric for treating illnesses and it is an all purpose medicine. It can be used for treating inflammations, internal wounds, ulcers, fever and to increase immunity.

* Turmeric Tea for Cold, Cough & Sore Throat

Using turmeric tea for treating cold and cough is a remedy that has been done for many years and it is so very famous here in India. It is such a common remedy that even children in most of the homes will be very familiar with it. Especially the turmeric tea recipe given below treats all cold treated problems very well. For children decrease the quantity of peppercorns in the recipe.

* Turmeric Tea For Weight Loss

One study done on mice showed that the mice that were given turmeric showed reduced liver diseases and were not prone to gaining weight easily. And now if you research about the weight loss aspect of turmeric you will be able to find numerous scientific articles regarding it. Though we can't lose our body fat magically without a proper diet plan and exercise, certain spices aids weight loss and turmeric has been proven to do that.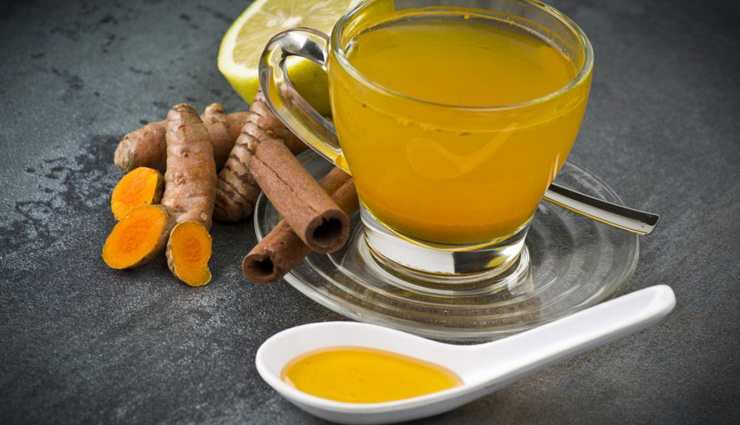 * Turmeric Tea For Pain

Turmeric has got powerful anti inflammatory properties and if your are suffering from any kind of inflammation or body pain like back pain, arthritis, internal wounds or ulcers consider drinking this tea. This tea has got both ginger and turmeric, both very powerful anti inflammatory spices which will heal the body very soon.

* Turmeric Tea For Immunity

There is no doubt that turmeric increases immunity. It is said to prevent cancer, Alzheimer, liver diseases and high cholesterol. The recipe given below is my favorite way of making turmeric tea. I have used fresh turmeric root but you can make this tea with organic, pure turmeric powder too. Once you try this tea as a remedy, you will never stop making this tea, it is that effective.

* Turmeric Tea For Acne

Drinking turmeric tea helps people suffering from acne. Especially if you are suffering from worst acne flare up that is very painful, without fail try drinking turmeric tea along with applying turmeric and holy basil face pack, it will greatly reduce the inflammation and give very quick relief.