10 Must Visit Attractions In Ahmedabad
By: Pinki Sat, 05 June 2021 4:04:37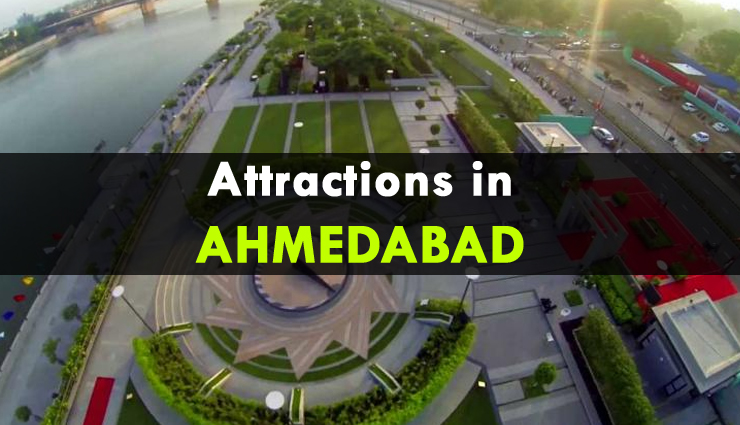 Ahmedabad, a major city of Gujarat, is a business hub and one of the fastest-growing cities in the world. Saying it as a traveller would, the city has an interesting back story inherited from its culturally rich past. Perhaps the most attractive thing about Ahmedabad that draws in the spectators is the city's old-world charm amidst which rapid urbanization is taking place.

This city in its colonial past has had deep-rooted connections to India's Independence movement, as it was right here on the banks of the river Sabarmati that Mahatma Gandhi's most famous ashram was established.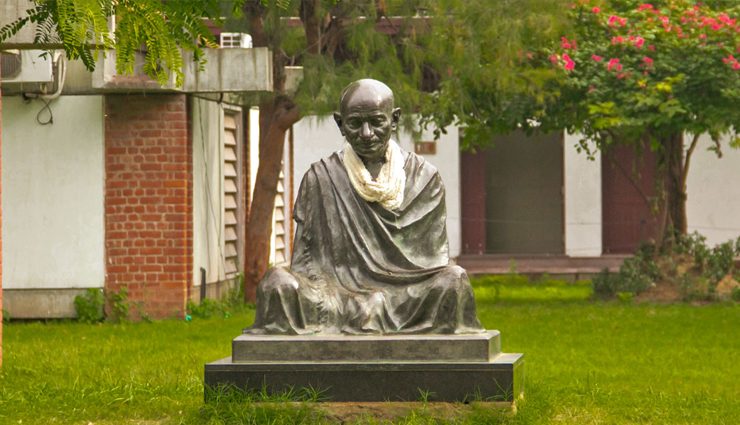 # Sabarmati Ashram

Established in 1917 by Mahatma Gandhi after he returned home from South Africa, the Sabarmati Ashram, also known as Gandhi or Satyagraha Ashram, is the destination of utmost renown in Ahmedabad. It was this ashram in which Gandhiji spent most of his life, and carried out his revolutionary campaigns to free India from the imperial British Empire.

Today, it is widely promoted by Ahmedabad tourism. It has free entry, allowing both Indian as well as international tourists to look at the well-preserved way of life Gandhi led, propagated through his works, successes, and failures while attempting to develop India.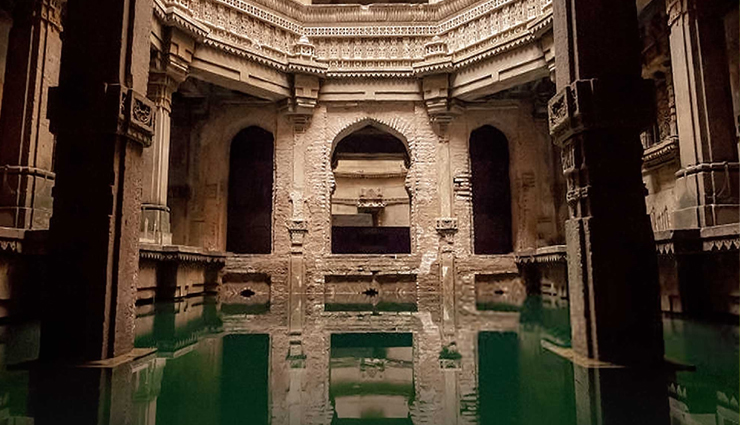 # Adalaj Stepwell

The stepwell at Adalaj, speculated to be approximately 5 stories deep, is among the most spectacular places to visit in Ahmedabad. It is an ancient architectural site that dates back to the late 15th century that features fascinating, intricate wall carvings. It is also referred to as the Rudabai Stepwell or 'Vav' referring to the depth of water. It was built in 1498 in the memory of Rana Veer Singh (from the Vaghela dynasty of Dandai Desh) by his wife, Queen Rudadevi.

Stepwells like the one in Adalaj were once integral to the semi-arid regions of Gujarat as they provided water for drinking, washing, and bathing. These wells were also venues for colourful festivals and sacred rituals.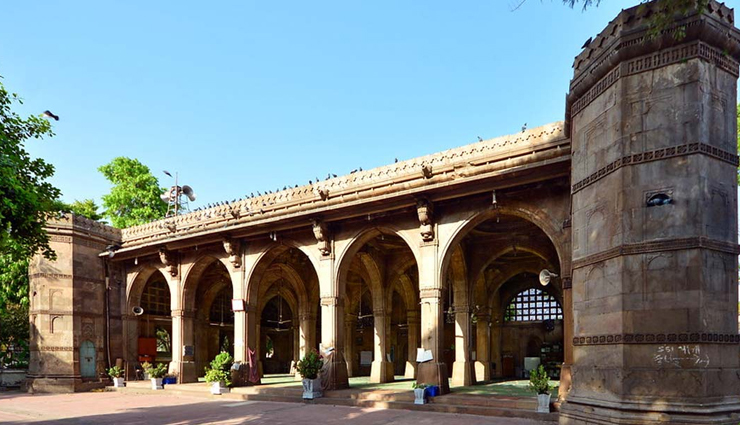 # Sidi Saiyyed Mosque

The Sidi Saiyyed Mosque, popularly known as Sidi Saiyyid ni Jali, was built in 1572-73 AD and is one of the most famous places of tourist interest in Ahmedabad. As validated by the marble tablets fixated on the mosque's walls, it was constructed by Sidi Saiyyid in the retinue of Bilal Jhajar Khan, general in the last Sultan, Shams-ud-Din Muzaffar Shah III's army.

The mosque is filled with arches and is best known for its ten intricately carved stone latticework windows (jalis) on the side and rear arches. The rear wall is filled with square stone pierced panels in geometrical designs. If you have an eye for intricacy in architecture, this is a place that you must go to.
# Bhadra Fort

Visiting the Bhadra Fort is another one of the interesting places to visit in Ahmedabad. Located in the walled city area of Ahmedabad, this partially ruined fort is believed to have adopted its name from a temple of Bhadra Kali that was established during the Maratha rule. However, a plaque near the fort tells of how the fort was erected in 1411 to serve as the principal eastern entrance of the palace constructed by Ahmad Shah I (the founder of Ahmedabad). With its well carved royal palaces, mosques, gates, and open spaces, it was renovated in 2014 as a cultural centre for the city.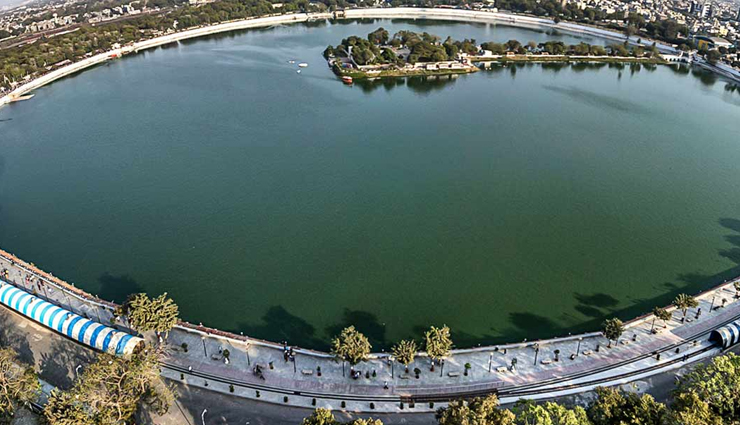 # Kankaria Lake

Even though it is a manmade lake, Kankaria Lake is the second largest lake in Ahmedabad. Polygonal in shape and almost a mile in circumference, this lake was constructed in 1451 by Sultan Qutb-ud-Din Ahmad Shah. There is an intricately carved water inlet with three circular openings on the eastern side. This feature resonates with the architectural convention followed by several reservoirs in Gujarat.

In the centre of the lake, there is an artificial island upon which the pleasure pavilion known as Naginavadi is situated. The paved waterfront around the lake is great for enjoying a relaxed walk in the evenings as the area fills with bustling crowds there to witness the merry atmosphere created by gathering of local street food stalls, among others, that enlivens the mood.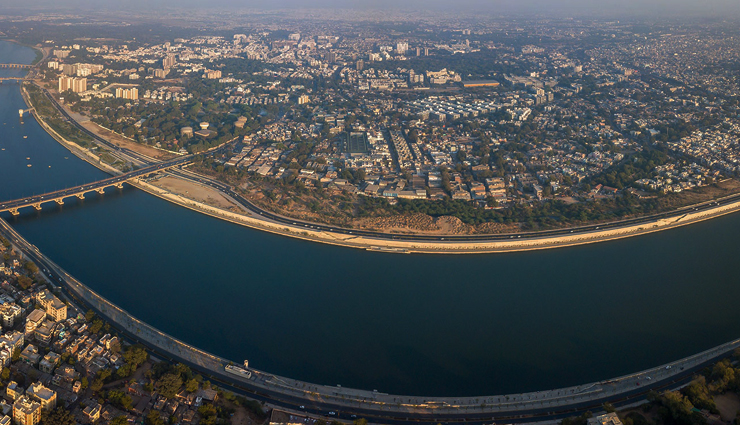 # Sabarmati Riverfront

If you are in Ahmedabad for a sightseeing tour, one of the best things to do here is to visit the Sabarmati riverfront. Preserving the significance of the Sabarmati River for the important role it played in the establishment and growth of the city, the proposal to develop the riverfront as a cultural hub was first forwarded in 1960. Now, the entire riverfront promenade features parks, boating, zip-line amusement centres, markets, and much more.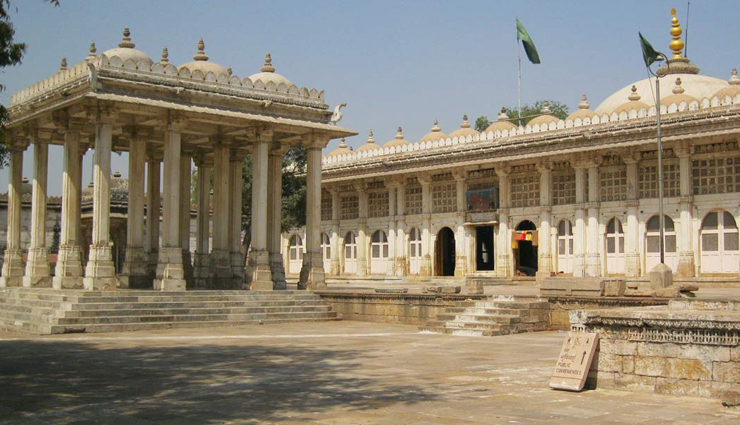 # Sarkhej Roza

Sarkhej Roza, a lakeside mosque and tomb complex that is located in the village of Makarba, 8 kilometres away from the city of Ahmedabad, is an early example of the famous Indo-Saracenic style architecture. It is an important tourist place to visit in Ahmedabad whose architecture and ambiance reflect the unique blend of Islamic architectural elements from Persia and Indian forms of architecture inspired by Hinduism and Jainism.

Sarkhej Roza, initially known for being the burial ground of the Sufi saint Sheikh Ahmad Ganj Bakhsh Khattu who is fabled to have lived to the ripe old age of 111 years, is still visited by both Muslim and Hindu communities living in nearby villages.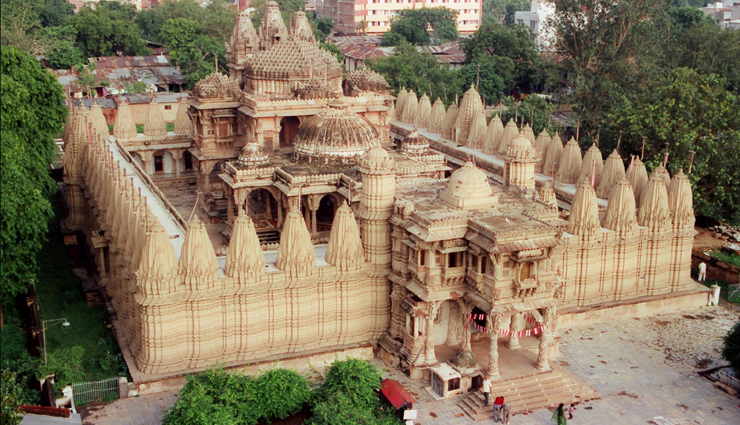 # Hutheesing Jain Temple

This is an ornate Jain Temple made entirely of marble. One of the top tourist places near Ahmedabad, the foundation of this temple was initially laid by Seth Hathisinh Kesarisinh, a wealthy trader from Ahmedabad. But upon his untimely death at the age of 49, the ongoing process of construction was supervised and completed by his wife, Sethani Harkunvar.

The temple was constructed and finished during a severe famine going on in the state of Gujarat, a process that employed hundreds of artisans skilled in marble sculpting. The Manastambha (or column of honour) that stands in the temple grounds bears resemblance with the Jain Manastambha and the Kirtistambha at Chittore, Rajasthan. If you are in the city for an extended tourist visit, say for 2 days, this is one of those places near Ahmedabad that you should not miss!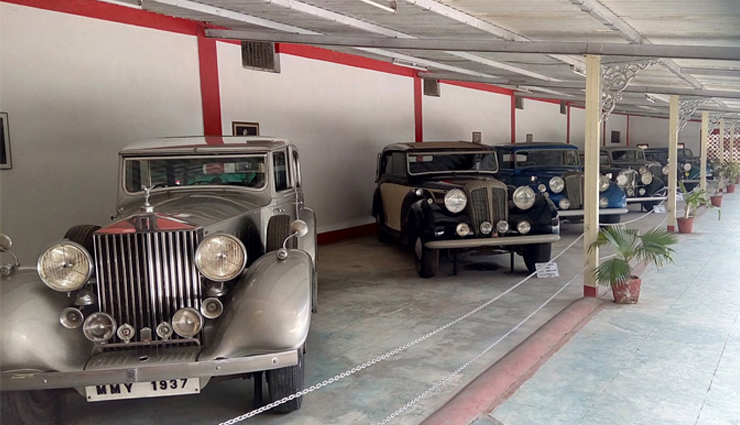 # Auto World Vintage Car Museum

Auto World vintage car museum is like a portal that transports the visitors to an era when owning a vehicle was a symbol of prosperity and royalty for a family. It displays the most important collections of antique cars, motorcycles, and utility vehicles collected by the family of Shri Pranlal Bhogilal over the last century.

Visiting this museum is one of the most fun yet insightful things to do in Ahmedabad, especially for vintage car lovers and automobile enthusiasts.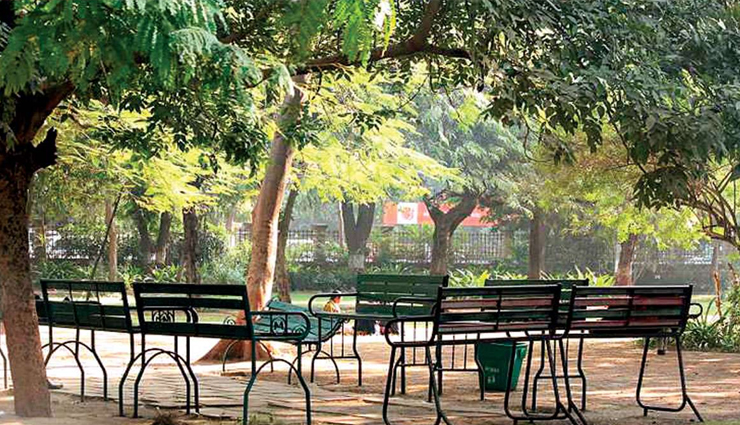 # Law Garden

Law Garden is a public garden and one of the best tourist places to visit in Ahmedabad. Besides essentially being a hub for walkers and fitness enthusiasts, there is a busy and decadent market just outside the garden which is a very popular shopping destination for both local and tourist crowds. The Law Garden market has developed a very popular reputation for premium quality ethnic Gujarati handicraft goods that are sold here by the local people. Along with crafts, you also get to enjoy delicious local street foods being sold here by the hawkers.