25 Places You Can Visit From Delhi To Manali
By: Pinki Tue, 08 Sept 2020 5:14:32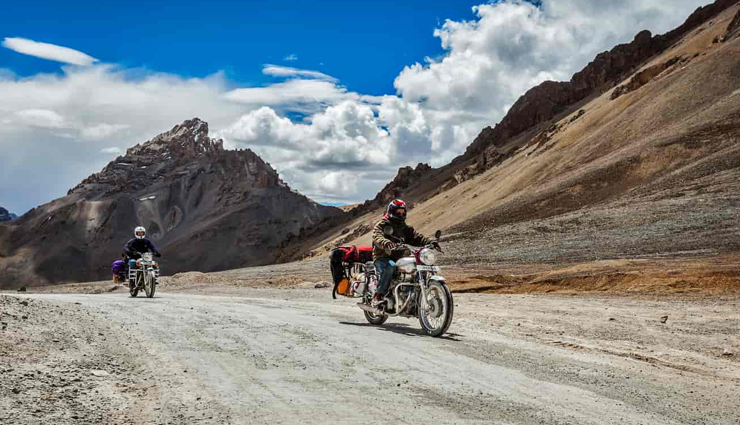 It is fascinating to be out on the road! To embark on a journey that will not only give you ample sightseeing opportunities but will also give you, some of the best experiences of your life. Road trips are, in a way, the perfect way to travel and explore any destination. Especially, when you are travelling within your own country, you know the driving rules and you have a rough idea of the terrain that lays ahead!

Road trips are the ideal escape to spend some quality time with your loved ones (on road!). They provide tremendous scope to customize and alter your travel route, the way you want it! You can make pit-stops wherever you want, plan out your journey as per your preference and cover long distances easily by modifying your travel speed (wherever the need arises).

India is filled with such incredible road trips that offer an amazing yet offbeat travel experience! One such popular road trip is from the capital city of New Delhi to the picture-perfect hill station of Manali in Himachal Pradesh. The total distance of this journey, if you travel via the National Highway 44, is about 540 km. This distance can be roughly covered in 12 hours, at a stretch. But of course, it being a road trip, the time required to cover this distance would be more, depending on your mode of travel, the speed of driving, number of rest stops, choice of overnight stay etc.

The next best part about a road trip is sightseeing! It always helps to know the sightseeing places that you can cover when you are on the road! To help you on this journey, we have come up with a list of 25 remarkable tourist places you can cover while travelling from Delhi to Manali. Some are on the route for e.g. Shimla to Manali and some go a bit off route for e.g. Delhi to Shimla, but they are all, definitely worth a visit.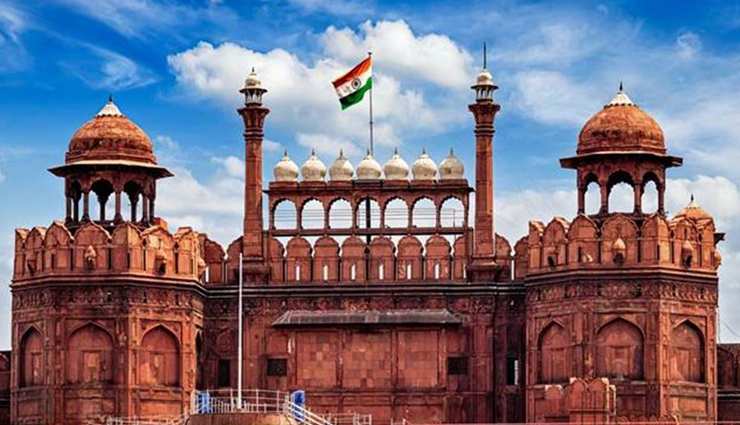 * Red Fort

Perhaps, one of the most popular tourist places in Delhi, Red Fort (Lal Qila) requires a special mention and a mandatory inclusion in your sightseeing list. After being the royal residence of the Mughal Dynasty for nearly 200 years, this historical fort became an important landmark of not just the capital city but the entire country. The fort is located at the heart of the city and houses many significant museums along with some remarkable structures such as the Lahori Gate, Diwan-i-Aam, Diwan-i-Khas, Rang Mahal, Moti Masjid, Hira Mahal.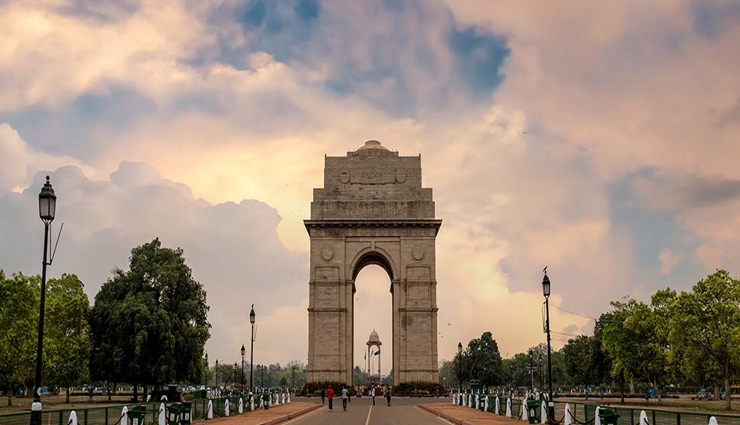 * India Gate

This iconic monument in New Delhi is sure to fill up your chest with pride and make you shed a tear in reverence and honour of our brave soldiers! The India Gate is a war memorial built to commemorate the sacrifice of 70,000 Indian Army soldiers who fought during World War I. It is located at the crossroads of Rajpath and can be visited anytime during the day, throughout the year. There is no entry fee to visit this memorial. As if anyone could ever put a price on the bravery and valour of our soldiers! The monument also houses 'Amar Jawan Jyoti' – an eternal flame that burns night and day to remind us of the soldiers who lost their lives during the Indo-Pak War of 1971.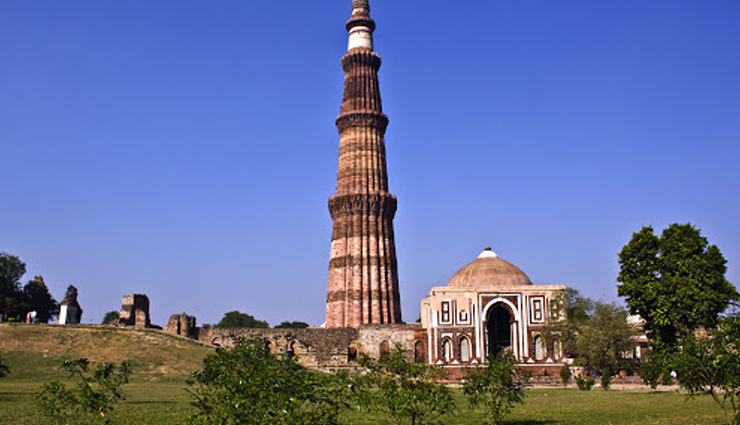 * Qutub Minar

The next tourist landmark on this list, undoubtedly, has to be the Qutub Minar! This popular victory tower is 73 meters (240 feet) high with 5 distinct storeys that are divided by projecting balconies. The architectural style differs across the 5 levels and so does the construction material used, since the tower was initiated, built upon and finally completed by 3 Muslim rulers respectively – Qutab-Ud-Din Aibak, Iltutmush and Firoz Shah Tughlak! The complex of the Qutub Minar also houses a 7-meter high iron pillar and it is believed that anyone who can wrap their arms around the pillar backwards, can get their wish fulfilled. So, what are you waiting for? Try your luck today!
* Kingdom of Dreams

After some important history lessons, it is time for some much-needed entertainment! Travel about an hour away from Delhi and you will reach the satellite city of Gurugram (Gurgaon). Here, you will encounter the wonderful world of ultimate entertainment, Kingdom of Dreams. Get a unique opportunity to witness the many aspects of Indian culture, art, heritage, performing arts, crafts and cuisine, at this amazing theatre complex. With fascinating shows such as Zangoora & Jhumroo, the majestic palace of drama – Nautanki Mahal and the larger than life event auditorium – Showshaa Theater, Kingdom of Dreams definitely gives you an 'out of the world' experience, right in our capital!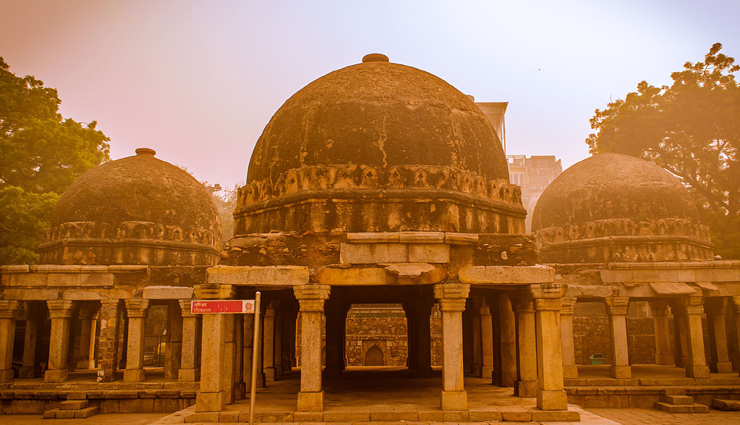 * Hauz Khas

It's time to head to the 'national capital of ethnic chic' – Hauz Khas! This is a popular neighbourhood in South Delhi that boasts of a quaint historic charm along with a contemporary urban environment. The Hauz Khas complex, located in this neighborhood, consists of medieval historic structures and ruins that date back to the 13th On the other hand, the Hauz Khas village is essentially an up-market residential and commercial area that houses many well-known art galleries, boutiques and restaurants that add value to the modern vibe of this place. Take your pick and go about exploring this beautiful neighbourhood that has earned the status of being 'the beating heart of creative India'.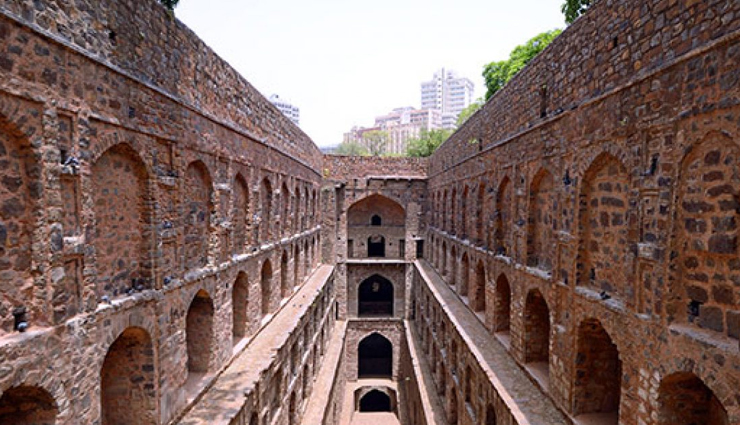 * Agrasen ki Baoli

You might probably remember this tourist attraction from the Bollywood movie, PK! Agrasen ki Baoli was the temporary home of PK, the alien, while he was stranded on Earth, in Delhi. Ever since the movie release, this historical site has become popular among Indian as well as foreign tourists, who flock this place to admire its beauty and in some cases, to reveal its hidden mysteries! But mystery or not, this architectural monument is definitely worth a visit with its unique construction style, arched niches, thick walls and the prominent step well. A total of 108 steep steps lead to the bottom of the stepwell and form the main highlight of this structure. Located near Connaught Place, just 1.5 km away from Jantar Mantar, Agrasen ki Baoli is worth every minute of the time you spend in visiting and exploring this place!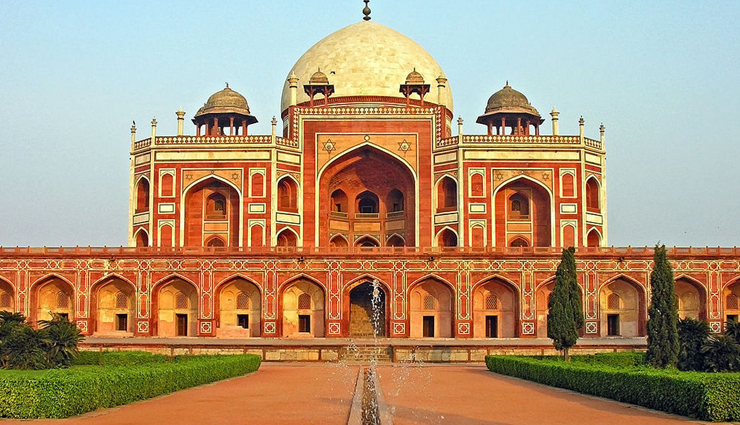 * Humayun's Tomb

A monument of cultural as well as historical significance! Located in the eastern part of New Delhi, this mausoleum belongs to the former Mughal Emperor, Humayun (King Akbar's father). Coined as a UNESCO world heritage site, this monument was the first garden-tomb of the Indian Subcontinent and inspired several Mughal architectural masterpieces such as the 'Taj Mahal' in the later years. It was constructed using red sandstone and marble primarily while employing an exquisite Mughal architectural style that was largely influenced by Persian architecture. With an incredible artistry that makes it look more like a palace than a tomb, Humayun's Tomb makes its way into the list of must-visit tourist places of many travellers!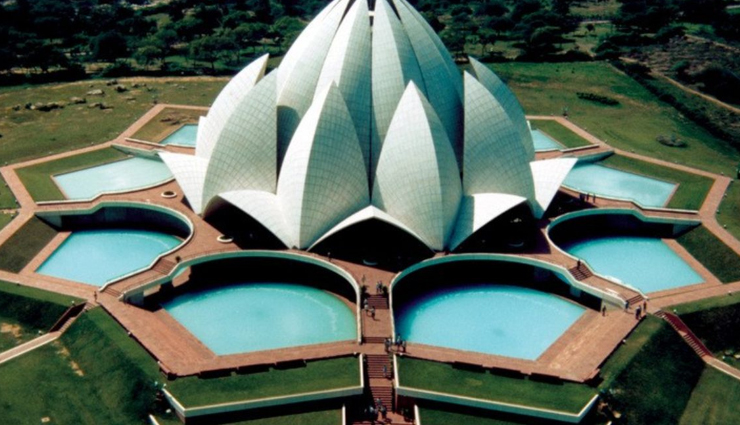 * Lotus Temple

The Baha'i Lotus Temple stands out like a 'lotus flower in a swamp'! Its unique shape comprising of marble-clad lotus petals arranged in a perfect cluster, have helped win this iconic structure many architectural awards and have made it one of the most prominent attractions of the city. The temple structure consists of 9 doors that open into a central meditation hall that is over 130 feet high and has a capacity of 2500 people. The Baha'i Faith recognizes all people as one regardless of their religion, sex, caste or any other distinctive factors. The Lotus Temple and essentially all places of worship constructed by the Baha'i Faith have a similar logic i.e. an open space for all kinds of people to gather, reflect and worship as per their choice. Experience this fact for yourself when you visit the Lotus Temple in South Delhi!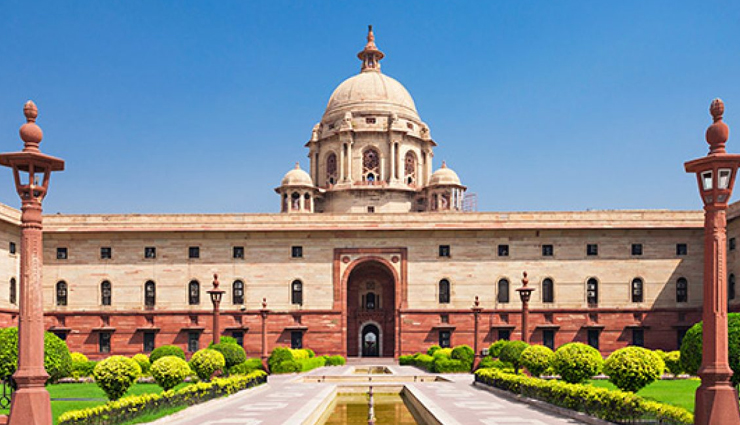 * Rashtrapati Bhavan

The official residence of the President of the largest democracy in the world! Rashtrapati Bhavan is a phenomenal structure located at the west end of Rajpath in New Delhi that comprises of a 340 room-main building that includes the President's main residence, reception halls, guest rooms and other offices. The surrounding premises of the Bhavan comprises of huge manicured gardens (Mughal Gardens), large open spaces, residences of staff and bodyguards, stables, other offices etc. You can view the Rashtrapati Bhavan from outside anytime but in order to take a full-inside tour of the Bhavan, prior online booking and appointment confirmation is required, which is granted by the President's Secretariat. The confirmation is received on email and the printout of this email along with your Photo ID proof is necessary for security clearance and entrance into the Bhavan. Make the most of it when you explore the capital city!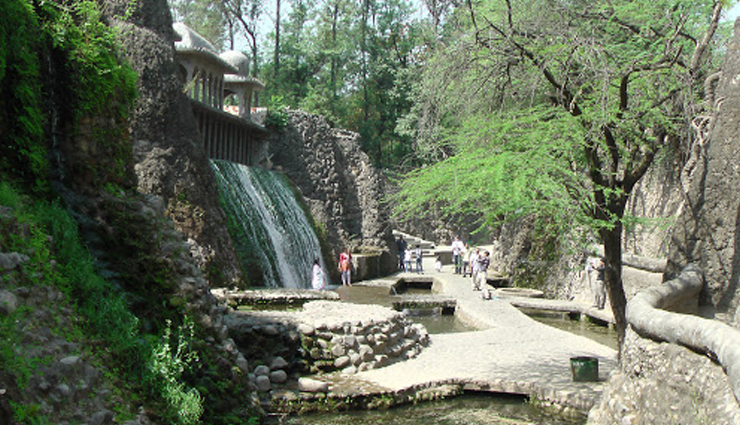 * Rock Garden of Chandigarh

Now that you have left the capital city behind, it's time to begin your northbound journey from Delhi to Shimla en route Manali! Along the route, you can stop at the union territory of Chandigarh, which also serves as the capital of both, Punjab & Haryana. And when you visit Chandigarh, one of the most popular attractions of this city is the Rock Garden of Chandigarh, also known as Nek Chand's Rock Garden. The unique feature of this garden is that it is completely built of materials recycled materials, industrial as well as home waste and other thrown-away items. Interestingly enough, the garden was started as a secret project by Nek Chand in 1957. Today, the garden is spread over an area of almost 40 acres and is one of the most prime attractions of the city. A beautiful example of 'Wealth from Waste', this garden is a must-visit for any traveller!


* Zakir Hussain Rose Garden

Another must-visit when you are in Chandigarh is the Zakir Hussain Rose Garden! This botanical garden consists of almost 50,000 rose bushes of 1600 different species, spread across an area of 30 acres. The garden which has been named after the former President of India, Zakir Hussain, earns the title of being the largest rose garden in Asia. The best time to visit this garden is during February & March when the rose flowers are in full bloom. This is also the time when an annual cultural event called 'Rose Festival' takes place in the garden that celebrates the magnificence of the 'Rose' flower and includes various programs such as photography, landscaping, gardening, bonsai and activities such as contests, rides, food, drinks etc.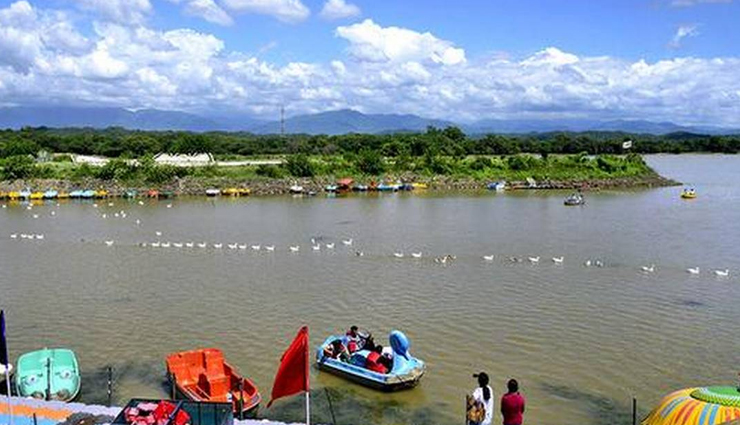 * Sukhna Lake

An important landmark of the Green City! Sukhna Lake is a man-made reservoir lake situated at the base of Shivalik hills in Chandigarh. The lake has a beautiful promenade where people can stroll around or simply sit back and admire the wondrous views of the lake during the day or during sunset. The lake is also open to several water sports activities such as boating, rowing, sculling, kayaking, water surfing etc. Other activities that you can enjoy around this lake are: Buy souvenirs at the souvenir shop, go running at the jogging track, visit the Chandigarh Peace Symbol, get a picture clicked with the famous Peepal tree (oldest tree of the city), sit by the stairs and feed the ducks in the lake or explore the Buddha Peace Park, located at the end of Sukhna Lake.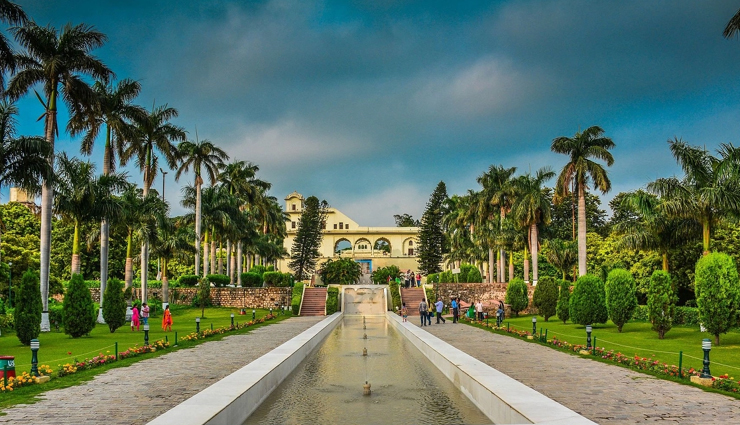 * Pinjore Gardens

A little away from Chandigarh lies another spectacular garden! The Pinjore Gardens or Yadavindra Gardens are located in the Pinjore city of Haryana state and are definitely worth a visit, owing to their distinct 'Mughal Gardens' landscaping style and the perfect way in which they are maintained even today. The gardens are laid out over 7 terraces, with palace-like structures such as Sheesh Mahal, Hawa Mahal, Jal Mahal and Rang Mahal, built on some levels. There are several trees, plants, flowerbeds, fountains and fruit groves that are scattered across the premises of the garden. The garden complex also houses a museum, a temple and hosts festivals such as the Pinjore Baisakhi Festival (April), Pinjore Mango Festival (2nd weekend of July) and Pinjore Heritage Festival (last week of December), every year. A perfect little escape on the way from Chandigarh to Shimla!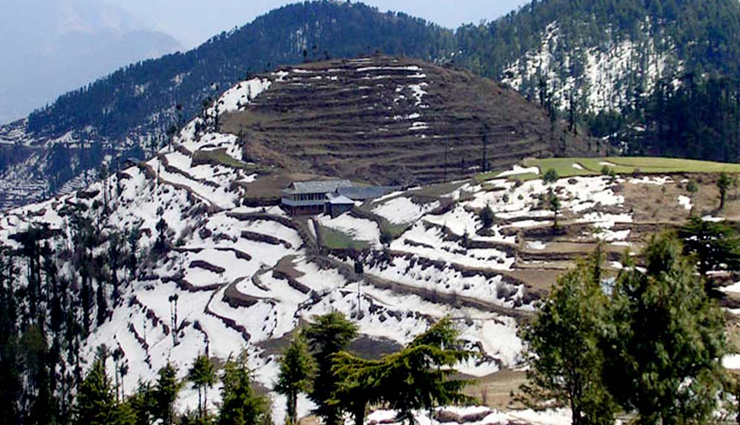 * Kufri Valley

Shimla is a little off-road from the direct route between Delhi to Manali but it is worth every minute that you spend in travelling towards this lovely destination i.e. from Chandigarh to Shimla! Kufri valley is a small hill station located in the Shimla district of Himachal Pradesh. Kufri is famous for its ski slopes, scenic valleys, hiking trails, nature parks and the panoramic views it offers of the surrounding region. It hosts popular Shimla tourist places such as the Indira Tourist Park, Chini Bungalow, Johnnie's Wax Museum and Himalayan Nature Park, where you can spot the Himalayan Monal (state bird of Himachal Pradesh). Hike to the Mahasu Peak, go skiing on the numerous ski slopes or have an amazing time at Kufri Fun Campus where you can enjoy various rides, pools and the world's highest go-kart track!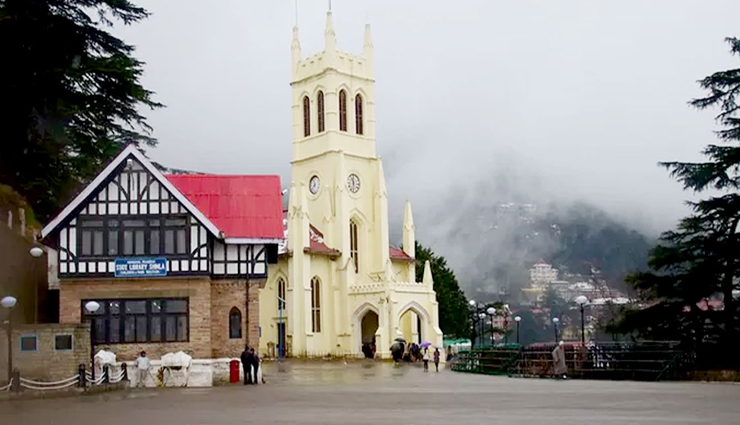 * Christ Church of Shimla

A must-visit that forms an integral part of your Shimla tour package! The Christ Church is the second oldest church of North India and till date remains a very popular attraction of all Shimla tourist places. The church is situated on the famous Mall Road of Shimla and has been the favourite location for filming many Bollywood movies, over the years. Its unique neo-gothic architectural style, beautiful stained glass windows, peaceful interiors, brass church bells and the ancient clock that adorns the exterior of the church, simply elevate the beauty of this marvellous structure. One of the best views of this church can be obtained in the evening when it is illuminated with yellowish lights that make the church glow with a dazzling yet elegant charm!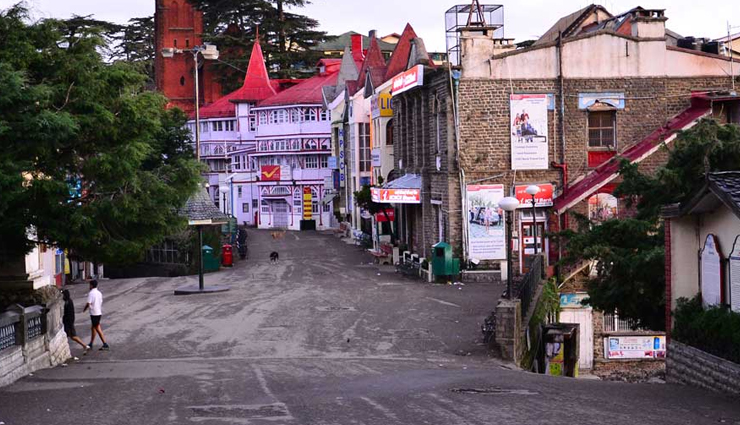 * Mall Road

A Shimla tour package is never complete without visiting the popular, Mall Road! It is the main thoroughfare of Shimla where you can expect to find almost anything right from local markets, handicrafts and souvenir shops to restaurants, cafes and government offices. The best part about this road; there are no automobiles allowed here except emergency vehicles. That makes it perfect for tourists to wander around this street freely as they look for places to eat or shops to buy local handicrafts and other souvenir items. There are many tourist spots located along the Mall Road such as Scandal Point, Gaiety Theater, Kali Bari Temple and Town Hall, which make it a popular hang-out among Shimla tourist places for all kinds of travellers.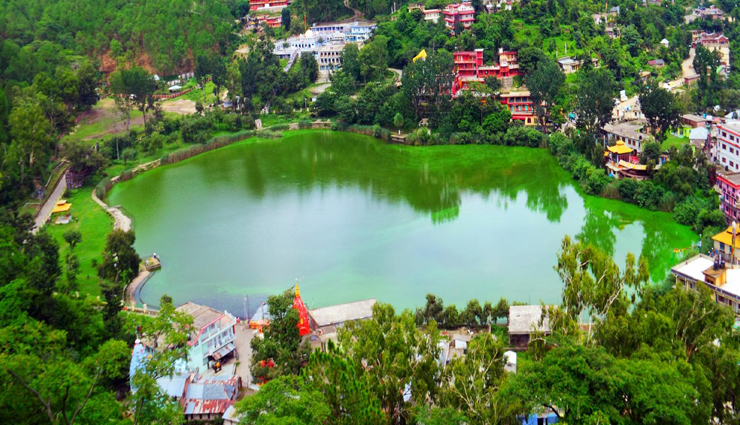 * Rewalsar Lake, Mandi

As we move on from Shimla to Manali, we head towards Mandi, a major town in Himachal Pradesh that is also known as the 'Varanasi of Hills' or 'Kashi of Himachal'. Mandi is the starting point of the famous, Prashar Lake trek in Himachal Pradesh. This town is also home to the beautiful Rewalsar Lake, which is surrounded by rugged mountains, lush-green scenery and scenic landscapes on all four sides. This square shaped lake is a rare 'coming-together' of 3 different religions who consider this lake to be an extremely sacred spot. It is revered by the Hindus, Sikhs & Buddhists and is believed to be one of the holiest lakes in Himachal Pradesh. The lake is surrounded by Hindu temples, Buddhist monasteries and a Sikh Gurudwara that highlight the spiritual ambience of this beautiful place. A must-do attraction that you can include in your Shimla Manali tour package!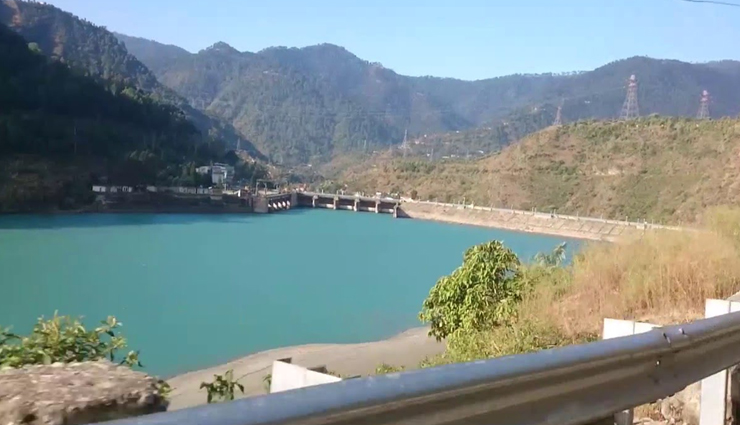 * Pandoh Dam

The Mandi district also houses the spectacular Pandoh Dam that falls in between the route from Shimla to Manali! The dam was built under the Beas project and serves the main purpose of hydroelectric power generation and supply to the Dehar Power Plant. The dam forms a beautiful embankment on the Beas River and provides splendid views of the surrounding region, making it a perfect spot for tourists to stop and admire its stunning natural beauty. The journey to this place is a scenic one too, surrounded by abundant pine forests, snow-capped mountains, lush greenery and verdant landscapes, as far as the eyes can see! If you are really lucky, you can even arrive in time to see the water being released out of the dams in full force which makes for a fantastic sight that takes your breath away!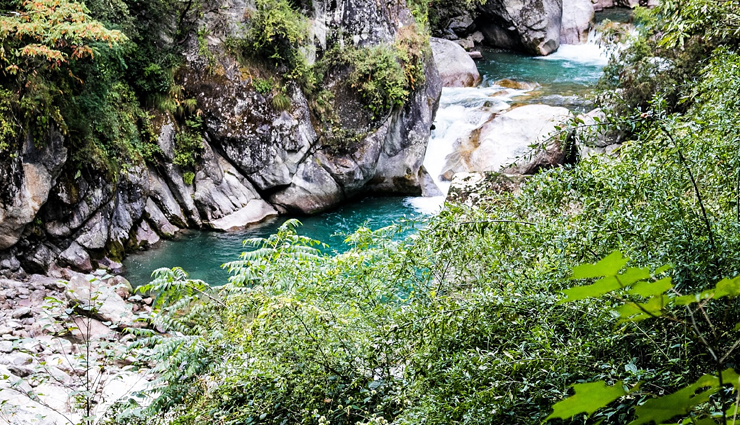 * The Great Himalayan National Park

Located in the Kullu district of Himachal Pradesh, the Great Himalayan National Park is a UNESCO world heritage site that is home to a wide variety of flora and fauna. Over 1000 species of plants, 31 mammal species, 209 bird species and several species of insects, amphibians and reptiles have made this park their natural habitat. It is spread across 4 valleys – Tirthan Valley, Parvati Valley, Jiwa Nal Valley and Sainj Valley which are ideal for trekking and hiking. One can either trek in the ecozone or in the interiors of the national park. All four valleys host moderate to difficult level treks which can be opted by travellers based on their choice and preference. Besides trekking, you can also enjoy camping or bird-watching in these natural surroundings. The Eco Zone, on the other hand, is where you can enjoy activities such as rock climbing, river-crossing, rappelling and also get a chance to interact with locals in nearby villages. A must-experience tourist activity you can include as part of your Kullu Manali holiday packages!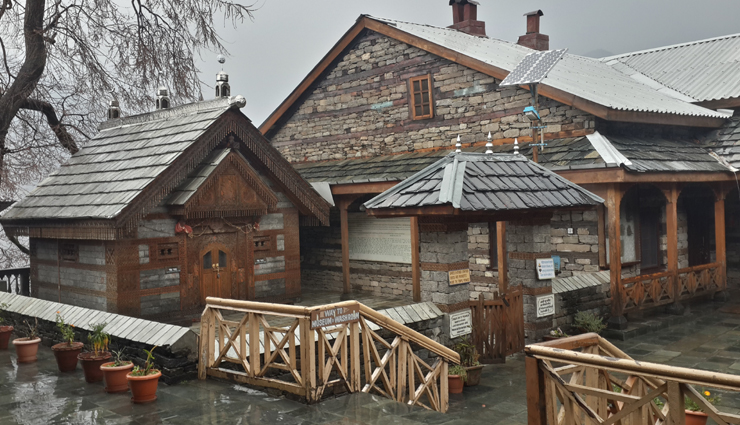 * Naggar Castle

You might not have heard of this place but if I tell you in which popular Bollywood movie it was featured, then you would instantly recognize it! The Naggar Castle was primarily featured in the song 'Yeh Ishq Hai' from the 2007 movie, 'Jab We Met'. It is the place where Kareena Kapoor dances along with a large group of (colourfully dressed) local dancers who together with the beautiful surroundings and quaint charm of the Naggar Castle, make this song a complete visual treat! It is located in the ancient town of Naggar and is operated by the Himachal Pradesh Tourism Development Corporation (HPTDC) as a heritage hotel. The castle, made of wood and stone, is a brilliant amalgamation of Himalayan and European architecture, complete with fireplaces, staircases, chimneys and magnificent stone as well as wooden interiors. The Naggar Castle also houses a Hindu shrine and a gallery of paintings by the famous Russian painter, Nicholas Roerich. So, when are you planning to visit this popular spot among the Kullu Manali tourist places?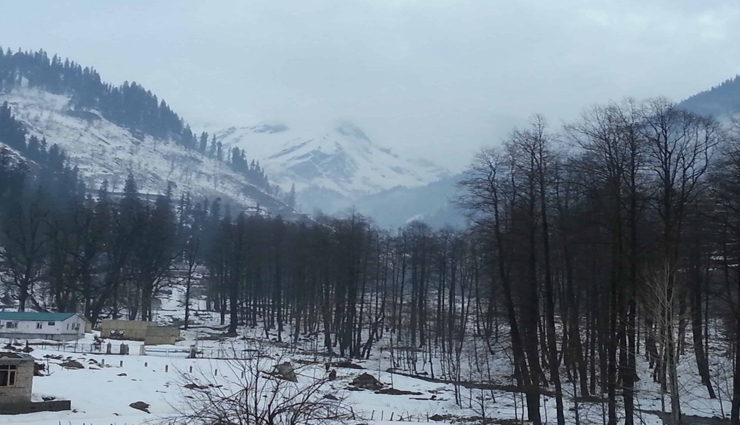 * Solang Valley

We are in Manali now! Phew… What a journey! After exploring so many places from Delhi, Chandigarh, Shimla, Mandi and Kullu, it is now time to see what the Manali tourist places have in store for us! Solang Valley is a popular winter sports destination located between the Solang village and Beas Kund, at a distance of about 13 km away from Manali. It offers spectacular views of the surrounding snow-capped mountains and glacial scenery that are a treat to watch and an experience to be lived, at least once in your lifetime! This is the perfect place to enjoy winter adventure sports such as skiing, tobogganing, ice-skating, paragliding, mountain biking, snow scooter owing to the verdant landscapes and vast expanses of snow-covered slopes and hills.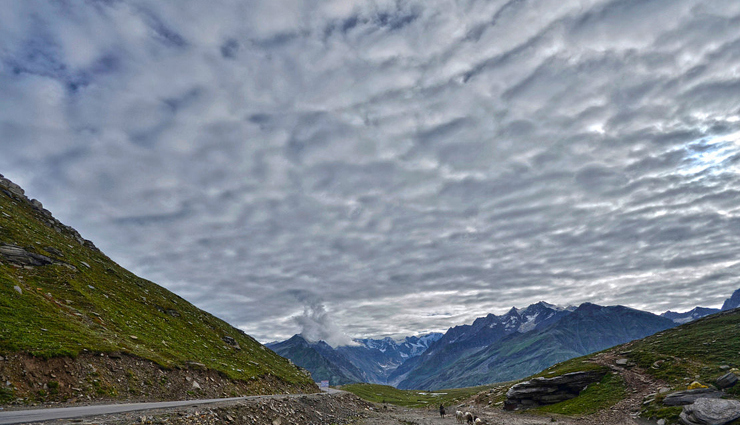 * Rohtang Pass

Another tourist spot, very popular among all Kullu Manali tourist places, that was featured in the movie, Jab We Met! Rohtang Pass is a high mountain road that takes you to higher altitudes from the hill station of Manali to the village of Keylong and so on. A tourist permit is required to visit this spot and if you leave early and reach this spot before the crowds, you can enjoy pristine landscapes coupled with spectacular mountain scenery to your heart's content. The mountain pass is sometimes lined with thick snow walls on either side that give the entire place a surreal yet dreamy look! Play in the snow, have wonderful snow fights, make snow figures and click ample of photos with your loved ones in these heavenly surroundings. The pass also has several local eateries and small shops that sell tea, coffee, light snacks, chips and the hot-favourite of the mountains – Maggi! Help yourself to a hot bowl of Maggi in the mountains at Rohtang Pass and make this experience a part of your ideal Shimla Manali tour package.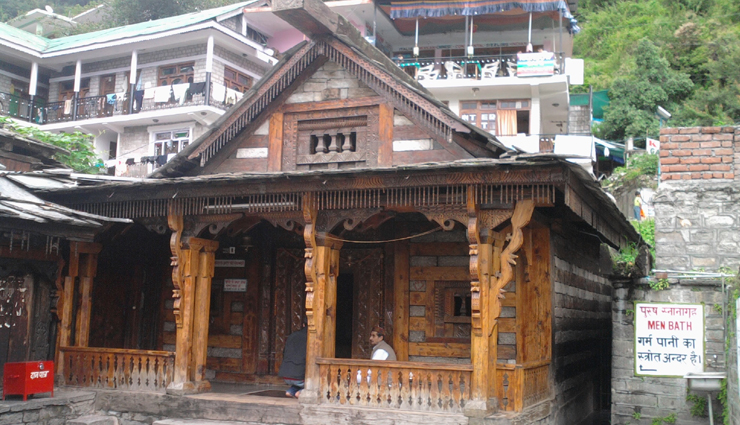 * Vashisht Temple

This temple, located about 6 km away from Manali, is believed to be around 4000 years old. The temple is situated on the banks of River Beas and is named after 'Vashisht Rishi' who was among the 7 main sages of the Hindu religion. It is built in a traditional style that uses a lot of wooden materials and is adorned with intricate wooden carvings. The temple is also well known for its hot springs that are believed to possess medicinal and healing powers. The surroundings of the temple are picture-perfect offering pristine views of the Beas and the old city of Manali. Vashisht village is also a favourite among many foreigners and backpackers owing to the presence of quaint cafes, small restaurants and the overall cultural feel of the small village. A favourite among all Manali tourist places, make sure to make Vashisht Temple, a part of your Manali holiday packages, right away!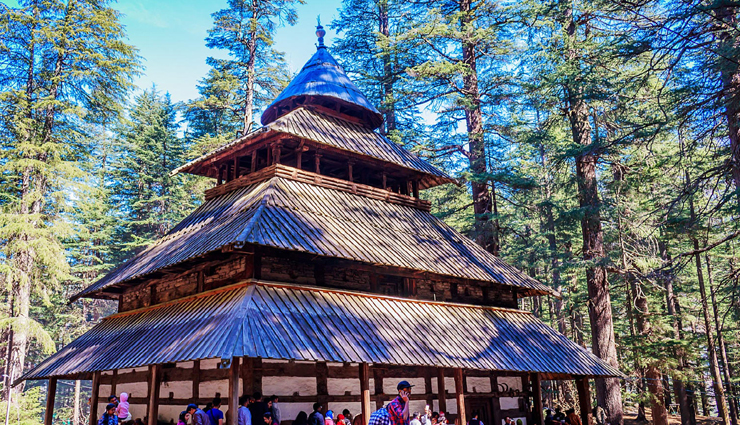 * Hidimba Devi Temple

This unique temple and its surroundings shot to fame when they were featured in the Bollywood movie, 'Yeh Jawani Hai Deewani'. The temple is essentially a shrine dedicated to Hidimba Devi, who was the wife of Bheema (2nd Pandava Brother). Shaped more like a house than a traditional temple, the Hidimba Devi Mandir is constructed over a huge rock and is worshipped as the representation of the Hidimba demon-turned-goddess (according to the popular epic, Mahabharata). The location itself is a picturesque spot with cedar forests and lush greenery surrounding the temple on all sides. A must-visit of all Manali tourist places, Hidimba Devi Temple forms an integral part of all Manali holiday packages.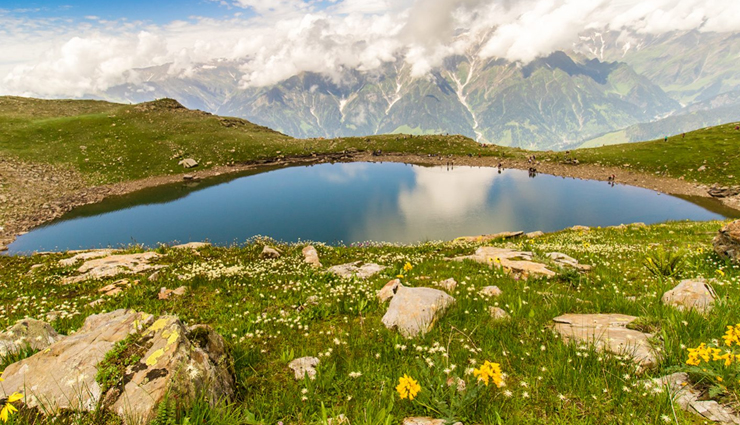 * Bhrigu Lake

Leaving the best for the last, we have included the famous 'Bhrigu Lake' trek as a popular option for mountaineers and adventure enthusiasts! Breathtaking landscapes, picture-perfect alpine meadows, amazing mountain scenery and pristine unspoilt views are what you will experience when you embark upon this adventure. The Bhrigu Lake can be reached via a trek that starts from the Gulaba base camp near Rohtang Pass. A steep but satisfying walk up the mountain trails will enthral you with its pristine beauty! The final destination of the trek, Bhrigu Lake is an enchanting experience with ever-changing shades of the surface water and mesmerizing views of the landscapes that are worth the mountain climb! Comparatively an easy trek by difficulty level, it can be tried by first-time trekkers and mountain climbers, as well. (Provided you are in the proper physical shape to undertake this activity; doctor's advice would be highly recommended). So, next time you visit Manali, make sure to include the Bhrigu trek as part of your Manali holiday packages!