5 Amazing Restaurants In Mysore You Should Not Miss
By: Kratika Mon, 11 Oct 2021 11:40:44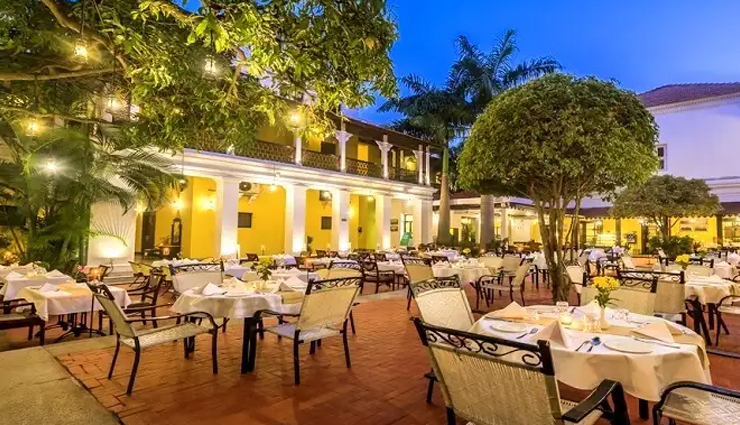 The City of Palaces has something to offer every visitor. It has magnificent palaces and heritage buildings for the history and architecture enthusiast. Shopaholics can indulge in beautifully coloured Mysore silk sarees and exquisitely carved sandalwood souvenirs. And for the foodies, the restaurants in Mysore will offer you treats that will leave you with full tummies and pleased palates.

Today, the city of Mysore has loads to offer the hungry tourist looking for good food. The usual continental fare of pizza, pasta, and burgers is available in most restaurants. And the hearty north Indian cuisine complete with kebabs and parathas have also made their way into the Mysore food scene. But the old cuisine of Mysore still lives on in a lot of restaurants in Mysore and they give those swanky restaurants and their food a run for their money.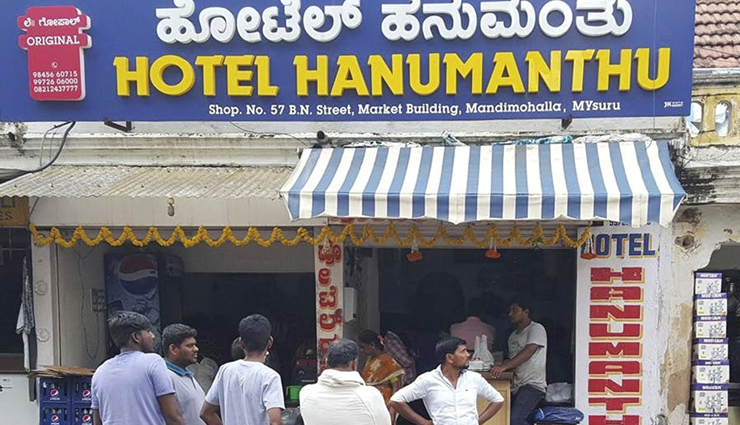 # Hotel Hanumanthu

Sure you've heard of zafrani pulao and Kashmiri pulao, but have you heard of Hanumanthu Pulao? The Hotel Hanumanthu Original 1930, more commonly known as Hotel Hanumanthu is unlike any other. If you're a hardcore meat-eater, one that fancies meat for breakfast, lunch and dinner, then this is the place for you. Hotel Hanumanthu is one of the best-known restaurants in Mysore for non-vegetarian food. Ask anyone in Mysore for the best mutton and chicken pulao and their answer will be Hanumanthu Pulao! And why not? The restaurant in Mandi Mohalla has not changed its recipe in the past 70 years! All the food is still cooked in the open air using firewood, just like the original chef and owner Hanumanthu did.

The restaurant is packed with foodies right from the time they open at 8 A.M. The restaurant serves mutton pulao right from breakfast-time! But if that's not your thing, they have a whole host of other incredibly delicious things you can try on their menu. No meat-loving foodie should leave Mysore without a taste of their mutton chops, kurma (mutton slow-cooked with yoghurt and spices), paya (leg soup) or liver mutton fry.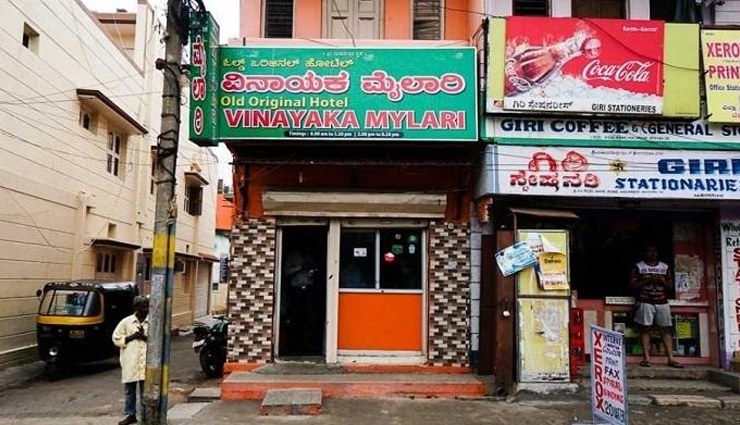 # Vinayaka Mylari Hotel

Who doesn't love a good dosa for breakfast? The South Indian rice crepe is one of the most popular breakfast foods in India. Though the dosa originated in Udupi, it's travelled all across the country. And during its travels, it's gone through a few modifications here and there. The city of Mysore also gave its own identity to the humble dosa. While the crisp crepe, roasted with ghee and filled with potato version called the masala dosa is the most popular one, Mysore masala dosa is also quite popular.

Vinayaka Mylari Hotel, an 80-year-old establishment, is the home of the Mysore masala dosa. The restaurant has limited seating and offers only idli, dosa and masala dosa on its menu. Unlike the masala dosa, Vinayaka Mylari hotel's masala dosa or Mysore benne masala dosa is not thin. The dosa is smaller and thicker, soft and fluffy inside and crisp outside. The Mysore masala dosa is not filled with potato either; instead the filling is a sagu (vegetable curry with coconut masala). The delicately spiced and fragrant sagu feels like a flavour bomb explosion on your tongue. The dosa is served with a dollop of unsalted butter melting on top and some coconut chutney and sagu on the side.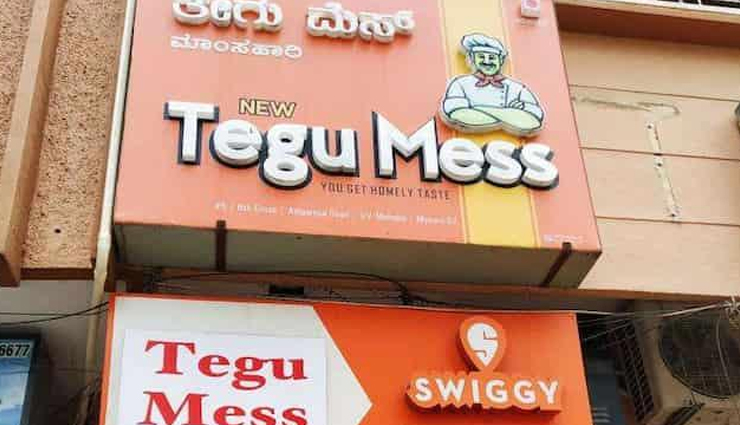 # Tegu Mess

A mess is an establishment that serves home-cooked food to migrants. The food is considered to be homely and healthy by the migrants who miss their homes and home-cooked meals. Tegu Mess is a hidden gem that serves some authentic Kannada cuisine to its clients. The restaurant was opened about 50 years ago to cater to the students who lived nearby. Don't be fooled by its humble appearance, the restaurant might look like a hole-in-the-wall, but their food is delectable.

For a meat lover, this restaurant, that is known for its local-style non-vegetarian food is paradise. The hearty meat-dishes on the menu, each with its special masala ground in-house, are sure to tickle your taste buds. The thick and spicy curries are served with generous portions of meat. Their famous ragi mudde (finger millet dumplings) and mutton curry will leave you licking your fingers and wanting more. The restaurant has several other curries on their menu along with neer dosa, idlis and ghee rice.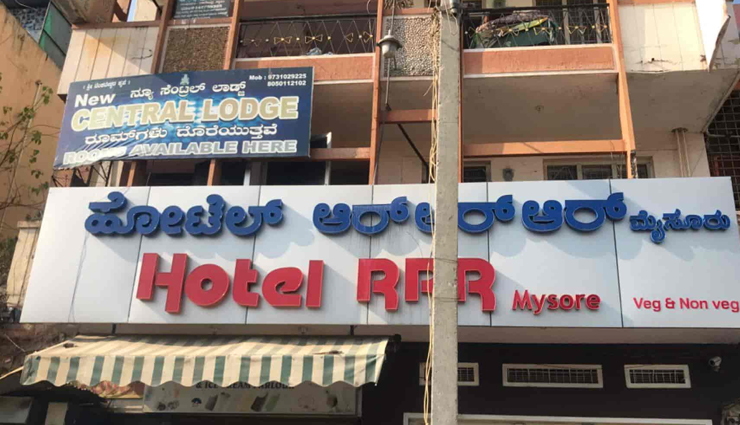 # Hotel RRR

If you're a lover of spicy food, a visit to Hotel RRR is a must. The old restaurant has been serving spicy Andhra-style food to Mysoreans for decades. As you enter, the first thing that'll assault your senses is the aroma of the biryani. Their spicy mutton and chicken biryani are richly flavoured with spices, meaty and very appetising. The restaurant also has some great vegetarian dishes on their menu. Their unlimited vegetarian thali (platter of food) is quite popular.

The chicken pepper dry is another popular dish on their menu. The restaurant is eco-friendly, and all the food is served on banana leaves. If you've never experienced eating with your hands from a banana leaf, you should try this once. The taste of hot food off of a banana leaf is indescribable and an authentic experience to try at least once. The ever-busy eatery is busier during lunchtime and finding a table is quite difficult. But their food is definitely worth the wait.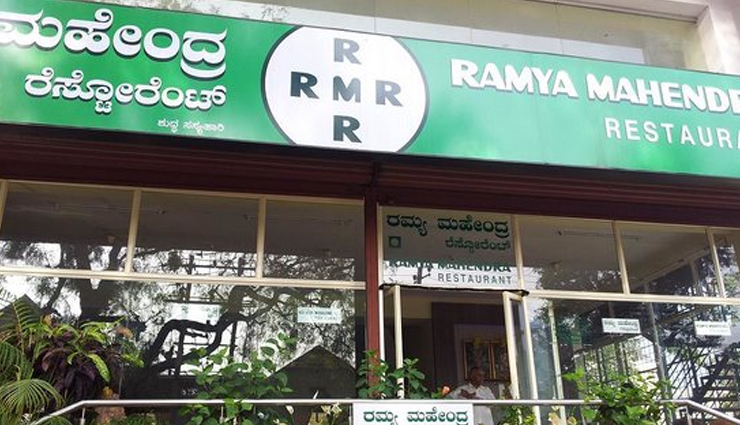 # Ramya Mahendra Restaurant

The Ramya Mahendra Restaurant is another gem that is hidden away in the tiny streets of Mysore. For those of you who love south Indian food, especially breakfast fare, this hotel in Mysore is a must-visit. Their crispy masala dosa, which is served with a small bowl of ghee, coconut chutney and sambar (south indian vegetable curry), is one of the best you'll ever taste. Their idlis and bonda soup are also very popular. But the dish that is the best here is their thayir vada (dahi vada, a vada dipped in spiced yoghurt). The freshly fried vadas are crunchy on the outside, yet fluffy inside, and the yoghurt that it's dipped in is slightly sweet and sour. And the icing on the cake is the crunchy boondi (pearl-sized balls of fried chickpea flour) and peanuts that it's topped with. All this together creates magic in your mouth and makes it an unforgettable meal.

For those with a sweet tooth, the restaurant has kesari bath (semolina pudding) and badam halwa (an almond dessert) on their menu. The badam halwa especially tastes divine. The restaurant is only open for breakfast and at tea-time.