5 Handicrafts Of Kashmir You Must Buy
By: Pinki Sun, 10 Apr 2022 7:07:04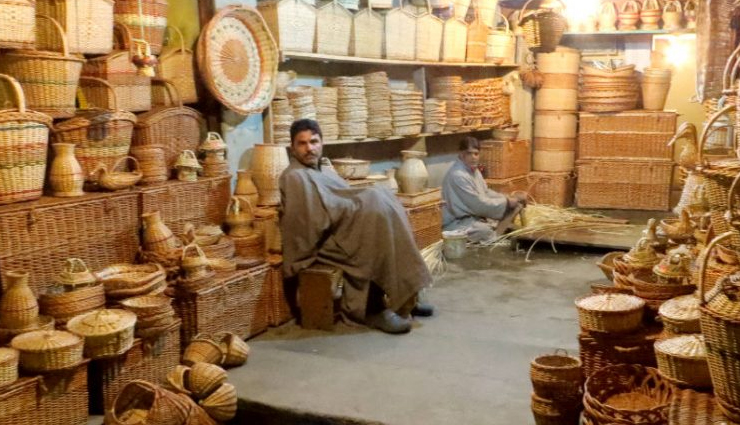 Kashmir's handicraft is the traditional art of Kashmir. Srinagar, Ganderbal, and Budgam are the major districts in central Kashmir that have been manufacturing artisanal goods for years. Kashmiris make various kinds of handicraft items. The most important Kashmiri handicraft items are Pashmina, Shawl, Carpet, Silverware, Woodwork, Embroidery floss, and Phool Kari. It is said that in the 11th century when the Mughal emperor Akbar ordered a suitable floor covering for his horse, the people of Kashmir learned to weave Namda (a Kashmiri rug). Some people thought to make useful items from the manufacture of stones, which used later in the architectural process. Stone refining takes place mostly by men, while other handicrafts such as embroidery are performed by both men and women in the region.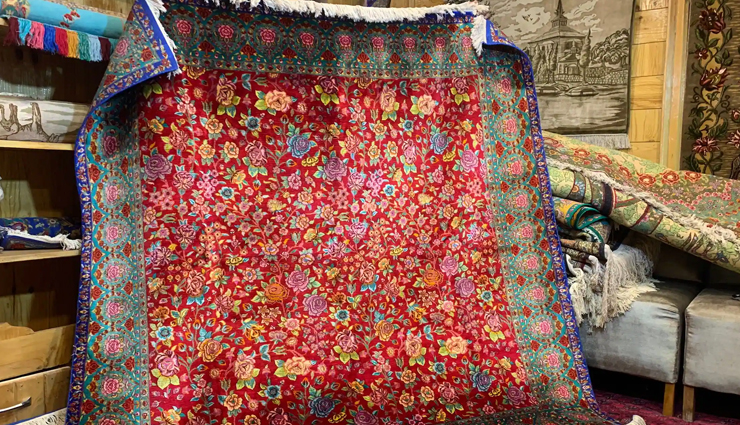 # KASHMIRI CARPET

Kashmir is known for its enchanting valley and incomparable craftsmanship of handmade and hand-knotted carpets. Kashmiri rugs are made of pure wool and silk. Kashmir's hand-crafted carpet has vivid, jewel-like color tones. Kashmir handcrafted rugs are sapphire blue, emerald green, aquamarine, ruby red, amethyst, and ivory in color. Kashmiri rugs are typically made in eastern floral designs with significant motifs such as chinar tree, and tree-of-life. Kashmir handicraft is a symbolic reflection of the traditional and ancient Kashmiri hospitality, affection, and comfort. From 15th-century A.D carpet is crafted in Kashmir. In history, Kashmir's king, sultan Zainul Aabideen, popular with the name of Budshah, carried the most expensive rug and sold the Sotheby's antique Persian carpet for $33 million.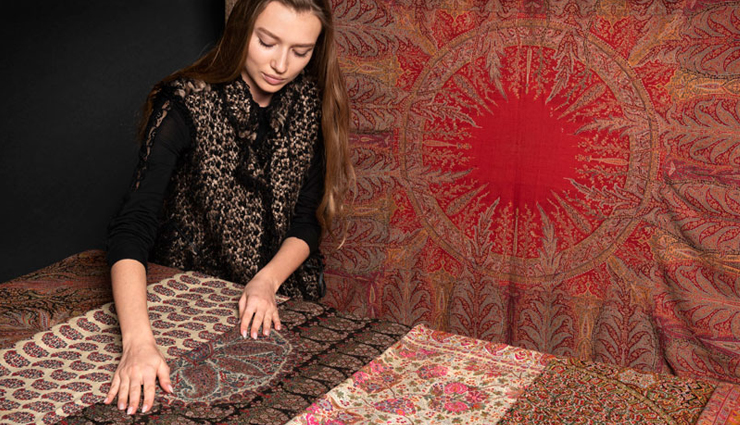 # KASHMIR SHAWLS

Kashmiri shawls are warm and can enhance any outfit. Kashmir is the place where fiber shawls are handwoven and embroidered for many years. Pashmina and Shahtoosh shawl are two world-famous shawls woven in Kashmir. Kashmir shawls are partially or entirely woven from goat hair called 'Pashm'. Pashm shāla are made from the hair of domesticated goats and Asli tūsh are made from the hair of wild goats. Pashmina wool is famous for being soft and warm, luxurious, and also famous as the world's best wool. Finest Kashmiri wool comes from the valley of the Himalayas.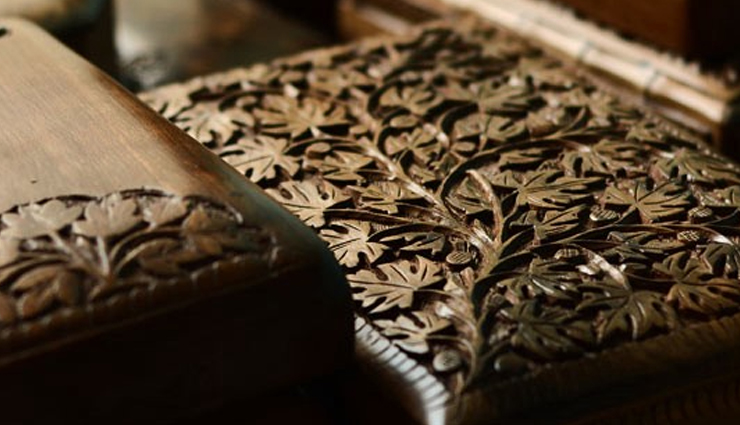 # WOOD CARVING

Kashmiri wood carving is not only famous in India, but it's also a worldwide famous handicraft of Kashmir. The motifs make it look different from other woodwork. Carved rustic wood is one of Kashmir's most famous crafts. Kashmir is also one of the few regions of the world where walnuts WOODEN HANDICRAFTS are still accessible. The hard and strong wood enables fine and systematic work to give an even texture. Small carvings are done on trays, tables, bowls, and other items also give a significant impact when done on polished surfaces. With the assistance of small indigenous tools, the carving is finished. The art of carving wood is centralized in the town of Srinagar in Kashmir.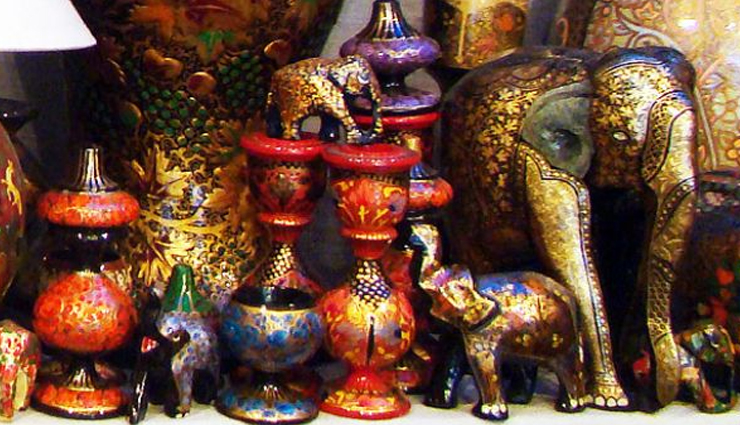 # PAPERMACHE

Kashmiri handicraft paper Mache is another perfect way to enhance the beauty of a home and filling it with stuff that can make a house admirable. The Persian mystic Mir Syed Ali Hamdani launched paper mache to India in the 14th century. Kashmiri craftsmen have over time flourished their art form and worked around the globe. Kashmir handicrafts have two main aspects of the paper mache- Sakhzazi and Naqashi. Sakhsazi is the type of formation of an artifact with a pulp of paper, which is painted and decorated with Naqashi. The paper pulp is soaked in water for three or four days in the Sakhtsazi stage of making a Kashmiri paper mache piece. It is then set in a stone mortar and in a surface so that the whole paper gets consistent. Until being combined with a kind of rice glue, the pulp is kept dry in the light. A base coat of paint is applied during the Naqashi stage. PaperMache of Kashmir handicraft is beautifully designed with vibrant colors and sold worldwide. Flowers, box designs, jungle motifs, and Kashmiri symbols like almonds and the chinar, a five-pointed leaf, are some common themes on Kashmiri paper mache items.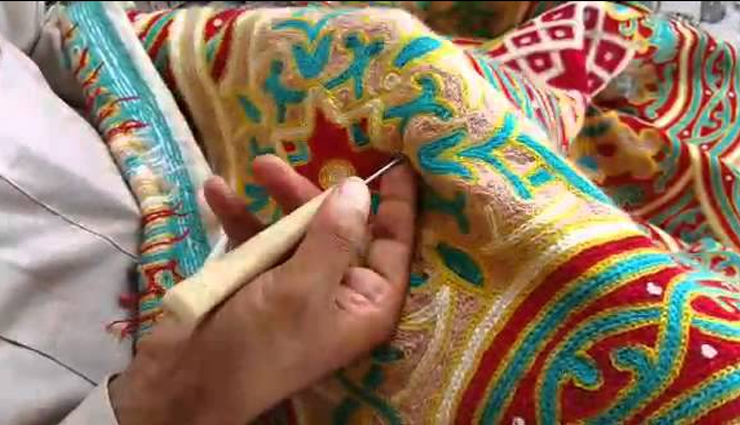 # CREWEL

Kashmir handicraft Crewel is a kind of embroidery done in the form of chain stitch rows with a hook shape tool on clothes. It's done to create an emboss effect and give richness to the fabric. Crewel is usually used for upholstery and drapery. Crewel embroidery is done on heavy and dense material. It carries floral and creeper designs. To create embroidery, single and multi-colored threads are used. The price of the item depends on the embroidery on the fabric. You can see crewel Kashmir art embroidery on shawls, outfits, bedspreads, wall decor items.