5 Most Beautiful Places For Camping In India
By: Pinki Sun, 05 Apr 2020 6:03:00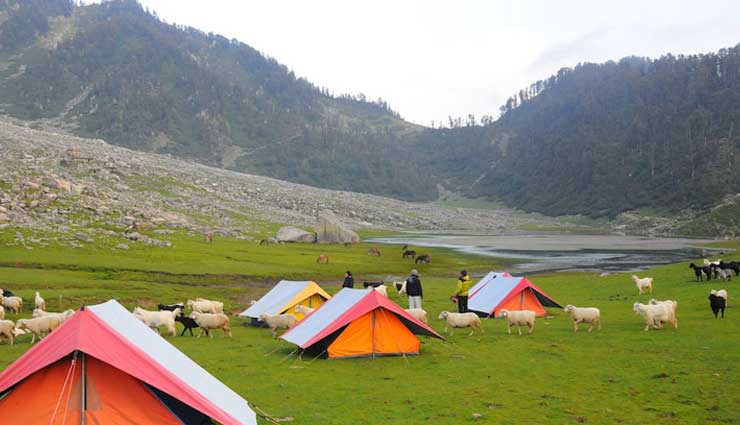 There is nothing more serene than camping in a beautiful place in the mountains or near the river or any location where nature has been mostly untouched by humans. You can take a break from the rat race and the technological world and appreciate the simpler things in life. You can just lie down on the ground and look at the night sky filled with stars; something that you might rarely see in a major city

If you need this kind of a break to get closer to nature and have some adventure in your life, then India, with all its natural beauty is the ideal country for you. It's not hard to find a good camping spot in India, but I'm going to list the prime locations that can offer you much more than just camping.

* Chitrauli, Uttarakhand

Surrounded by the majestic Himalayan ranges and a wide variety of flora and fauna, Chitrauli is a beautiful location for camping.You can set your camp somewhere along the oak and pine trees that cover this region. Because the terrain is mostly mountainous, there are plenty of trekking opportunities. If you aren't fond of arranging your camp, that is not a problem. Government organised camps are available in Chitrauli where you are guaranteed a comfortable stay.The atmosphere is calm and serene, and the silence is only disturbed by the occasional sounds of the animals and birds or the soft sound of the leaves when the wind rattles them.You don't have to participate in any adventurous activities here if you don't like it because a walk through the forest near the snow-clad mountains is enough to heal your soul.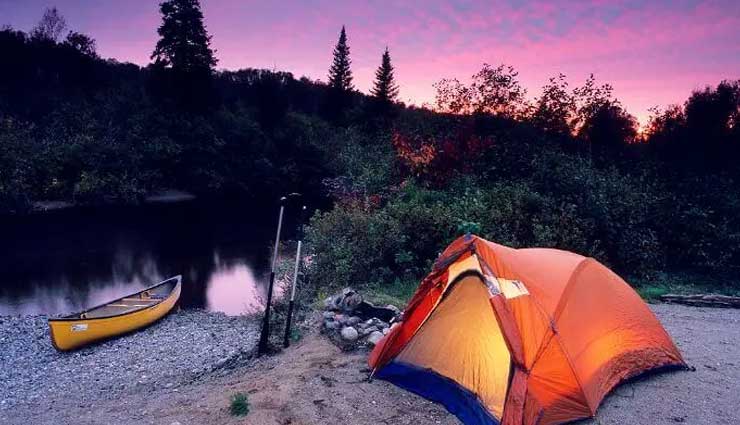 * Gir National Park, Gujarat

The Gir National Park of Gujarat is the only home of the Asiatic Lions in India. Therefore, it is the most important national park in India.Because of the dwindling population of this species, the government had to declare it as a Protected Area which initially created a lot of problems. A small village is situated at the periphery of the park, and the locals have somehow learnt to coexist with the animals within because they cannot leave their homes. They go into the park to collect water from the various rivers flowing within.The villagers in Gir are very hospitable. Many organised camps with nice facilities are available in the National Park. If you're a nature lover, this is an excellent opportunity for you. You can spot the majestic Lions and also many other endangered species that call this place home.

* Coorg, Karnataka

Coorg is stunning. It is blessed with abundant natural beauty. Lined with tea and coffee plantations, Coorg will enchant and mesmerise you.The city is enveloped in greenery. There are many places to visit in Coorg and many hills to camp on. You will find various organised camps in Coorg, and you can choose the one that suits your needs the most.Because of the hilly terrain and some waterfalls, Coorg is ideal for hiking. It is truly a bliss to camp in Coorg, away from the constant disturbance of the world. Also, while you come here, don't return without buying some bottles of honey. The city is famous for their organic and raw honey, and you can visit farms where the extraction of honey from bees take place.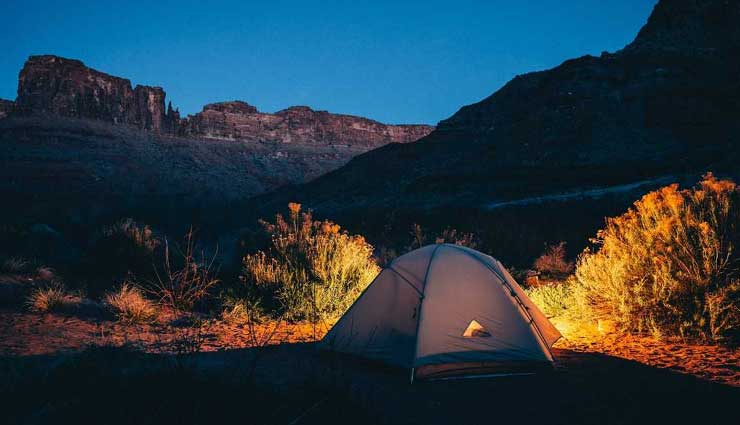 * Parambikulam, Kerala

Kerala is known as God's own country. It is the most beautiful state in India with its backwaters and lush greenery. The state consistently takes an effort to promote its tourism and plant more trees.Camping in Parambikulam will be a rewarding experience for you. It is a tiger reserve and a highly preserved one as well. The region has some unique variety of flora and fauna that is indigenous to it. There is a plethora of plants and animals to be spotted here.The best part of the reserve is that some tribal communities also live there. In fact, these tribals have been living here for centuries now, and the Kerala government has understood that their lives are very much interconnected and dependent on nature. These people are very welcoming and more than glad to walk you around the beautiful reserve. They will even give you a lot of interesting information about the region because obviously, it's their abode.Many people camp here, and you can be one of them too. Keeping in mind, the sensitive eco-system of the region and the welfare of the tribal communities, the accommodations provided here are eco nature-friendly and simple. But frankly, that's the beauty of camping here. You can either choose to live in a hut here or even in a tree house perched on a bamboo grove.

* Jim Corbett National Park, Uttarakhand

Jim Corbett is another important national park in India. In fact, it is the oldest. Tigers are the major endangered species found here besides elephants and deer.Just like in Gir, camps and small houses are available for stay in this park. But in Jim Corbett, they take it one step ahead by placing the accommodations very close to the park, or rather in its periphery. Although it's risky, it's definitely worth it.You can spot tigers more readily here. You can even swim in the forest's small and beautiful streams and rivers. Other than this, rock climbing and safari are also available options for you to venture.