5 Most Beautiful Tree House Resorts In India
By: Pinki Fri, 21 June 2019 4:28:16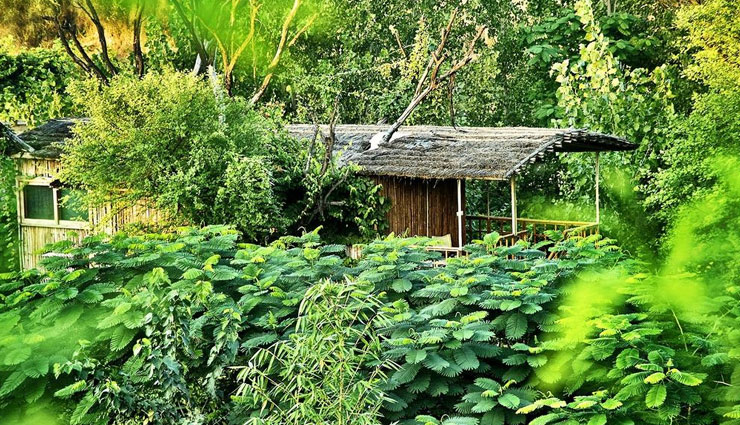 Tree House Hotels are the unique and most exciting, thrill and amazing experience of living in the lap of nature, surrounded by hills, valleys, jungles and wildlife. Birds are your neighbors, visiting balcony and singing song with lush green trees is the most beautiful experience one can ever have. Listing India's top and best tree house hotels along with few more tree houses across India are Nisarga Sahavas in Dapoli, Tree house in Kaziranga, The Den Corbett Jim Corbett National Park, Carmelia Haven, Thekkady Hornbill Resort, Dandeli and Himalayan Village, Kasol, Himachal Pradesh.

* Tree House Hideaway, Bandhavgarh

The most beautiful Tree House is situated in dense forest of Bandhavgarh tiger reserve and designed very traditionally as forest living and offers beauty of Bandhavgarh forest with the call of the wild animals. 5 exclusive tree houses made on trees offering a peaceful, comfortable stay at the heart of Indian wilderness.

* Tree House Resort, Jaipur

The comforts and most luxuries Treehouse in India is one of the largest in the world and offers one of the best place to live in the lap of nature and birds as neighbors. The Tree House Resort is one of the best resort of its kind offering most luxurious facilities atop live trees set in the untouched and amazing natural ambiance of the Syari valley.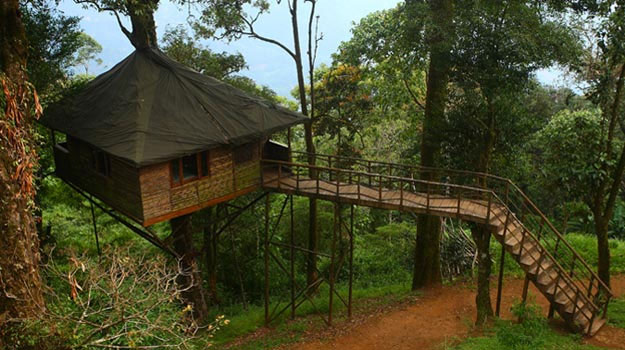 * The Machan, Lonavala

The Machan is one of the most famous and unique tree house and perfect place for those looking to escape into nature, surroundings with trees and located in one of 25 biological hotspots in the world. It is one of the most popular weekend getaway from Mumabi and Pune.

* Tree House Cottages, Manali

The picturesque Tree House Cottages is located in Kullu-Manali valley of Himachal Pradesh, Surrounded by lush green lawn and tress and away from the hustle-bustle of the crowds in the laps of Himalaya.

* Vythiri Resort, Waynad, Kerala

Vythiri Resort is situated in the rainforest of Western Ghat, surrounding by hills,ultimate jungle and an eco friendly Tree House. Vythiri Resort offers honeymoon resort facilities with luxury tree house in waynad wild life forest.