5 Most Luxurious Heritage Hotels To Stay In Rajasthan
By: Pinki Mon, 18 May 2020 10:31:53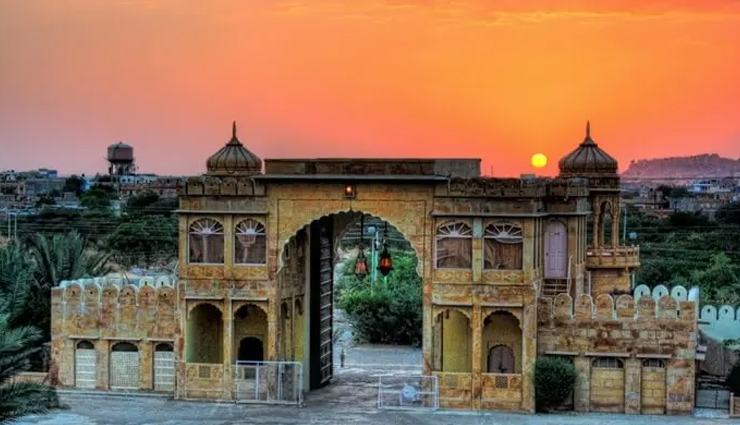 The princely state of Rajasthan has always been known for its magnificent forts and opulent palaces that were built in the times of Maharajas. While today, most of the palaces have been converted into heritage hotels and resorts, they still retain and showcase the grandeur of the Rajputana architecture and hospitality. Needless to say, these heritage resorts surpass all the bounds of luxury and offer a royal stay that you might have never even imagined in your lives. So, if you are planning a holiday in Rajasthan and looking out for some exclusive options for a luxury stay here, do check out for the following heritage resorts that stand as a pride of this state of Maharajas.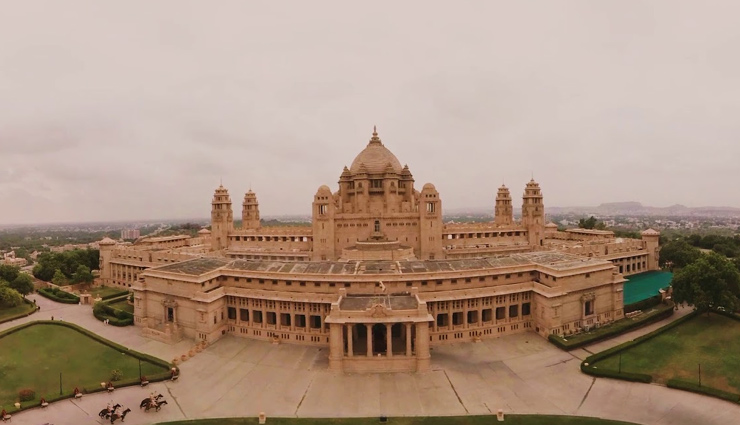 * Umaid Bhawan Palace, Jodhpur

A five-star Taj Heritage Resort, 'Umaid Bhawan Palace' is an epitome of luxury, magnificence and opulence. That is the reason, this heritage hotel has also been awarded with the honour of 'World's Best Hotel' at the 'Traveller's Choice Award', organized by TripAdvisor in April 2016.

Built in 1943, the palace is set amidst 26 acres of lush gardens and a part of it, still serves as a residence to the royal family of Jodhpur. The breath-taking beauty of the palace, made using the golden-yellow sandstone and Makrana marble, takes you in its complete awe as soon as you set your eyes on it; its sheer size and grandeur is magical enough to hypnotize you fully. Exquisite interiors, decked up in art-deco style, complete with beautiful murals, antique furnishings and elaborate carvings on walls and pillars, also add to the royal charm of the palace.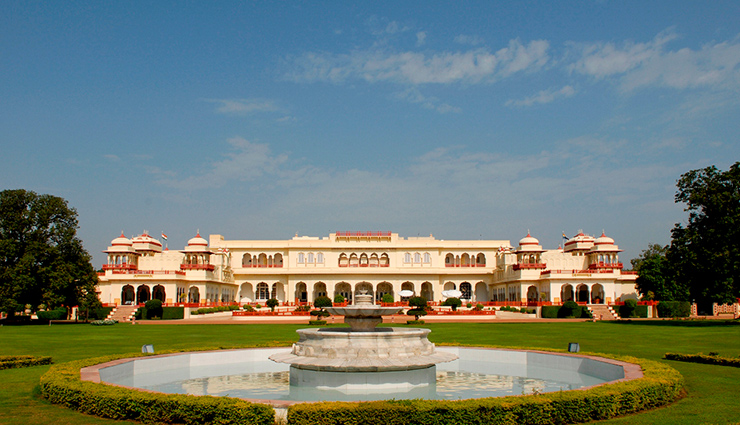 * Taj Rambagh Palace, Jaipur

Considered to be one of the most luxurious and expensive hotels not only in Rajasthan and India, but, all across the world, the 'Rambagh Palace' is a jewel of Jaipur and undoubtedly, a glittering gem in the crown of Taj Group of Hotels. You would be amazed to know that this palace finds its place amongst the esteemed early few of the opulent Indian palaces that were converted into heritage hotels in order to preserve their Rajputana legacy.

Steeped in ultimate luxury, royalty and richness, a stay at this heritage hotel makes for a delicious icing on the cake of your luxury holidays in India. Built in mid-19th century, the palace once served as the official residence for the Maharaja of Jaipur, Sawai Mansingh II and his beautiful queen Gayatri Devi. Today, this royal heaven provides for an indulgent getaway to rich travellers and businessmen from different corners of the globe, seeking to experience the magnificent Indian hospitality at its best; needless to say, it is one place in the world where even your thoughts are taken care of.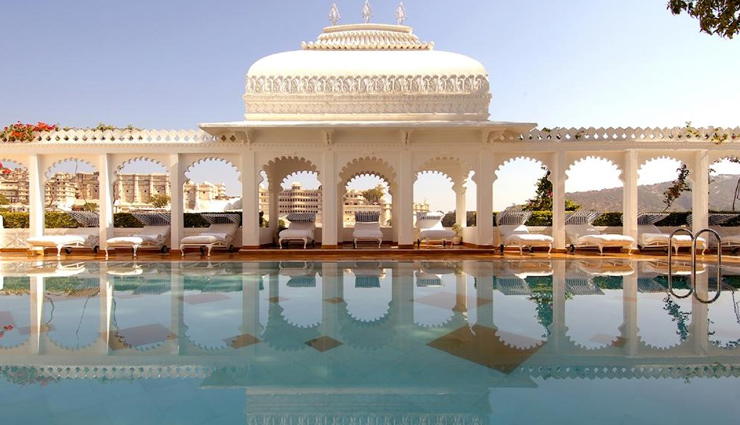 * Taj Lake Palace, Udaipur

The magnificent 'Taj Lake Palace' of Udaipur is yet another of the most famous luxury retreats in Rajasthan. Nestled in the heart of beautiful 'Lake Pichola' and flanked by majestic Aravalli Hills, the palace was built in 1746 by Maharana Jagat Singh II and was then called as 'Jag Niwas'. Entirely constructed from pure white marble and adorned with elaborately carved pillars, inlaid floorings and exquisite terrace gardens lined up with beautiful fountains; the palace was an architectural marvel of its times. After the death of Maharana Jagat Singh II, the palace continued to serve as a summer resort for his successors. Later, in second half of the 19th century, weather and time took its toll on this extraordinary palace and it was left abandoned to decay and deteriorate. It was during 1960's when Maharana Bhagwat Singh, the then ruler of Udaipur decided to restore the palace to its pristine glory by converting it in a luxury palace hotel. In 1971, the palace was taken over by the Taj Group of Hotels and since then, it has lured thousands of national and international tourists wanting to feel and experience the royal hospitality of Rajasthan.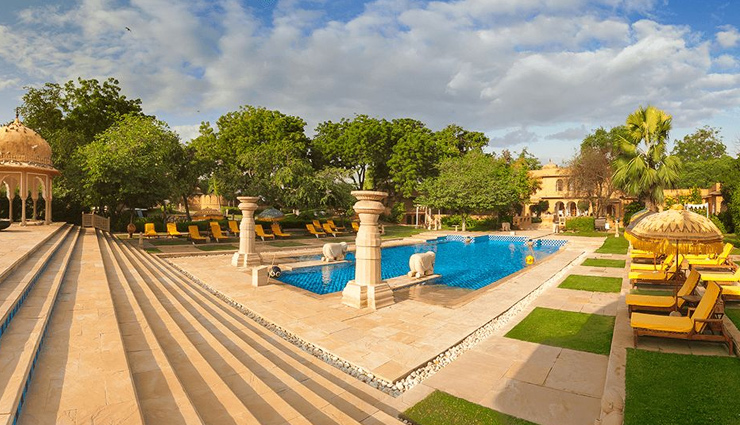 * The Oberoi Rajvilas, Jaipur

Spread out in a complete fort setting with pink stone facades, lush gardens criss-crossed with onion-domed pavilions, reflection pools and fountains, the 'Oberoi Rajvilas' takes royalty and magnificence to an absolutely new level. The interiors of the palace are as splendid as the exquisite exteriors, exuding vibes of richness and grandeur from every corner; the luxury guest rooms feature unique blend of Mughal and Colonial touches with Italian white marble floorings, four-poster beds, finely crafted furniture and latticed window panels. The luxury tents emanate their own royal charm and feature timber floorings, elegant hand-embroidered silk fabric with block prints – a signature Rajasthani art and a private patio with comfortable lounge beds; one can have an absolute relaxing time here amidst serene beauty of nature, sighting numerous colourful birds and even peacocks.

Like every luxury hotel, the 'Oberoi Rajvilas' also leaves no stones unturned in delighting its guests with an out of the world gastronomy experience. The two fine-dining restaurants of the hotel, Raj Mahal and Surya Mahal, serve some of the most exotic delicacies of Rajasthan and from remote corners of India. Decked with wall to wall glass windows and a crystal chandelier, the splendid beauty of Surya Mahal is just beyond words. At night, the stone courtyard of the restaurant comes to life with phosphorescent moonlight transforming it into a romantic amphitheatre with live folk Rajasthani music playing in the background. If you are in the 'Oberoi Rajvilas' during winter months from late October to early March, experience an extraordinary culinary journey at Raj Mahal when the expert chefs of the hotel present you with some of the most unusual and delectable delicacies, specially created and reinvented to feast your palates. Lit fireplaces in the chilled nights of winter, just add that touch of warmth and cosiness to the atmosphere.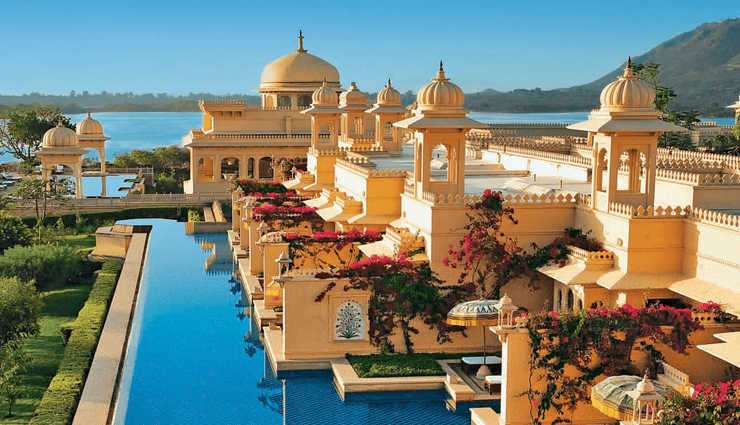 * The Oberoi Udaivilas, Udaipur

Spread across a sprawling 50 acres of land that once served as hunting grounds for the Maharana of Mewar, 'The Oberoi Udaivilas' captivates all the onlookers with its crème-coloured façade and intricate layout of domes that can be seen looming over the sparkling Pichola Lake in Udaipur. Historic and romantic settings of this magnificent hotel, combined with all modern day comforts of life, makes it one of the dream resorts for many travellers and vacationers. Its regal architecture complete with beautifully manicured lawns dotted with vibrant flowers that often invite peacocks, exotic dining spaces emanating the charm of splendid Mewar architecture, an ornate swimming pool and a world class spa; no wonders 'The Oberoi Udaivilas' has been aptly described as a 'royal retreat' by almost all its guests.

Redefining luxury, the guestrooms and suites of 'The Oberoi Udaivilas', all feature plush decors, elite furnishings and elegantly carved wooden furniture that reflect the taste of royalty. While all the rooms are soaked in ultimate luxury and offer you a sense of deep indulgence, it is still the royal suites that stand class apart; elaborately decorated with mirror mosaics, miniature paintings, silken parasols and boasting a private pool, a private courtyard and a private dining space with breath-taking views over Lake Pichola, these luxury suites are an absolute 'dream come true' for any luxury traveller and are sure to transport you to a completely different world of richness and opulence.