5 Most Oldest Forts In India
By: Pinki Thu, 02 Apr 2020 12:11:43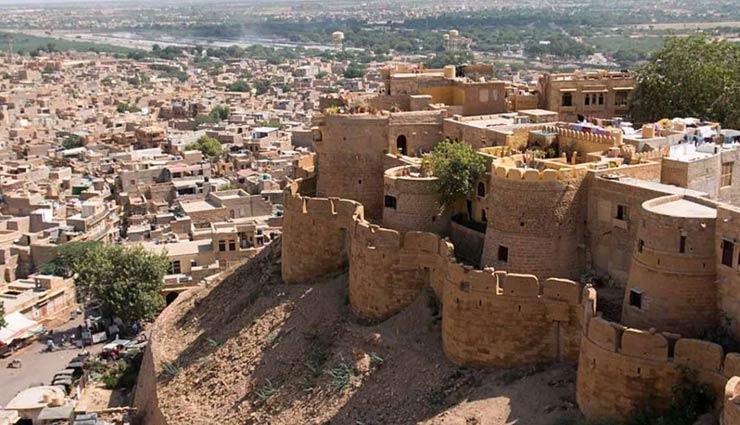 Old forts are something that I love, and thankfully, India is full of such ruined forts. These forts give us a glimpse of India's past, a past that has always been majestic. You will feel like being transported back in time, and for me, it's the best feeling ever. If you are someone like me, worry not, because I am going to list down 6 of my favourite forts here.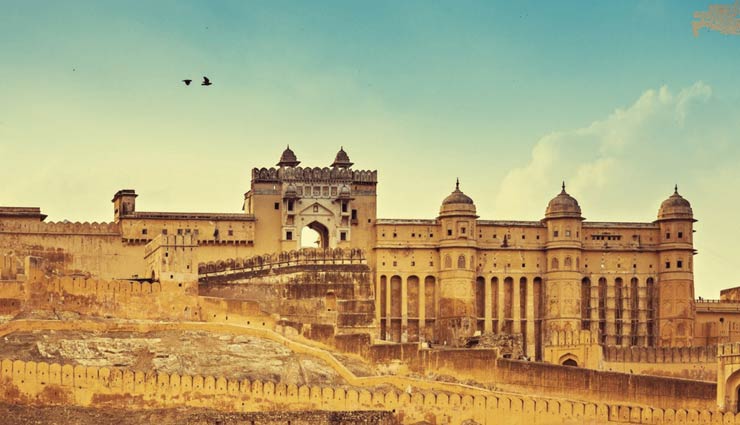 * Amber Fort, Jaipur

The number one thing that you have to keep in mind while visiting Amber Fort is to always take a good guide with you. Trust me; a guide can tell you more than internet and books put together. Also, even though it's your personal choice, try to avoid the elephant ride which is available there because it does seem like cruelty to animals.Amber Fort was built in 967 CE. Located 12 km from Jaipur, thousands of tourists visit the fort every day. It is situated next to Maota lake from where it gets its regular water supply. The palace is more than huge if there is even a word for it. It is divided into four parts, and in addition to that, there is an entrance gate and a big courtyard.There is a Sun Gate and a Moon Gate in there. In fact, there are innumerable things within that will catch your attention but my personal favourite is the room right opposite to the Hall of Pleasure (there are many rooms in the palace, each serving its own function). This room had a very narrow channel built into the floor from which water could go in, and the place could stay cold. That was like an ancient scientific breakthrough for me. Also, the walls are carved with intricate designs, and some walls even have mirrors studded to them.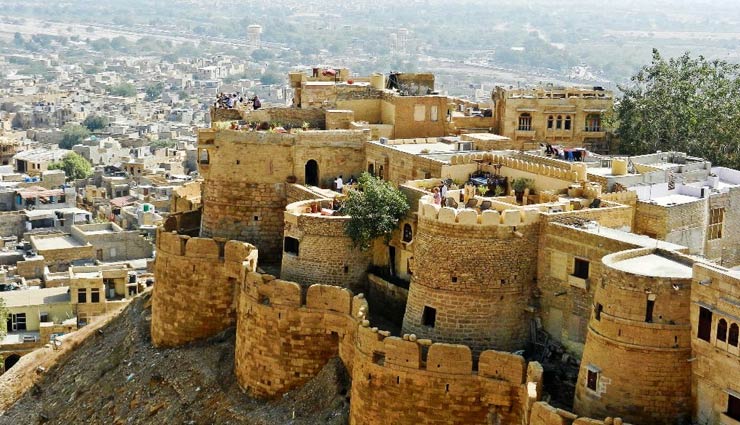 * Jaisalmer Fort, Rajasthan

Rajasthan contains almost half of the forts in India. Another such majestic fort, therefore, had to be in Rajasthan. Unlike the Amber Fort, the Jaisalmer Fort still has people living in it. Imagine residing in a fort! There are a lot of buildings, houses, structures and palaces within this fort so you can only imagine how large it is.The Jaisalmer Fort is located in the Thar Desert. It was declared as a UNESCO World Heritage Site. People also call it the Golden Fort because the entire fort is made of yellow sandstone, it glimmers like gold in the day, especially during sunrise and sunset. Throughout history, the fort has been in the hands of both Hindu and Muslim rulers. As a result, you will find an amalgamation of Rajput and Islamic architecture within it which looks amazing.Just like Amber Fort, Jaisalmer Fort also has beautiful carvings on its walls. Some structures you must visit in it are the Maharawals and the Jawahar Palace. There are plenty of temples within the fort which adds to the old feeling of the place.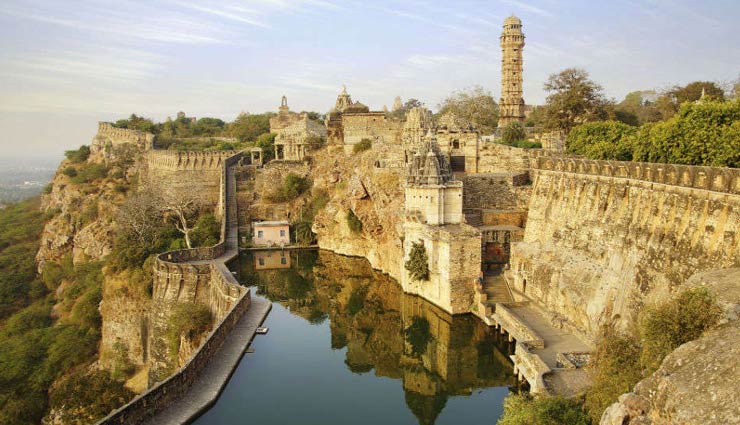 * Chittorgarh Fort, Udaipur

If you think that all the forts mentioned above are massive, then you are yet for a surprise. Chittorgarh Fort is the largest fort in India. The fort was built in the 7th century by the Maurya kings. It is at a distance of about 100 km from Udaipur.The fort is a symbol of the sacrifice, bravery and courage of the Rajput rulers who refused to succumb in front of the Mughals. Both the kings and queens of this fort showed great courage in times of danger. Their efforts made it impossible for the Mughals to attack this fort. The fort is also associated with Meera, a princess and a mystic who was an ardent devotee of Lord Krishna during her life. The thousands of stories that are associated with this fort will keep you hooked to it.The fort is a large structure containing many temples, palaces and towers within it. From the high balconies of these towers, you can see a beautiful view of the surrounding area. The temples' walls are carved with intricate and clever architectural designs that will make you stare at them in amazement. Situated on a hilltop, it almost looks like an old medieval castle of England. It has seen more battles than any other fort in India probably ever has.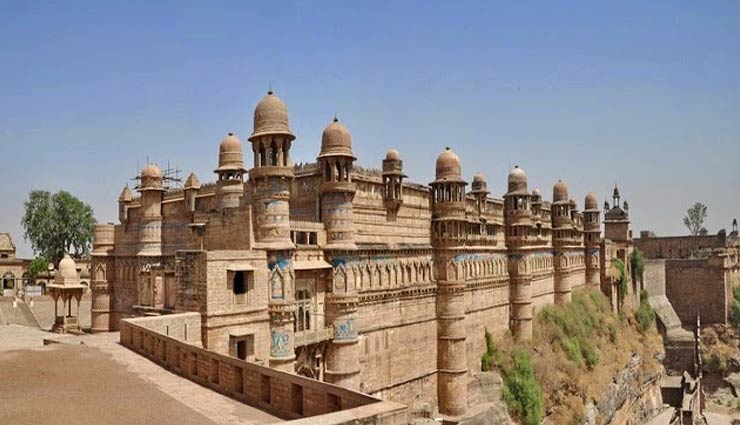 * Gwalior Fort, Madhya Pradesh

Gwalior Fort is just like the Chittorgarh Fort except for the fact that it's not the biggest fort. The fort encloses six palaces and three temples within it. King Man Singh Tomar built it in the early 8th century. At the time it was made, Gwalior Fort was considered as the most powerful and invincible fort, and there was no other fort like it.Unlike the Chittorgarh Fort, this fort went through the hands of Rajput kings, Mughals and eventually the British. But this fort also speaks of the sacrificial stories of hundreds of Hindu men and women. After the last Hindu king who ruled here had been defeated, the women in this fort burnt themselves in a pyre stating that they would rather die than submit themselves to the Mughals. Stories like these are still told by the local people living there. The fort was built in the old Rajasthani style, and it looks very impressive.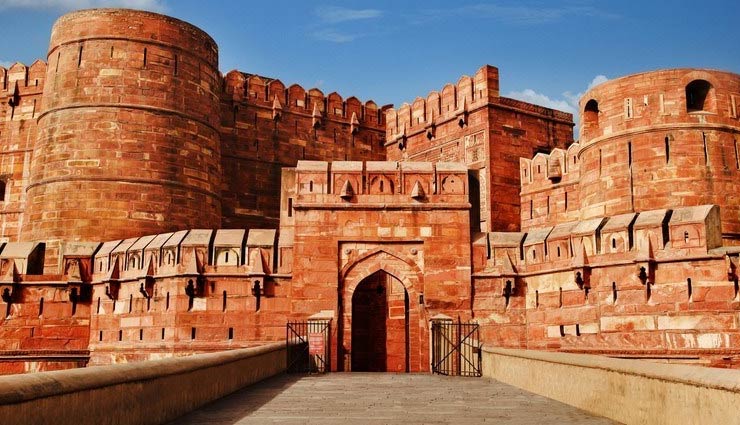 * Red Fort, Agra

Agra Fort was built by Akbar, the most famous Mughal rulers of all time. Akbar was a very benevolent emperor because he respected all religions and his love story with his Hindu wife, Jodha is memorable.The fort was originally built by Akbar's grandfather Babur, but it was left in a ruined condition. During Akbar's reign, he renovated the monument into what we see it today. The fort acted served the dual functions of military power and as a private palace for the royal family.It is only 2.5 km from the infamous Taj Mahal. Shahjahan, who built Taj Mahal in memory of his wife Mumtaz, was a descendant of Akbar. Therefore, it is believed that during the reign of his cruel son, Aurangzeb, Shahjahan was imprisoned in a royal chamber overlooking the Taj Mahal. Some structures within the fort like the Sheesh Mahal and the Anguri Bagh are worth a visit. The fort is open all seven days for the tourists to visit.