5 Most Renowned Temples To Visit In Rajasthan
By: Pinki Fri, 15 May 2020 11:06:36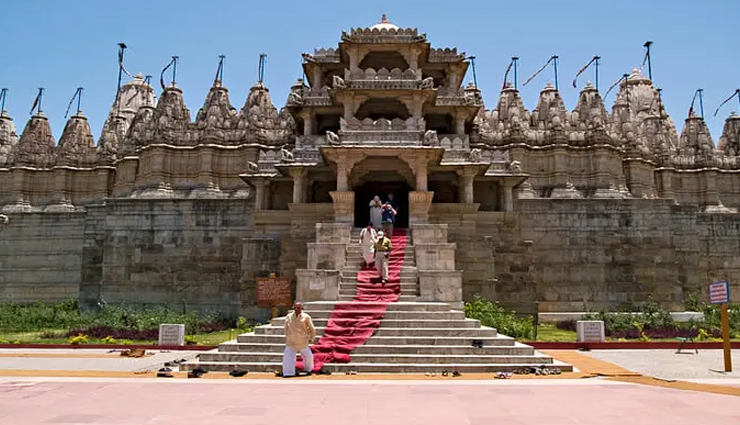 There is something about Rajasthan, one of the most visited tourist destinations in India, that keeps pulling tourists back to it. The entire state appears like one magical vessel, which throws surprises at you from every corner. Alleys and bylanes give way to massive courtyards and before you know it, out pops a haveli from the middle of nowhere! Apart from forts, palaces and havelis, there are several temples which dot the state. Most of these were built during the reigns of kings, and have a historical importance attached to them. In some temples, tourists are amazed with the performance of a certain ritual, while the architecture of others tends to have a lasting impact on their minds. In this blog, we tell you the 5 must visit temples in Rajasthan that you shouldn't miss out on during your trip.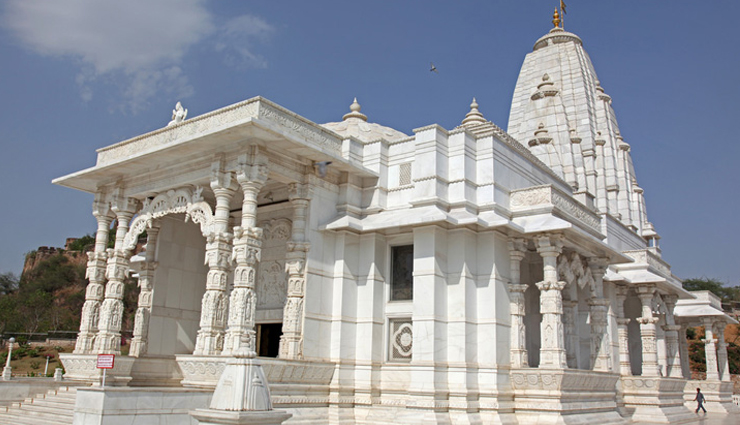 * Birla Mandir, Jaipur

Just like most of the cities across India, Jaipur also has its own Birla Mandir, which is one of the most visited temples in Rajasthan. Also known as Lakshmi-Narayan Temple, it enjoys a noticeable presence in the skyline of South Jaipur. It wears a refreshed look at all times, thanks to the white marble with which it was constructed. Built by the prosperous Birla family in 1998, it is dedicated to Lord Vishnu and his companion, Goddess Laxmi, who is believed to bring good luck and fortune in Hinduism. Everything about this temple is extraordinary, with every corner being a work of perfection. Various mythological themes are reflected in the sculptures inside the temple. One of them which stand out is that of Laxmi and Narayana. These have been carved out of one piece of marble, which is no ordinary feat.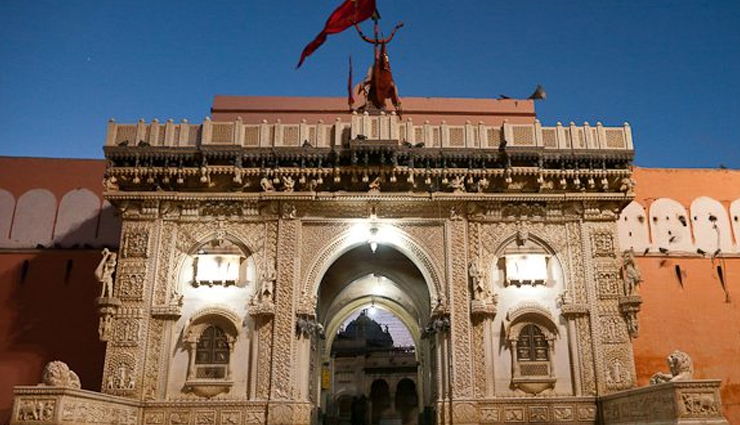 * Karni Temple, Bikaner

Karni Mata Temple in Bikaner is one of the most visited temples in Rajasthan. The shrine is dedicated to Goddess Mata Karni, considered to be an incarnation of Goddess Durga. It was built by Maharaja Ganga Singh of Bikaner in the 20th century in splendid Mughal style. Apart from the rats, the statue of Mata Karni, standing at almost 75cm, is a major crowd puller. It is also famously known as the Rat Temple, because rats are accorded the highest respect in this temple. In fact, they are worshipped just like the other deities of the temples. Visit the temple on any given day, and you will see hundreds of rats scurrying around its premises. Devotees place bowls of milk on the floor, which is then enjoyed by the rats. Afterwards, some of that is consumed by the devotees, as doing so is believed to bring about good luck and prosperity.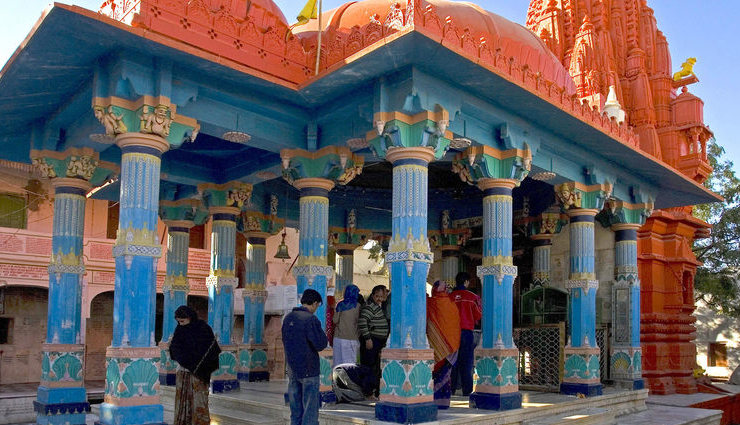 * Brahma Mandir, Pushkar

Brahma Mandir in Pushkar is an extremely important religious tourist spot in Rajasthan. This temple is believed to be about 2000 years old and is dedicated to Lord Brahma, the god of creation in Hinduism. Although Pushkar has about 500 temples, the Brahma Temple is the most important of them all. The temple holds a special significance in the minds of the devotees. It is believed that Lord Brahma descended on earth and performed a yajna at the very spot where the temple today stands. The sanctum sanctorum of the temple houses the statue of Lord Brahma along with his wife, Gayatri. Constructed of marble and stone slabs, its shikhara (tower) can be seen from a distance. The current structure, as it stands today, can be credited by Maharaja Jagat Raj of Ratlam.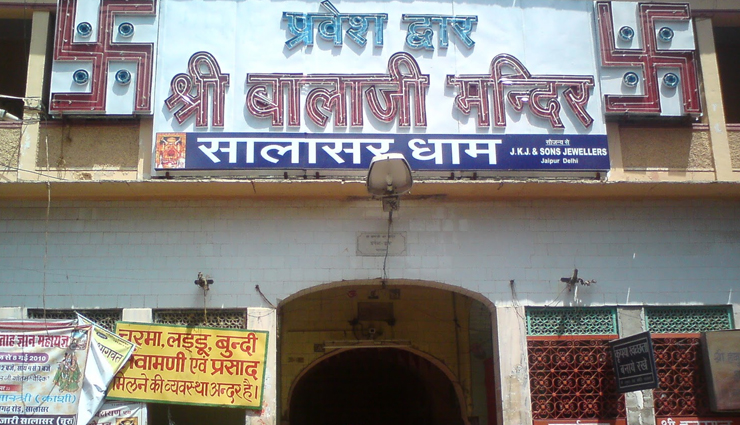 * Salasar Balaji Temple, Churu

No pilgrimage tour to Rajasthan is complete without visiting the Salasar Balaji Temple in Churu. The temple is dedicated to Lord Hanuman and is visited by a large number of devotees all year round. Their numbers increase especially during the occasions of Chaita Purnima and Ashvin Purnima. This special attachment of the devotees for the temple is due to the fact that it is considered as swayambhu (self-created) and shakti sthal (a pilgrimage site blessed with ultimate power). The main deity of the temple is a childhood idol of Lord Hanuman which has an interesting mythological tale behind it. According to it, the village of Mehandipur was once troubled by regular attacks of demons. One day, the priest had a dream in which Lord Hanuman suggested him to dig the Aravalli hills in a specially chosen area. The digging revealed a childhood idol of Hanumanji, along with the idols of Pret Raja and Sri Ram.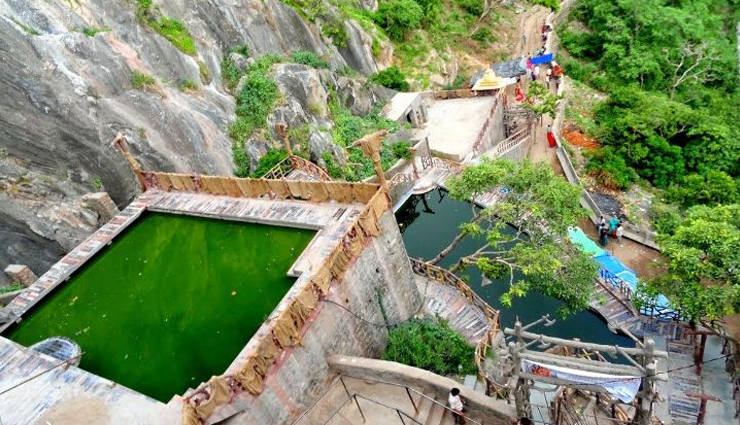 * Parshuram Mahadev Temple, Pali

One of the must visit places during your visit in Rajasthan is Parshuram Mahadev Temple in Pali. The temple, which is dedicated to Lord Shiva, is located at the border of Pali and Rajsamand district. This temple occupies a special place in the minds of devotees because of a special mythological tale associated with it. It is believed that here, Lord Parshuram, the sixth avatar of Lord Vishnu, carved the entire cave with his axe. This is also why this temple is also known as Amarnath Cave temple, and is situated at a height of almost 3,995ft. As you enter the temple, you come across idols of Lord Ganesh and Lord Shiva. One other special feature of the temple is the nine kunds, which devotees believe never goes dry. To reach the cave, you need to descend at least 500 steps.