5 Must Visit Restaurants In Jodhpur
By: Neha Thu, 22 Dec 2022 3:55:08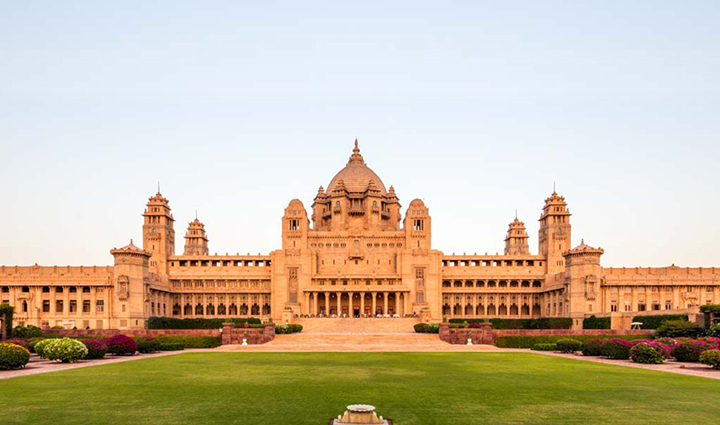 Kesariya balam aaoni, Padharoni mare des re, Padharoni mare des…a song that takes us to the land of Rajasthan whenever we hear it! We imagine folk performers dressed in traditional clothes, singing and dancing. We imagine acres of land covered in golden snow. And finally, we imagine a plate filled with so many amazing dishes that we can't even begin to name them!

On that land, is a blue city set against a blue sky, named Jodhpur! A beautiful blend of modern and old-world is what makes Jodhpur such a gem of a place! Here, days are spent well visiting the many forts, lakes, palaces and temples. There is no scarcity of places to visit and things to do in Jodhpur. And among all those that come to mind, going on a culinary journey in Jodhpur is on today's menu!

Many restaurants, cafes and small eateries are scattered all over the city where you can get a taste of Jodhpur's local, authentic cuisines coupled with the flavours of global and modern cuisines! So that you get the best flavours and tastes of Jodhpur, here we have curated a list of the 5 best restaurants in Jodhpur!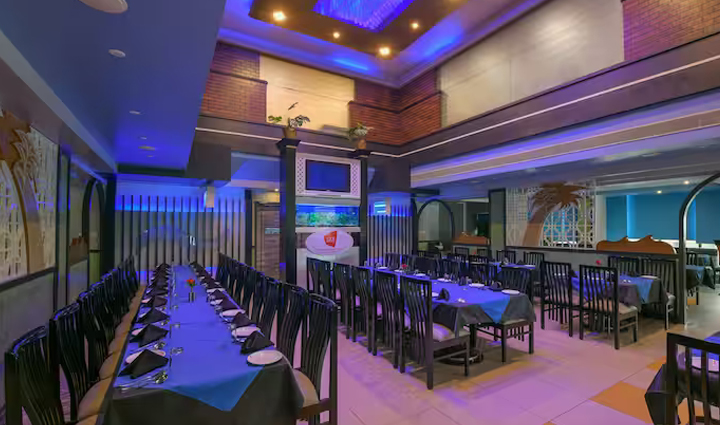 # The Recipe, Shree Ram Excellency

They are dedicated to providing the best accommodation and food to all who visit. The Recipe is one of their initiatives to serve delicious food to the guests. The decor here oozes touches of luxury with a colour palette of gold, off-white and (contracting the two) turquoise. A fine dining theme is also maintained here. The staff here are very well-trained in making sure each and every guest has a satisfying experience!

Coming to the food! The Recipe specialises in North Indian cuisine. The South Indian and Chinese dishes here are also tasty! Tandoori paneer tikka, lachha paratha, chole bhature and vegetable manchurian are must-orders here. You can also order the crowd-favourite, Srx Deluxe Thali.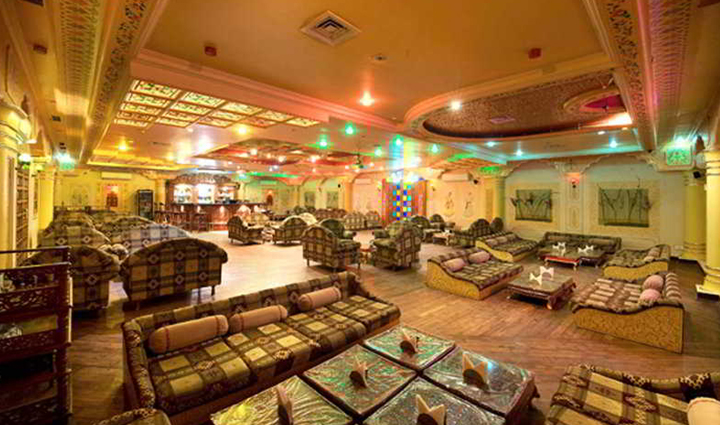 # Padharo Sa, Nirali Dhani Jodhpur

Yet another part of Shree Ram Excellency Group on the menu, namely, the Nirali Dhani Hotel. This hotel has two brilliant restaurants serving guests with remarkable dining experiences. Among the two, we would love to mention Padharo Sa. The decor at this restaurant deserves all the praises there are and even more. It has a very traditional look with brilliant patterns, designs and traditional artworks on the ceilings and walls. And the look has been completed with wooden tables and chairs!

This heritage restaurant is known for its multi-cuisine servings. Indian, Continental and Oriental cuisines are the best here. Our food recommendations for you include malai kofta, kadhai paneer and cheesy hara bhara kebab. Or just order one of the Indian thalis here. That way you will get to taste multiple dishes.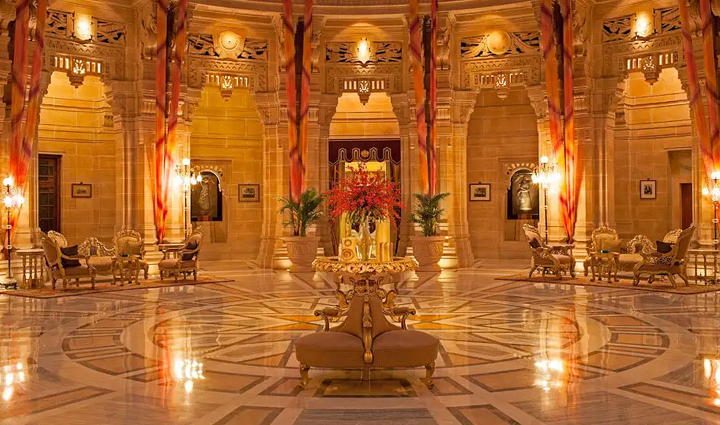 # Risala, Umaid Bhawan Palace Jodhpur

Welcome to Umaid Bhawan Palace, one of the best places to visit in Jodhpur. But this is not just a sightseeing visit, it is a culinary trip at the in-house restaurant, Risala. Royalty is what Umaid Bhawan Palace is about, right? The same touch of royalty is what you will get at Risala. The decor here is truly breathtaking with traditional chandeliers and royal and martial portraits hanging all around. The servers, dressed in white suits and colourful pagri, give you a warm welcome and a fine dining experience. You can have delicious dishes straight from the royal kitchens while enjoying views of the well-maintained gardens of the palace and the Mehrangarh Fort!

In terms of food, the restaurant serves Indian Fusion and Continental cuisine. Whatever you order here will surely be tasty. Still, here are our suggestions. Mathania Paneer tikka, sarson ke phool, machhli talma, murgh makhmali kabab, dum ki nalli, dal Risala, nan and missi roti.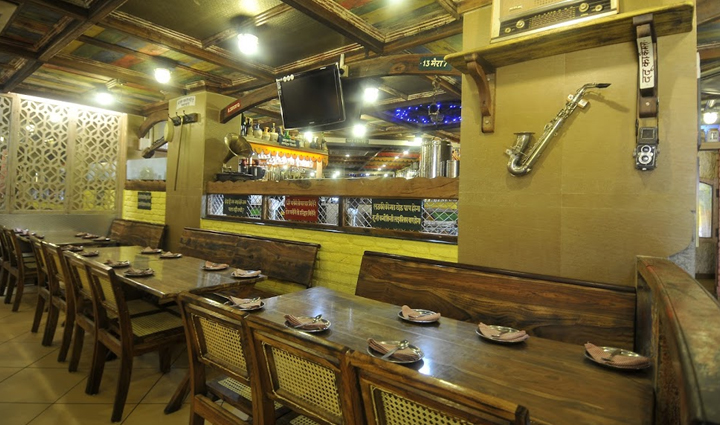 # Gypsy Restaurant Jodhpur

If you are in search of the best veg restaurants in Jodhpur, a visit to the Gypsy Restaurant Jodhpur is a must! It is quite famous for its vegetarian dishes among locals as well as tourists. The decor and lighting inside this restaurant create a very warm dining ambience. Also, the sitting area is perfect for large gatherings! So, it is often the first choice for people looking for the best family restaurants in Jodhpur. One more reason for it being such a popular spot is the great taste, quality and hygiene it promises!

Like all veg restaurants in Jodhpur, you expect a large variety of vegetarian dishes here, right? The restaurant delivers the same! First of all, we will mention the traditional thali that comes with chapati, rice, pulao, different types of vegetables, churma and sweet. The a'la carte menu has great options too. Vada pav, the different dosas, paneer dishes and chats are must-try items!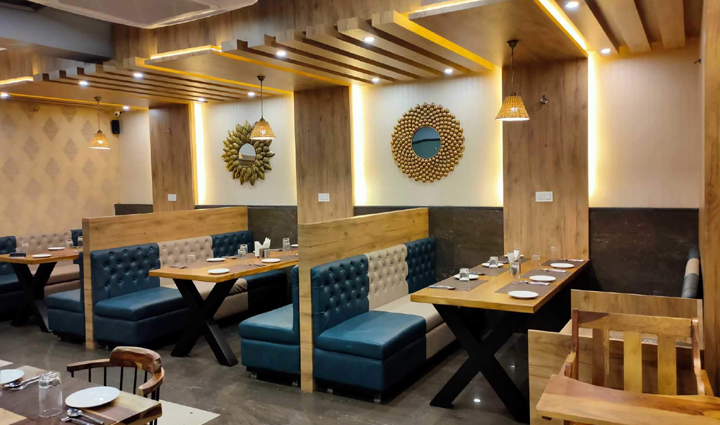 # Kalinga Restaurant Jodhpur

The last name on our list of good restaurants in Jodhpur, Kalinga Restaurant Jodhpur. Don't worry, we will conclude on a very flavourful note! Kalinga Restaurant Jodhpur is a multi-cuisine restaurant brought to you by the Kalinga Hotel. The decor here is very modern and chic with some beautiful paintings adding the right amount of colours needed! Whether you are a small group of diners or coming with a large group, the restaurant is always ready to provide you with a memorable dining experience.

Time to place the order! You will see North Indian and Continental dishes on the menu with a special focus on Mughlai dishes and kebabs. Order some kababs, whatever you prefer. And then also order dal makhni, laal maas, paneer tikka and mutton.