5 Must Visit Royal Forts Of Rajasthan
By: Kratika Wed, 13 July 2022 1:39:43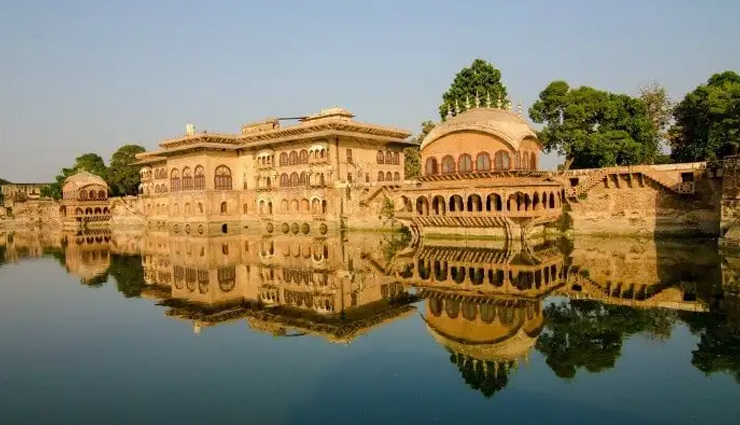 When you hear the word "Rajasthan," it conjures up images of historical events such as warfare, architecture, folk music, and, of course, deserts. But do you know what the history of the giant forts built within city limits is like? Rajasthani people kept the essence of it through many things such as the clothes they wear, the food they eat, the language they speak, and most importantly, their lifestyles exhibit a touch of history on a daily basis. When you visit this lovely state, you may do all of these things in one convenient location. That is the location of their forts. They have the entire history and culture on their walls and in their land.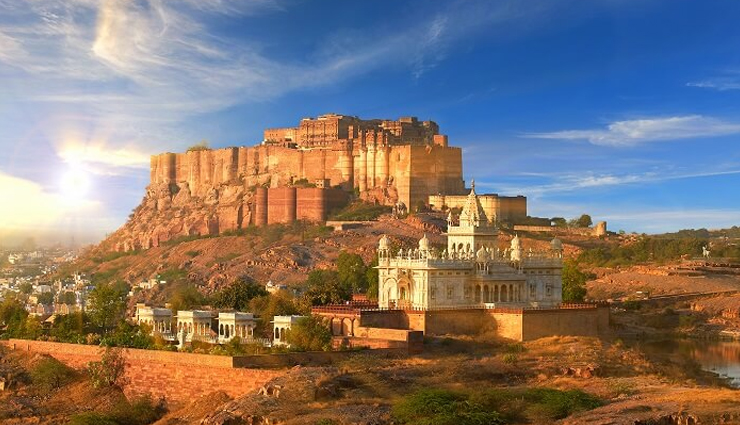 # Mehrangarh fort

Mehrangarh Fort, built by Rajput king Rao Jodha in 1459. This fort is 122 meters above the plain land and has nearly everything to see and do on local grounds.

- Museum- It has a museum that explains the narrative of the kings' lives and their history. It has incredible architectural designs that are hard to come by nowadays. Taking a tour through the museum is like taking a walk through history.

- Library- Here you can find a complete written history of the kings and their wars. The books are unique and absolutely packed of any information you're looking for. Furthermore, research is ongoing in the library in some form or another.

- Market- There is a local market inside the fort. Local handcrafter footwear such as juttis, traditional jewellery, and classic Rajasthani clothes are available for shopping at affordable prices.

- Café/ restaurant- Rajasthan is known for its cuisine, and what if you get to dine at the royal palaces? Mehrangarh fort includes a few lovely cafes and restaurants that serve real Rajasthani cuisine as well as other flavors. With a drink in hand, you can even enjoy the bluecity view from the top of the fort.

- Temple- It is on the top of the fort that the fort's beauty lies. The renowned goddess Chamunda temple. It is visible from anywhere in the city. In navratras, the holy shrine is a key draw for the locals, and it also has some mythological miracle stories.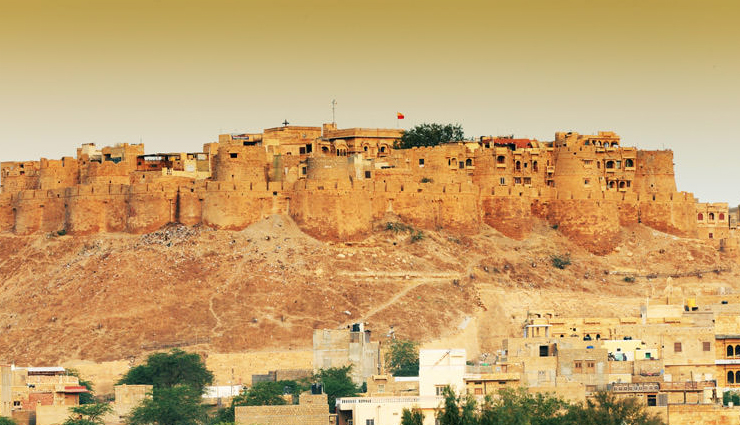 # Jaisalmer Fort

The majestic golden fort of Jaisalmer built by king Rawal Jaisal in 1156 is the only fort in the world where people live. It appears that a small city is being built within the fort. It is unique in that when you enter the fort, you will feel as if you are wandering through Jaisalmer's old city. It has everything a city would have. This fort, like a city, offers some interesting sights to view.

- Market- This fort covers a rich market where you can buy anything you want, as well as narrow lanes lined with magnificent stores, which are a popular tourist attraction. Every day, vast quantities of clothing, jewellery, footwear, purses, and antiques are sold from those shops.

- Houses- The lovely houses are the cherry on top for the fort. These houses, which are built in the ancient traditional style, have a unique feature: a painting of Lord Ganesh on the entrance. You'll also note that some folks have written their wedding dates on the walls of their homes. It's really unusual and absolutely stunning. People are quite kind and will greet you with a smile.

- Hotel/hostel- Have you ever fantasised about living in a fort? The fort of Jaisalmer may fulfil your dreams. For tourists and travellers, the fort offers a good number of hostels and hotels. I'm sure the view from your room window at night will be breathtaking. They are quite inexpensive and have a Rajasthani feel about them.

- Temples- Chandraprabhu Temple is located within Jaisalmer Fort and is dedicated to Chandraprabhuji, the seventh Jain tirthankar. Other jain temples inside the fort are shantinath temple, Rishabhdeva temple, Shantinath temple, Parasnath temple,Shitalnath temple, Kunthunath temple, Sambhavnath temple. In the fort, there is also a hindu temple known as Lakxmikant temple.

- Museum- The museum contains a fascinating history of conflicts as well as insights into the sandstone city. The museum charges 100 rupees for Indians and 500 rupees for foreigners to enter.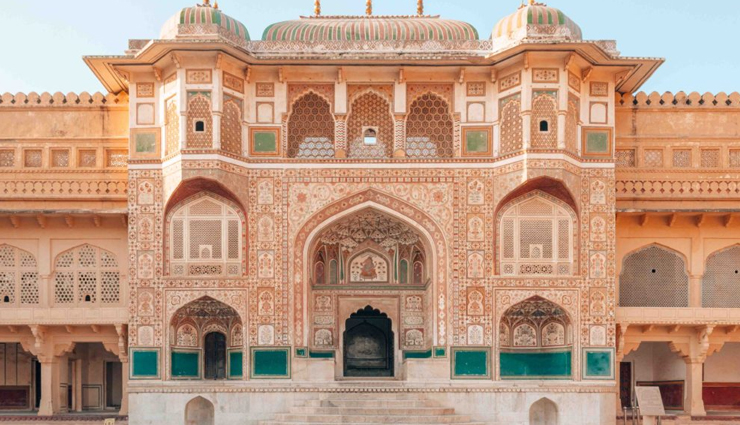 # Amer Fort, Jaipur

Amer Fort, also known as Amber Fort, is a fort in Amer, Rajasthan, India. Amer is a town located 11 kilometers from Jaipur, Rajasthan's capital. There are numerous forts in Rajasthan's main city, but the Amer Fort is said to be the most famous. It gives you a glimpse of the city's and state's historical past. Meena's Community created the town of Amer and the Amber Fort, with Sawai Jai Singh adding on construction later. When you visit the Amer Fort, the actual meaning of the phrase "live life king size" becomes quite apparent. The magnificent architecture is so stunning that it makes your eyes pause at every wall or pillar. Maota Lake, a lake near the fort, reflects the splendour of the entire palace and makes the sight much more spectacular.

- Elephant rides- Do you want to be a king for a day? In the Amer fort, you can have an unforgettable elephant ride. While riding up the hills, you will view wonderful scenery.

- Garden- There are very few forts with well-kept gardens. Amer Fort has a lovely spacious garden where you may step back in time and experience what it was like for kings and queens to have an evening walk here.

- Dance and dining- What could be better than dining in a royal palace while watching a traditional dance form? The food blends so well with the atmosphere created by the music that you feel as if you could live there and listen to it while dining comfortably.

- Temple- There is a lovely temple called as Shildevi Temple, which is similar to the beautiful architecture of the palace. Because the idol is formed of stones, it is called Shila. Shila is a word that means "stones."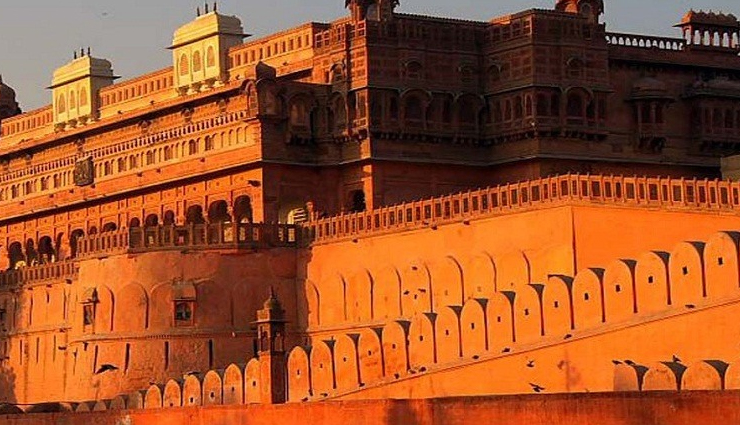 # Junagarh Fort, Bikaner

Junagarh Fort is a fort in the Rajasthani city of Bikaner. The fort was initially named as Chintamani, but it was renamed Junagarh, or "Old Fort," in the early twentieth century after the reigning family relocated to Lalgarh Palace, which was located beyond the fort's boundaries. It is one of Rajasthan's few significant forts that is not situated on a hilltop. This basic yet exquisite fort includes a variety of tourist-drawing attractions and activities that will make your visit worthwhile.

- Museum- The durbar hall museum is an excellent venue to see all of the antiques and artifacts used throughout Rajasthan's history

- Camel safari- Rajasthan is known for camel riding, and what could be better than taking a ride in the state's most historic city? Enjoy the camel ride, especially around sunset, so that your eyes and camera can catch the ideal moment to remember for the rest of your life.

- Shopping- You have recollections of certain places because of the photographs you took or the things you bought while on vacation. The fort of Junagarh includes a few local shops where you can buy some of Bikaner's most exquisite items at very reasonable costs.

- Temples- The Fort also has several sites of worship, including mosques, temples, and Buddhist monuments, which represent the city's cultural diversity and spectrum of rulers. When it comes to temples, Junagarh Fort is home to the stunning Har Narayan Temple, which is devoted to Lord Lakshmi Narayan and his consort Lakshmi. This temple also happens to be the Fort's royal temple.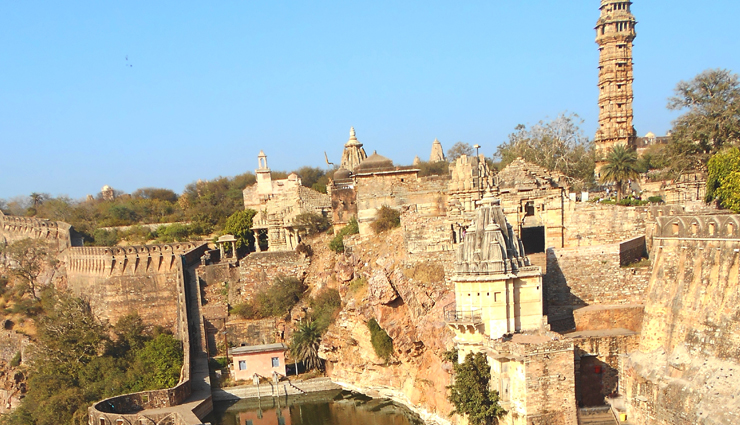 # Chittorgarh

The Chittor Fort, also known as Chittorgarh, is one of India's largest forts. It has been designated as a UNESCO World Heritage Site. The fort, which is now in the town of Chittor, was once the capital of Mewar. It sprawls across a 180-meter-high slope that rises above the plains of the Berach River-drained valley. This fort has a special attraction for travellers in Rajasthan because of the strong stories of Johar and its link with Queen Padmini. This fort appears to be quite dramatic, but it is well worth a visit. Surprisingly, the past is more dynamic and not constrained by the fort. There are some places where you may acquire a full account of Chittorgarh's history, along with true tales that may pique your curiosity.

- Padmini palace- Padmini Palace is the residence of Rani Padmini after her marriage to Rawal Ratan Singh, the Mewar Kingdom's monarch. The magnificent palace is a historical monument commemorating Rani Padmini's self-sacrifice after the Sultan of Delhi, Alauddin Khilji, conquered Chittorgarh.

The timing of this palace is 8:00am-6:00pm

- Kalika Mata temple- It is one of Chittorgarh's most important temples, and a tour of the city would be incomplete without a stop here. The temple's magnificent sculpture is what draws the majority of visitors.

- Maha Sati- This hallowed site, some 110 kilometers from Chittorgarh, is where Udaipur rulers were cremated. Tourists go to this lovely building, which gleams in the sun since it has a water reservoir from which the Ganges waters are said to emerge. The 19 chhatris on the Ahar Cenotaphs honour the 19 Kings who were cremated here. He has more than 250 cenotaphs in all.

- Rana Kumbha's palace- The Rana Kumbha palace was Rana Kumbha's residence and where he spent his wealthy life. It is a must-see for travellers visiting Chittorgarh because of its attractive and creative architecture.