6 Incredible Forts In India You Cannot Miss
By: Kratika Wed, 16 Feb 2022 5:45:58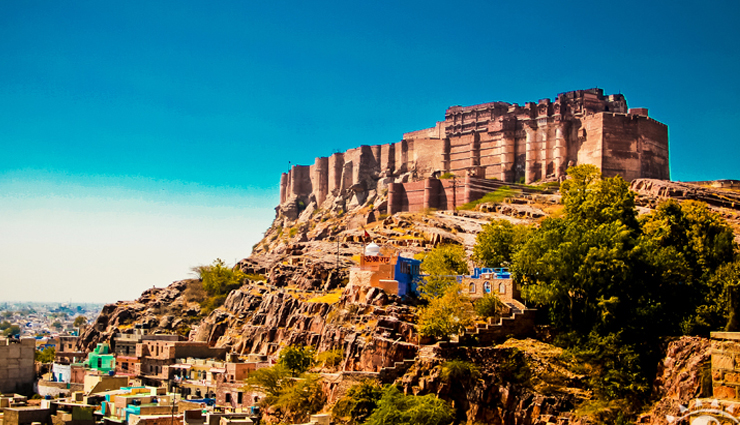 Forts in India are closely linked to the country's ancient history and heritage. These exquisite, towering monuments have been sites of epic battles, served as shelters for armies and have contributed to shaping India as we know it today. These mammoth structures continue to stand tall as physical reminders of India's colourful history.

Forts and palaces of India have caught the fascination of people. Visiting Indian forts and palaces is a sublime experience. Architecturally, the forts are absolute marvels. The intriguing myths and legends surrounding them are equally interesting. Here are some of the best forts in India.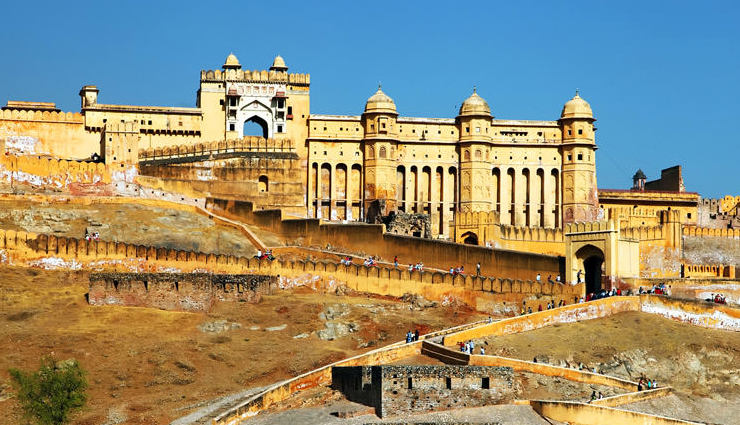 # Amer Fort, Jaipur, Rajasthan

A stunning blend of Mughal and Hindu architecture, Amber Fort is also known as Amer Fort. It is one of the most popular forts of India and among the many found in the state of Rajasthan. Rajput ruler Maharaja Man Singh I began constructing Amer Fort in 1592. Sawai Jai Singh ii is credited to have fortified the city of Jaipur roughly a century later. It is made of red sandstone and white marble. Amer Fort gets its name from the small town Amer it is situated in. The main complex inside Amer Fort has a series of courtyards, palaces, halls and gardens. The Sheesh Mahal (Mirror Palace) is renowned for its intricate carvings and shimmering walls and ceilings. A sound and light show in the evenings trace the elaborate history of Amer Fort. It is one of Jaipur's top tourist attractions and is one among the six hill forts of Rajasthan which are designated UNESCO world heritage sites. Nearby, you can also find the Jaigarh Fort, which overlooks the Amer Fort. Jaipur has several other such attractions worth visiting.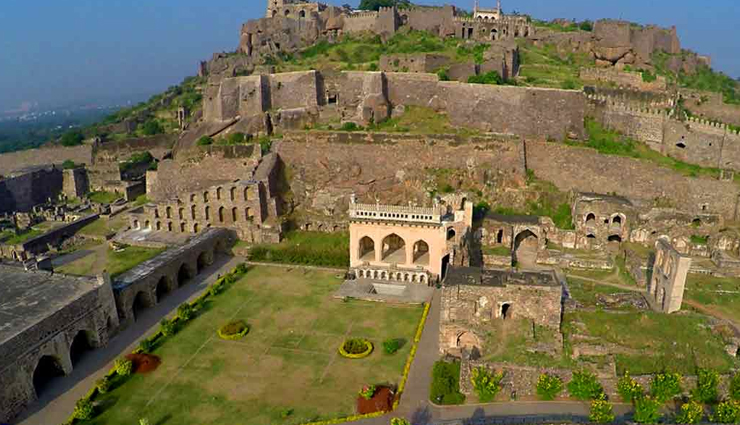 # Golconda Fort, Hyderabad, Telangana

Built by the Kakatiya kings, the gorgeous Golconda Fort in Hyderabad is renowned for its military architecture. During the 17th century, it rose to prominence for its diamond market. Golconda Fort is considered to be one of the seven wonders of Hyderabad. Within the fort, there are numerous gateways, drawbridges, temples, mosques, royal apartments and halls, and stables. The fort's eerie acoustics are also a delightful tourist attraction. A single clap can be heard at a distance of one kilometre! You can stroll around the well-maintained gardens and marvel at the fort's colossal structure. There's also an 800-year-old tree within the confines of the fort that you can check out.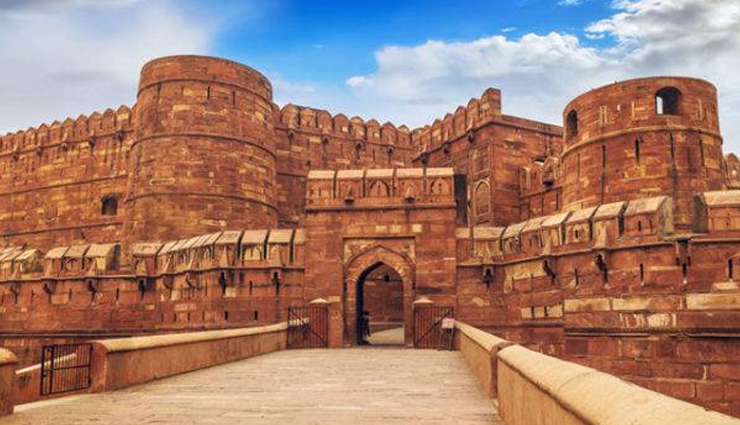 # Agra Fort, Agra, Uttar Pradesh

Agra Fort was one of the first Mughal forts of India, from where four generations of influential Mughal emperors ruled. Agra Fort was also one of the first sites in India to get a UNESCO World Heritage Site listing, in 1983. The fort, made of red sandstone, was initially constructed by Mughal emperor Akbar in the 16th century when he decided to make Agra his capital but was completed by emperor Shah Jahan, who was his grandson. It was essentially a military installation. The British seized control of the fort in 1803. It became a site of a battle during the Sepoy Mutiny in 1857. After the British left India, the fort was handed over to the Indian government. The well-preserved fort is now a major tourist site.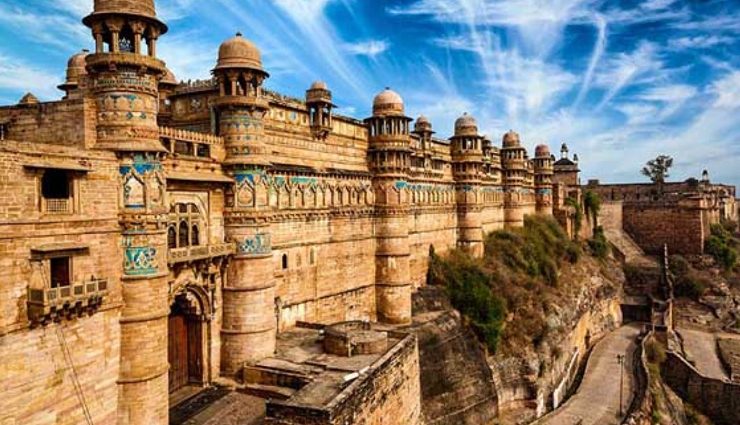 # Gwalior Fort, Gwalior, Madhya Pradesh

Gwalior Fort, Madhya Pradesh has had a long and turbulent history. It has been the site of several attacks and has seen many different rulers. Gwalior Fort is pretty huge and there's a lot to see within the fort complex. There are historic monuments, palaces and temples to see within the compound of the fort. Gwalior fort was built to its current state of grandeur during the reign of the Rajput Tomar dynasty. Ruler Raja Man Singh Tomar was responsible for crafting one of the fort's main highlights- Man Mandir Palace. The outer walls of the well-preserved Gwalior Fort are decorated with blue mosaic tiles and rows of yellow ducks.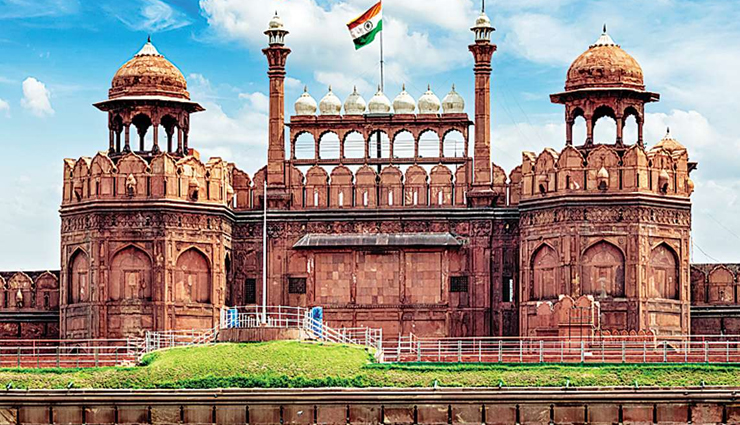 # Red Fort, Delhi

The Red Fort is symbolic in two different ways. While it is a reminder of the Mughal rule in India it is also an icon of independent India. Red Fort was constructed in 1648 by Mughal emperor Shah Jahan. The British destroyed much of the fort's palatial buildings after the failed Indian Rebellion of 1857. They then set up an army base inside the Red Fort. The Red Fort was named a UNESCO World Heritage Site in 2007.

The fort's well-preserved buildings have marble and floral decorations, a trademark of Mughal style architecture. Mumtaz Mahal, Diwan-i-Khas and Hira Mahal are some of the famous structures within it. At specific periods in history, the Red Fort has also been taken over by the Sikhs, Marathas and the British. Every year on Independence Day the Prime Minister of India hoists the national flag at the Red Fort gate and delivers a speech from its ramparts.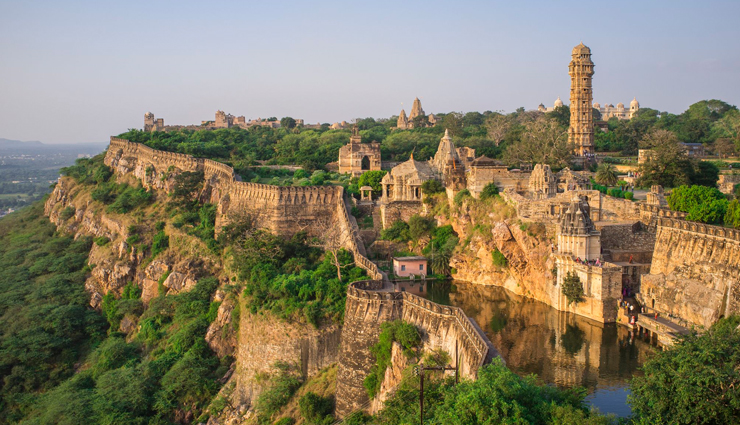 # Chittorgarh Fort, Chittorgarh, Rajasthan

Another among the hill forts of Rajasthan, Chittorgarh Fort or Chittor Fort is one of the largest forts in India, covering almost 700 acres of land. You'll need to explore the fort in a vehicle owing to how expansive it is. Mewar kings ruled from the fort for almost eight centuries before Mughal Emperor Akbar took over. Some parts of the fort are in ruins, but a majority of it is still intact. Inside the fort complex, you will find old palaces, temples, towers, and a reservoir where it's possible to feed fish. Vijay Stambha (Tower of Victory) offers a stunning view of the city around. Chittorgarh fort was also used as a royal cremation ground.