6 Most Amazing Shopping Malls To Visit In India
By: Kratika Fri, 20 May 2022 2:40:19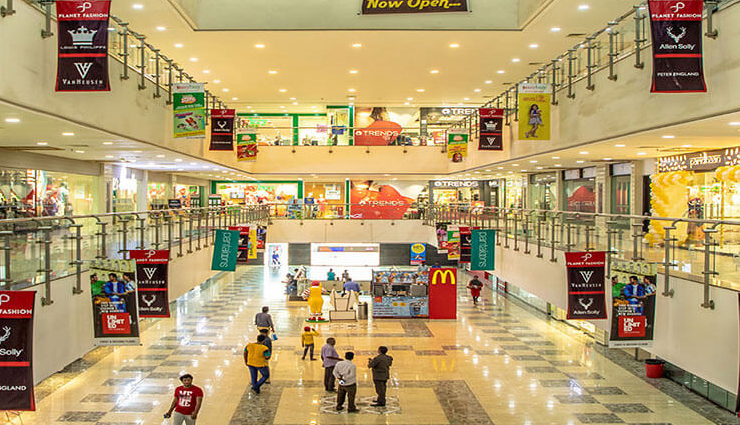 India, one of the most rapidly developing countries worldwide, offers a perfect environment for retailers and companies to invest. Here, one can find people of different types with different tastes and choices, loving different brands, having the additional budget, making it perfect for hotspots for various companies. And hence, it is home to a list of other brands, national and international, and food stores. And in current time people are trying to save time, and this need gave birth to the requirement of malls. Who will not love everything available at one place from grocery to clothes, footwear to vegetables, simply everything? Now we will look over some of the biggest and best shopping malls in India.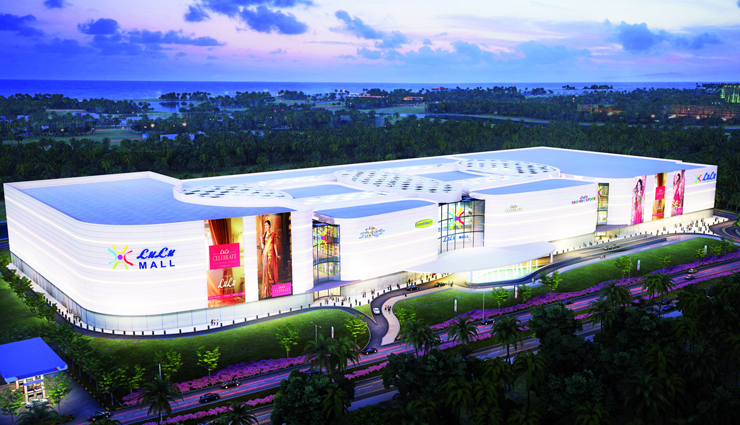 # LuLu International Shopping Mall, Kochi

LuLu International Shopping Mall is one of the largest malls in India, spreading in an area of more than 3,900,000 sqft, across four floors. This mall is in Kochi, bringing about 100+ biggest brands of the world to Kerala for the first time.

For entertainment purposes, there is a leisure zone with a 12-lane bowling alley, a 9-screen PVR Gold Class multiplex and a 5D theatre, an ice skating rink, a trampoline park, and a host of amusement rides and games. Including ATMs, baggage counter, and a state-of-the-art automated parking area with a capacity to accommodate 3,800 vehicles, this mall has many amenities too.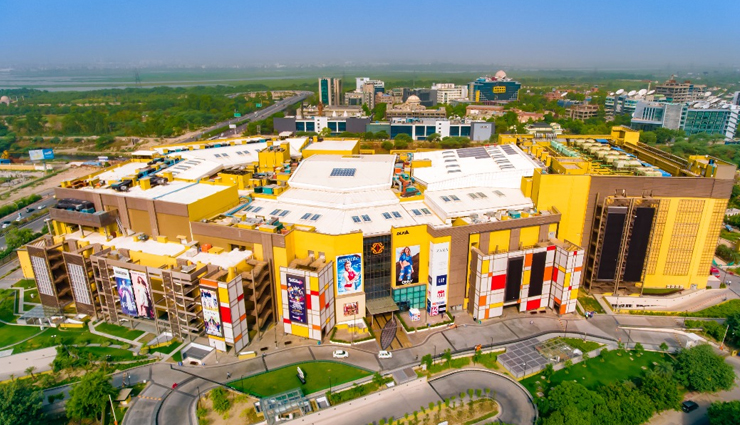 # DLF Mall of India, Noida

DLF Mall of India, located in Noida, is the second-largest shopping mall in the country and the most popular one in Delhi, NCR. This mall has seven floors. And five customized zones, namely Market Place, International Boulevard, The High Street, Family World, and Leisure Land, dedicated to a particular category.

The mall has more than 330 brands to offer customers, including hundreds of fashion labels, with more than 50 types of available food and beverages outlets, a food court, and over 80 kiosks for eating and indulging in fashion and home décor.

There are many entertainment areas at the mall, a 7-screen PVR multiplex, and the gaming center, Smaaash. The opening and closing Timings of the mall are 10.00 am – 10.00 pm.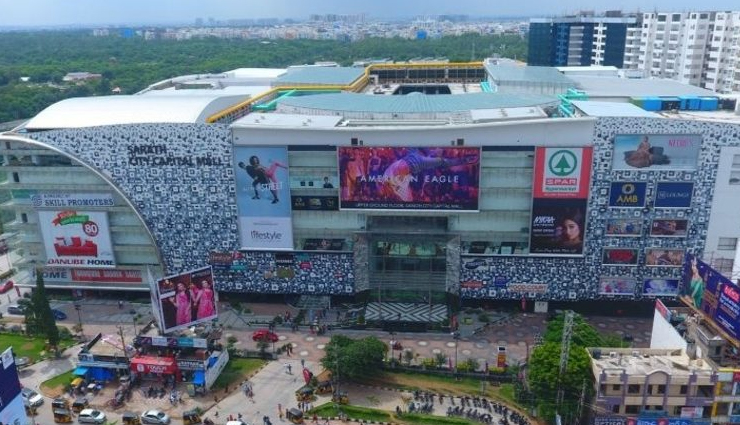 # Sarath City Capital Mall, Hyderabad

One of the biggest malls in Hyderabad and house to more than 430 international and local brands belongs to different categories like fashion, home décor, jewelry, and electrons. The location of this mall is Gachibowli – Miyapur Rd, Whitefields, Kondapur, Telangana 500084. Its location makes it more widespread. This 8-Storey mall has a beautifully designed marketplace, BAZAAR, selling attractive and everyday items.

Besides shopping, this mall is also famous for entertainment with a trampoline park, an indoor adventure park, a snow-themed park, and 7-screen AMB Cinemas multiplex, and much more. Two food courts and a host of fast food points, café, and restaurants are there for the mall's dining options. There will include an auditorium, especially for music and cultural events and festivals. What makes this auditorium unique and popular is its being open-air. There are a few nightclubs, lounges, and a microbrewery to open at the mall, along with co-working spaces. The opening and closing Timings of the mall are 11.00 am – 9.30 pm.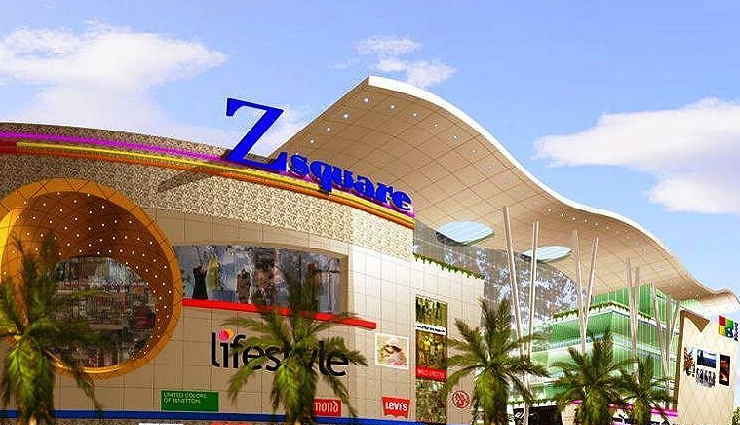 # Z Square Mall, Kanpur

Z Square Mall is one of the most prominent and famous shopping malls in India. According to some surveys, other than being notable and famous, it is one the best upcoming malls in the country.

Spreading across an ample space, this mall features a state-of-the-art infrastructure offering approximately 150 national and international brands.

The mall takes care of children too, as it has a play area known as the Children Square with many swings, carts, and play stations. . On the top floor of the mall, there is a food court which offers multi-cuisine.

For the convenience of visitors, ATM services are available on all three floors of the mall. Other than that, the mall has a basement parking of 3-level to accommodate 2500 vehicles.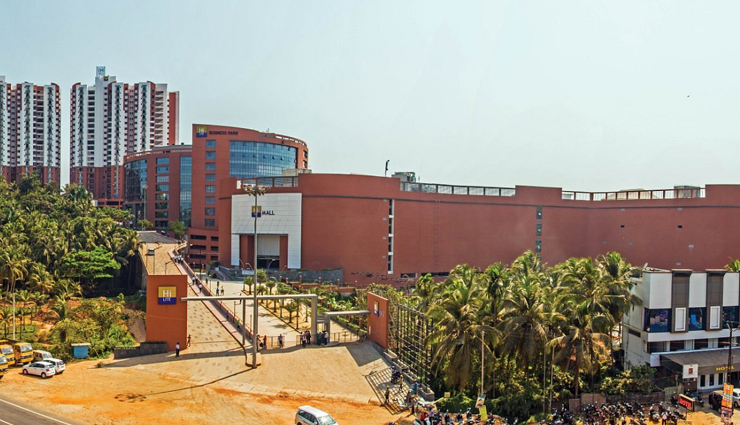 # HiLITE Mall, Kozhikode

HiLITE Mall in Kozhikode is famous for its 200+ branded retail stores and dining options that make it an exclusive shopping and entertainment hub. With a food court, two gaming zones, a snow park, an eight-screen multiplex, and a NESTO hypermarket chain, it takes complete care of the entertainment of its shoppers. This mall covers a great retail space and makes its place in the list of one of the largest malls in India as it was built as a part of the integrated township of the city. It is close to IT parks, famous for a decent footfall during the weekdays, making it one of the busiest malls in the city and the state. The opening and closing Timing of the mall is 10.30 am – 10.30 pm.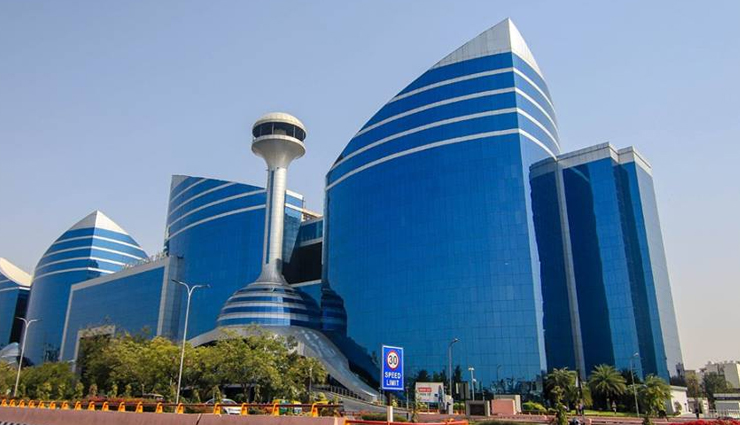 # World Trade Park Mall, Jaipur

World Trade Park is one of the biggest shopping malls in Jaipur. Other than being the most prominent mall, it has also worked well on its architecture. And has won the Best Architecture Mall of the Year awards for its design. It is the one-stop destination to many high-end brands and a multiplex, an entertainment city, a food court, and a parking space that can hold over 1100 cars. All the stores and facilities at the mall are divided across different streets like Ethnic Street, Roman Street, Oxford Street, Johari Bazar and Pyramid Street, and many others. The location of the mall is JLN Marg, Malviya Nagar, Jaipur. The opening and closing timing of the mall is 11.00 am – 10.00 pm.