6 Most Mysterious Temples To Visit In India
By: Kratika Fri, 18 Feb 2022 10:36:42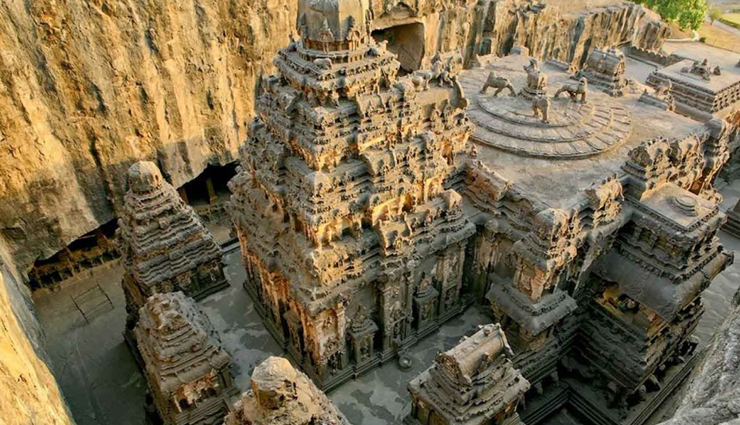 India is a land of many Mysterious temples. Here we are going to provide you a list of famous mysterious temples in India. The temples are built according to Vastu in early age history. No temples can be built without astronomy. But some temples you would see in India which are neither built according to astronomy and Vastu. The mystery of these kinds of temples has been known to the unsolved to date. Here you will get brief information about such unknown mysterious temples in India. There are thousands of mysterious temples in India, but here are some famous for you. Peruse along to get some answers about the mysteries of these mysterious temples in India: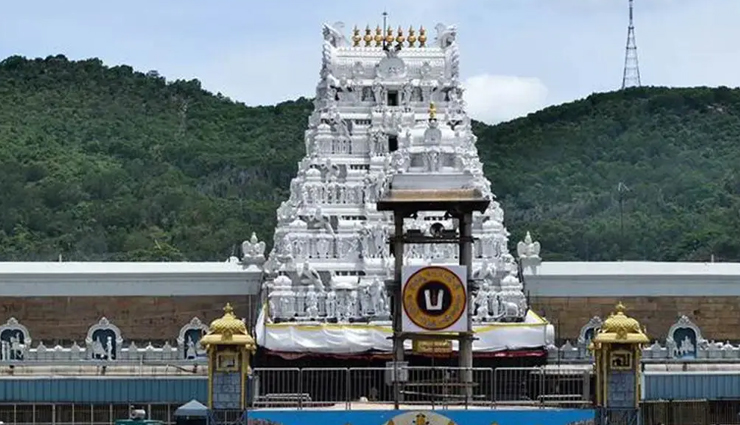 # Venkateshwara Temple, Andhra Pradesh

Situated in the Chittoor district of Andhra Pradesh, Lord Venkateshwara Temple is known as Tirupati one of the most visited pilgrimage centers in the country. Venkateshwara Temple is one of the seven hills in Tirupati, where the main temple is located. The temple is believed to be the place where Lord Venkateshwara took the form of an idol and is hence. Home to the deity also known as Balaji and Govinda, Tirupati is one of the oldest cities of India and is mentioned in plenty of ancient Vedas and Puranas.

The non-stop chanting of 'Om Namo Venkatesaya', the mad pilgrim rush and the 8-feet tall idol of Lord Venkateshwara – everything about the Sri Venkateswara Temple is majestic. Spread over an area of 26 kilometers and visited by nearly 50,000 pilgrims every day, the temple is also commonly referred to as the Temple of Seven Hills. Lined by barbers, this most famous mysterious temple in India has two huge halls who are responsible for shaving the hair off more than 12,000 pilgrims every day, reaching nearly 75 tons of hair annually and earning more than 6.5 million USD. These hair are sold to Chinese and Italian wig manufacturers who use extracts from the hair for food preservation.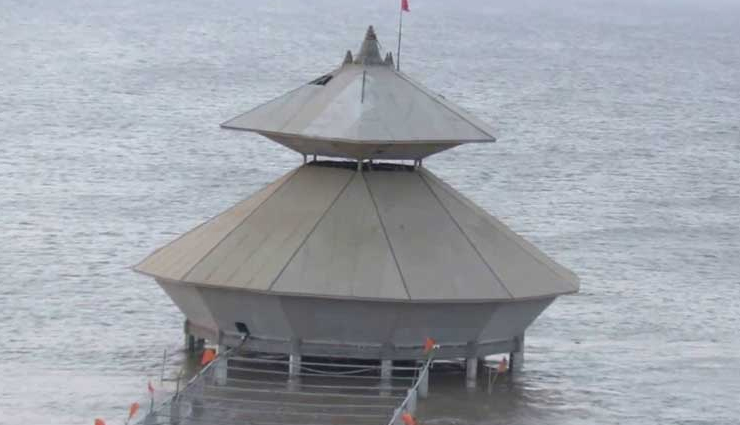 # Stambheshwar Mahadev, Gujarat

Stambheshwar Mahadev Temple in Gujarat is one of the incredible and popular mysterious temples in India. Submerges of this temple everyday and again reappears makes it unique. To see this extravaganza of nature, one should visit this place. Situated in the town of Kavi Kamboi, Stambheshwar Mahadev is an ancient temple. Between the shores of the Arabian Sea and the Bay of Cambay in Gujarat, the shrine is located there. This Shiva Temple gets submerged in water every day during high tide hours and again reappears when the tide level comes down. Again it will be open for the public.

To watch this amazing sight, people from across the country come here. This Shiva Ling was installed by Lord Kartikeya himself, according to the mythology. One story says that, after killing the demon Tarakasura, Lord Kartikeya (Shiva's Son) feels guilty. So, Lord Vishnu consoled him saying that it was not wrong to kill a demon who lived by troubling the common people. Lord Vishnu advised him to install Shiva Lingas and pray for forgiveness because Lord Kartikeya wanted to absolve his sin of killing a great devotee of Shiva.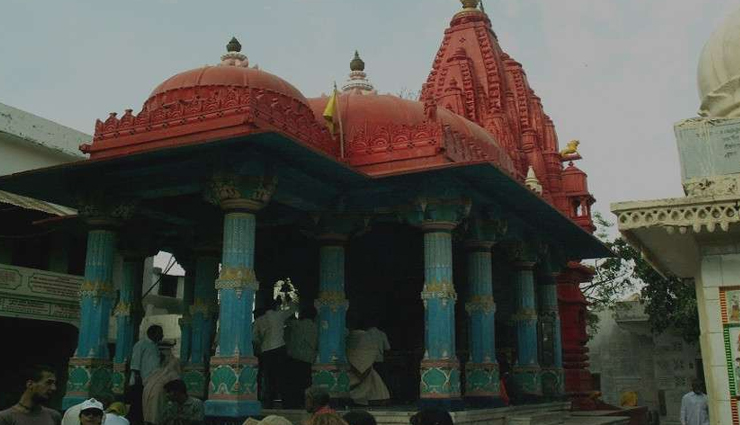 # Brahma Temple, Pushkar, Rajasthan

Brahma Temple also called Jagatpita Brahma Mandir is located in Pushkar, Rajasthan is the ancient mysterious temple in India dedicated to Lord Brahma who is considered as the creator of the Universe. It attracts lakhs of pilgrims every year being the only temple dedicated to Brahma in India. Because of the presence of the Brahma Temple, the small town of Pushkar seems holy. It also finds its mention in the prominent ten religious places of the world and the five sacred pilgrimages for Hindus in India. The Brahma Temple is believed to be 2000 years old, originally built in the 14th century.

It went through renovation several times under Adi Shankara, initially constructed by the sage Vishwamitra. Built from marble and enormous stone slabs, it houses the images of Lord Brahma along with his two wives, Gayatri and Savitri. The shrine is governed by Sanyasi (ascetic) sect priesthood. The fact that Lord Brahma chose Pushkar to perform Yagya makes this town sanctified. The holy Pushkar Lake flowing right in front of the temple adds to its purity. The auspicious day of Kartik Poornima takes spirituality to the next level. A visit to Brahma Temple and a dip in the sacred Pushkar Lake will surely absolve all your sins. To worship Lord Brahma, who is rarely found, is equivalent to attaining liberation and hence, should be on your bucket list.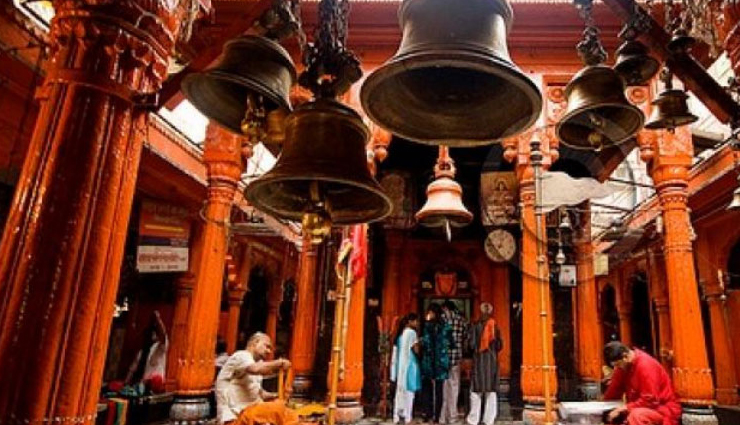 # Kal Bhairav Nath Temple, Varanasi

Famous for being a place of worship for Aghoris and Tantriks, Batuk Bhairav Mandir is considered to be of immense religious importance. This most mysterious temple in India is dedicated to Batuk Bhairav who was an incarnation of Lord Shiva. An interesting feature of the temple is the sacred Akhand Deep which is believed to be burning for ages. It is said that the oil of this lamp has healing powers. Kal Bhairav Temple is one of the ancient temples of Lord Shiva that can be found in Varanasi. This temple has a strong link with the history and culture of the city. Kal Bhairav Temple is the fiercest form of Lord Shiva. The deity is portrayed as a man wearing garlands made with human skulls.

It is said that the death itself is afraid of this form of Lord Shiva. It is said that Kal bhairav decides who has to stay in Varanasi and who should not. People of Varanasi get permission from the deity before leaving the town for any reason. Anyone visiting Varanasi should visit the temple first and get permission to enter into Varanasi, according to folklore. The temple is open from 5 in the morning until 1:30 pm and, from 4:30 pm until 9:30 pm. Eight-day after full moon day in November is an auspicious day and you can find numerous rituals in the temple. Sunday and Tuesdays are considered important days for the deity. Other important festivals in the temple are Annakut (the fourth day from Diwali) and Shringar.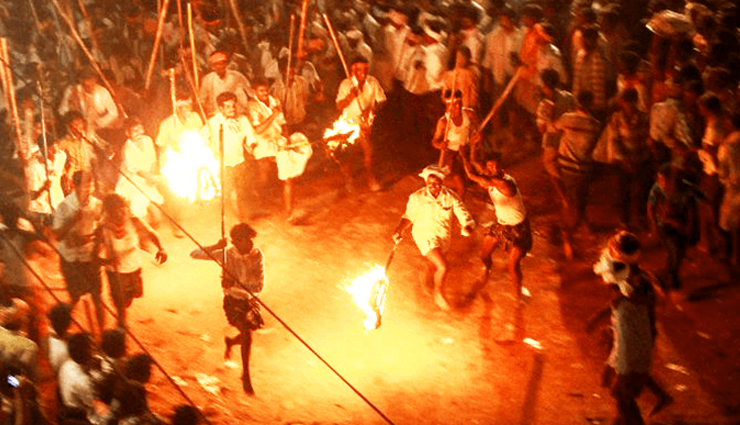 # Devaragattu Temple, Andhra Pradesh

Another one of the most mysterious temples in south India, Devaragattu Temple at the Kurnool area of Andhra Pradesh is renowned for the Bani Festival. This festival is certainly the weirdest and bloodiest Dussehra celebration anywhere in India. The Devaragattu Temple in Kurnool district of Andhra Pradesh witnesses controlled violence at an unimaginable scale every year on Dasara. Hundreds of villagers from Karnataka and Andhra Pradesh congregate in Kurnool to be a part of this rather dangerous celebration. As part of the ritual, devotees gather inside the temple complex with sticks, which they use to injure their opponents on the head.

What follows next is a blood bath. As the clock strikes midnight, devotees, like programmed robots, start attacking each other with sticks, and it does not come as a surprise that things do get heated. Medical teams and police are deployed at every step to take care of the injured, but most just smear turmeric on their wounds and go about their day. Commemorating the slaying of a demon by Mala-Malleswara (Lord Shiva), these men drenched in blood wage war till dawn. What was earlier celebrated with axes and spears some 100 years ago, has now been brought a notch down? The Devaragattu Dasara is celebrated with just sticks in its present form. While the whole celebration leaves the spectators flabbergasted, it is the zeal of the locals to "kill or get killed" that makes us wonder how far we'd go to celebrate the victory of good over evil.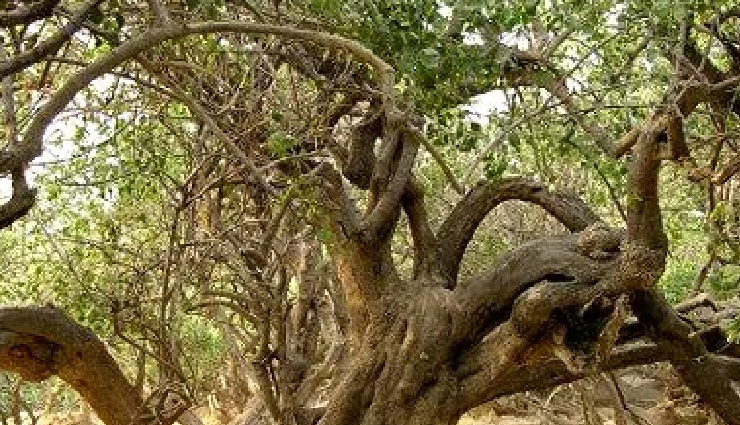 # Nidhi Van, Vrindavan

This temple is considered as a real part of the top 10 mysterious temples in India. Nidhivan, a temple nestled in the holy birthplace of Krishna, Vrindavan has a sense of mystery or miracle attached to it. Nidhivan has hearsay that Lord Krishna visits it every night. And that's not about it, there is also a buzz that he performs Ras Leela every night. It is considered to be the holiest place in the country where God literally has an abode. Such speculations leave us in an enigma! There is no smoke without fire.

There is some root to this mystery which is still unknown to all. Post the evening aarti, no priest or devotee is allowed to step into the premises. However, not all facts are available at our disposal. There is no sighting of any animal or bird post 7 PM either because it is said that they elope from the area as well. Not just this, but Nidhivan has a unique surrounding. It is flanked by unusual hollow trees that are short heightened and the branches are twisted downwards and lie in tangles. The Tulsi plants also stand in pairs.