6 Most Unique Hotels To Visit In The World
By: Kratika Thu, 10 Feb 2022 12:01:13
After you've been traveling a while, every hotel begins to look the same unless, that is, you've booked a much more unusual place to stay. For those who've gotten bored of the standard overnight setup, here are 6 of the most unique hotels in the world.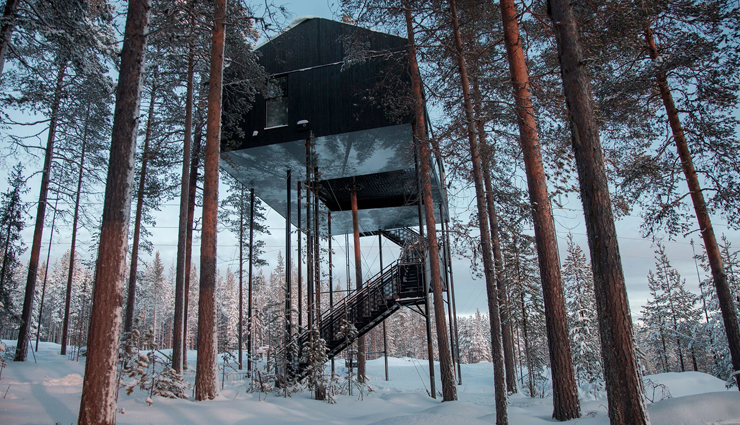 # Treehotel, Sweden

Kids don't think twice about sleeping in a treehouse, but as adults, we forget how much fun it is. Revive that childhood magic at Sweden's remarkable Treehotel, which consists of seven living pods suspended in tall pines up to 20 feet above the forest floor. (You get into them via ladder, suspended bridge, or electric stairs.)

Choices include an abode that looks like a humongous bird's nest, one shaped like a UFO, and the reflective "Mirrorcube." Guests get enchanted views of the woods, the Lule River, and (at the right time of year) the aurora borealis. From September to March, the hotel's employees give guided northern lights tours; all year long, you can eat at the on-site restaurant, which specializes in northern Swedish cuisine, and explore the 600-person village of Harads.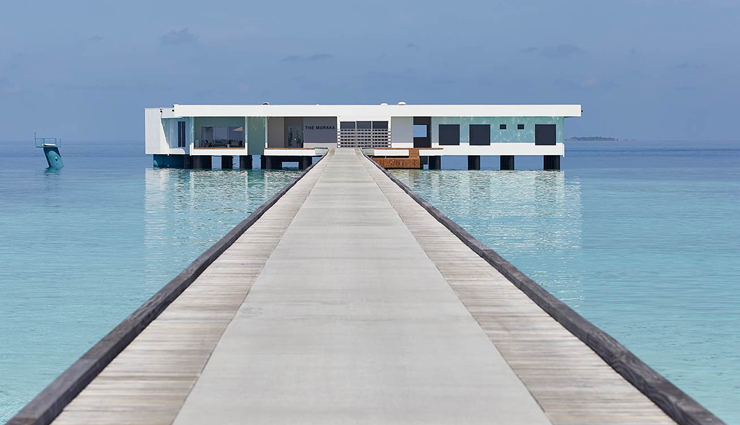 # The Muraka, Maldives

In late 2018, the Conrad Maldives Rangali Island, already known as an extraordinary place to stay, debuted a two-story, three-bedroom undersea residence with a modern, domed design and 24-hour butler service. But the Muraka's most impressive feature is its full, glassy immersion in the Maldives' mesmerizing ocean life. World-class architects and engineers teamed up to construct the unique hotel room in Singapore; they then transported it to the Maldives, anchoring it in the middle of the Indian Ocean. The only catch: The Muraka costs $40,000 per night.

Those of us not stocked with that level of disposable income can have a meal at the Conrad's undersea restaurant, Ithaa. Or travel instead to Key Largo, Florida, to stay at Jules' Undersea Lodge—named after Mr. Verne, natch. You'll have to scuba dive down to this strange guest room, at the bottom of a fish-filled lagoon.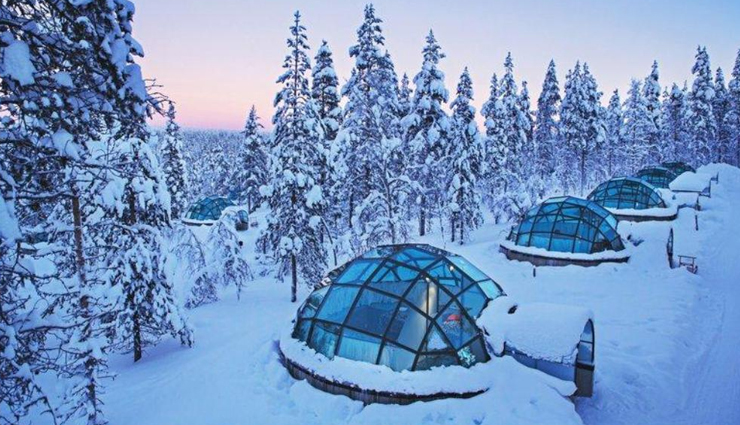 # Kakslauttanen Arctic Resort, Finland

By now, everyone knows about Sweden's remarkable Icehotel and its frozen brethren: Quebec's Hotel de Glace, Norway's Snowhotel Kirkenes, and Ice Hotel Romania—all artist-sculpted hotels that arise gorgeously every winter, only to melt away in summer.

But if you're more interested in finding out what it's like spend the night in a real-life igloo, head to Finland for a stay at Kakslauttanen Arctic Resort, 150 miles north of the Arctic Circle. Most images of it show its rows of glass-domed "igloos," which are eminently worthwhile in and of themselves, particularly for their unobstructed view of aurora borealis. For the true igloo experience sans quotation marks, however, opt for one of the property's dozens of actual snow igloos, where you'll find calm, quiet, and a sleeping bag to keep you toasty in the room's below-freezing temperature.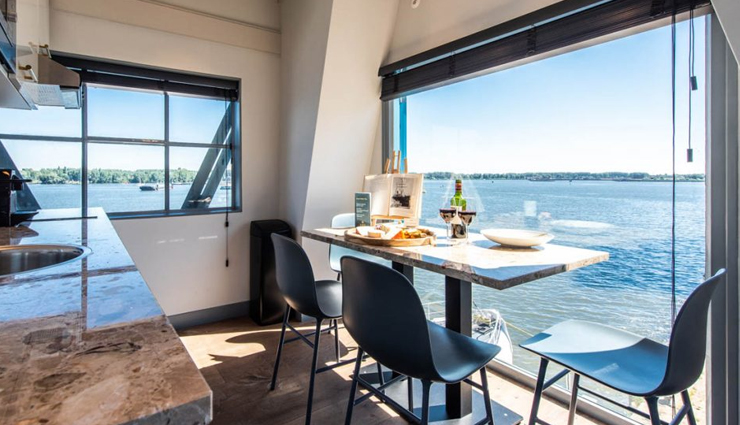 # The Yays Crane Apartment, Netherlands

What to do with an old crane? Why, turn it into a hotel, of course. This is exactly what a company called Yays did with a retired Figee it commissioned Dutch designer Edward van Vliet to create a stylish interior for a three-story apartment with vertiginous views over the IJ River. The crane operator's box was left intact, so guests can still hear his recorded stories play.

Apparently, transforming cranes into hotels isn't a one-off thing to do in the Netherlands: There's also the 164-foot-high Crane Hotel Faralda, as well as the Harlingen Harbour Crane, whose movement you can control yourself.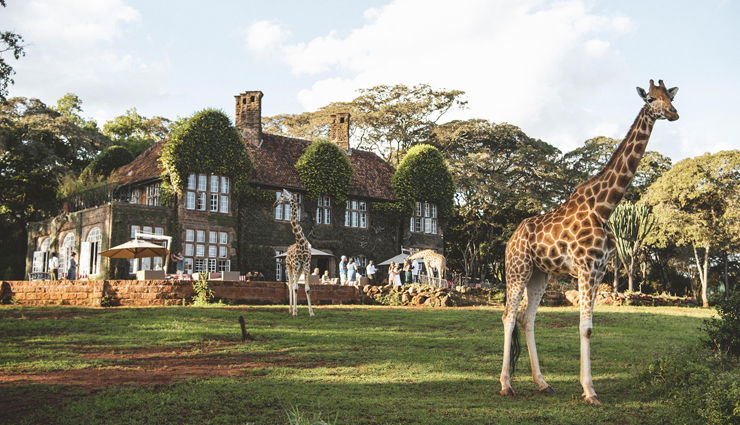 # Giraffe Manor, Kenya

At the 12-room Giraffe Manor, one of the unique hotels in Africa's Safari Collection, the welcoming employees teach each guest how to feed giraffes. This is because the elegant property, built in 1932 at an elevation of almost 6,000 feet, is home to a herd of endangered Rothschild's giraffes who are fond of stretching their long necks into the hotel's large windows for a snack. Every guest room is stocked with giraffe food so that when you receive the inevitable long-necked visitor, you can nourish it appropriately.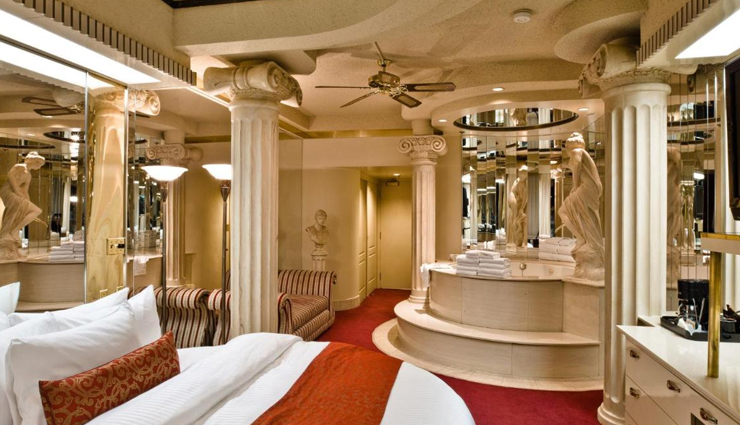 # Fantasyland Hotel, Canada

Everyone loves a good theme. And while amusement parks are famous for making good use of them, it's harder to find hotels that are themed through and through. In Canada, Edmonton's Fantasyland Hotel is in a shopping center, but that's hardly the most unique thing about it. True to its name, Fantasyland offers 120 fantasy-themed rooms, and you choose your surroundings. Options at this novelty hotel include rooms that look like a spaceship, a gas station, Polynesia, Rome, the Arabian desert, and a prison cell. Plus, the attached mall has a waterpark, thrill rides, miniature golf, and a bowling alley.