7 Different Ways Janmashtami Is Celebrated Across India
By: Pinki Sat, 28 Aug 2021 12:27:38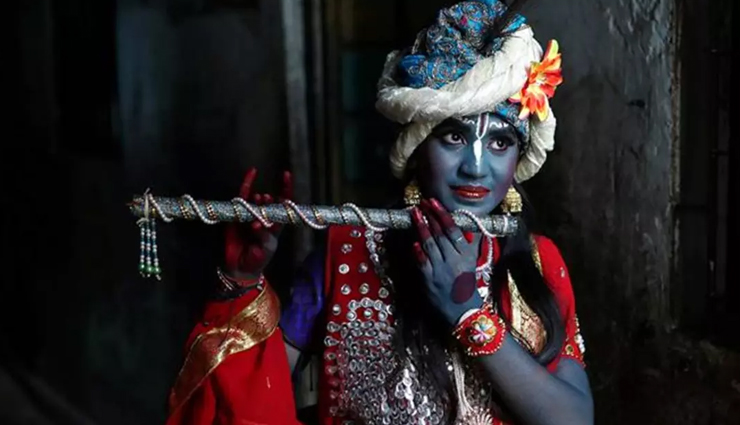 Janmashtami, Krishnashtami, Ashtami Rohini, Gokulashtami, or Srikrishna Jayanti, no doubt the birth anniversary of Lord Krishna is celebrated in many parts of India in their unique style but the level of enthusiasm and grandeur is the same. Celebrated on the eighth day in the month of Shravan or Bhadrapad, this auspicious day falls anytime between August and September according to the Gregorian calendar. Just akin to Krishna's charm, the celebration of his birthday has an irresistible vibe. So take a look at these 6 unique Janmashtami celebrations in different states of India.

Here's how his devotees immerse themselves in the love of Krishna on this special day of Janmashtami.
# Janmashtami Celebration in Mathura, Uttar Pradesh

The main celebration of Janmashtami takes place at Krishna's Janmabhoomi, Mathura. Being the birthplace of Krishna, the exhilaration is absolutely priceless. From heavily adorned temples to the streets filled with the fragrance of roses and luscious sweets being prepared at every corner is a sight to behold. From his butter stealing act to Ras Leela with Gopis, many vibrant plays are held to portray the life of Krishna. His Balgopal roop is cradled in every home and even in the temples of Mathura during Janmashtami. This tradition of cradling baby Krishna is also prevalent in many other parts of India.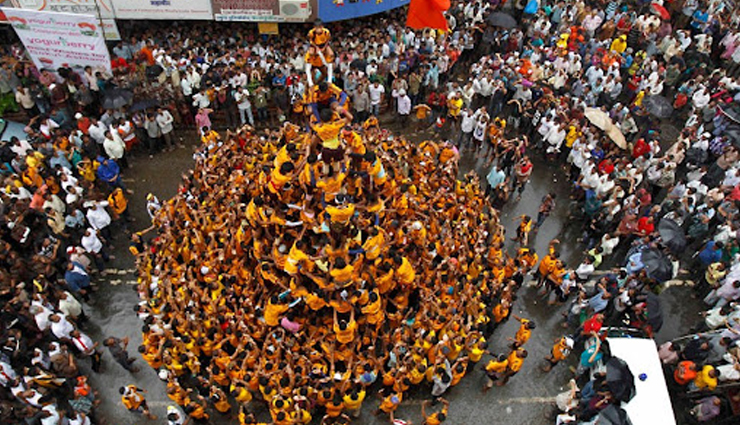 # Janmashtami Celebration in Vrindavan, Uttar Pradesh

Vrindavan in Uttar Pradesh is another place after Mathura where Janmashtami is celebrated with great devotion as this town also has a deep affinity with Krishna's life. Barely 11km away from Mathura, it was in Vrindavan where Krishna spent his childhood stealing butter and performing Raas Leela with his Gopis. On this special day, Raas Leelas and plays based on Krishna's charm are enacted by artists and various rituals are performed in temples. Here the celebration of Janmashtami begins ten days in advance and the entire town comes to life with the sound of mridang, bhajans, and bells. Who doesn't know about Krishna's charm that has spread all over the world and a large number of his devotees visit this holy town during Janmashtami.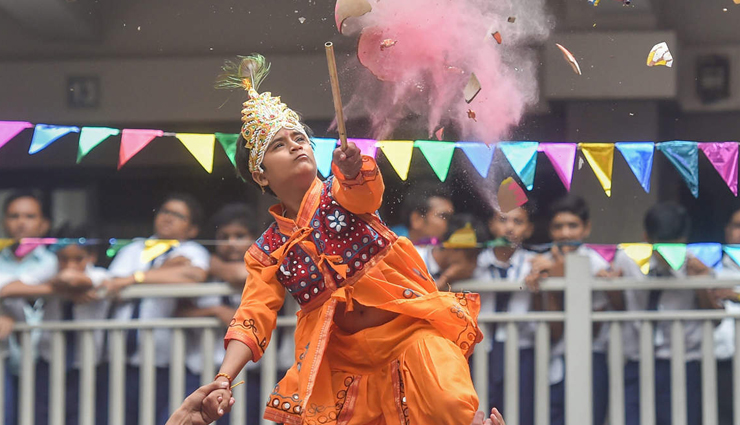 # Janmashtami Celebration in Maharashtra

Unlike Mathura and Vrindavan, Janmashtami in Maharashtra is more about fun and merrymaking. Celebrated in a unique way, huge pandals are installed for Dahi handi. An earthen pot filled with curd and white butter is hung on a massive height and huge human pyramids are formed to break this pot. To make Dahi Handi more competitive, people splash water on the group attempting to break the pot. This ritual originated from Krishna's act of stealing butter with his friends and a large number of people gather to watch this spectacle every year. This massive event is organized and sponsored by companies and local political groups and a huge cash prize is extended to the winning team. One of the popular places to catch the sight of electrifying Dahi handi is in Mumbai where the Janmashtami celebration is totally fascinating.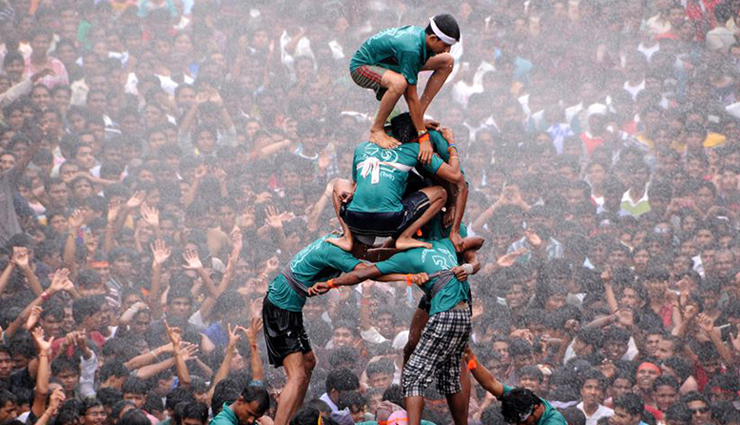 # Janmashtami Celebration in Dwarka, Gujarat

After Krishna's birthplace and his close-to-heart place, Vrindavan comes to his very own kingdom, Dwarka in Gujarat. Janmashtami celebration in this part of the country is worth witnessing as this is the place where Lord Krishna spent about five thousand years of his life. According to legends, the entire city of Dwarka submerged into the Arabian sea after he left for heavenly abode and the present-day city comes to life with the sound of conch shells and ringing bells during Janmashtami. Every year a large number of devotees visit Dwarka to immerse themselves in the bhakti of Lord Krishna.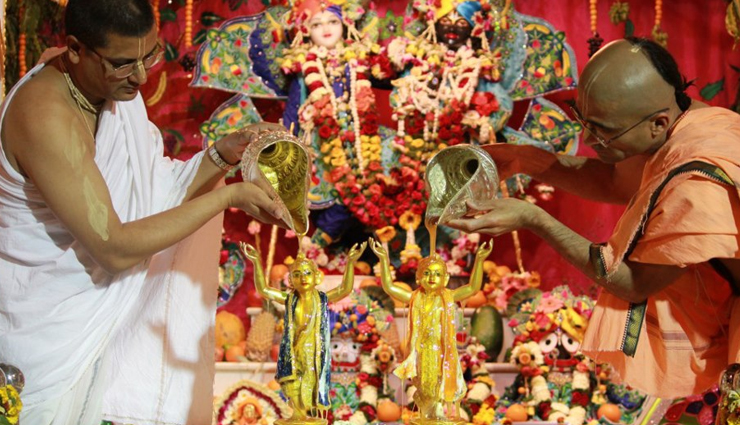 # Janmashtami Celebration in Odisha

Jagannath temple in Odisha is a quintessential temple of Lord Krishna as it is this ocean in Puri where his heart was tied to a log after the cremation and immersed in the ocean. Jagannath temple in Puri holds immense significance as legends say that this temple is where Krishna's heart can be found. All the major temples in Odisha are beautifully decorated and the special Bhog called the Jeuda Bhog is prepared with a belief to ease the labor pain while giving birth to Lord Krishna. The deities are adorned with beautiful clothes and jewelry and during midnight Ladoo Gopal is kept in a cradle decorated with flowers in order to welcome the newborn Krishna. Mantras are chanted, processions are carried out, religious songs are sung, verses from the Bhagavad Gita are recited and several sweets are cooked to celebrate the birth anniversary of Krishna. Here the Janmashtami celebration is held with great pomp and shows just like the famous Rath Yatra.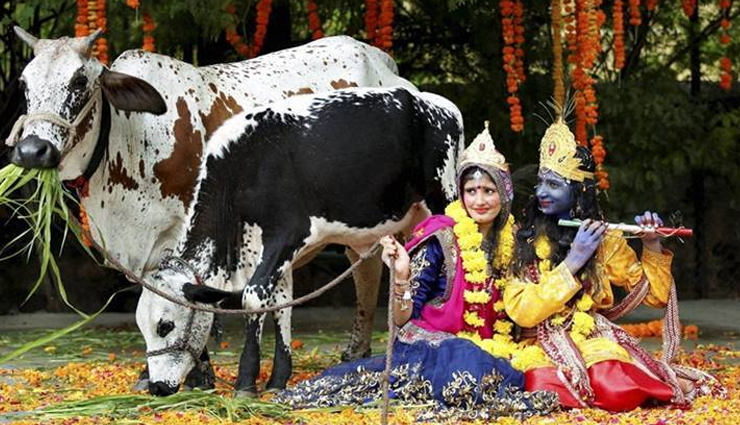 # Janmashtami Celebration in Goa

Despite being a Portuguese settlement with a large population of Christians, Goa is popular for Hinduism as well. Yes, the temples in Goa are as significant as churches. Having an affinity with Yadavas, the clan to which Krishna belonged, Goa is home to the unique Devaki Krishna which in fact is the only temple in India where Krishna and Devaki are worshipped together. In this temple where the idol of Devaki in a standing position with little Krishna between her legs is worshipped and Janmashtami is celebrated with gusto. Marked by long queues of devotees, this temple in Marcel which is about 17km from Panaji is where major celebrations of Janmashtami can be seen in Goa.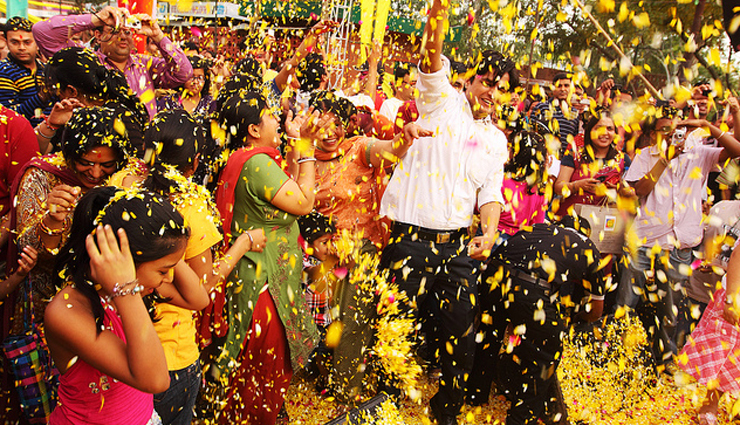 # Janmashtami Celebration in Jaipur

Krishna Balaram temple and Govind Devji temple in Jaipur are famous for Janmashtami celebrations. While the Krishna Balaram temple in Jaipur city is exactly similar to the Krishna Balaram temple in Vrindavan, the famous Govind Devji Temple located inside the City Palace is where the main image of Krishna was brought by Raja Sawai Jai Singh II from Vrindavan which is believed to be made by Krishna's great-grandson, Bajranabh. Decorations being the indispensable part during Janmashtami, both these temples in Jaipur remain crowded with devotees including men, women, and kids who visit here to offer prayers and seek blessings.