7 Dishes You Must Try During Your Visit To Kashmir
By: Kratika Wed, 18 Aug 2021 9:11:59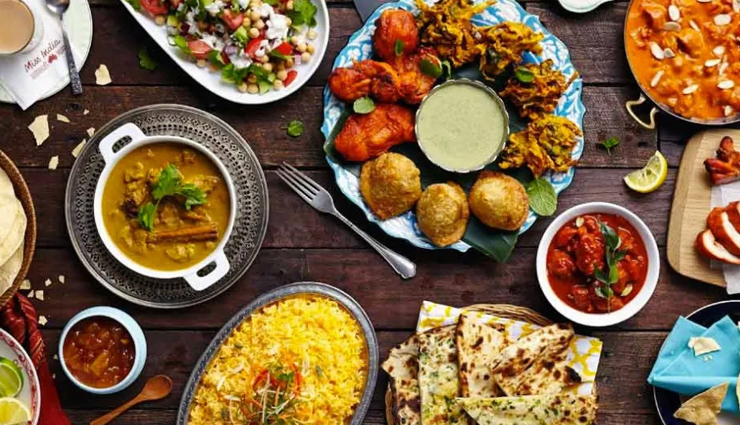 If you love grilled meats, fresh breads, fragrant rice dishes and curries rich with spices – you will love Kashmiri food. Kashmir is the northernmost state in India, bordering with Pakistan to its west and China to the east. The food is influenced by Persia, Middle East and the Indian subcontinent. However, it is unique in itself.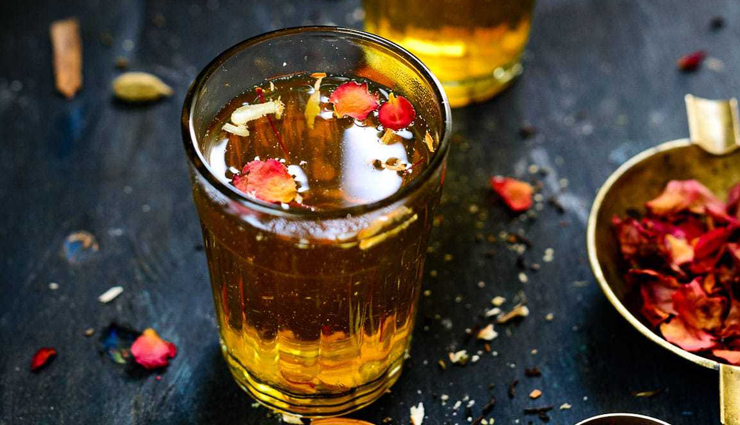 # Kahwah

Traditional green tea brewed with saffron, and topped with chopped almonds. You can add sugar or honey as needed. Every hotel, shop and home will welcome guests with a cup of hot kahwah. While the best tea I tasted was at someone's home in Srinagar, I liked the variety of breads served alongside at Hotel Heevan in Pahalgam. You can also order high tea outside in the lawn overlooking the Lidder River.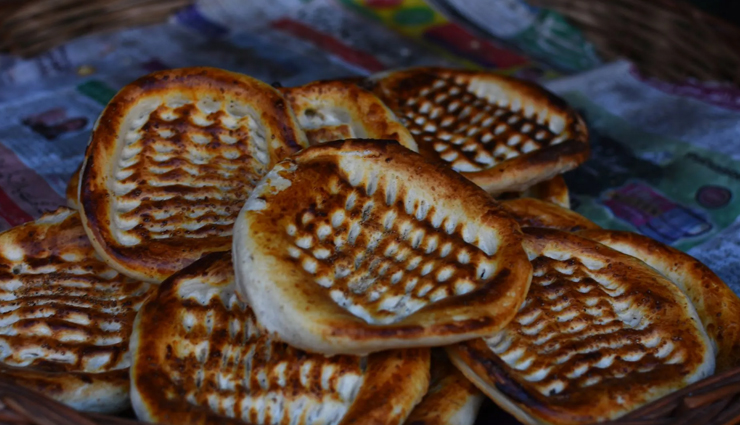 # Girda

A typical Kashmiri breakfast consists of nun chai (salty pink tea) along with a piece of fresh baked bread such as girda (round yeast bread), lavas (unleavened bread), baquerkhani (puff pastry pictured above), and tsot. In downtown Srinagar, you can find old bakeries elaborately stacked with breads early in the morning.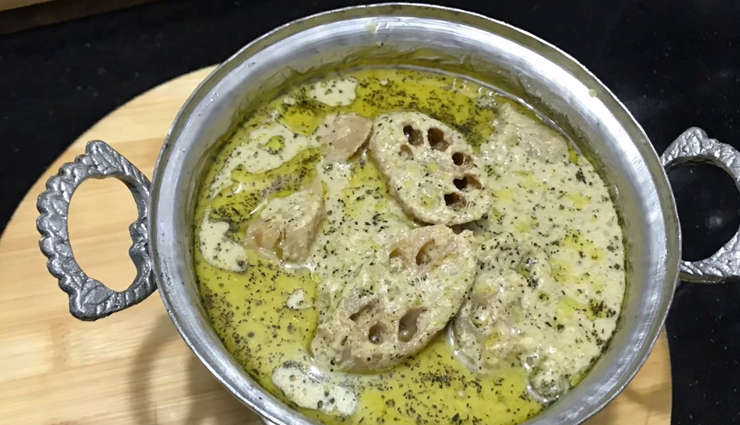 # Nadru

Because of the many lakes around Kashmir valley, lotus is grown in abundance. The locals cook lotus root in a verity of dishes and these thinly battered and fried lotus root cutlets sprinkled with garam masala are delicious. Serve them as an appetizer with a creamy walnut chutney. Try it at Welcomehotel Pine-N-Peak in Pahalgam. I also had lotus root cooked in yogurt sauce (nadru yakhni), which was a simple, light and tasty vegetarian dish.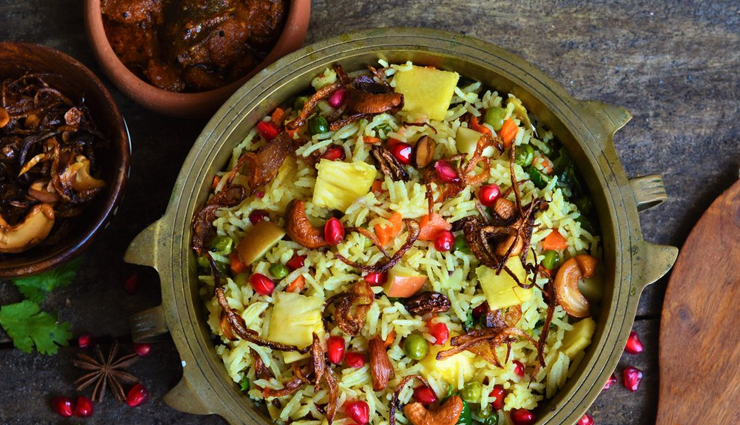 # Kashmiri Pulao

Kashmiri rice is very different from traditional Basmati. It is thicker and shorter locally grown variety, which is rich in starch and nutrients. Rice is a staple in Kashmir and cooked in different kinds of pulaos and biryanis. This is the most common one, cooked with a bit of saffron, spices, nuts and dried fruits. You can eat it on its own or pair it with a curry. The best one I tasted was at Dilkusha restaurant in Pahalgam.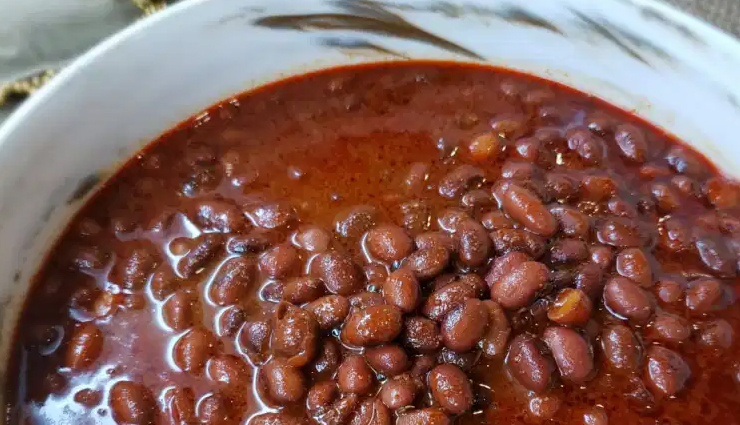 # Rajma

The red kidney bean stew is common in most of India, though the Kashmiri rajma is different. The beans are darker in color, smaller and of heirloom variety. It is less spicy, and cooked with tomatoes and red chilies to add a deeper red color. The riverfront Hotel Heevan in Pahalgam cooked this especially for us.
# Saag/ Haak

Unlike what most Indian restaurants serve as saag, in Kashmir saag refers to a variety of greens including cabbage, broccoli, kale and kohlrabi. These are cooked with lots of mustard oil and dried red chilies. At Ahdoos restaurant in Srinagar.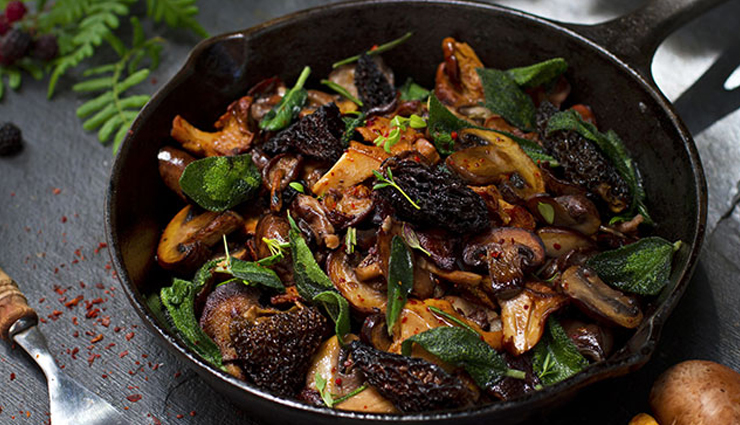 # Gucci

These local morel mushrooms are found only in the damp forests, sort of like truffles. They cannot be grown and cost up to $500/ kg when discovered in season. The flavor is very earthy and dry, but this gucchi and peas curry is a must try with flaky parathas. Order it at Lolaab in Pahalgam.