8 Temples You Can Visit In Bhubaneswar
By: Neha Mon, 26 Dec 2022 5:59:59
The capital city of Odisha, Bhubaneswar and temples go hand in hand, right? When you come to Bhubaneswar, you will find some of the most ancient and most sacred temples of India. Whether you're a devotee or an admirer of architecture, these temples will definitely appeal to you. So, why not book one of the flights to Bhubaneswar and set out for a pilgrimage trip to this holy city of Odisha?

And if you're convinced to come to Bhubaneswar, then we have the right guide for you. Here's a list of 8 temples that you must visit when you're in Bhubaneswar.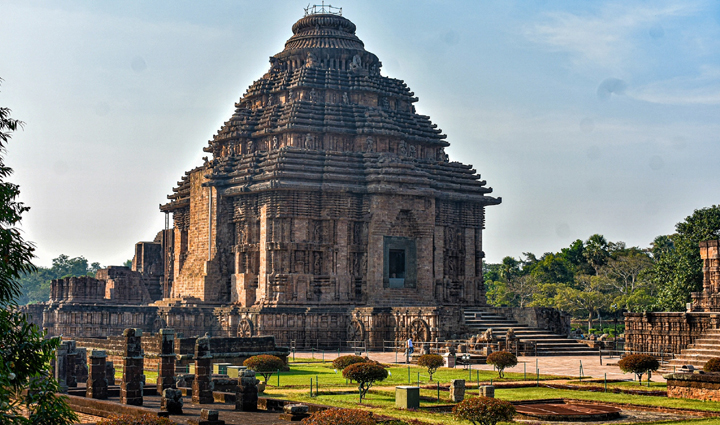 # Konark Sun Temple

You just can't miss visiting this architectural masterpiece and revered Sun temple in Bhubaneswar. You will be awestruck looking at this 13th-century temple complex that is designed in the form of a royal chariot for Sun God. Here's an intriguing fact! The giant wheels of the chariot are each a sundial!

Inside the complex, you will see a number of shrines like the Vaishnava temple and Mayadevi temple. And to access the temple, you have to come between 6 am and 8 pm and pay a fee of Rs. 30. Don't miss the light and sound show organised daily for an entry fee of Rs. 50.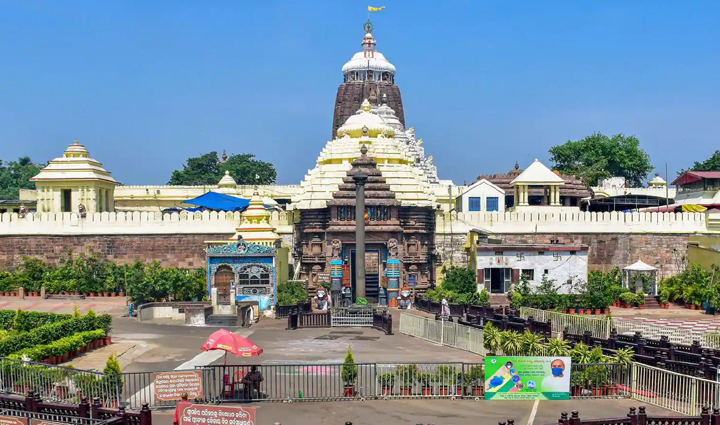 # Jagannath Temple

Plan a weekend trip to the world famous Jagannath temple anytime between 5 am and 10 pm. When you arrive, you will be welcomed by a massive shrine that is simply astonishing to look at. Walk inside the Jagannath temple in Bhubaneswar to pray in front of the three deities, Lord Jagannath, Lord Balaram and their sister, Subhadra.

There is more! Within the 10-acre temple complex, you can explore many other temples, a museum and the cremation ground of Lord Krishna. Also, you will find the world's largest community kitchen here where the prasad is cooked to feed around 1 lakh people daily! We suggest you come in the month of July to witness the renowned Rath Yatra conducted here.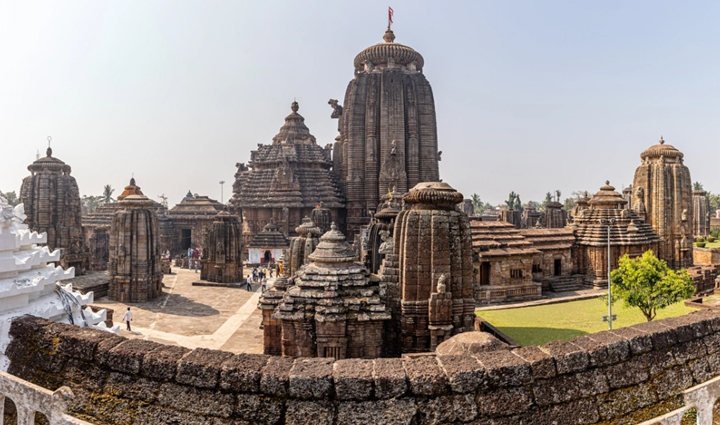 # Lingaraja Temple

Although you won't find a jyotirling in Bhubaneswar here, however, you can visit one of the most revered Shiva temples. The Lingaraja Temple is also the largest in Bhubaneswar and its architectural brilliance will charm you right at the first glance.

You will find four major sections inside the complex, including the sanctum, a prayer hall, an assembly hall and a hall of events. The 148 feet high tower of the sanctum will surely catch your attention first. Keep time in your hands after your prayer to explore the beauty of the ancient sculptures that adorn the temple.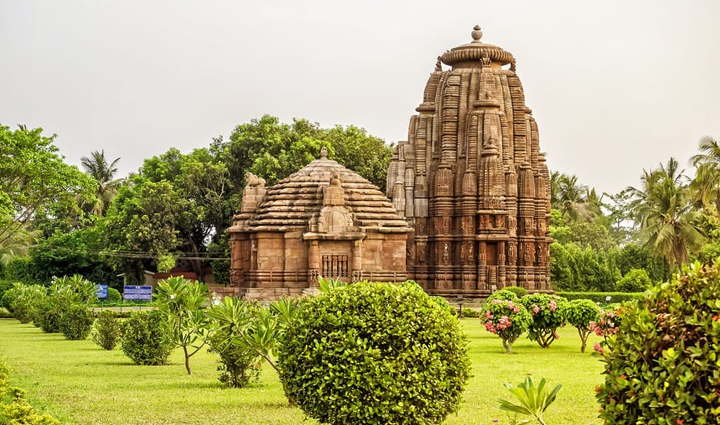 # Rajarani Temple

Dedicated to Lord Shiva and Goddess Parvati, this temple is as royal in architecture as its name. When you come here, you will first see two temple structures flaunting the Kalinga architecture of the 11th century. Look closely at the sculptures and you will see depictions of the marriage of the God and Goddess. You will also find beautifully carved sculptures of women busy in their daily household chores. Just with an entry fee of Rs. 5, you can get access to this gorgeous temple anytime between 7 am and 5 pm.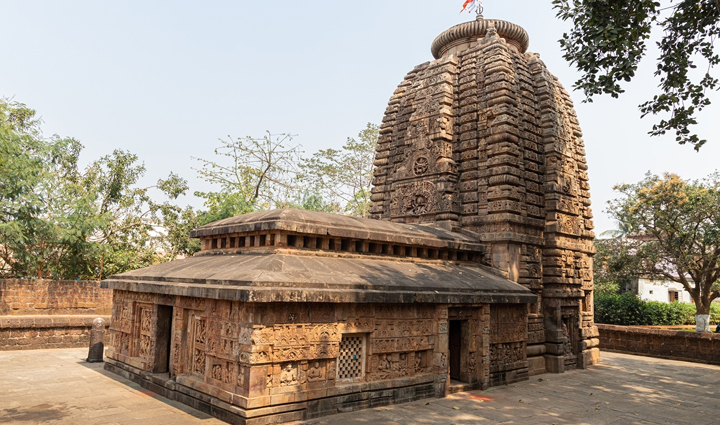 # Parashurameshvara Temple

Next on our Bhubaneswar temple list is another more ancient temple of the city. You will be intrigued to know that it's the first temple which has an additional building and an assembly hall, apart from the main sanctum. In both the structures, observe the intricately designed carvings that will definitely lure you.

Also, you will love to see through the latticework on the windows of the lower assembly hall. By the way, you can spend time at the temple from 5 am to 6 pm. And if you ask us, we suggest you visit this temple in the months of June and July to see the grand Parashuramatami festival celebrated here.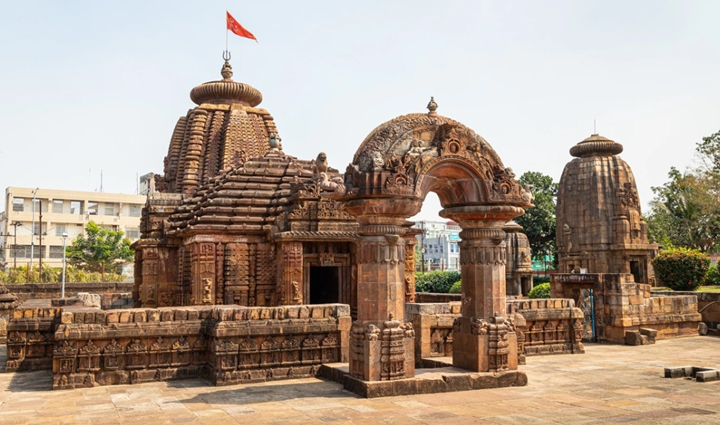 # Mukteshwar Temple

Witness the collaboration of Hindu and Buddhist architectural styles by visiting the gem of Odisha, Mukteshwar Temple. From the Torana gateway to the idols of deities, everywhere you will find Buddhist influence in its architectural wonders. Seeing the temple, you won't believe that it's a construction of the 10th century. It's that beautiful still! You can come here at a preferred time between 6.20 am and 7.30 pm and seek blessings from Lord Shiva.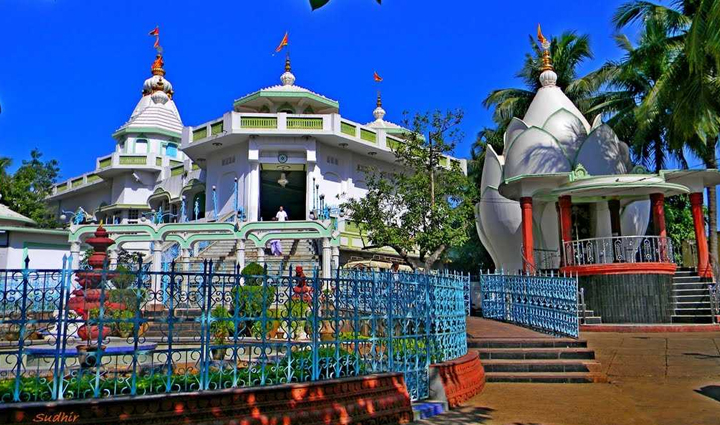 # ISKCON Temple

Don't forget to visit the ISKCON temple in Bhubaneswar which is famous among Indians as well as foreigners. Numerous devotees come here to seek peace. Join them and the divine experience will surely be etched in your memory forever. The quaint ambience in this snow-white temple complex is enough to convince you to extend your stay. You can spend time here from 4 am to 8.30 pm praying to the Lords, attending meditation and Gita classes or witnessing religious aartis.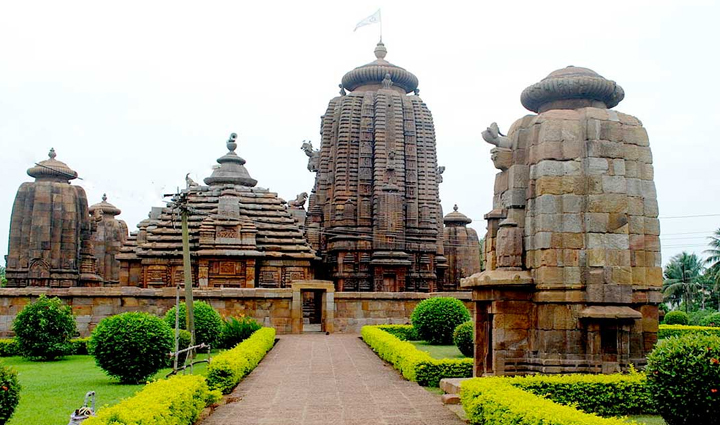 # Brahmeshwar Temple

One of the holiest places to visit in Bhubaneswar is this ancient temple that is known for its unique construction. It's a panchayatana temple, which indicates the existence of four subsidiary shrines on four corners of the main temple. Not only this unique architectural style but also the splendid carvings on the temple walls will charm you. Go ahead to observe religious scenes and figurines of Gods and Goddesses depicted by the carvings. Look out for the carving of Lord Shiva posing as Nataraja. It's impeccable! If you're planning to visit this temple, anytime between 6 am and 8 pm will suffice.