10 Beautiful Places In India That Are Alternate For International Destinations
By: Pinki Thu, 25 May 2023 08:55:52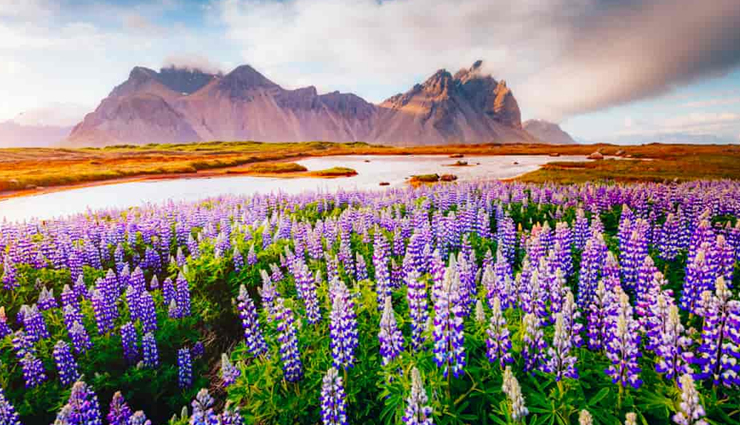 Experience the breathtaking beauty of picturesque locations abroad without breaking your budget or dealing with visa issues or COVID restrictions. Explore the stunning destinations in India that rival international spots in terms of natural beauty.

India boasts a wealth of mesmerizing places that can easily rival popular foreign locations in terms of their ethereal beauty. These hidden gems, scattered throughout India, are not only popular among domestic tourists but also attract international visitors.

If you've ever come across a stunning image online or visited a place and wondered where it was, you might be surprised to learn that these breathtakingly beautiful sites are right here in India. From replicas of famous structures to natural wonders, India has it all. Discover the striking resemblance of some Indian destinations to popular international spots like Stonehenge, Switzerland, the Grand Canyon, Venice, and more.

For passionate travelers, we have compiled a list of the most beautiful places in India that should definitely be on your bucket list.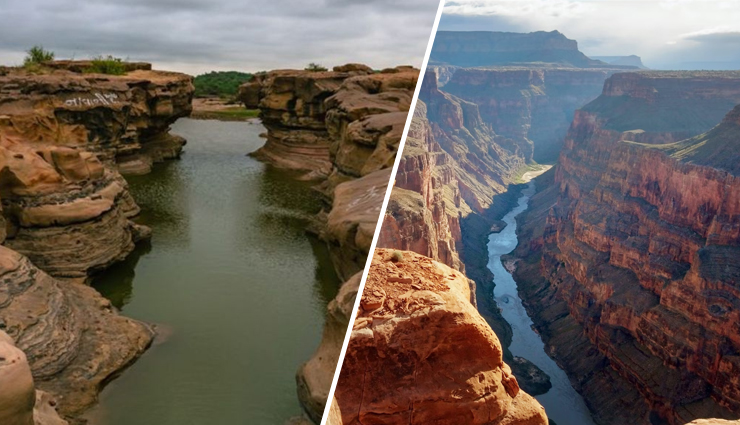 # Kadiya Dhro, Gujarat - Grand Canyon, the USA

Kadiya Dhro or Kadhiya Dhrow, located near Kutch in Gujarat, is often referred to as the Grand Canyon of India due to its deep rock formations. For those unable to visit the USA, this site offers a remarkable alternative to witness similar sights to the Canyon.

Over the years, the rock formations at Kadiya Dhro have been sculpted by the forces of nature, including high-speed winds and water erosion. This natural process has created a picturesque landscape that captivates both visitors and locals alike. With its breathtaking views and Instagram-worthy spots, it is a perfect destination for trekking enthusiasts and nature lovers.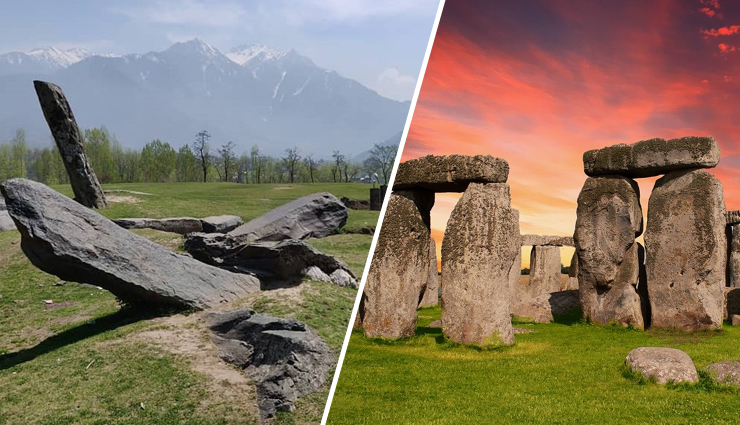 # Burzahom, Kashmir - Stonehenge, the UK

If you have come across images of the famous Stonehenge in Salisbury, UK, or even used it as a computer wallpaper, then you would definitely be interested in visiting Burzahom in the Kashmir Valley, India, to witness a similar wonder.

Located in Srinagar, Burzahom tells the fascinating story of human civilization from 3000 BCE to 1000 BCE. The site showcases ancient pottery, tools, and other artifacts, along with towering stone formations that date back to the Neolithic era. It is a captivating destination, especially for history enthusiasts.

That's not all - the panoramic views at Burzahom include the breathtaking Dal Lake, just a few kilometers away from the site, providing a stunning backdrop for memorable photographs.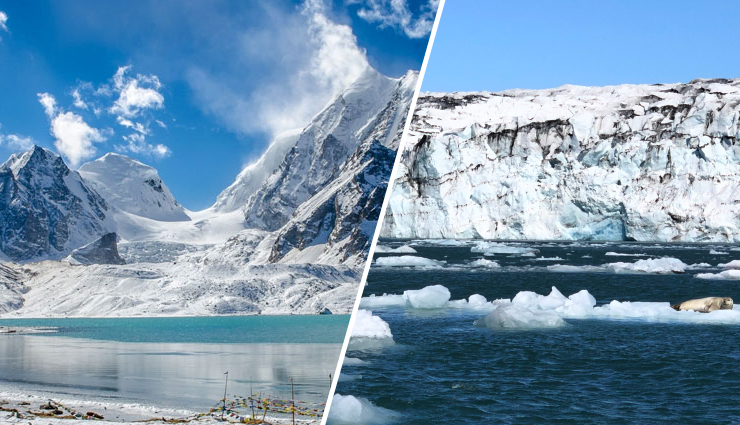 # Gurudongmar Lake, Sikkim - Jökulsárlón Lake, Iceland

Consider visiting Gurudongmar Lake in Sikkim, India, if you are seeking a destination reminiscent of the scenic Jökulsárlón Lake in Iceland. Gurudongmar Lake is a serene and breathtaking location, situated among the stunning mountains. It ranks among the 15 highest lakes globally and attracts numerous visitors from both India and abroad. However, it's important to note that international visitors will need to obtain permits to visit this captivating destination.

Just like Jökulsárlón Lake, Gurudongmar Lake offers a tranquil ambiance and picturesque views, making it a perfect retreat for nature lovers. Additionally, travelers are fascinated by the reputed healing properties of the water here, often leading them to bring back bottles as souvenirs.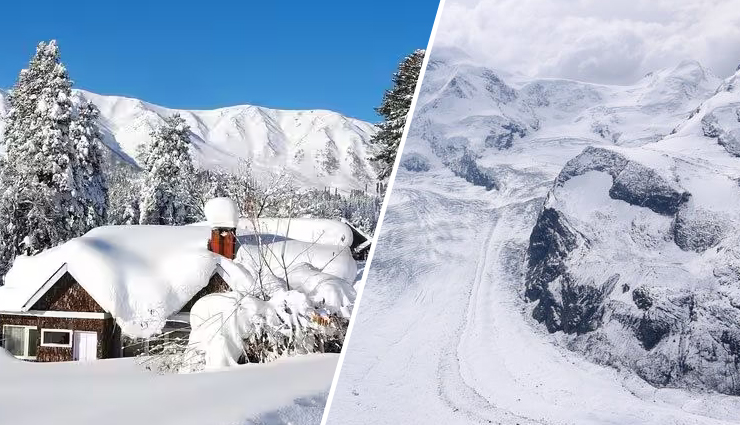 # Gulmarg, Kashmir - Switzerland

Switzerland has long been a favored international destination, especially among honeymooners, thanks to its portrayal in Yash Chopra's movies. However, if you desire to experience similar snowy mountains and pristine, romantic skies within India, consider planning a visit to Gulmarg.

Situated just a few hours away from Srinagar, Gulmarg offers a picturesque landscape adorned with lush greenery and captivating blue skies, filled with the fragrance of flowers. During winter, the place transforms into a winter wonderland, blanketed in glistening snow, providing an ideal setting for various activities, including skiing, which is also popular in the Swiss Alps.

So, get ready to pack your bags and embark on a journey to Gulmarg, where you can relish the charm of snowy mountains, pristine surroundings, and romantic ambiance right here in India.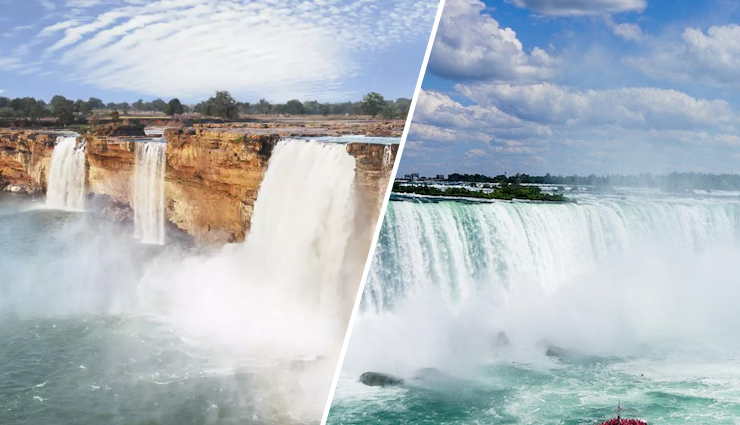 # Chitrakote Waterfalls, Chhattisgarh - Niagara Falls, Canada

The Niagara Falls, situated on the Canada-USA border, are renowned as the largest falls in the world. This magnificent natural wonder consists of three falls that form a horseshoe shape, offering a breathtaking sight. However, in India, you can experience similar awe-inspiring views at the Chitrakote (Chitrakoot) Waterfalls in Chhattisgarh.

Located near Bastar, Chhattisgarh, the Chitrakote Waterfalls are the widest waterfalls in India, resembling the horseshoe shape of the Niagara Falls. These falls are formed on the Indravati River and span an impressive width of nearly 300 meters, especially during the monsoon season, which adds to their stunning beauty.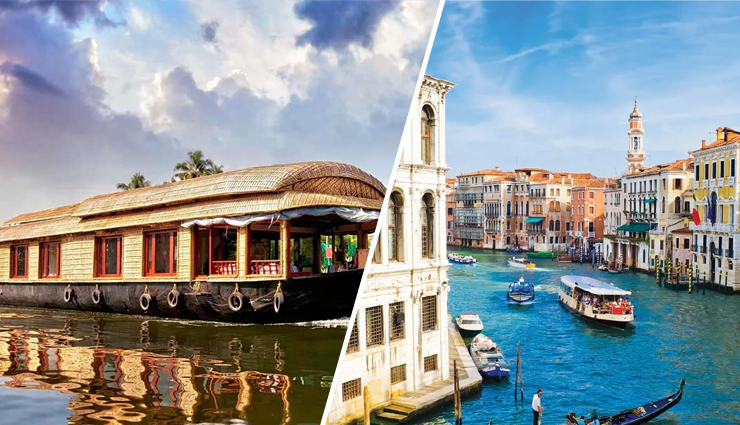 # Alleppey, Kerala - Venice, Italy

The city of Venice in Italy is renowned for its intricate network of canals that connect the various small islands. It is a romantic and picturesque destination, ideal for honeymooners or those seeking a relaxing vacation. In India, a place that offers a similar sense of tranquility is Alleppey in Kerala.

Also known as Allapuzha, Alleppey is a serene city in Kerala that captures the essence of Venice. It is famous for its canals, backwaters, and beautiful beaches, earning it the title of the Venice of India. A visit to Alleppey promises a rejuvenating vacation surrounded by water, whether you choose to stay on houseboats or simply indulge in the lush greenery of the region. Rest assured, Alleppey will not disappoint those in search of a peaceful and enchanting experience.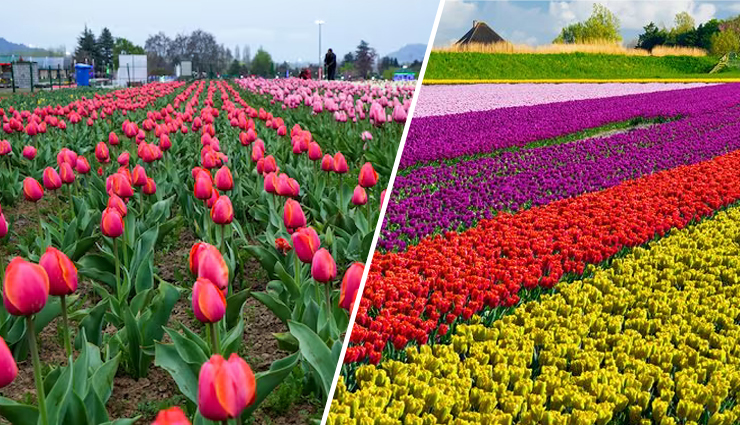 # Tulip Garden, Srinagar - Tulips in Amsterdam

One of the major attractions that makes Amsterdam a highly sought-after international destination is its renowned tulip garden. Keukenhof Tulip Gardens, situated approximately 40 kilometers from the city center, transform into a vibrant display of tulips in a vast array of colors when these flowers are in full bloom. However, there is a place much closer to home where you can witness a similar spectacle.

The Indira Gandhi Memorial Tulip Garden in Srinagar, Kashmir, bursts into a kaleidoscope of tulip blossoms every April, marking the beginning of the tourist season in the valley. What sets it apart is its resemblance to the tulips in Amsterdam, making it a popular destination to visit within India. This adds to the allure of Kashmir, often referred to as a paradise on Earth, with multiple tourist spots that offer a glimpse of stunning locations found abroad.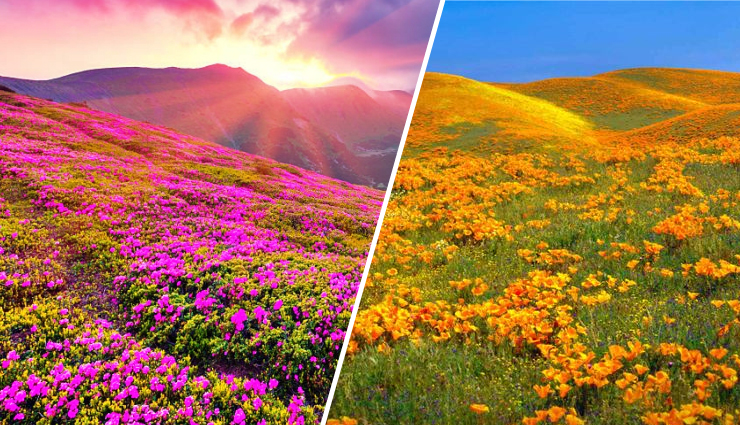 # Valley of Flowers, Uttarakhand - Antelope Valley, California, the USA

The Antelope Valley in California boasts a rich diversity of native plants that spring to life with the arrival of winter rains, creating a captivating and beautiful sight. A similar experience awaits you at the Valley of Flowers National Park in Uttarakhand, India.

This national park, recognized as a UNESCO World Heritage Site, is renowned for its exceptional collection of plant and animal species. Visitors to the park can encounter a range of unique creatures, including the Asiatic black bear, snow leopard, musk deer, brown bear, red fox, blue sheep, and various alpine flowers. The Valley of Flowers National Park is a haven for nature enthusiasts and adventure seekers, offering numerous nature trails and treks to explore its breathtaking surroundings.

Moreover, the park encompasses a conservation center and seed bank, playing a vital role in safeguarding and preserving the diverse flora species found within its boundaries. It is a sanctuary that not only showcases the beauty of nature but also strives to protect and conserve it for future generations.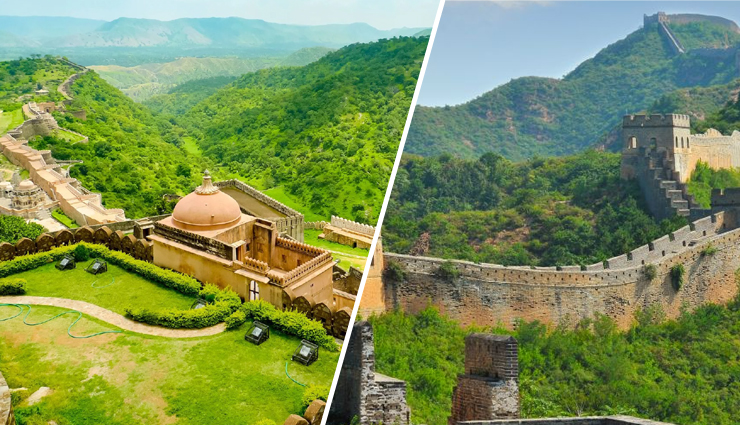 # Kumbhalgarh Fort, Rajasthan - The Great Wall of China, China

The Great Wall of China holds a significant place in history as one of the largest and longest man-made structures ever created. Constructed by multiple rulers over centuries, the wall served as a defensive barrier and has now become one of the world's most visited sites.

In India, a place that shares similarities with this remarkable architectural achievement is the Kumbhalgarh Fort. Situated amidst the UNESCO World Heritage Sites of the hill forts of Rajasthan, this fort is enclosed by a wall that stretches approximately 36 kilometers, earning it the moniker of the Great Wall of India. The fort's walls, which are 15 feet thick, were constructed to provide protection against potential attacks and stand as a testament to the ingenuity of the builders.
# Rann of Kutch, Gujarat - Bonneville Salt Flats, Utah, the USA

The Bonneville Salt Flats in Utah, USA, are renowned for their expansive white salt plains. This unique landscape attracts tourists and serves as a popular venue for activities like motorcar races. In India, a place resembling these salt flats is the Rann of Kutch in Gujarat.

Stretching along the India-Pakistan border, the Rann of Kutch features vast salt pans that offer a similar aesthetic to the Bonneville Salt Flats. One notable event held in this region is the Rannotsav, a cultural festival organized annually. During this festival, tents are set up for visitors to enjoy the festivities, and engaging activities like night safaris are arranged to enhance the experience.