VIDEO- 5 Places In Jaipur That Must Be Visited During Night
By: Sandeep Mon, 26 Mar 2018 11:58:42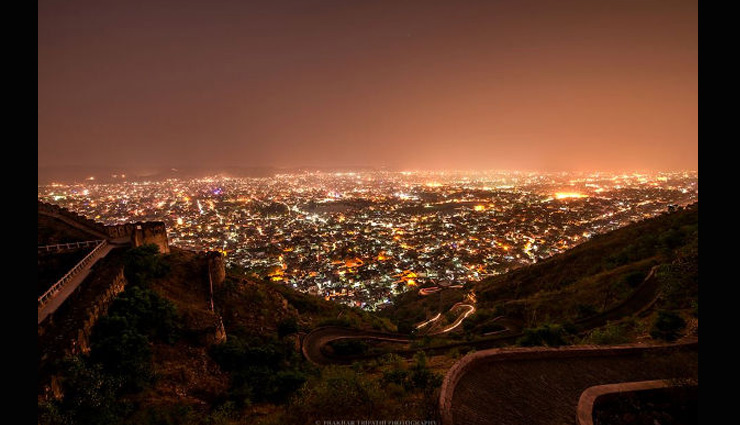 When you step out of your house in the streets of Jaipur at night, do you feel a faint smell in the air knowing that somewhere around there is something that carries a whiff of magic and a hidden story ? Jaipur nightlife is one of those elusive experiences, if you know where to go, But don't worry, we are here to guide you thought the merry streets of Jaipur to the places which bring out the best of Jaipur's nights .

* Jal Mahal

The city that might not boast of water bodies so much, houses the most magnificent water palaces in the world – Jal Mahal, located in the middle of the Man Sagar lake. The palace and the lake around it were renovated and enlarged in the 18th century by Maharaja Jai Singh II of Amber and it shines like a golden gem in the middle of blue lake at night.

* Amber Fort

Once the capital of the state of Rajasthan, Amber boasts of the spectacular beauty – the Amer fort. Situated 10 km away from Jaipur on Jaipur-New Delhi road, the sight of the lit-up Amer fort is arresting at night and unmissable for the one who is visiting Jaipur for the first time or nth time.
* Jawahar Circle

Said to be the biggest circular park in Asia developed on the highway, Jawahar Circle is located on the Jawaharlal Nehru Marg. The circle is surrounded by various kiosks but the highlight is a musical fountain that changes lights and splashes the beholders with a happy refreshing feel.

* Amar Jawan Jyoti

Drenched in the spirit of pride, Amar Jawan Jyoti evokes patriotism at just one sight. Glorifying the selfless sacrifice of soldiers from the state of Rajasthan, this place has a tranquil aura around it, that you can soak into while sitting on the stairs and watching the traffic pass by.

* Nahargarh Fort

If you have seen Rang De Basanti or Shuddh Desi Romance, you know what we are talking about. The one place which a lot of towns around the world are missing on, is the Nahargarh fort. On the edge of Aravalli hills, Nahargarh fort brings out in you the innate desire of living life on the edge, especially when you gaze at the dark blue sky blanketing the illuminated pink city.