Home

›

5 Healthy Egg Recipes To Maintain Your Diet
5 Healthy Egg Recipes To Maintain Your Diet
By: Pinki Sat, 28 Dec 2019 09:20 AM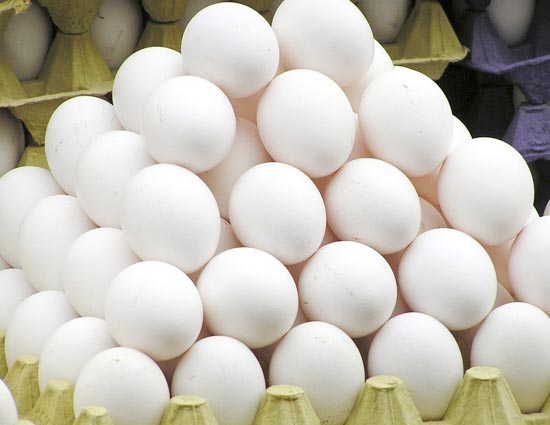 Eggs aren't just for breakfast. Try these quick and healthy dishes that can be served morning, noon, and night. They are kind of national food for vegetarians as well as non-vegetarians. But do you know how easy it is cook eggs in 5 delicious ways? This article will help you guide few egg recipes that you can try.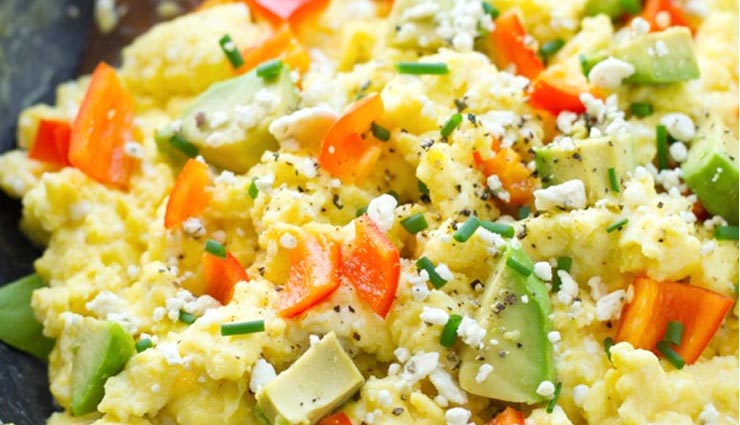 # Loaded Scrambled Eggs

Pack this dish with onions, peppers, cheddar, and tomatoes for a hearty start to the day.

Ingredients

1 red onion, chopped
1 bell pepper, chopped
2 tablespoons olive oil, plus more for serving
kosher salt and black pepper
8 large eggs, beaten
3 ounces Cheddar, grated (about 3/4 cup)
1 cup halved cherry tomatoes
1/3 cup finely chopped flat-leaf parsley leaves
crusty bread, for serving

Method

* Heat the olive oil in a large nonstick skillet over medium heat. Add the onion, bell pepper, 1 teaspoon salt, and ½ teaspoon pepper. Cook, stirring occasionally, until very tender, 12 to 14 minutes.

* Add the eggs and cook, stirring frequently, until the eggs are just set, 1 to 2 minutes. Add the Cheddar and cook, stirring, until just melted, 1 to 2 minutes more

* Remove from heat and stir in the tomatoes and parsley.

* Drizzle the bread with oil and serve alongside the eggs.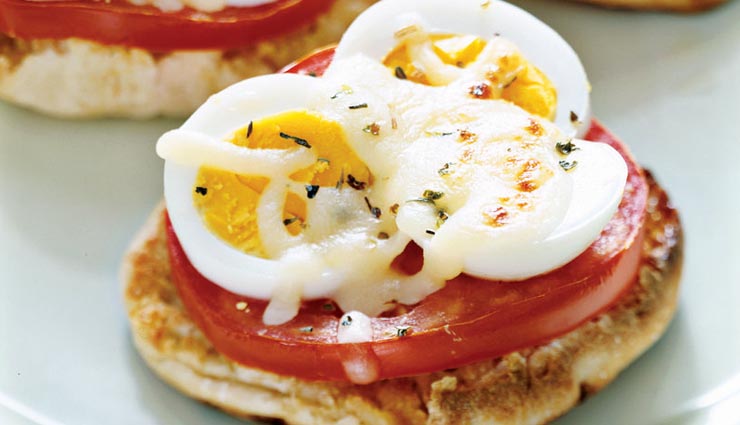 # English-Muffin Egg Pizzas

Ready in just 15 minutes, kids and adults will love these personal pizzas.

Ingredients

4 English muffins
olive oil
tomato slices
2 hard-cooked eggs,
sliced grated mozzarella
oregano
kosher salt

Method

* Make Hard-Cooked Eggs.

* Toast 8 English-muffin halves and place on a cookie sheet.

* Drizzle each with olive oil, then layer on tomato slices, hard-cooked egg slices (½ an egg each), and a little grated mozzarella. Sprinkle with oregano and kosher salt.

* Broil 5 minutes or until the cheese melts.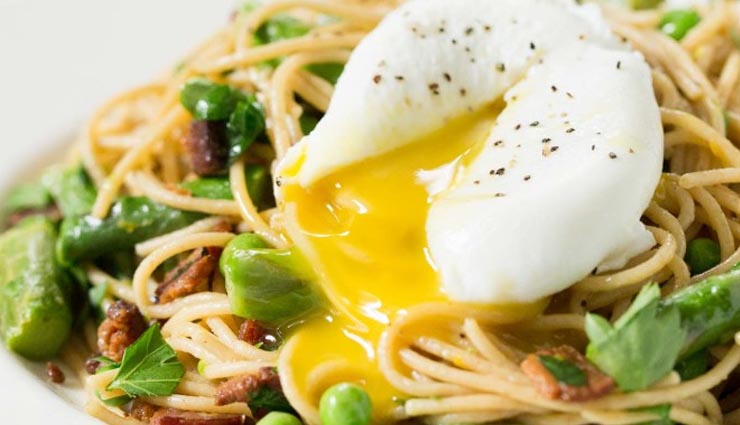 # Brown Rice Pasta, Asparagus, and Eggs

Toss scrambled eggs into this nutritious pasta dish for a meatless source of protein.

Ingredients

8 ounces brown rice spaghetti
1 pound asparagus, trimmed and cut into 2-inch pieces
1 tablespoon unsalted butter
4 large eggs, beaten
1 15-ounce can chickpeas, rinsed
1/4 cup grated Parmesan
1/4 cup chopped fresh flat-leaf parsley
2 tablespoon olive oil
kosher salt and black pepper

Method

* Cook the pasta according to the package directions, adding the asparagus for the last 3 minutes of cooking time. Drain and return both to the pot.

* Meanwhile, heat the butter in a medium nonstick skillet over medium heat. Add the eggs and scramble until set, 3 to 4 minutes.

* Add the eggs to the pasta along with the chickpeas, Parmesan, parsley, oil, ½ teaspoon salt, and ¼ teaspoon pepper and toss to combine.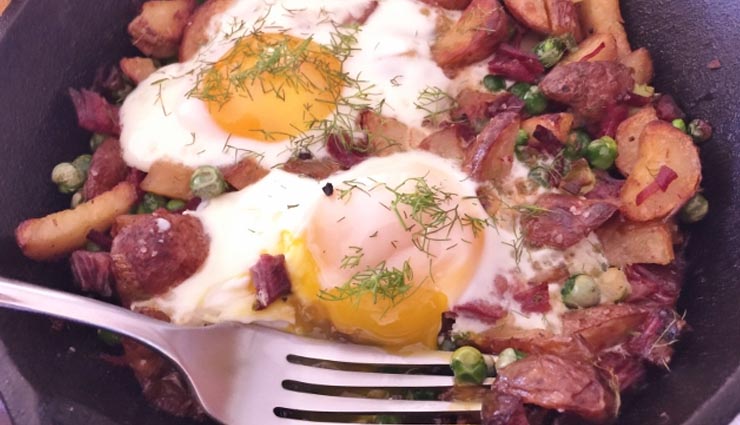 # Spring Hash With Eggs Sunny-Side Up

Mix potatoes with zucchini to create a crisp and healthy hash.

Ingredients

2 russet potatoes, peeled and grated
1 medium zucchini, unpeeled and grated 3 1/2 tablespoons finely chopped fresh dill
2 tablespoons olive oil
1 teaspoon kosher salt
1/4 teaspoon black pepper
4 large eggs, cooked sunny-side up

Method

* In a strainer placed in the sink or over a plate, combine the potatoes and zucchini. Squeeze to remove excess water. Add 3 tablespoons of the dill and toss.

* Heat the oil in a large cast-iron skillet over medium-low heat.

* Add the potato-zucchini mixture, pressing it with the back of a spatula. Season with the salt and pepper. Cook, without stirring, for 15 minutes.

* Fold the hash in half. Cook for a few more minutes.

* Transfer to individual plates along with the eggs. Sprinkle the hash and eggs with the remaining dill.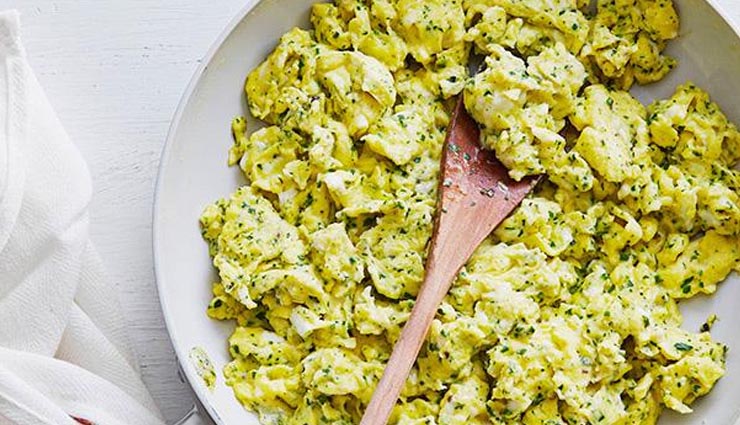 # Eggs With Herbs

Use whatever fresh herbs you have in your refrigerator to flavor this 10-minute dish.

Ingredients

1 1/2 tablespoons unsalted butter
10 eggs
2 tablespoons milk or water
kosher salt and freshly ground black pepper
1/2 cup chopped mixed fresh herbs (such as parsley and tarragon) and scallions (green parts only)

Method

* Heat butter in a large nonstick skillet over medium heat.

* Meanwhile, in a large bowl, whisk together the eggs, milk, 1 teaspoon kosher salt, and 1/4 teaspoon pepper. Pour into the pan and cook, stirring occasionally, to desired doneness, 4 to 5 minutes. Fold in herbs and scallions.
Tags :