Home

›

Recipe- 5 Delicious Kheer For Any Festival
Recipe- 5 Delicious Kheer For Any Festival
By: Kratika Thu, 24 Nov 2022 09:08:41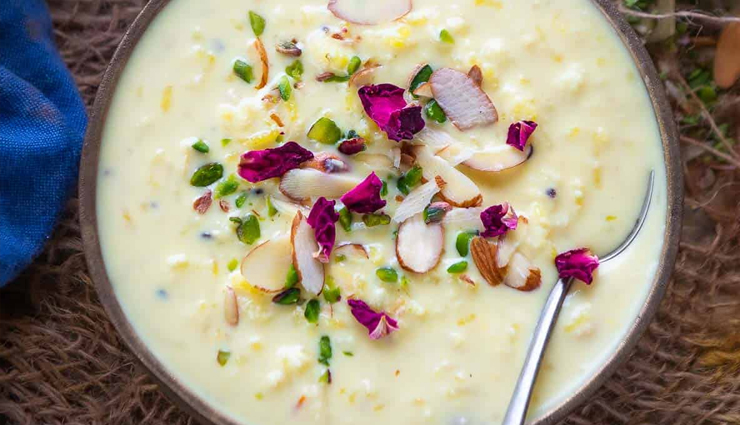 5 best delicious Indian Kheer recipes that are unique. Try these rich, creamy and indulgent kheer recipes that are different from regular Kheer recipes. Kheer is a very popular Indian dessert, equivalent to milk pudding. Most popular of them is chawal ki kheer (Rice and Milk Pudding). Rice is cooked in lots of milk with sugar till it is creamy. Then it is flavoured with cardamom, saffron and dry fruits.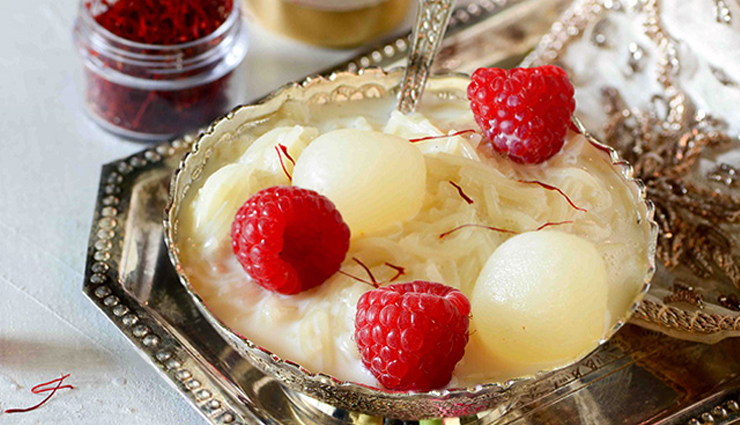 # Raspberry and Rasgulla Kheer Cups

Ingredients

1 l milk
200 g condensed milk
50 g sugar
10-15 saffron strands
1-2 pinches cardamom powder
75 g pecans / almonds
250 g rasgulla small
250 g fruit of your choice

Method

- Heat up the milk in a thick bottomed pan and bring it to a boil.

- Now reduce the heat and add vermicelli, cook it for 6-7 minutes till it becomes soft.

- Add condensed milk along with cardamom powder and saffron thread and switch off the heat.

- Keep it inside the refrigerator for chilling.

- To Assemble the dessert ladle out a layer of chilled vermicelli kheer in a bowl or small glass.

- Top it up with sliced pistachios, baby rasgulla and raspberries.

- If you don't have berries you can substitute it with any beautiful and tasty fruits as suggested above.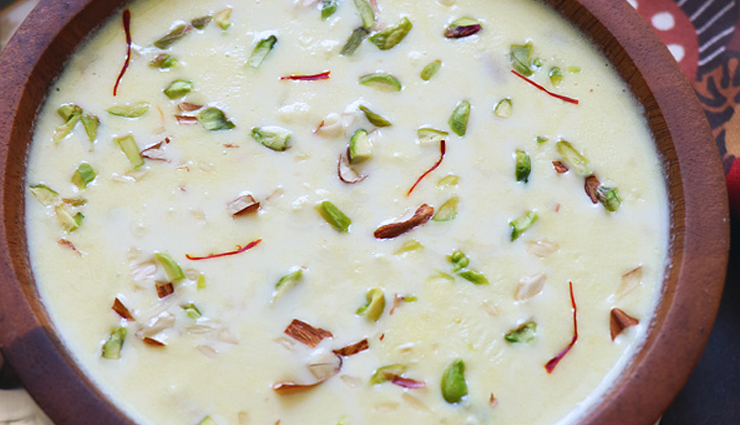 # Paneer Kheer

Ingredients

2 cups milk full fat whole . 500 ml
100 g condensed milk
½ cup paneer paneer / cottage cheese crumbled , 50 gms of chenna or
8 - 10 strands saffron
1 tablespoon sugar
3 to 4 cardamoms green
3 tbsps nuts Mixed (cashew nut,almond,walnut) chopped

Method

- Take milk in a thick bottomed pan and bring it to a boil on slow heat.

- When the milk starts to a boil, lower the heat to slowest and cook it till it starts to thicken up.

- Crumble the paneer and keep aside

- Now to the thick milk add condensed milk and one tablespoon of sugar.

- Add crumbled paneer at this stage and cook it for 4-5 minutes over slow heat. Keep stirring to prevent the milk from burning at bottom.

- Finally add pounded cardamom and baby rasgulla and switch of the heat.

- Serve this paneer ki kheer warm or chilled as you prefer. We usually chill it for 30-40 minutes in fridge and serve it garnished with saffron strands and chopped nuts.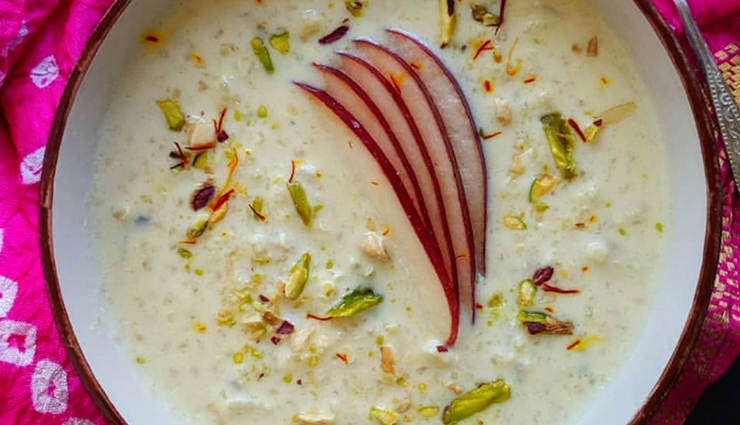 # Apple Kheer

Ingredients

1 250 g apple Large peeled and grated about
400 ml milk Whole
50 ml condensed milk
2 Tablespoons sugar
2 Tablespoons poppy seeds (khus-khus)
1 Tablespoons fennel seeds (saunf)
4 - 5 cardamom (elaichi)
20 white peppercorns Whole (kalimirch)
½ Tablespoons Rose Petals
2 tablespoons Melon seeds ( kharbooze ke beej )

Method

- Soak ¾th the quantity of thandai spices for 1-2 hours and keep ¼th aside. Make a paste of soaked spices and keep it aside.

- In a thick bottomed pan, pour milk and let it boil and simmer for 5-6 minutes.

- Now add grated apples and sugar and let the milk further reduce to half.

- Add condensed milk and thandai spiced paste to it. Cook for 2 more minutes and switch of the heat.

- Now ladle out this kheer in small earthern clay bowls ( for the best taste) and if you don't have them use your normal pudding bowls and chill it in refrigerator for 30 minutes and serve it topped with small portion of ¼ th of dry thandai spices we saved. One of the best desserts in summers.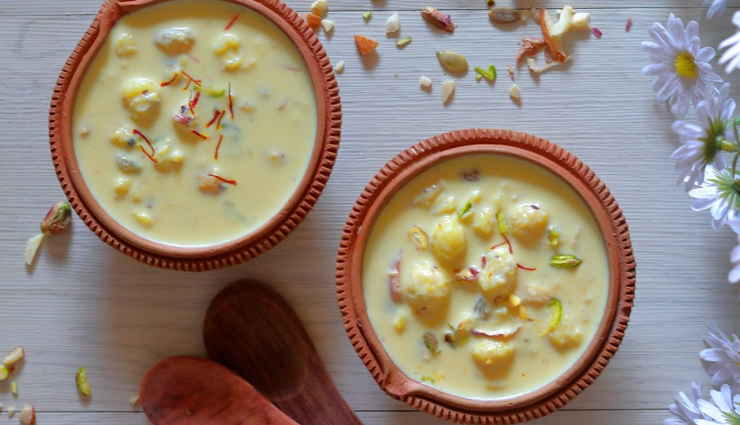 # Makhane ki Kheer

Ingredients

150 g Makhana
750 ml milk
1 tablespoon ghee
2-3 green cardamom take out the seeds
2-3 tablespoon sugar
2 tablespoon Raisins
2 tablespoon pistachio chopped
2 tablespoon almonds chopped
8-9 saffron strands

Method

- Heat ghee in a pan and add Makhana to the pan.

- Roast the Makhana for 5-6 minutes on slow medium heat.

- Cook them slightly and crush them slightly either with mortar and pestle or just pulse it in mixer grinder.

- Heat the milk in a pan and bring it to boil.

- Keep boiling it till it is reduced to half the quantity.

- Keep stirring in between and keep the heat low.

- When milk is reduced to almost half add crushed makhane and sugar.

- Cook this for 10 minutes add cardamom seeds/powder and saffron which was soaked in milk.

- Stir in to mix well and sprinkle half of the pistachio, raisins and half of the chopped almonds.

- Mix it and serve it hot or keep it in fridge for chilling if you like to serve it cold.

- Serve it in a bowl and top it with chopped pistachio and almonds.



# Matar ki Malaidar Kheer

Ingredients

1.5 cup Green Peas fresh/frozen
½ liter milk I used mother dairy full cream
1 Tbsp Ghee I used Mother dairy Pure ghee
100 ml Mother Dairy Cream
1 teaspoon corn flour
4-5 Tbsp sugar
2 Tbsp Pistachio chopped/slivered
2 Tbsp Almonds sliced
2 Tbsp raisins kishmish
15-20 saffron strands
2-3 green cardamom crushed

Method

- In a blender jar crush 1.25 cups of peas to a coarse paste, and rest of .25 cup to a fine paste and keep it aside.

- Heat up 1 tablespoon ghee in a thick bottomed pan and saute the coarse green peas paste.

- Now add the milk, mix well and allow it to simmer for 30 minutes on very slow heat, stirring it up occasionally.

- Add fine paste of green peas.

- Finally, In a bowl mix 100ml of mother dairy cream and cornflour, and add it to the simmering matar ki kheer.

- Cook for 5 more minutes, add sugar, raisins, crushed green cardamom, 10 saffron strands and mix well.

- Remove from heat and garnish with sliced pistachio and almonds and remains strands of saffron.

- Enjoy the matar ki malaidar kheer hot or cold as per your preference!