Home

›

Recipe - Exquisite Peshawari Paneer Tikka
Recipe - Exquisite Peshawari Paneer Tikka
By: Pinki Sun, 17 Sept 2023 10:21:31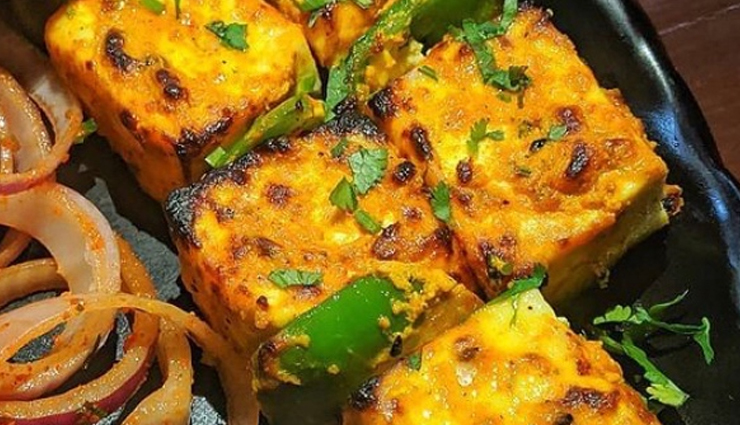 Peshawari Paneer Tikka is a culinary gem that transports your taste buds to the aromatic kitchens of Peshawar, Pakistan. This dish combines the rich, earthy flavors of North Indian and Pakistani cuisine to create a smoky and delectable paneer (Indian cottage cheese) appetizer. In just 35 minutes, you can embark on a flavorful journey that will leave you craving for more.

Preparation Time: 35 minutes
Cooking Time: 15 minutes
Serves: 4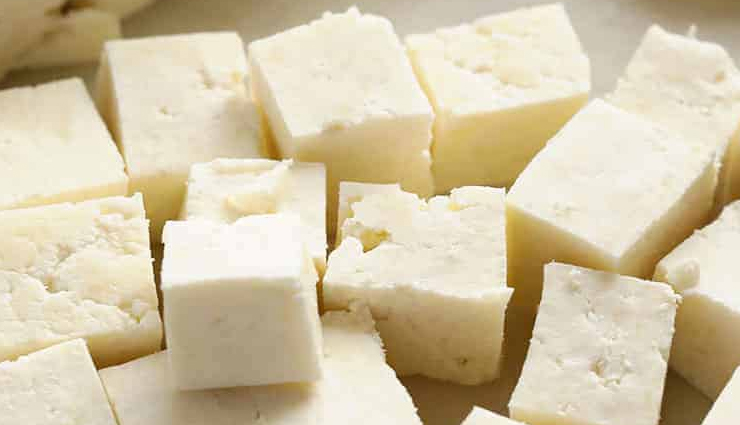 Ingredients

400 grams of paneer (cubed)
1/2 cup thick yogurt (hung curd)
2 tablespoons cream
2 tablespoons gram flour (besan)
1 tablespoon ginger-garlic paste
1 teaspoon cumin powder
1 teaspoon coriander powder
1/2 teaspoon garam masala
1/2 teaspoon red chili powder (adjust to taste)
Salt to taste
2 tablespoons mustard oil (or any cooking oil)
1 tablespoon lemon juice
1/2 teaspoon dried fenugreek leaves (kasuri methi)
Skewers (wooden or metal)
Charcoal for smoking (optional)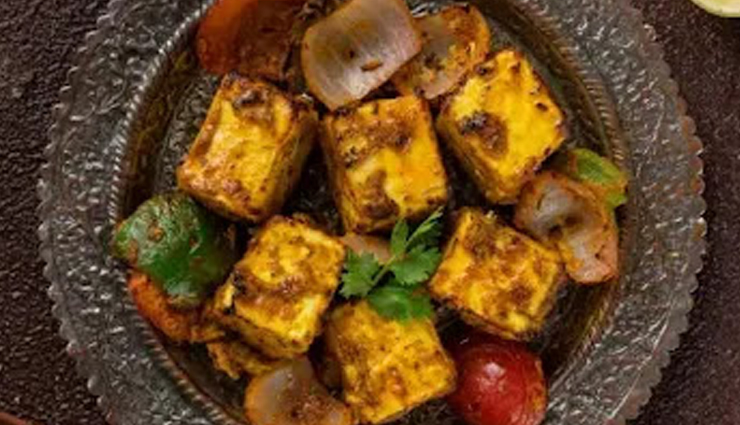 Method

- In a large mixing bowl, combine the thick yogurt, cream, gram flour (besan), ginger-garlic paste, cumin powder, coriander powder, garam masala, red chili powder, salt, and lemon juice. Mix everything well until you have a smooth, creamy marinade.

- Add the cubed paneer pieces to the marinade, ensuring they are coated thoroughly. Cover the bowl and let the paneer marinate for about 20-25 minutes, allowing the flavors to infuse.

- While the paneer is marinating, soak wooden skewers in water to prevent them from burning. Once soaked, thread the marinated paneer pieces onto the skewers, leaving a little space between each piece.

- Preheat your grill or oven to a medium-high temperature. Brush the paneer skewers with mustard oil (or any cooking oil) to prevent sticking. Place the skewers on the grill or in the oven and cook for approximately 10-12 minutes, turning them occasionally. The paneer should have a smoky char and a beautiful golden-brown color.

- If you want to infuse a smoky flavor, you can use a piece of charcoal. Heat the charcoal until it's red hot. Place it in a small metal or heatproof bowl and keep it on top of the cooked paneer in the skewer. Drizzle a few drops of oil over the charcoal, and immediately cover it with a lid. Let it sit for a couple of minutes, allowing the smoke to penetrate the paneer.

- Once your Peshawari Paneer Tikka is perfectly grilled and infused with smoky goodness, remove the skewers from the grill or oven. Sprinkle dried fenugreek leaves (kasuri methi) on top for a delightful finishing touch.

- Peshawari Paneer Tikka is at its best when served hot and fresh. Garnish with some mint chutney and lemon wedges, and watch it disappear in no time.

Tips:

To make hung curd, strain yogurt through a muslin cloth or fine sieve to remove excess whey.
Adjust the spiciness to your liking by altering the quantity of red chili powder.
Peshawari Paneer Tikka pairs wonderfully with naan, paratha, or a simple salad.