Home

›

Janmashtami 2018- Impress Lord Krishna With Ribbon Pakoda
Janmashtami 2018- Impress Lord Krishna With Ribbon Pakoda
By: Pinki Thu, 30 Aug 2018 1:17 PM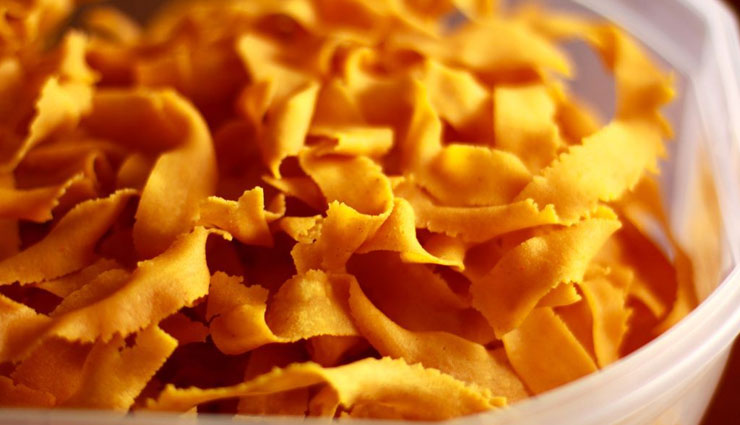 Ribbon Murukku is also called ribbon pakoda or nada thenkuzhal. It is very simple to prepare and tastes great.

Ingredients

Boiled rice (pulungal arisi) - 2 cups
Red chillies -10
Garlic - 2 full pods
Salt as required
Bengal gram flour (chick pea flour/kadalai maavu) - 1/2 kg (500 grams)
Asafoetida -1/4 tsp
3 tbsp of hot oil for preparing the dough
Oil for frying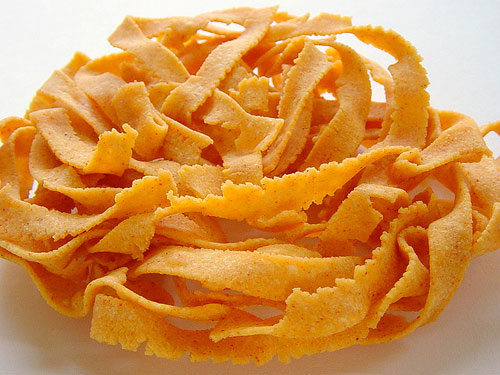 Method

* Soak par boiled rice for 2 hours.

* Wash, drain the water and grind it in the wet grinder to a fine paste adding water, peeled garlic, needed salt and red chillies. ( Do not add too much water for grinding)

* Sieve bengal gram flour and keep it aside.

* Mix the ground rice batter + bengal gram flour + asafoetida + 3 tbsp hot oil + needed water to make a soft dough as in picture 2. Knead well. (You can taste the dough to check for salt)

* Take a murukku maker and fix the ribbon pakoda making plate/disc. (pic 3)

* Heat oil (to test if the oil is hot, drop a small ball of dough into the oil, if it raises to the surface immediately, then the oil is hot enough to fry the murukkus)

* Put the prepared dough inside the murukku maker and press it directly into the hot oil in a circular motion. (pic -4)

* You will get a sizzling sound when the murukku is getting cooked. Flip it over to the other side and fry both sides well till golden brown. (pic -5)

* When the "shh sound/sizzling sound" ceases, the murukku is done. Use a slotted ladle to remove the murukku and drain it on a paper towel or colander.

* Repeat the process for the rest of the dough.
Tags :