Home

›

Ramadan Recipe- Restaurant Style Chicken 65
Ramadan Recipe- Restaurant Style Chicken 65
By: Pinki Mon, 27 Mar 2023 11:15:17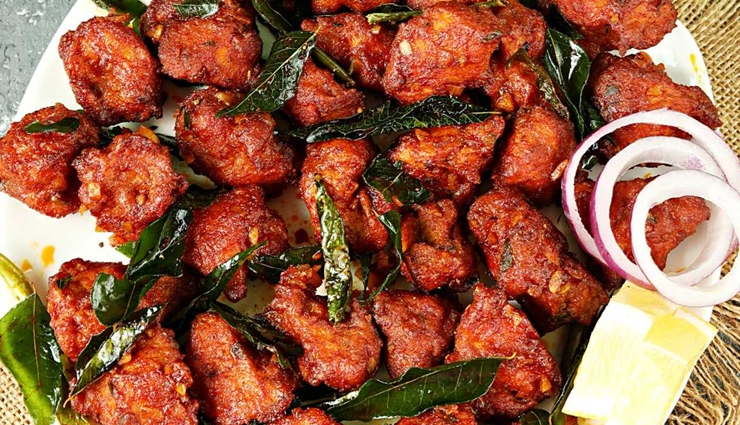 Chicken 65 is a popular spicy, deep-fried chicken dish that originated in Chennai, India. It is believed that the dish gets its name from the year it was first introduced, 1965. This dish has gained immense popularity across India and has also become a staple in many Indian restaurants worldwide.

The recipe for Restaurant Style Chicken 65 typically involves marinating bite-sized pieces of chicken in a blend of spices, such as red chili powder, turmeric, cumin, and coriander, along with ginger, garlic, and yogurt. The marinated chicken is then deep-fried until crispy and golden brown. The dish is often garnished with sliced onion, lemon wedges, and fresh coriander leaves.

The key to making a perfect Chicken 65 lies in the balance of flavors and spices. It should have a perfect blend of heat, tanginess, and saltiness, along with a crispy texture. Many restaurants have their own unique variations of the recipe, which may include additional spices or ingredients like curry leaves or mustard seeds.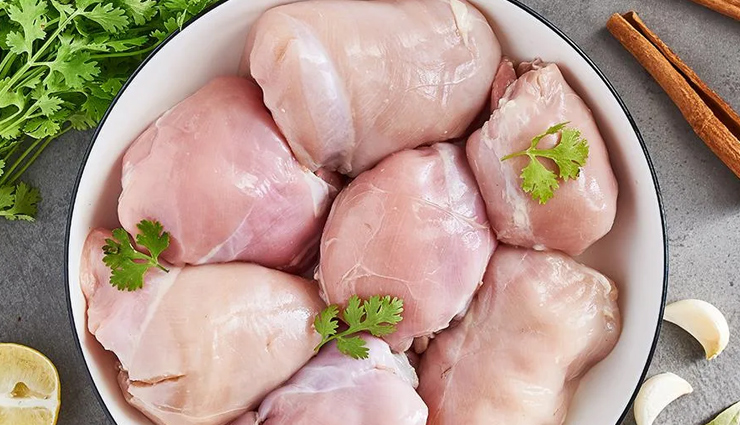 Ingredients

Chicken Marinade

500 Grams Chicken Thighs boneless, skinless, cut into approx ½ inch small cubes
¼ Cup Curd
1 Tablespoon Ginger Garlic Paste
¼ Teaspoon Turmeric Powder
1 Teaspoon Kashmiri Red Chilli Powder
1 Teaspoon Coriander Powder
½ teaspoon Jeera Powder
1 Teaspoon Sugar
¾ Teaspoon Salt
2 Sprigs Curry Leaves chopped
2 Tablespoons Rice Flour
Tablespoons Corn Flou
Oil for frying

Chicken 65 Fry

1 Tablespoon Oil
1 Tablespoon Garlic finely chopped
1 Tablespoon Ginger finely chopped
5 Green Chillies halved
1 Teaspoon Red Chilli Powder
2 Sprigs Curry Leaves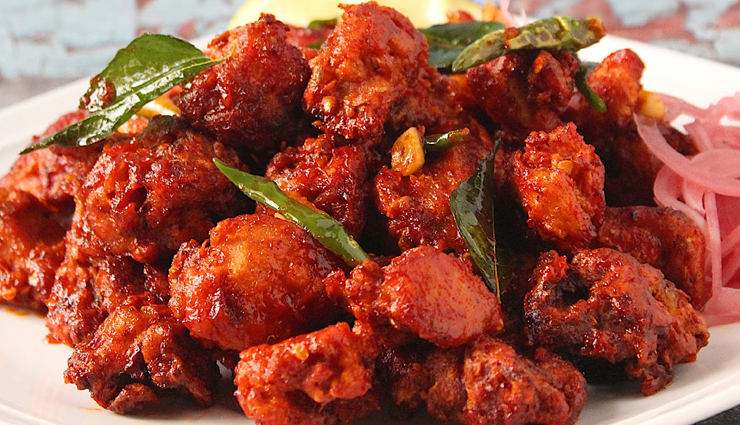 Method

Chicken Marinade

- Combine all the ingredients for chicken marinade except rice flour and corn flour. Cover and marinade for at least an hour or overnight if possible.

- In a heavy bottomed vessel or kadai, heat enough oil on a medium flame for deep frying.

- Remove the chicken from the refrigerator 10 minutes prior to frying and add rice flour and corn flour. Mix well to combine.

- Carefully drop in the chicken pieces one by one into the hot oil. Deep fry for 2 - 3 minutes or until bright red in colour and crispy. Remove from oil and place on a tissue paper lined plate.

Chicken 65 Fry

- Heat oil in a saucepan and allow it to heat up. Once hot, add garlic, ginger and green chillies and fry lightly over medium flame. Once fragrant, curry leaves and saute for a minute.

- Add red chilli powder and saute. Add fried chicken and stir fry on high flame for 1 minute. Remove from the pan and serve hot.