Home

›

Ramadan Recipe- 3 Easy Ways To Make Stuffed Dates
Ramadan Recipe- 3 Easy Ways To Make Stuffed Dates
By: Pinki Mon, 27 Mar 2023 5:31:48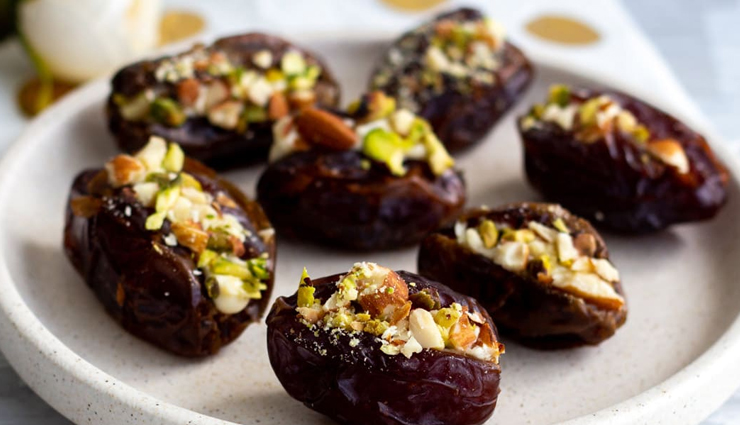 Stuffed dates are a delicious and indulgent treat that consist of a soft and sweet date filled with a variety of flavorful ingredients. Dates are a fruit that come from the date palm tree and are often used in Middle Eastern and Mediterranean cuisine. They are rich in fiber, vitamins, and minerals and have a natural sweetness that makes them perfect for desserts.

Stuffed dates can be filled with a variety of ingredients such as nuts, cheese, chocolate, and spices, making them a versatile and customizable treat. They can be served as a snack, dessert, or even as part of a cheese platter.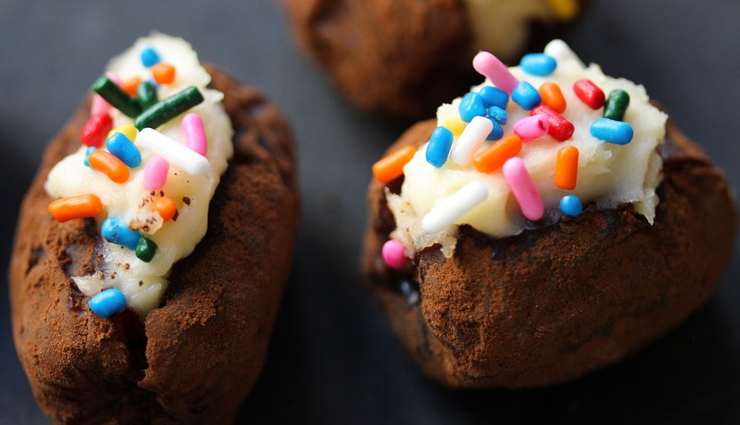 # Rainbow Tiramisu Dates

Rainbow Tiramisu Dates are a fun and colorful twist on the classic Italian dessert, Tiramisu. Instead of using ladyfingers and coffee, this recipe uses dates and espresso-amaretto liqueur mixture for a sweet and fruity taste. The filling is made of mascarpone cheese, heavy cream, sugar, and vanilla extract which is piped into each date. The rainbow sprinkles add a colorful touch and a bit of crunch to the dessert.

This recipe is a great option for those who are looking for a fun and creative dessert to make for a party or special occasion. It's also a good option for those who want to satisfy their sweet tooth but still want to keep their dessert on the lighter side. Plus, dates are naturally sweet and high in fiber, making this dessert a healthier alternative to other sugar-laden desserts.

Ingredients

12 medjool dates, pitted
8 oz. mascarpone cheese
1/4 cup heavy cream
1/4 cup sugar
1 tsp vanilla extract
1/4 cup brewed espresso, cooled
2 tbsp amaretto liqueur
1/2 cup rainbow sprinkles

Directions:

- In a mixing bowl, combine the mascarpone cheese, heavy cream, sugar, and vanilla extract. Beat on medium speed until smooth and creamy.

- In a separate bowl, combine the cooled espresso and amaretto liqueur.

- Dip each date in the espresso mixture and then coat with rainbow sprinkles.

- Fill each date with the mascarpone mixture using a piping bag or spoon.

- Place the filled dates in the refrigerator for at least an hour to allow the flavors to meld together.

- Serve chilled and enjoy your colorful Rainbow Tiramisu Dates!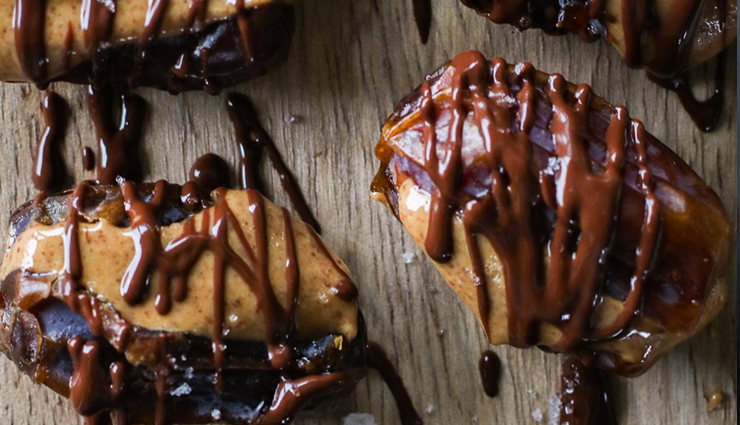 # Chocolate-Covered Pretzel Dates

Chocolate-covered pretzel dates are a sweet and salty treat that are easy to make and perfect for satisfying your sweet tooth cravings. The recipe involves stuffing pitted dates with small pretzel twists, then dipping them in melted dark chocolate and coconut oil, and finally sprinkling them with sea salt for added flavor. Once the chocolate has set, these delicious treats are ready to enjoy!

Medjool dates are typically used for this recipe because they are large and soft, making it easy to stuff them with pretzel twists. The dark chocolate provides a rich and indulgent flavor, while the pretzels add a satisfying crunch and saltiness. The coconut oil helps the chocolate to melt smoothly and evenly.

Chocolate-covered pretzel dates can be served as a dessert or snack, and are a great option for parties or gatherings. They can be stored in an airtight container in the fridge for up to a week, but they are best eaten within a few days to ensure that they stay fresh and crunchy.

Ingredients:

24 Medjool dates, pitted
24 small pretzel twists
8 oz dark chocolate, chopped
1 tbsp coconut oil
Sea salt for sprinkling

Instructions:

- Line a baking sheet with parchment paper.

- Take each pitted date and stuff with one small pretzel twist. Press it gently to fit inside the date.

- In a small microwave-safe bowl, melt the chopped dark chocolate and coconut oil in the microwave in 30-second intervals, stirring between each interval, until melted and smooth.

- Dip each pretzel-stuffed date into the melted chocolate and use a fork to coat it completely. Allow excess chocolate to drip off and place the chocolate-covered date onto the prepared baking sheet.

- Repeat with the remaining dates and pretzels.

- Sprinkle sea salt over the chocolate-covered pretzel dates while the chocolate is still melted.

- Place the baking sheet with the dates in the fridge for about 10 minutes, or until the chocolate is set.

- Serve and enjoy your delicious chocolate-covered pretzel dates!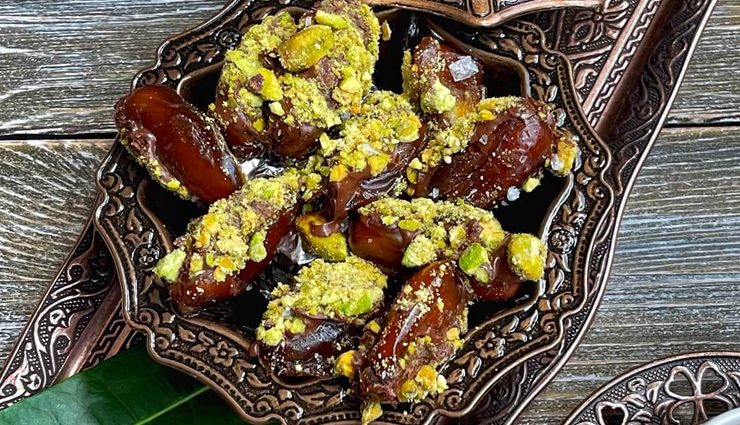 # Baklawa Dates

Baklawa dates are a delicious Middle Eastern dessert that combines the rich, sweet flavor of dates with the crispy, flaky texture of phyllo dough and the nutty flavor of chopped walnuts.

The recipe involves layering phyllo dough sheets in a baking dish, brushing them with melted butter, and adding a layer of chopped walnuts and dates in between. The baklawa is then cut into diamond shapes, baked until golden brown, and finally drizzled with a sweet syrup made from sugar, water, lemon juice, and orange blossom water.

Baklawa dates are commonly served during festive occasions such as Eid al-Fitr, and are also popular during Ramadan as a sweet treat to break the fast. They can be stored in an airtight container for several days at room temperature, but it's recommended to store them in the fridge to keep them fresh for longer.

In addition to dates, other dried fruits such as figs or apricots can also be used to make baklawa. The nuts used in the recipe can also be varied, such as pistachios or almonds, depending on your preference.

Ingredients:

1 lb. pitted dates
1 package phyllo dough
1 cup unsalted butter, melted
2 cups chopped walnuts
1 cup sugar
1 cup water
1 tsp. lemon juice
1 tsp. orange blossom water
1 tsp. ground cinnamon
1/4 tsp. ground cloves

Instructions:

- Preheat the oven to 350°F.

- In a saucepan, combine the sugar, water, lemon juice, and orange blossom water. Bring to a boil over medium heat, stirring occasionally. Reduce the heat and let simmer for 10 minutes. Remove from heat and set aside to cool.

- In a bowl, combine the chopped walnuts, ground cinnamon, and ground cloves.

- Unroll the phyllo dough and cut it into 12x16 inch rectangles. Cover the dough with a damp cloth to prevent it from drying out.

- Brush a 9x13 inch baking dish with melted butter. Place a layer of phyllo dough in the bottom of the dish and brush it with melted butter. Repeat this process until you have used half of the phyllo dough.

- Spread the chopped walnut mixture over the phyllo dough.

- Arrange the pitted dates over the walnut mixture.

- Cover the dates with another layer of phyllo dough, brushing each layer with melted butter.

- Cut the baklawa into diamond shapes using a sharp knife.

- Bake in the preheated oven for 30-40 minutes or until the phyllo dough is golden brown.

- Pour the cooled syrup over the hot baklawa and let it cool completely before serving.

- Enjoy your delicious baklawa dates!