Home

›

Recipe- Black Bean Burger To Kick Start Your Week
Recipe- Black Bean Burger To Kick Start Your Week
By: Kratika Tue, 13 Apr 2021 4:41 PM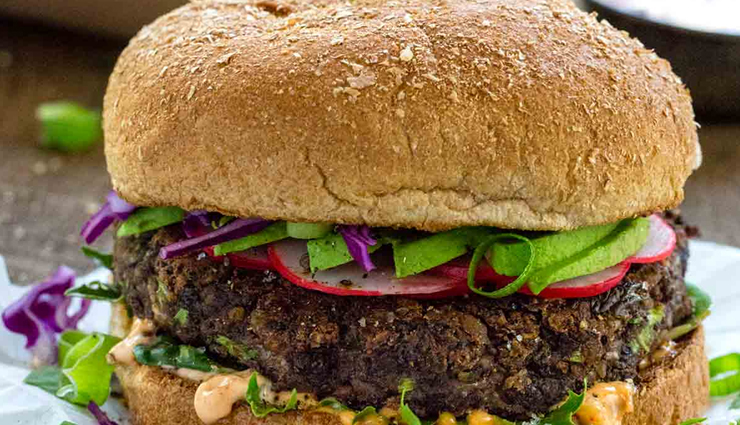 Vegan Black Bean Burger is a homemade meatless and eggless burger. Vegan Black Bean Burger is a quick recipe. Vegan Black Bean Burger is one of our family favorite homemade burger recipe. Vegan Black Bean Burger has everything what we want, healthy but tasty. These Vegan Black Bean Burger made with black beans, chickpeas flour and veggies like potato, bell pepper, and onion. Satisfy your appetite with a great-taste and it's easy to make and can be ready in less than 30 minutes. This meatless and eggless burger is totally awesome. I think I'd rather have one than any cheeseburger at a restaurant.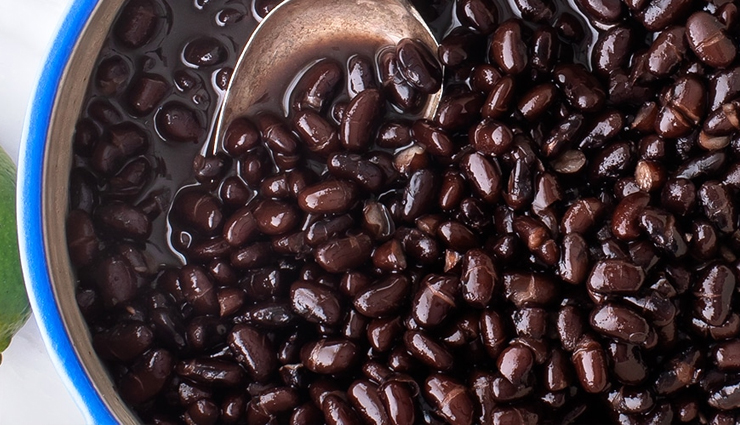 Ingredients

For Burger Patties

2 cups Cooked and Drained Black Bean
1 Boiled Potato (Peeled)
½ cup Chickpea flour
½ cup Bread Crumbs
½ cup Finely Chopped Bell Pepper/Capsicum
½ cup Finely chopped Onion
2 cloves Garlic Finely Chopped
1-2 tbsp Lemon Juice
1 tsp Roasted Cumin Powder
1 tsp Italian Seasoning(opt.)
½ tsp Red Chili Powder/Paprika
Salt
1-2 tbsp oil

Other ingredients

¼ cup Vegan Chipotle Mayo
½ cup Vegan Cream Cheese
½ cup Sliced Onion
½ cup Sliced Tomatoes
½ cup Thinly Sliced Radish
Lettuce Leave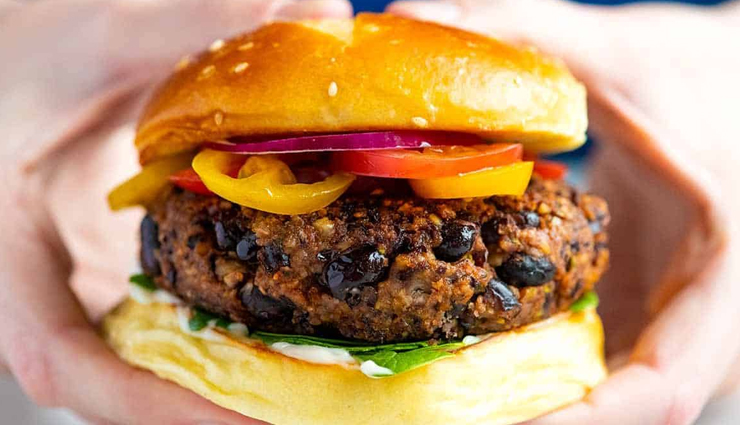 Method

For Burger Patties

* Add all ingredients except oil in food processor and blend on low speed until just combined well.

* Remove it from blender and divide into 5-6 parts and make a round patty out of it.

* Heat the non-stick griddle spread the oil and place the burger patties on it and cook it both side about 10 min on low to medium flame.

* Burger patties are ready for assemble and serve.

How to Serve or Assemble

* Cut each burger bun horizontally into halve. Apply or spread cream cheese on each half sides of the burger bun surface.

* Place the lower half of the bun on a clean, dry place or on plate with the cheese spread side facing up.

* Place a lettuce leaf, onion slices, tomato slices, sliced radish, prepared burger patty and top with vegan chipotle mayo, cover with an upper half of the bun with the cheese spread side facing down and press it lightly.

* Now your Vegan Black Beans Burger is ready. You can serve Burger with ketchup, mustard sauce and side with French fries, fresh juice and enjoy.
Tags :