Home

›

Recipe- Caramelized Eggplant & Onion Orzo Is Just Yumm For Dinner
Recipe- Caramelized Eggplant & Onion Orzo Is Just Yumm For Dinner
By: Kratika Mon, 20 June 2022 4:56 PM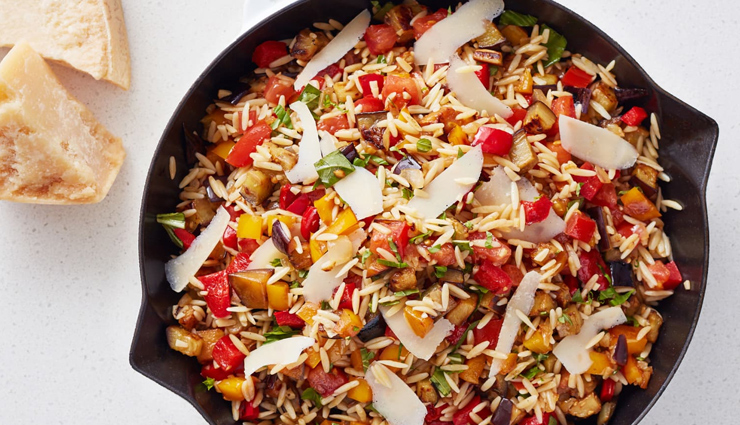 All of summer's abundance hearty eggplant, juicy tomatoes, colorful peppers, and fragrant basil come together in this quick and easy skillet dinner that's perfectly suited for busy weeknights. Caramelized onions are added in to bring depth to this meatless meal, and the orzo is toasted right in the pan to ensure there's just the right amount of texture and flavor. It's the kind of dish you want to eat when your attempts to keep the kitchen cool has you suddenly bored of no-cook salads and sandwiches for dinner.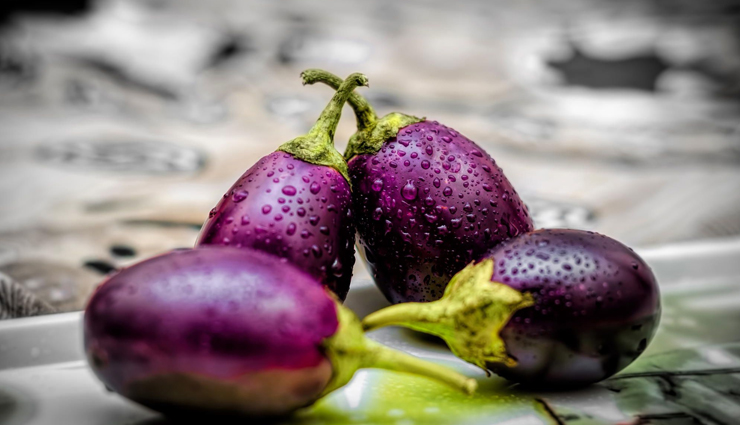 Ingredients

8 ounces orzo pasta (about 1 1/4 cups)
4 tablespoons olive oil, divided, plus more to coat pasta
1 medium eggplant (about 1 pound), diced
Kosher salt
2 medium yellow onions, diced
4 cloves garlic, minced
2 small bell peppers, diced
2 medium tomatoes, diced
1 tablepoon balsamic vinegar
Freshly ground black pepper
1/2 cup loosely packed chopped fresh basil leaves
Shaved Parmesan cheese, for serving (optional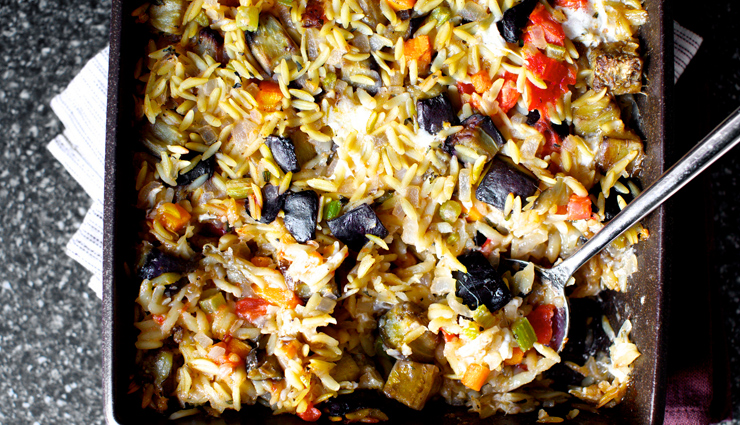 Method

* Bring a large pot of salted water to a boil. Add the orzo and cook until barely al dente, about 6 to 7 minutes, or according to package instructions. Drain, then drizzle lightly with olive oil and toss so that the grains of orzo are lightly coated; set aside.

* Heat 3 tablespoons of the olive oil in a 10- or 12-inch straight-sided sauté or frying pan over medium-high heat until shimmering. Add the eggplant and arrange them in a single layer; season lightly with salt. Sauté until golden-brown and softened, 6 to 7 minutes.

* Reduce the heat to medium and push the eggplant up in a pile against one half of the pan. Add the remaining tablespoon of oil to the center of the pan. Add the onions to the center of the pan and season lightly with salt. Cook, stirring occasionally, until the onions are beginning to brown, about 5 minutes. Add the garlic and stir it into the onions. Push the onions off to the side of the pan next to the eggplant, where they will continue to caramelize.

* Add the peppers and tomatoes to the hot center of the pan. Sauté until softened, 3 to 4 minutes. Add the vinegar and sauté for 2 minutes, scraping up any browned bits from the bottom of the pan.

* Increase the heat to medium-high. Add the orzo gradually, shaking in a cup at a time, and stirring and scraping constantly. Cook, letting the orzo get browned on the bottom of the pan, then scraping it up to lightly toast the pasta, for about 5 minutes.

* Remove from the heat. Taste and season with salt and pepper as needed. Stir in the basil and serve immediately, sprinkling Parmesan shavings on top of each bowl, if using.
Tags :