Home

›

Recipe- Comforting North Indian Style Punjabi Kadhi Pakora
Recipe- Comforting North Indian Style Punjabi Kadhi Pakora
By: Kratika Thu, 16 Mar 2023 3:04:13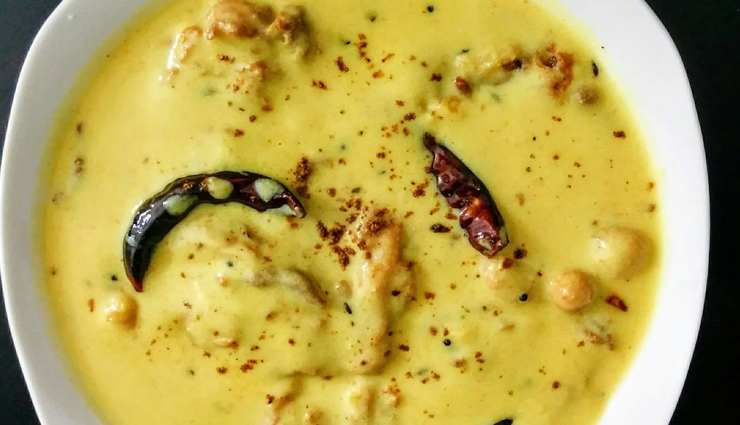 The perfect, quintessential comfort food from North India is Punjabi Kadhi Pakora. Here is my mom's authentic recipe in which crispy pakoras (onion-gram flour fritters) are dipped in a tangy and thick yogurt soup (kadhi), topped with an aromatic tempering.

You can definitely enjoy kadhi without the pakoras too. Some people like to add boondi to their kadhi. And some add boiled potato cubes to make Aloo Kadhi.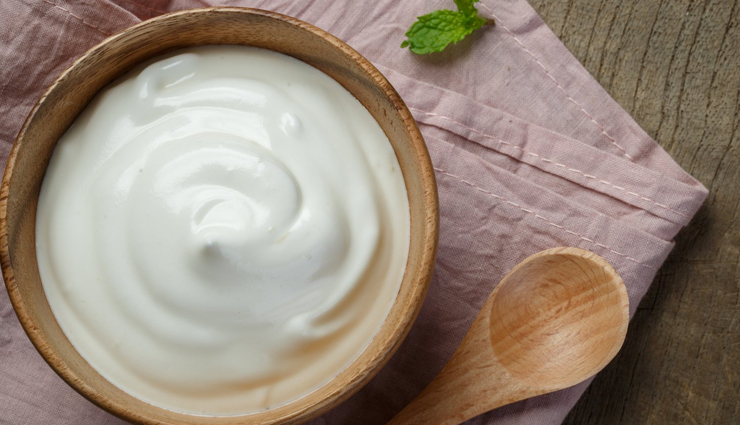 Ingredients

For Yogurt Mixture

2 cup Yogurt at room temperature
¼ cup Besan (gram flour) packed
1 teaspoon Salt
¼ teaspoon Ground Turmeric (Haldi powder)
4 cup Water

To Make Kadhi

2 tablespoon Ghee or Oil
⅛ teaspoon Asafoetida (Hing) skip for gluten-free
½ teaspoon Cumin seeds (Jeera)
½ teaspoon Mustard Seeds (Rai)
¼ teaspoon Fenugreek seeds (Methi dana) optional
10-12 Curry Leaves (Kadi Patta)
2 Green chili cut lengthwise and halved
1 teaspoon Ginger grated
3 cloves Garlic mince (optional)
½ cup Onions sliced
2 teaspoon Coriander powder (Dhaniya powder)
Cilantro to garnish

For Pakora

½ cup Gram flour (Besan)
1 Green Chili Pepper finely diced
2 tablespoon Cilantro leaves chopped
½ teaspoon Salt
¼ teaspoon Ground Turmeric (Haldi powder)
½ teaspoon Kashmiri red chili powder
½ teaspoon Coriander powder (Dhaniya powder)
3 tablespoon Water or more as needed
1 cup Onion sliced or chopped
Oil for frying

For Tadka

1 tablespoon Ghee
½ teaspoon Cumin seeds (Jeera)
2 Dry Red Chili
½ teaspoon Kashmiri red chili powder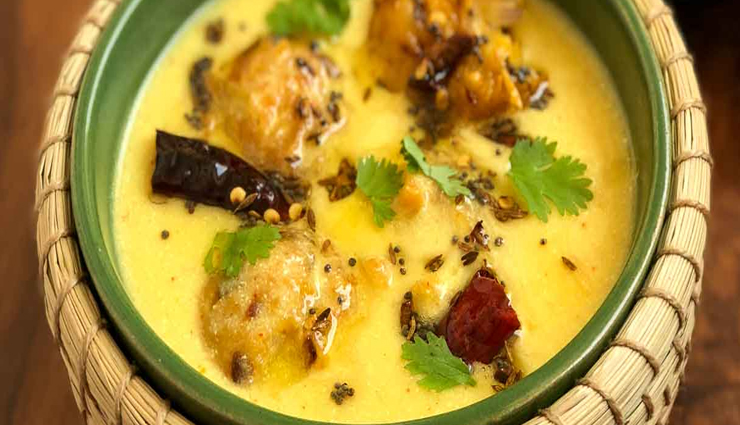 Method

For yogurt mixture

- In a large bowl, add yogurt, gram flour, salt and turmeric. Whisk it well.

- Then add water, continue whisking to make sure no lumps are formed.

To make Kadhi

- Heat a large pot on medium-high flame. Add the ghee or oil. If possible, use mustard oil, it gives an authentic flavor to the kadhi. Make sure to heat the mustard oil until it smokes.

- Add the asafoetida, cumin seeds, mustard seeds, fenugreek seeds, curry leaves. Let them splutter.

- Add the green chili, ginger, garlic, and saute for 30 seconds.

- In a vessel, add ghee and let it heat on medium-high heat. Then add mustard seeds, cumin seeds, fenugreek seeds, asafoetida (hing), dry whole chili, curry leaves. Saute them for a minute. Make sure not to burn.

- Add green chili pepper, ginger, and garlic (if using). Saute for 30 seconds.

- Add the onions and saute for a minute. Then add the coriander powder and give it a mix.

- Add the prepared yogurt mixture to the pot while stirring continuously.

- Keep stirring until it starts to boil. (We don't want the kadhi to curdle)

- Once boiled, keep on low and simmer for about 20-25 minutes.

For pakora

- In a bowl, mix all the pakora ingredients except onions and oil. If you have time, keep this mixture for about 15 minutes.

- This helps to make soft pakoras. If not, add a pinch of baking soda to the gram flour batter. This will be a thick batter, not a runny batter.

- Add onions and mix well. You want to add onions to the batter when you are ready to fry the pakoras.

- Heat vegetable oil in a large frying pan (kadhai) over medium to high heat until it reaches 300°F. Once oil is hot, lower the heat to medium.

- Use a small scoop (or your fingers if you are comfortable) and drop the pakoras in the oil. Cook several minutes per side until the pakora is golden brown.

- Turn the pakoras to make sure they cook evenly on the other side. Transfer the pakoras to a paper towel lined plate or bowl.

- Kadhi should have cooked well by now. If the kadhi has thickened too much, you can add more water if you like.

- Add the pakoras to the kadhi and let it continue to simmer on low heat.

Making tadka

- In a small pan, add ghee and heat it on medium heat. Add cumin seeds and whole dry red chili's. Once seeds crackle, take the pan off heat.

- Add the Kashmiri Red chili powder, and give a quick stir. Now right away pour the tadka on the kadhi. (Don't delay, as otherwise the red chili powder can burn)

- Give a quick stir. Garnish with cilantro, and enjoy kadhi pakora with rice!