Home

›

Recipe- Delicious Choco Orange Swirl Cake
Recipe- Delicious Choco Orange Swirl Cake
By: Pinki Mon, 25 Jan 2021 4:04 PM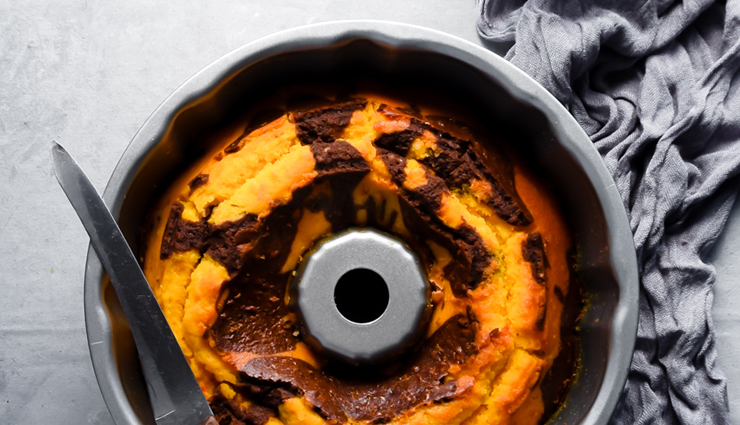 Choco orange swirl cake is an interesting cake recipe made by infusing flavorful orange zest in the delicious chocolate cake.

This is a basic cake with eggs recipe uses one batter for both choco and orange flavors. To make the beautiful swirls we mix orange flavor with choco cake batter. I did not exactly mix equal portions of two flavors in this cake but 2/3rd and 1/3rd portions. Try this crumbly tasty choco orange marble style cake for your kid's birthday party.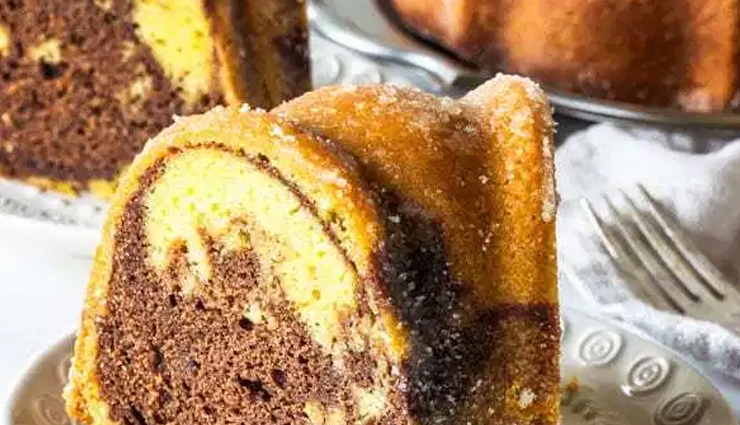 Ingredients

1 ½ cups All-purpose flour
1 tsp Baking powder
½ tsp Baking salt
¼ tsp Salt
3 Whole eggs
¾ cup Sugar (powdered)
2 tbsp Cocoa powder
¼ cup Hot water (boiling heat)
2 tbsp Butter (soft room temp.)
1 tbsp Orange zest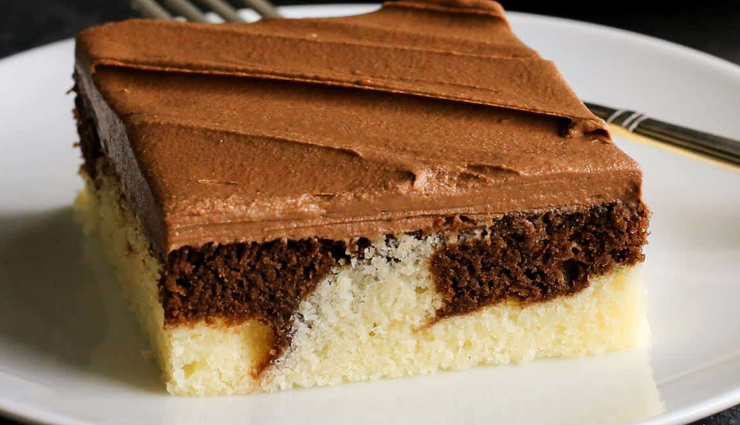 Method

* Scrap the zest of an orange. We need around 1 tbsp of it. Keep aside.

* Next, take 2tbsp of cocoa powder in a small bowl.

* Add 1/4 cup of hot boiling water in it and mix quickly. Mix well to make the choco paste. Keep aside.

* In a large mixing bowl, take 3 whole eggs and beat well with a whisk. Do not overbeat the eggs.

* Gradually add 3/4 cup of powdered sugar and mix with the eggs. Add 1/4 cup at a time. Mix until the sugar dissolves in eggs completely.

* Next add 2 tbsp of soft butter(at room temperature), a tsp of vanilla essence (optional) and mix.

* Place a metal strainer on top of the bowl we are using and add 1.5 cups of all-purpose flour (Do not scoop. Spoon &fill).

* Next add a tsp of baking powder, 1/2 tsp of baking soda and 1/4 tsp of salt.

* Sift the contents into the egg-sugar-butter mixture directly.

* Combine wet and dry ingredients with a spatula using the cut and fold method.

* Mix the batter without any lumps.

* Next, separate the cake batter into 1/3rd and 2/3rd portions.

* Add the choco paste we prepared with the 2/3rd portion of the batter and mix well. Keep aside.

* Mix the orange zest with the remaining 1/3rd portion of the batter.

* How to bake Choco orange swirl cake:

* I used an 8" square cake pan. You may use a round pan or medium-sized loaf pan also.

* Grease the pan and lay the butter paper.

* Fill the choco batter first on the sides of the pan like this.

* Next, fill the orange zest batter between the choco batter.

* Make swirls gently with a fork. Feel free to make your own designs.

* Meanwhile, preheat the oven to 360F(180°C).

* Bake the cake for 30 to 40mins. Check the cake after 30mins by inserting a toothpick. When it comes clean stop baking.

* Flip the cake and let it cool on a rack or plate.

* Serve with hot coffee for a satisfying snack. You may top it with your favorites if you like.
Tags :