Home

›

Recipe- Delicious Rainbow Sandwich
Recipe- Delicious Rainbow Sandwich
By: Kratika Tue, 14 Sept 2021 2:06 PM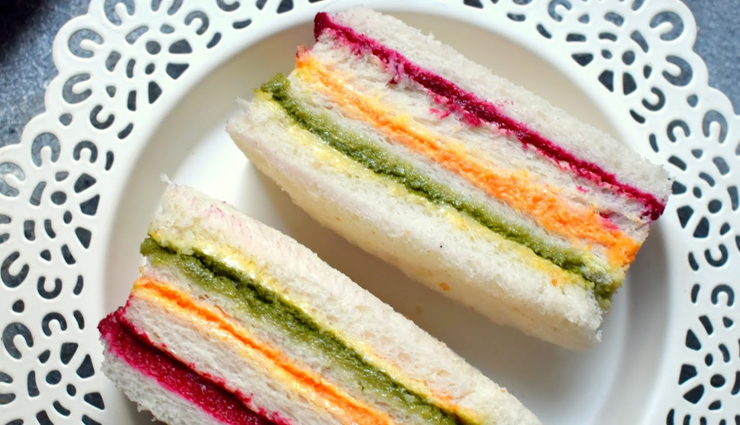 Delicious sandwich with colourful layers packed Indian flavours! A show-stopper for any potluck, party or get-together!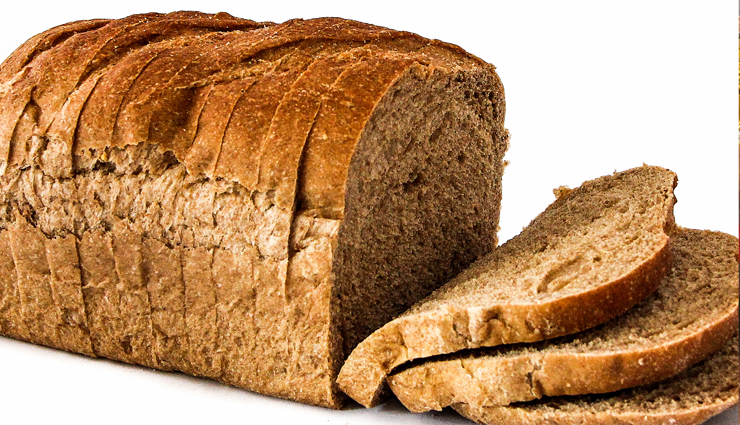 Ingredients

8 brown bread slices
2 tablespoons butter
2 cheese slices
2 medium-sized boiled potatoes (peeled & sliced)
1 tomato, cut into round slices
1 small onion, finely chopped
2 tablespoons finely chopped red cabbage (can be replaced by grated beetroot)
2 tablespoons green chutney
11/2 teaspoon chaat masala
1/2 teaspoon turmeric powder
Salt to taste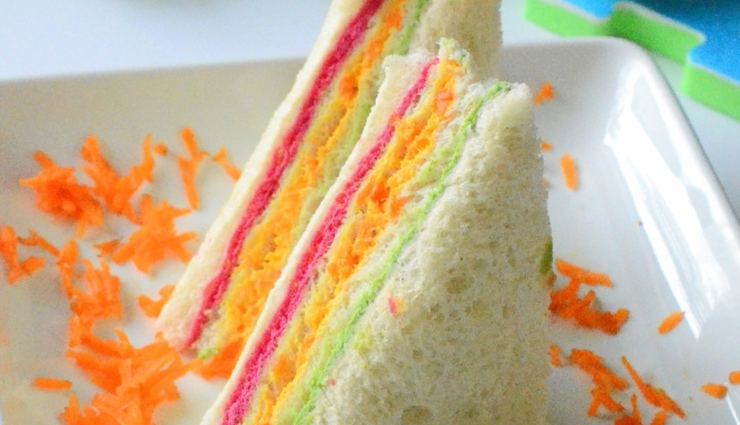 Method

* Place the bread slices on a chopping board or clean surface and remove the edges of each slice with the help of a knife.

* Sprinkle some salt and turmeric powder on the sliced boiled potatoes. Heat 1 teaspoon oil in a pan and toss the potatoes in the oil for about 30 seconds to get rid of the raw smell of turmeric. Keep them aside.

* Apply butter on 1 side of a bread slice. Place it in a dish with the butter side up.

* Place potato slices on the bread slice. Sprinkle some chaat masala.
Place the tomato slices on top of the potato slices. Sprinkle some salt and chaat masala on the tomato slices.

* Place a buttered bread slice on top of the tomatoes with buttered side facing down . Apply some green chutney on top of this bread slice. Place another buttered bread slice on top of the green chutney slice with the buttered side facing down.

* Place a cheese slice on top of the bread slice. Mix the chopped onions with red cabbage (or beetroot) and a pinch of chaat masala. Spread this mixture on top of the cheese slice. Cover with a buttered slice with butter side facing down.

* Make two diagonal cuts to cut the sandwich into four pieces.

* Repeat the same process for the second sandwich.

* Serve with masala tea or mocha coffee.
Tags :