Home

›

Recipe- Easy To Make Paan Peda
Recipe- Easy To Make Paan Peda
By: Pinki Fri, 11 Dec 2020 3:14 PM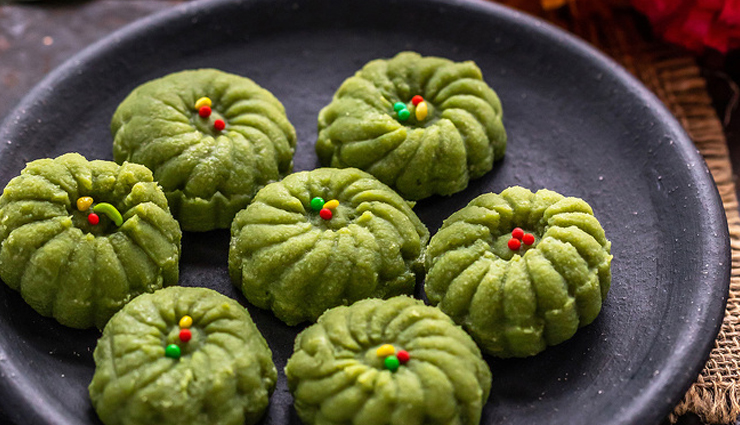 Paan Peda made with mawa, sugar and paan leaves! These pedas are easy to make with store bought mawa and have a beautiful green color from the paan leaves (no food color used)!

You all seem to love the refreshing flavor of paan. Personally, I am also a huge fan and that's why every festive season I end up creating some recipes using paan leaves (betel leaves).

Peda has always been my favorite sweet. My nani (grandma) used to make these wonderful peda and till date I have found nothing that can match to that taste.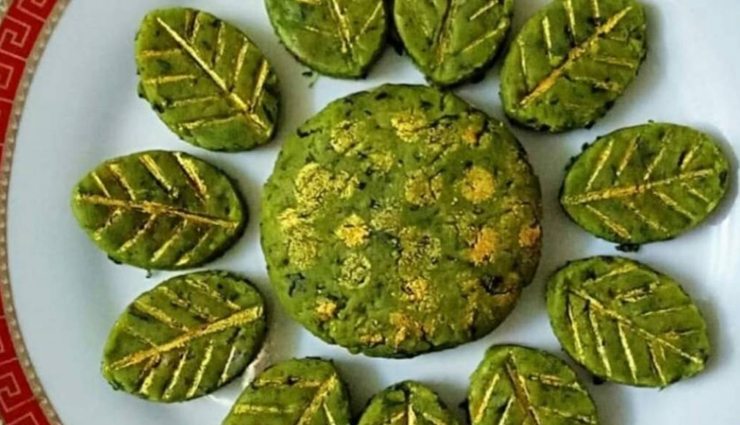 Ingredients

2 tablespoons milk 30 ml
1 tablespoon rose water 15 ml
2-3 large paan leaves 9-10 grams
1 cup mawa 200 grams, dried milk solids, I used vadilal brand
1/2 cup granulated white sugar 100 grams
mukhwas to garnish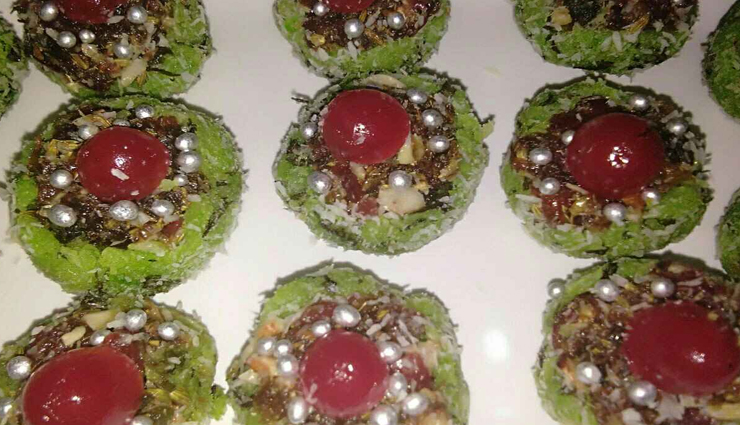 Method

* To a blender add paan leaves with milk and rose water. Blend until you have a smooth mixture and set this aside.

* Now to a pan on medium heat, add mawa and roast for 1 to 2 minutes. Then add sugar and stir.

* Add the prepared paan-milk-rose water mixture and mix. Immediately, turn heat to low.

* Continue to cook the mixture on low heat, mixture will start bubbling and getting thickened after around 5 minutes. Keep stirring at all times.

* After cooking on low heat for around 13 minutes, the mixture will leaves the sides of the pan. The mixture will look liquid-y, like a molten lava but that's the right stage to stop. If you cook it further, pedas will turn chewy.

* At this stage, turn off heat and transfer mixture to a parchment paper, or you can use a plate that's been greased a little. Now, wait for the mixture to cool down.

* Once it has cooled down, you can easily shape it into round balls. I got 10 round pedas out of the mixture.

* If you not able to give them a shape, that means the mixture wasn't cooked to the right stage. In that case you should put the pan back on low heat and continue to cook for 2-3 more minutes and then it should be okay.

* I roughly shape them and then pop them into the fridge for 30 minutes.

* After 30 minutes, take them out of the fridge and shape into any shape you like. I used a shaping mold that I had and gave these pedas this shape.

* Garnish with mukhwas. Keep these Paan Peda refrigerated and they are best consumed with in 3-5 days!
Tags :