Home

›

Recipe- Easy To Make Vegetable Lasagna
Recipe- Easy To Make Vegetable Lasagna
By: Pinki Wed, 06 Nov 2019 10:43 PM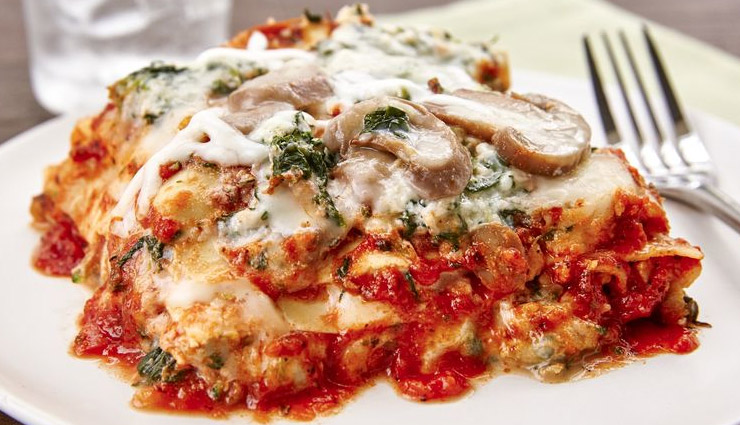 Vegetable Lasagna is an easy to make and delicious recipe.

Ingredients

1 zucchini
1 carrot
1 red bellpepper
1 yellow bellpepper
1 broccoli
1 large onion, peeled
1 cup fresh beans
1 cup asparagus
50 gm beans
2 tbsp olive oil
2 cloves garlic, crushed
1 tbsp salt
50 gm fresh basil
800g chopped tomatoes
2 tsp. tomato puree
2 bay leaves
Salt and pepper
350 gm lasagna sheet
1 cup grated parmesan cheese
500 ml Bechamel sauce (white sauce)

For the BECHAMEL SAUCE

300 ml milk
½ onion, cut into thick slices
1 bay leaf
6 peppercorns
15 g butter
15 g plain flour
Salt and pepper
Freshly grated nutmeg

Method

* Pour the milk into a saucepan. Add the onions, bay leaf, peppercorns. Bring to scalding point, remove from heat, cover and infuse for 10-30 minutes. Strain.

* To make the roux, melt the butter in a saucepan. Stir in the flour and cook, stirring for a minute. Remove from heat and gradually pour on the warm milk, whisking constantly.
* Season lightly with salt, pepper and nutmeg. Return to the heat and bring to the boil, whisking constantly until the sauce thickens and is smooth. Simmer for 2-3 minutes.

* Chop the carrot; slice the onion. Halve, core and deseed the pepper, then cut into small pieces.

* Cut the zucchini into slices; cut asparagus and beans into small pieces. Heat the oil in a large saucepan.

* Add the garlic, carrot, onion, leeks and pepper and fry for 1-2 minutes or until soft.

* Add the paprika and herbs and toss for 1-2 minutes.

* Add the remaining vegetables to the pan with the tomatoes, tomato puree, bay leaves and seasoning.

* Bring to the boil, then reduce the heat, cover and simmer for about 30 minutes.

* Spread a small amount of the tomato sauce in the base of an ovenproof dish. Cover with a layer of vegetables, then lasagne and top with a layer of Bechamel sauce.

* Continue layering in this way. Finish with a layer of Bechamel sauce and sprinkle with the parmesan cheese.

* Bake at 170 degrees C for 40to 45 minutes or until the lasagne is piping hot and well browned.

* Leave to stand for 5 minutes before serving.
Tags :