Home

›

Recipe- Eggless Thandai Cheesecake Mousse
Recipe- Eggless Thandai Cheesecake Mousse
By: Pinki Tue, 15 Dec 2020 1:52 PM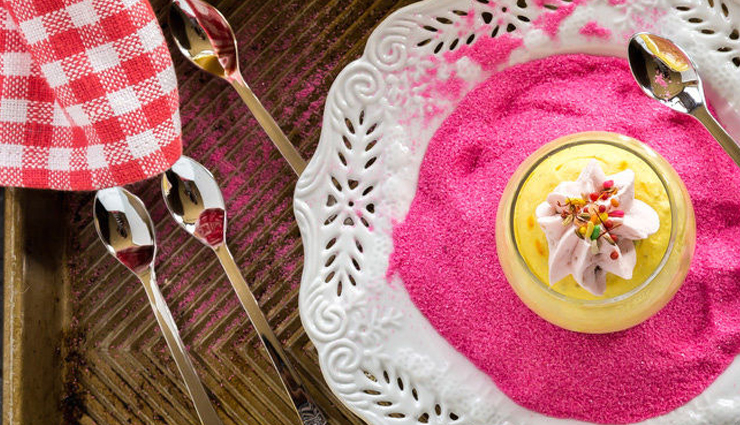 No-Bake, Eggless Thandai Cheesecake Mousse with a graham cracker crust and topped with Gulkand Whipped Cream.I am so excited to be sharing today's recipe with you guys! I have had this idea in my head ever since I started thinking of Holi recipes and I am so happy that it turned out well! I mean I do have my share of failures and when you are trying something new, you are never sure whether it will turn out as good as it's in your head. But this thandai cheesecake mousse did and the gulkand whipped cream was just the icing on the top!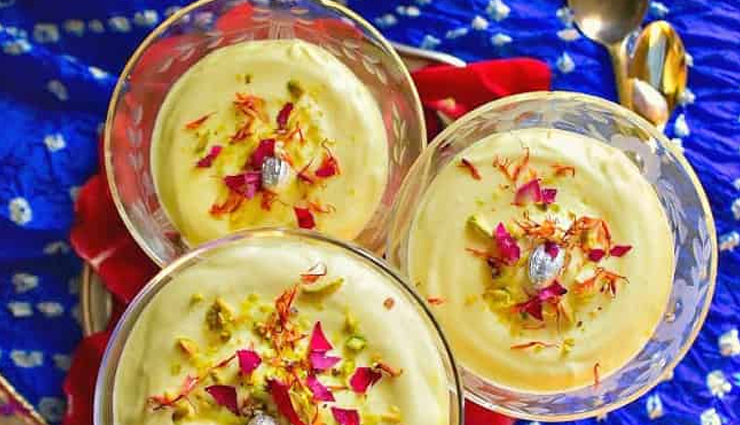 Ingredients

Crust

1.5 cup graham cracker crumbs
6 tablespoons unsalted butter melted
3 tablespoons granulated white sugar

Cheesecake Mousse

12 oz cream cheese at room temperature
1 teaspoon saffron dissolved in 1 tablespoons warm milk
3/4 cup + 1 tablespoon granulated white sugar
1/2 teaspoon cardamom essence
4 tablespoons thandai paste
1.5 cups heavy cream cold

Thandai paste

30 almonds soaked and skin removed
20 black peppercorns
2 tablespoons watermelon seeds
16 green cardamom pods
4 teaspoons fennel seeds
4 teaspoons poppy seeds
3-4 tablespoons milk

Gulkand Whipped Cream

1/2 cup heavy cream cold
1 tablespoon gulkand also known as rose petal preserve
2 drops rose essence
pink food color optional

Mukhwas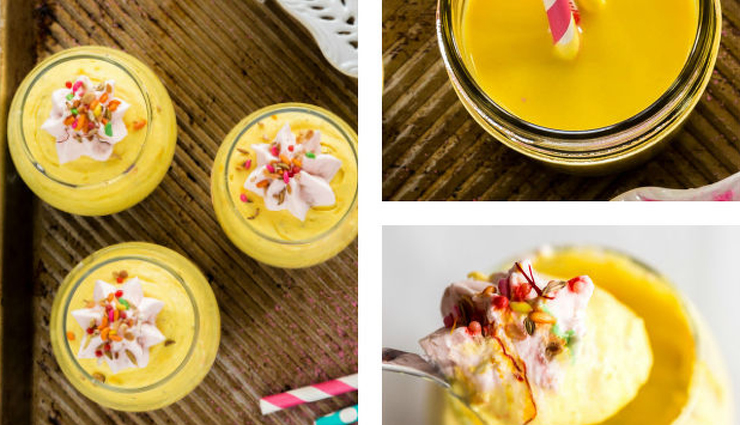 Method

* First of all make the thandai paste. Blend together all ingredients listed under "thandai paste" with little milk and set aside.

* Crush graham crackers using your food processor till you get fine crumbs or put the crackers in a ziplock bag and crush using a rolling pin.

* Transfer the crushed crumbs to a bowl. Add sugar to it and mix.

* Add melted butter and mix till crumbs feel like moist sand.

* Take your serving glasses/bowl and divide the crumbs equally between them.

* Push the crumbs to the bottom of the glass using the back of your spoon or with your thumb till it's all compact. Place the glasses in the refrigerator while you make the filling.

* Warm 1 tablespoon of milk in the microwave and then add 1 teaspoon saffron to it. Crush the saffron a little when you add it. Let it sit for 10 minutes.

* Using the paddle attachment of your stand mixer or using your hand mixer, beat cream cheese for 5-6 minutes or till completely smooth. It's very important for the cream cheese to be at room temperature here.

* Add sugar, cardamom essence and the soaked saffron to the cream cheese now. Mix till combined.

* Add 4 tablespoons of the prepared thandai paste to the mixture. Mix till everything is well combined. Set aside.

* Now beat the heavy cream till it forms peaks using the wire whisk attachment of your stand mixer or using your hand mixer. Be careful not to over-beat it. [It's a good idea to chill the bowl and the attachment for 15-20 minutes before you beat the cream, also the heavy cream should be cold and straight out of the refrigerator.]

* Carefully fold in the whipped cream into the cheesecake mixture. Do this in 2-3 parts.

* Once you have folded in all the whipped cream, take out the glasses out of the refrigerator and pipe or spoon the cheesecake mousse mixture into the prepared glasses.

* Cover with a cling sheet and refrigerate overnight or for at least 4 hours.

* Next morning, when ready to serve make the gulkand whipped cream.

* Start beating heavy cream using the wire whisk attachment of your stand mixer or use your hand mixer.

* Once it starts to foam a little, add gulkand paste, 2 drops of rose essence and few drops of pink food color (optional).

* Beat till it forms still peaks. The gulkand whipped cream is now ready.

* Take out the chilled thandai cheesecake mousse from the refrigerator and top with gulkand whipped cream. Garnish with mukhwas (optional) and enjoy.
Tags :