Home

›

Recipe- Enjoy The Start Of Winters With Baby Corn Chilli
Recipe- Enjoy The Start Of Winters With Baby Corn Chilli
By: Pinki Tue, 24 Dec 2019 9:50:25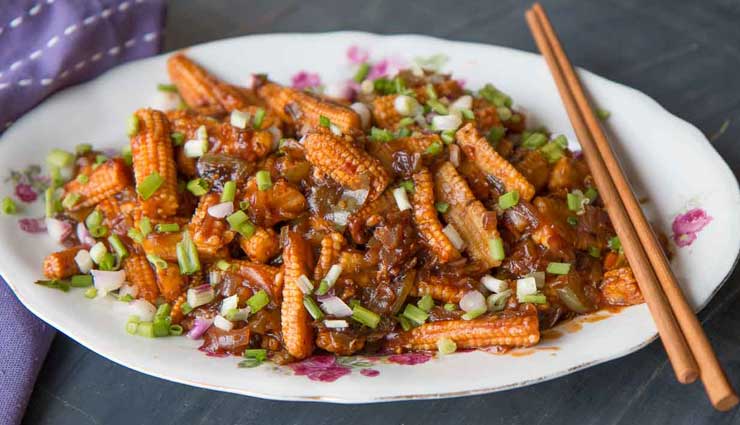 An ideal appetiser or a party starter recipe made with tender baby corns in a chilli sauce. it is a simple and easy indo chinese street food recipe which inherits the recipe from popular chilli paneer.

Ingredients

for frying baby corn:

3 cup water
9 baby corn chopped
½ cup maida / plain flour
¼ cup corn flour
½ tsp kashmiri red chilli powder
¼ tsp pepper crushed
½ tsp ginger paste
½ tsp salt
½ cup water
oil for frying

for corn flour slurry:

1 tsp corn flour
¼ cup water

other ingredients:

3 tsp oil
2 green chilli slit
1 inch ginger finely chopped
3 clove finely chopped
4 tbsp spring onion finely chopped
½ onion petals
½ capsicum cubed
2 tbsp tomato sauce
1 tbsp vinegar
1 tbsp soy sauce
¼ tsp pepper crushed
¼ tsp sugar
¼ tsp salt

Instructions

* firstly, in a large kadai heat 3 tsp oil and saute 2 green chilli, 1 inch ginger and 3 clove on high flame.

* also saute 2 tbsp spring onion slightly.

* now add ½ onion, ½ capsicum and saute on high flame.

* additionally add 2 tbsp tomato sauce, 1 tbsp vinegar, 1 tbsp soy sauce, ¼ tsp pepper, ¼ tsp sugar and ¼ tsp salt.

* mix well and saute for a minute.

* add cornflour slurry. to prepare corn flour water mix 1 tsp of corn flour with ¼ cup of water.

* give a good mix until the gravy slightly thickens and turns translucent.

* additionally, add fried baby corn.

* mix gently making sure the sauce has coated well uniformly

* finally, transfer chilli baby corn to a serving bowl and garnish with chopped spring onions green. serve with fried rice.