Home

›

Recipe- Fresh Corn Cakes With Summer Salsa
Recipe- Fresh Corn Cakes With Summer Salsa
By: Pinki Mon, 02 Mar 2020 2:36 PM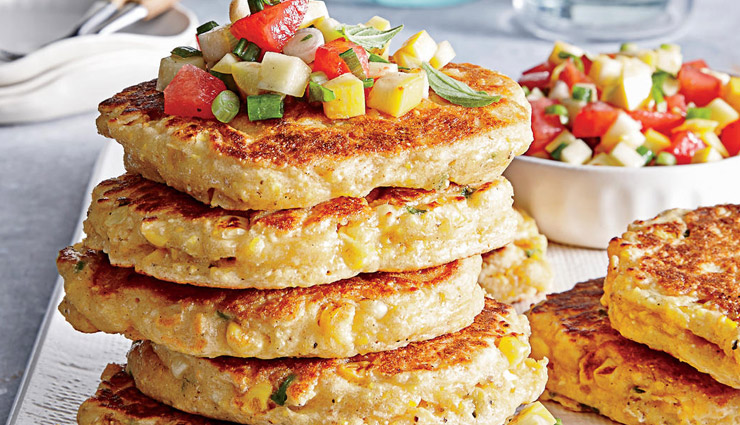 These corn cakes are a versatile base for a plethora of toppings. Essentially, they are a savory version of a pancake.

Ingredients

4 oz. white whole wheat flour (about 3/4 c.)
1/2 c. yellow corn meal
2 tsp. baking powder
3/4 tsp kosher salt, divided
1/2 tsp ground black pepper, divided
1 c. light sour cream
2 large eggs
2 tbsp. olive oil, divided
1 1/4 c. fresh corn kernels (about 2 ears)
2 tbsp. minced jalapeno
1/2 c. diced yellow squash
1/4 c. chopped green onions
1/4 c. chopped fresh basil
1 1/2 tsp. white wine vinegar
1 medium tomato, chopped
minced garlic, to taste (optional)
ripe avocado cut into bite sized chunks, optional

Instructions

* Combine flour, cornmeal, baking powder, 1/2 tsp. salt and 1/4 tsp. pepper in a large bowl.

* Combine sour cream, eggs and 1 tbsp. oil in a bowl, stirring until smooth. Add sour cream mixture, corn, and jalapeno to flour mixture; stir just until combined.

* Heat a large nonstick griddle over medium-heat heat.

* Divide corn mixture into 8 equal portions (about 1/3 c. each); shape into patties. Add patties to griddle; cook 6 minutes on each side.

* Combine squash, green onions, basil, vinegar, tomato, remaining 1 tbsp. oil, remaining 1/4 tsp. salt, remaining 1/4 tsp pepper and optional garlic in a bowl; toss. Place 2 corn cakes on each of 4 plates; top evenly with salsa and avocado, if desired.

Tags :