Home

›

Recipe- Gingerbread-Chocolate Chunk No-Churn Ice Cream
Recipe- Gingerbread-Chocolate Chunk No-Churn Ice Cream
By: Pinki Wed, 25 Dec 2019 4:05 PM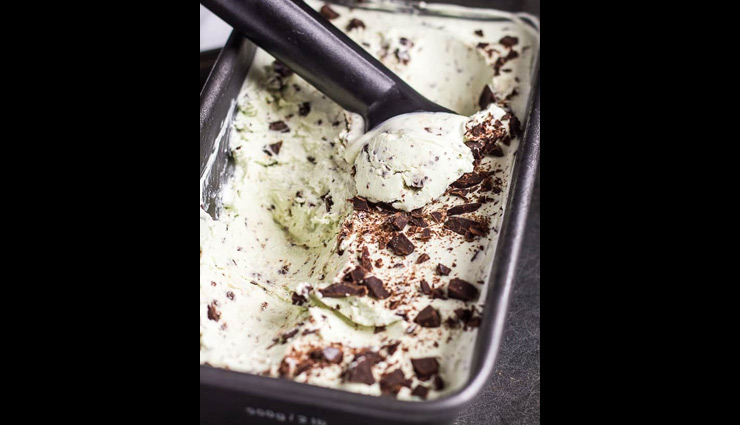 Chocolate and a variety of spices come together deliciously in this ultra creamy dessert.

Ingredients

1 tsp.ground cinnamon
1/2 tsp.ground allspice
1/4 tsp.ground cloves
1/4 tsp.freshly grated nutmeg
1(1-inch) piece fresh ginger, sliced
2 1/2 c.heavy cream, divided
1 tsp.pure vanilla extract
1(14-ounce) can sweetened condensed milk
2 tbsp.molasses
2 oz.bittersweet chocolate, finely chopped

Method

* Combine cinnamon, allspice, cloves, nutmeg, ginger, and 1/2 cup heavy cream in a small saucepan.

* Cook over medium heat until tiny bubbles begin to appear around the edge of the pot (do not let boil), 1 to 2 minutes; remove from heat.

* Stir in vanilla and let steep for 20 minutes. Discard ginger and refrigerate until cold.

* Combine condensed milk and molasses in a bowl. Whisk spiced cream and remaining 2 cups cream with an electric mixer on medium-high speed until stiff peaks form,1 to 2 minutes.

* Gently fold in condensed milk mixture until fully incorporated. Fold in chopped chocolate.

* Transfer mixture to a 9- by 5-inch loaf pan or 2-quart freezer-safe container.

* Freeze until firm, at least 4 hours and up to 2 weeks.
Tags :