Home

›

Recipe- Healthy To Eat Masala Chickpea Sandwich
Recipe- Healthy To Eat Masala Chickpea Sandwich
By: Pinki Wed, 17 Aug 2022 1:37:31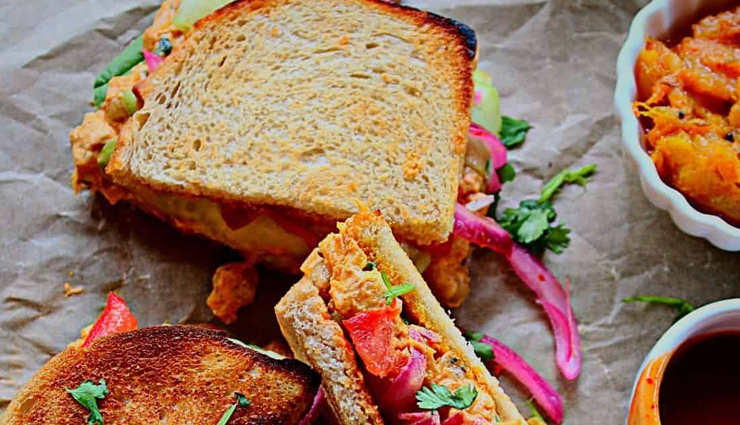 This Indian Style Chickpea Sandwich is made with a masala chickpea filling and tucked inside a toasted sour dough bread with mango chutney and fresh salad. This hearty and flavorful sandwich will crave you asking for more.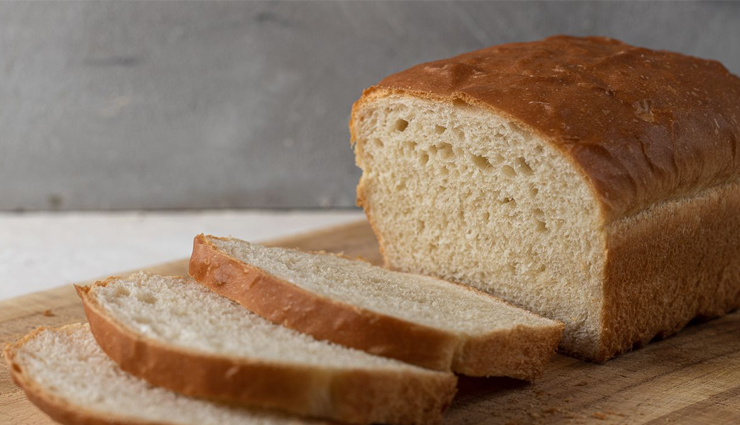 Ingredients

Pickled Onion

1 small red onion, thinly sliced
½ teaspoon sugar
½ teaspoon salt
generous squeeze of lemon juice

Mango Chutney

1 medium mango, peeled and cubed
1 ½ tablespoon oil
¼ teaspoon mustard seeds
8 fenugreek seeds
1 teaspoon ginger, grated
1 teaspoon garlic powder
½ teaspoon red chili powder
1-2 teaspoon brown sugar
salt to taste

Masala Chickpea Filling

1 can chcikpeas, drained and washed
1 tablespoon oil
1 teaspoon cumin seeds
1 small onion, finely chopped
1 teasponn ginger, grated
2 medium garlic cloves, finely chopped
1 green chili, chopped
¼ teaspoon turmeric powder
1 teaspoon coriander powder
1 teaspoon cumin powder
½ – 1 teaspoon red chili powder ( add to taste)
1 ½ tablespoon tomato paste
lemon juice to taste
few coriander leaves, finely chopped
¼ cup greek yogurt (or hung yogurt) or vegan yogurt
2 tablespoons mayonnaise or vegan mayo

To Assemble

6 sour dough bread slices
few cucumber slices
few tomato slices
few baby spinach
maggi sweet and spicy sauce as needed
pickled onion
mango chutney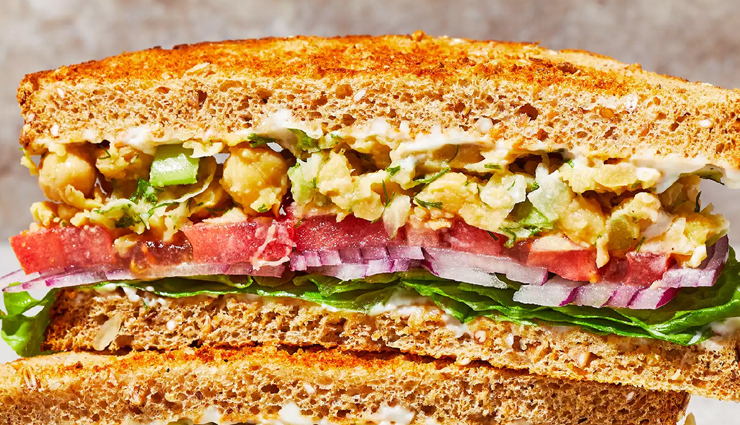 Method

Instant Pickled Onions

- To a bowl add one small thinly sliced onion, ½ teaspoon sugar, ½ teaspoon salt and a generous squeeze of lemon juice. Using your fingers to break up the onion slices and massage for 30 seconds. Cover and let it rest while you get the other things ready.

Mango Chutney

- Heat a skillet, add 1.5 tablespoons of oil and ¼ teaspoon of mustard seeds. Once the mustard pops, add 8 fenugreek seeds and cook for 10 seconds. Now add one chopped slightly raw mango (do not use ripe mango) and ½ teaspoon of salt. Cook for 5-7 minutes.

- Once the mango softens, add 1 teaspoon of grated ginger, 1 teaspoon of garlic powder, ½ teaspoon of red chili powder, 2 teaspoons of brown sugar and salt to taste. Cook on low flame till the whole mixture becomes mushy. Taste and adjust the salt and spices. If you like it sweeter add more brown sugar.

Spicy Chickpea Filling

- Heat one tablespoon of oil and add one teaspoon of cumin seeds. Let it sizzle for 15 seconds and then add one finely chopped onion and pinch of salt. Cook for 5-7 minutes till onion turns translucent.

- Add chopped green chili, ginger and garlic and saute for 3-4 minutes.

- Add the spices (coriander powder, turmeric powder, cumin powder and red chili powder) and 1.5 tablespoons of tomato paste and cook for 5 minutes.

- Add the chickpeas and coat with the spices. Cook for 5 minutes and gently smash some of the chickpeas. If the mixture fills very dry, splash some water and mix. Turn off the heat, and add some lemon juice and coriander leaves.

- Transfer the chickpea mixture to a medium bowl and let it cool. Add the yogurt and mayo and mix it. Taste and adjust the salt.

To Assemble

- Toast 2 sour dough bread in a pan with little oil. Slather mango chutney on one of the slices. Top it with baby spinach, chick pea filling, sliced cucumber, tomato, and pickled onion. Slather the other bread slice with maggi sweet and spicy sauce.

- Enjoy immediately!
Tags :