Home

›

Recipe- Homemade Granola Bars
Recipe- Homemade Granola Bars
By: Pinki Mon, 06 Jan 2020 4:59 PM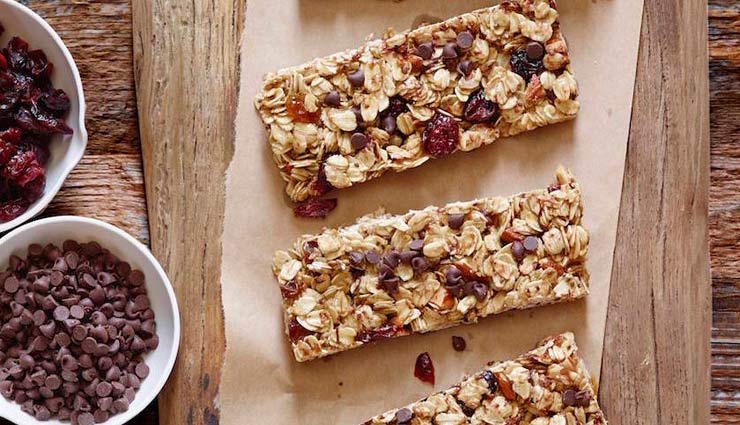 These bars are soft and chewy just like a granola bar should be, and as the name implies, they're packed with protein. In other words, this granola bar is the breakfast or snack of every real foodie's dreams.

Ingredients

1 cup medjool dates pitted (about 10)*
1/3 cup honey
1/3 cup peanut butter any nut butter will work
1 tsp pure vanilla extract
2 cups unsalted nuts and/or seeds-any combo will work: pistachios, walnuts, cashews, almonds, sunflower seeds, pumpkin seeds, etc.
1 1/2 cups old-fashioned rolled oats
1/2 cup shredded unsweetened coconut
1/4 tsp salt

Method

* Preheat the oven to 350F. Line a 13X9 pan with parchment paper. It's important that there's extra parchment paper on each side of the pan so the granola bars are easy to lift out of the pan after baking.

* Process the dates in the bowl of a food processor for 40-50 seconds. The chopped date pieces should stick together.

* In a medium saucepan, over medium heat, melt the peanut butter into the honey. Add the dates from the food processor, stirring until the heat breaks down the dates, and the mixture is thick and spreadable. Remove the pan from the heat and add the vanilla extract. Set aside.

* Return the bowl to the food processor. Process the 2 cups of nuts/seeds into small chunks.

* In a large bowl, combine the dry ingredients: chopped nuts/seeds from the food processor, oats, salt, and shredded coconut. Stir the date/honey mixture into the dry ingredients. You may need to use your hands to make sure the dry ingredients are completely covered with the sticky date mixture.

* Pour the mixture into the parchment-lined baking dish. Press the mixture into the pan. Bake for 30 minutes, until the granola is golden and the sides begin to slightly brown (not burn!).

* Remove the granola from the oven and lift the parchment (with the granola inside) out of the pan to cool. Allow the granola to cool for 10 minutes, then slice the granola into 12 bars with a sharp knife or pizza cutter. It's important to slice the bars when the granola is warm. If any of the granola falls apart, simply shape the bars back together. Once cool, enjoy the bars or store in the freezer or on the counter (in a sealed container) for later.
Tags :