Home

›

Recipe- Mouthwatering Paneer Grilled Sandwich
Recipe- Mouthwatering Paneer Grilled Sandwich
By: Kratika Tue, 14 Sept 2021 2:07 PM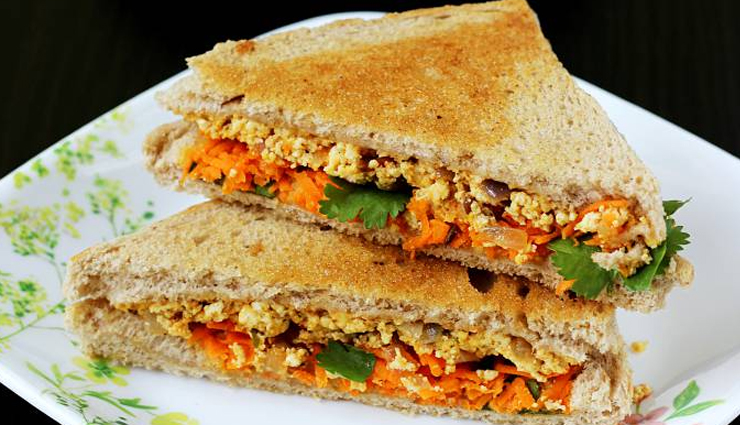 Healthy sandwich prepared by stuffing delicious paneer filling between seeded multi-grain bread slices. A perfect breakfast to start your day as it is packed with protein from paneer and health benefits of seeded multi-grain bread. It can also be packed in kids' lunch-box for a wholesome meal.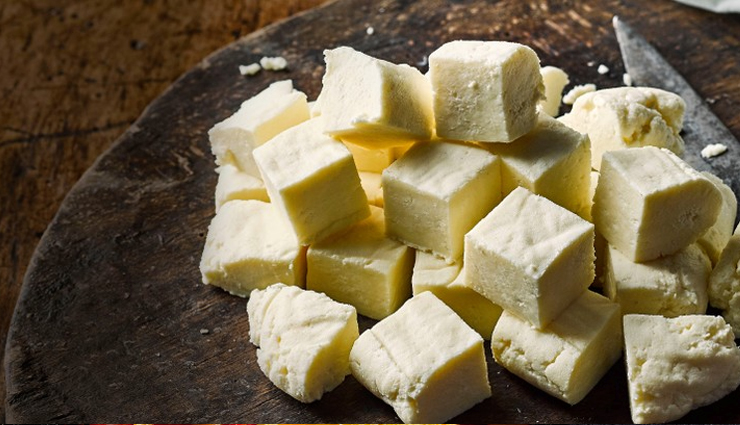 Ingredients

For Paneer Filling

100g low-fat paneer
2 tablespoons boiled peas
1 medium-sized onion, finely chopped
1 large tomato, finely chopped
1 teaspoon finely chopped ginger
1 green chilli, finely chopped
1 tablespoon finely chopped coriander leaves
11/2 teaspoon tomato ketchup
1 tablespoon oil
1 teaspoon coriander powder
1/4 teaspoon red chilli powder or to taste
Salt to taste

Other Ingredients

4 slices seeded multi-grain bread
1 teaspoon butter/oil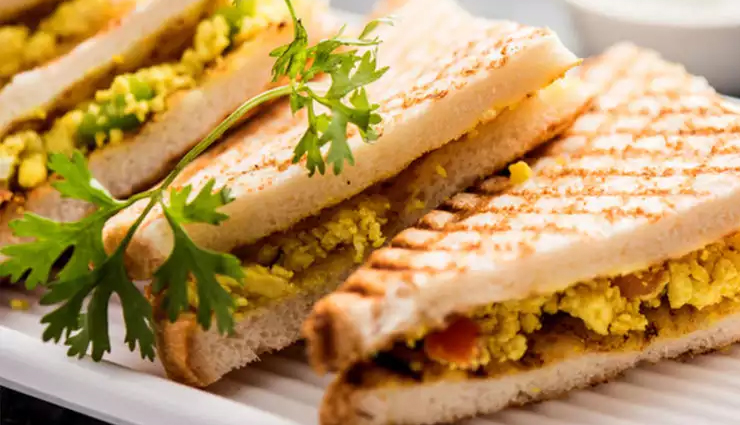 Method

* Cut the paneer into very small cubes and keep it aside.

* Heat oil in a pan. Add chopped onions and sauté till they turn golden brown in colour. Add the chopped tomatoes, ginger, green chillies, coriander powder, red chilli powder and salt. Cook till the moisture gets evaporated and oil starts separating from the masala.

* Add the paneer cubes, boiled peas, tomato ketchup and coriander leaves. Mix well and keep aside to let it cool slightly.

* Place 2 bread slices in a dish. Spread the paneer filling generously on each slice. Place the other 2 bread slices on top of the filling.

* Pre-heat a sandwich grill and brush little butter/oil on it. Grill the sandwiches for 3-4 minutes or until light brown and crispy from both sides.

* You can also use a non-stick flat pan instead of a grill and cook the sandwich from both sides by flipping it over when cooked from one side.

* Cut the sandwiches diagonally. Serve hot with tomato ketchup or green chutney.
Tags :