Home

›

Recipe- Mumbai Favorite Street Pav Bhaji
Recipe- Mumbai Favorite Street Pav Bhaji
By: Kratika Tue, 03 Nov 2020 7:35 PM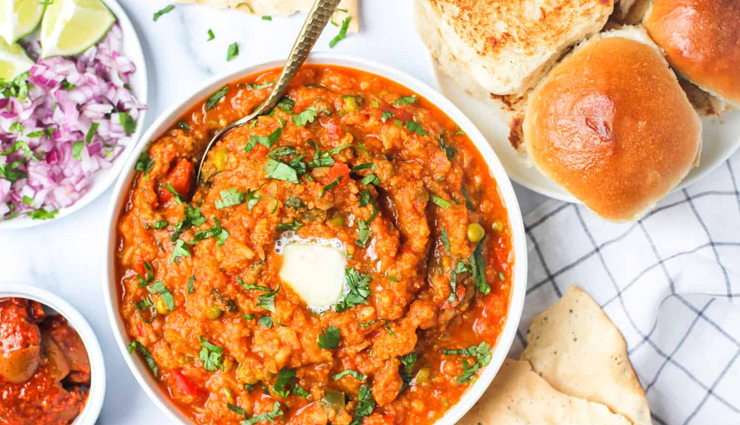 Bhaji stuffed pavs are healthy as these are made with 100% whole wheat flour. Whole Wheat pavs are of different texture as compared to the pavs made with refined flour. Keeping the health factor for kids in mind, I try to use whole wheat flour for baking.

These stuffed buns are perfect for kids lunchbox, breakfast or to pack along while travelling. Kids can eat these without making a mess. I often make a batch of stuffed breads with different fillings to pack for kids lunch.

For these stuffed pav, bhaji should not be watery, as the pavs will not bake properly. I usually add potatoes, peas, finely chopped bell peppers and grated carrot. You can add vegetable of your choice like cauliflower, but the mixture should me mashed to make the stuffing. The spice level of the dry bhaji for pavs can also be adjusted as required.If you are making it for small kids, use less bhaji masala.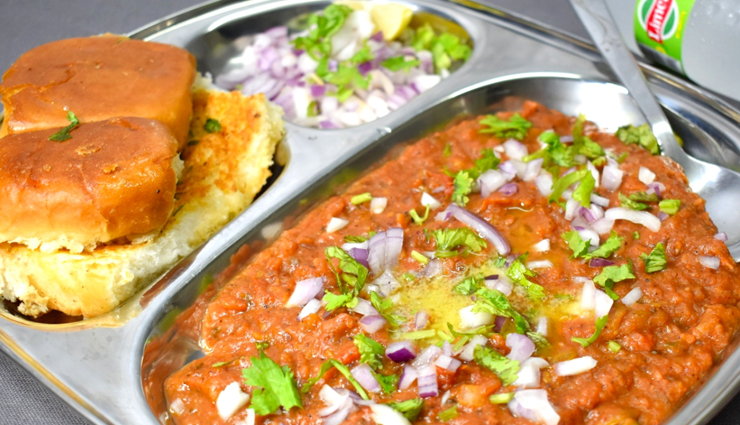 Ingredients

1 and 3/4 Cup Whole Wheat Flour
1 tbsp Instant Yeast
1 tsp Sugar
1 tsp Salt
1 tbsp Oil/Melted Butter
3/4 Cup Lukewarm Milk or leftover whey of homemade Paneer
2 Boiled Potatoes
1/2 Cup Finely Chopped Onions
1-2 tbsp Tomato Puree
1/2 Ginger piece
2-3 Garlic cloves
1 Green Chillies
1/4 Cup Grated Carrot
1/4 Cup Peas
1-2 tsp Pav Bhaji Masala
1 tbsp Butter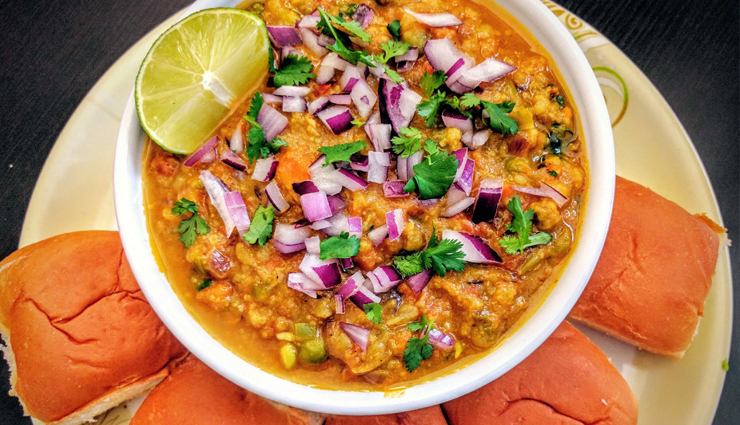 Method

* Mix together flour salt, sugar and instant yeast.

* Make a well in the center, start adding milk/leftover paneer whey and mix lightly.

* Leave for a couple of seconds and then add oil,and start kneading till you get soft dough.

* This takes about 10 minutes. You can also knead dough in stand mixer for few minutes, and the transfer to a counter-top and knead for 2-3 minutes. Stand Mixer cuts on the kneading time.

* Transfer the dough to a well oiled bowl and cover it with cling film or a clean damp kitchen towel.

* Keep the dough to prove in a warm place for first proving. This takes around 1-1.5 hrs depending on the weather.

* Make paste of ginger, garlic and green chilli. Boil Peas for 2-3 minutes.

* In a pan, add butter, when butter is warm and starts melting, add ginger, garlic and green chilli paste. SAute till the raw smell of garlic goes away.

* Add onions and saute till pink or translucent. Add peas and cook for 2-3 minutes, then add grated carrots, tomato puree, pav bhaji masala and mix nicely.

* Add mashed boiled potatoes and mix well. Mash the mix with a potato masher. Once done keep aside to cool.

* After first proving( the dough gets double), take out from the bowl on the counter, a knead again lightly for 2-3 minutes. Don't knead the dough very hardly.,

* Divide the dough in 8 equal portions. Make smooth balls of the dough.

* Pat each ball with hand and fill the bhaji mixture. Seal nicely the edges. Take care not to overfill the pav as the covering can tear out.

* Fill all the portions, arrange on the greased and lightly floured baking tray, for second proving. This takes another 30 minutes.

* Preheat the oven to 400 F or 190C, 10 minutes before baking.

* Once the stuffed dough ball rise in size, bake these in a preheated oven for 15 minutes at 400F or 190C.

* Once done, take out the pav, cool on the wire rack. Serve warm for store for further use in an air-tight container once completely cooled.
Tags :