Home

›

Recipe- No Onion No Garlic Crispy Eggplant Fritters
Recipe- No Onion No Garlic Crispy Eggplant Fritters
By: Kratika Tue, 24 May 2022 3:58 PM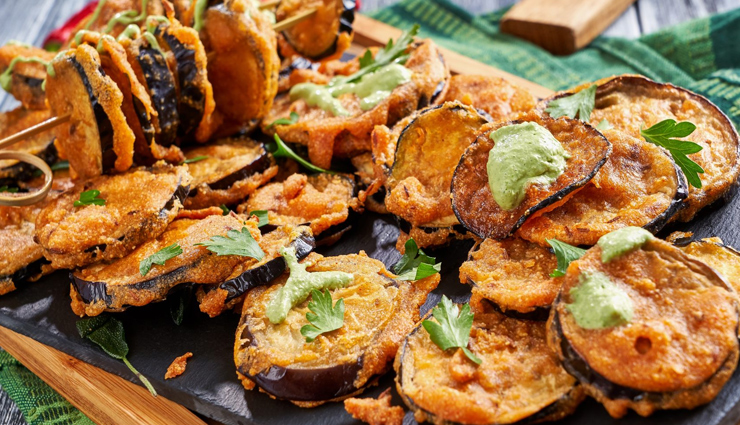 Vangyache kaap in English means eggplant/aubergine slices that are coated with flavourful spices and dredged into rice flour & besan (gram flour) which are then pan-fried in oil. This is a vegan, gluten-free, no onion no garlic side dish which is easy and simple to make.

Vangyache kaap is made from vangi which refers to eggplants/aubergine/brinjal. To make this vangyache kaap (eggplant fritters) thick-skinned, hard, fleshy and eggplant that have fewer seeds are used.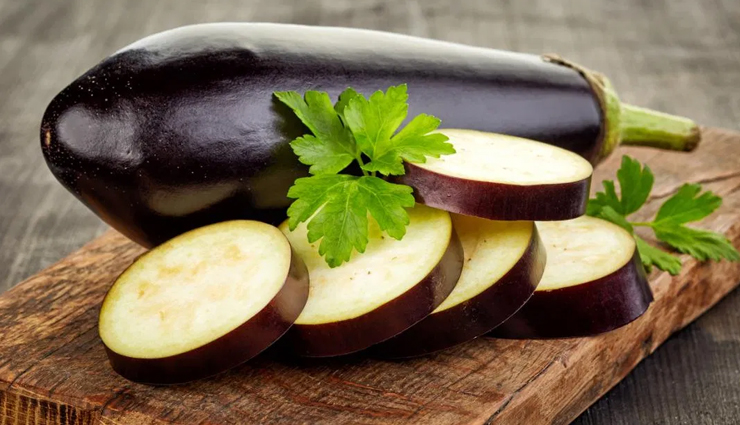 Ingredients

1 Big Eggplant (Bhartacha Vanga) / Aurbegine
5 tablespoon Rice Flour
3 tablespoon Besan (Gram Flour)
4 teaspoon Red Chilli Powder (adjust as per taste)
1 teaspoon Turmeric Powder
2 teaspoon Coriander Powder
3 teaspoon Garam Masala Powder
Salt to taste
2 teaspoon oil – To mix the flour and spices together
Oil for frying
Salted Water to soak the eggplant slices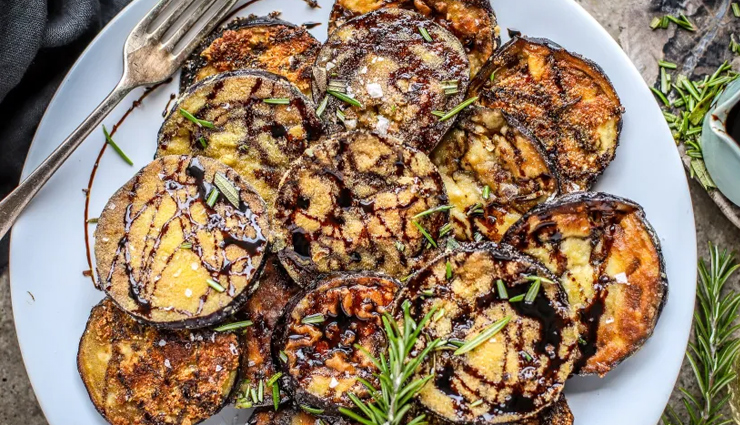 Method

- Let's start by thinly slicing the eggplant. Immediately soak the slices in salted water.

- In a mixing plate/bowl, add rice flour, besan (gram flour), red chilli powder, turmeric powder, coriander powder, garam masala powder, salt and 2 teaspoons of oil. Mix everything properly so that the flour is infused with aromatic spices.

- In the meantime, let's heat a tablespoon of oil in a nonstick pan for frying these eggplant slices (vangyache kaap).

- Now, take a few slices of eggplants that have been soaking in water, pat dry with a kitchen towel to remove excess water.

- Drench the eggplant slices in the spiced flour mixture, pat slightly so that the spice mix coats the slices nicely. Do this on both sides. Remove excess flour if any.

- Lower them carefully into the oil and shallow fry from both sides. Keep the flame low so that they cook evenly and do not burn.

- Use a fork or knife to see if eggplants are cooked. The fork/knife should go across the slice easily without resistance.

- Repeat this process with the rest of the eggplant slices.

- Serve along with dal rice or pulao or as a snack.

Tags :