Home

›

Recipe- Perfect For Summers Is Mango Shrikhand
Recipe- Perfect For Summers Is Mango Shrikhand
By: Kratika Sat, 17 Apr 2021 5:37 PM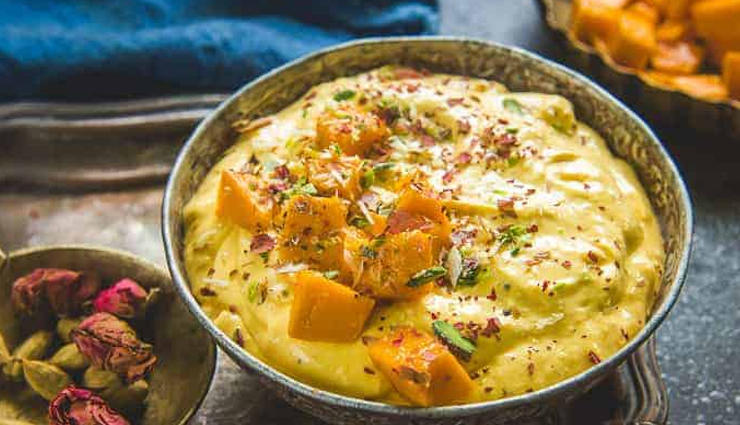 Mango Shrikhand (Amrakhand) is an Indian sweet dish. Mango Shrikhand is made of strained yogurt. Mango Shrikhand is one of the main desserts in Gujarati and Maharashtrian cuisine. Preparation of this dish is very simple. A popular variation of Shrikhand in Maharashtra is Amrakhand, which is Shrikhand blended with mango pulp. It is one of the my favorite desert too. It usually eaten or relish with puri and potato subji.


Ingredients

2 cup yogurt/curd/dahi
1 cup Mango Pulp
½ cup Powdered Sugar or as per taste
Pinch of Cardamom
1 tbsp Milk
Pinch of Saffron
Chopped Pistachios
Chopped Almonds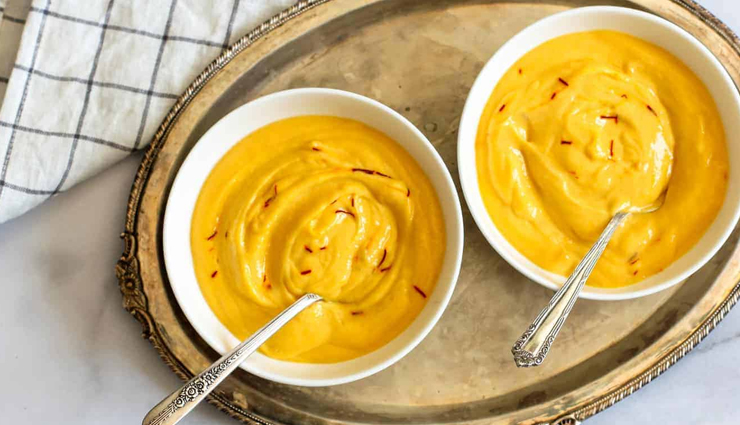 Method

* Take a muslin cloth or cheese cloth and place the yogurt in it; hang it for 3-4 hours to drain out the whey from yogurt.

* After 3-4 hours remove the yogurt from cloth and turn into bowl.

* Place the bowl inside the refrigerator for 1-2 hours.

* Soak the saffron in the milk.

* Take a yogurt bowl from refrigerator and whisk very well using with spatula or weird whisk, then add sugar, soaked saffron, milk and mix well.

* Now add mango pulp, cardamom powder, chopped Almond –Pistachios and mix well or whisk, then keep it in refrigerator for 1-2 hours.

* Garnish Shrikhand with chopped Pistachios-Almonds and serve chilled.
Tags :